Marketing Briefing: One year into the pandemic, 4 ways work will remain changed for marketers and agency execs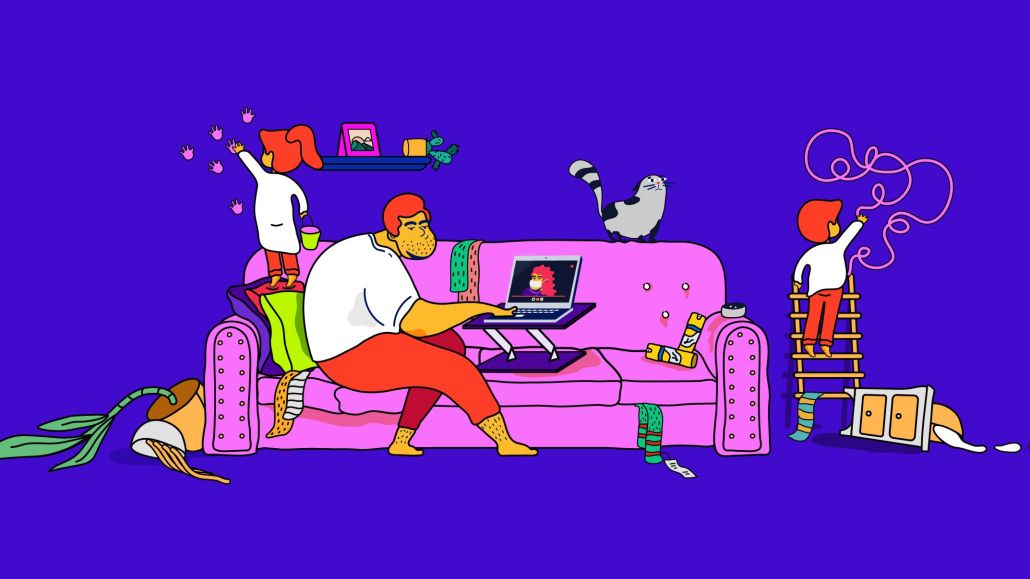 Ivy Liu
Somehow, it's March again, which means we're nearing the one year anniversary of many companies and agencies sending their teams home as the coronavirus pandemic surged throughout the country. (Though, at the time teams were sent home with the expectation they'd return in a few weeks.)
Over the last year, the advertising business has had to adapt to new norms and ways of working. The question now is what changes remain going forward. To get a sense of the shifts that will be the new normal long after mass vaccination, I spoke to marketing leaders and agency execs to hear what they believe will continue.
Flexibility will continue to be a must
Throughout 2020, advertisers and agency execs pointed to the need for more flexibility in ad deals, particularly when it comes to TV ad deals. That push for flexibility isn't likely to go away despite hope for a return to some sense of normalcy as the vaccine rollout ramps up.
"With upfronts, I know a big part of the conversation will be the agility and flexibility of those buys," said Haley Paas, evp of strategy at Carat U.S., adding that flexibility will be key this year as consumer behavior could change dramatically as vaccinations increase. "It's a much more strategic conversation [with clients] about how you want to show up when people are behaving differently."
Contingency plans remain a priority
While contingency planning was a norm, it wasn't as seriously considered as it has been for the last year. The contingencies companies had in place shifted from nice to have rainy day plans to actual plans that often needed to be ready to go when something went awry. Going forward, along with flexibility, buyers say that having true contingency plans in place that brands and agencies will actually turn to when in need will continue.
"Contingency plans weren't as real before," said Judy Yeh, president and chief client officer at Starcom U.S. "It was something our CFO at my client job would have us put in there, but they were sort of theoretical. This past 2020 has taught us all in personal and professional lives that contingency plans are real and have to be something we're more than OK going to."
Travel budgets aren't returning — yet
Since last March, marketers and agency execs have had to conduct business without the usual face-to-face meetings. The ability to continue business without the cost of traveling to an office for meetings has certainly had an impact on chief financial officers who are unlikely to bring back travel budgets in full in the foreseeable future. That being said, some execs do anticipate a return of some travel for client meetings once vaccines reach the majority of the population.
Rather than returning to the usual industry events and boondoggles, execs expect that the travel that does happen will be focused on fostering the agency/client relationship, explained Adam Simon, UM U.S.'s head of innovation and svp of strategy at IPG Media Lab.
"As an industry, we have proven over the course of the year that traveling is simply not necessary to conduct business," said Andy Nathan, founder and CEO of Fortnight Collective, a creative agency.
"Zoom has been not only a supplement, but is creating a new way to work," he said. "Now nothing replaces the face time, walking the halls and even the occasional cocktail meetups, but getting things done is happening despite the travel."
Nathan continued: "However, what we need to keep in mind is that folks are craving togetherness. Not just personal, but in the workplace. I do think that travel will return to some degree. It will likely be for more important meetings, rather than the occasional visit."
Less formality, hybrid WFH/in-office will be the norm
Marketers and agency execs have found new ways of working together on Zoom throughout the last year. Much of that has dispensed with the formalities of work prior to the pandemic and an acceptance that home life — be that a child or a dog interrupting — can and will creep into work. Execs believe that will continue going forward as many believe a hybrid work from home/work from the office set-up will become a new norm as people slowly return to the office this year.
"Hybrid work models, done right, will allow organizations to better recruit talent, achieve innovation and create value for all stakeholders," said Nathan. "By acting boldly now, we can define a future of work that is more flexible and purposeful."
Aside from normalizing working from home, execs believe the need to be more agile throughout the last year has led to less formality and believe that will remain.
"The days of writing beautiful 75-page decks mostly goes away," said Yeh. "We've demonstrated we can move really fast without all the information and get clients going with us. Agility is not just for deals, but for ways of working internally as well as with clients. It's healthy to learn to work in a new way — and if it works, continue it."
3 Questions with Todd Ballard, CMO of TMRW Life Sciences
What are the challenges you're currently facing as a CMO and how do you plan to tackle?
It's becoming increasingly more difficult to stand out as a brand. At a time when data and insights are driving many marketing decisions, it's easy to lose sight of why you exist and who you are ultimately serving. Don't become too transactional and complacent in success metrics. Continue to evaluate and re-think what metrics are most important to your business goals. It's not one-size-fits-all. As platforms and resources improve and become more accessible to businesses big and small, the art of human connection will become increasingly important. Make sure you know who your products are made for, understand who those people are and super-serve them.
What's top of mind for you as a CMO?
Ensure that we as a company know what our "why" is: what do we stand for and what's our purpose? And then develop a plan that holds the entire organization accountable for that. Because if you don't, the customers will. As a marketer, the time you have to gain someone's attention (and keep it) is rapidly decreasing. Respect the time someone's giving you by knowing who they are. That builds trust and ultimately a deeper lifetime value.
What's worth investing in right now for you as a CMO?
For me, it's people. Colleagues, employees, partners and ultimately our customers. We are all in the people business so building trust, transparency and community is always at the top for me. Building a community of passionate and knowledgeable brand stewards, both internally and externally, starts from the center. — Kimeko McCoy
By the numbers
The early days of the Covid-19 pandemic cast a dark cloud over audio streaming as the 30-minute morning commute quickly became a matter of rolling out of bed and opening a laptop to work from home. The change meant less time for morning podcasts, music, audio books and more. But according to new research from Pandora, Edison Research and Mindshare, the majority of work from home employees are tuning into audio streaming to stay productive. Here's the breakdown:
Audio streaming got a promotion this year: Overall, 7 in 10 workers listen to some form of audio while working.
Audio ads are working: Many workers feel that they are even more receptive to ads while working — 37% of those who listen to ad-supported audio while working say they pay more attention to streaming audio ads than when they aren't working. Men, Gen Z, and parents were most likely to agree.
(With that said, looking for a new podcast to keep you productive? Tune into the Digiday Podcast every Tuesday!) —Kimeko McCoy
What we've covered
https://digiday.com/?p=400598