As IGTV expands in Instagram app, advertisers push for more analytics
May 20, 2019 • 5 min read
•
•
Instagram has given IGTV, its home for long-form video content, more prominence in the app with a new tab on Instagram's Explore page. But despite the product tweak announced on May 16, advertisers continue to see IGTV as little more than a testing ground.
Over the last year, some agencies have invested resources. For example, digital agency 360i launched a content series on IGTV for the New Orleans Tourism Marketing Corporation in March. Creative agency Conscious Minds created an IGTV series for Nike titled "Fight For Your Dream" and used IGTV to promote Uber Eats during SXSW. Creative agency Kvell has made videos to announce new stickers.
But since IGTV provides little data to content creators, agencies say they see IGTV as a good place for testing and creativity rather than providing huge wins.
"We don't quite have the data or comprehensive consumer research on what works and what doesn't in [vertical video]. So for now, we want to do what we do best: be creative. Have some fun, take some swings and then see how it turns out," said Bryant Kohler, head of brand at Conscious Minds.
One reason preventing some agencies from investing more in IGTV is the lack of data and insights. Instagram accounts can only see the number of video views rather than any breakdown into how long users watched the video. Watch time is a key data point content creators use to judge their success across other long-form video platforms like Facebook Watch, YouTube and Snapchat.
IGTV also does not provide insights on where video viewership is coming from — whether it's in feed, on Explore, on app or directly on the account's page. One social strategist behind a brand account, who requested anonymity, predicted a significant amount of the traffic comes from the feed. "Instagram is desperate for IGTV to work so it over-indexes all IGTV content in the timeline," the strategist said.
An Instagram spokesperson denied that claim, saying IGTV previews are not ranked any differently than other feed posts. Rather, Instagram's feed ranks posts based on signals such as likelihood a user would be interested in the type of content, timeliness of the post and connection to the poster, the spokesperson said.
Promoting IGTV in the main Instagram feed is one strategy advertisers have recently used to draw more attention to the long-form video hub. IGTV previews, the name for one-minute videos publishers can share on the main Instagram feed, are able to convert viewers to watch the full videos, said Adam Rosenberg, co-founder and head of new business at Kvell. (On the publisher side, Meredith previously told Digiday that Instagram adding an in-feed promotion for IGTV videos helped spur a double-digit lift in episode views, on average.)
"Once Instagram released the new feature to preview one minute of your IGTV content on your feed, our video instantly started blowing up," Rosenberg said.
IGTV's pitch deck from August 2018, obtained by Digiday, suggests agencies direct users to IGTV through Instagram Stories and by sharing the permalink. 360i promoted the New Orleans content series, which was available exclusively on IGTV, through shorter videos on Instagram, Instagram Stories and YouTube, some of which were paid media.
Melissa Flaherty, associate media director at 360i, said she would like to have more insights into where the traffic is coming from.
"I think there's a big opportunity for reporting metrics and having access to targeting capabilities and using Facebook data. I think once we have visibility into the Instagram insights and usage and audience we can better understand and create content," Flaherty said.
An Instagram spokesperson said a deeper set of insights is important to IGTV's growth and that the company is exploring ways to provide more metrics around retention, click through and source of video views.
Beyond understand where traffic comes from, Rosenberg said he hopes IGTV adds better search as well as more monetization options. Instagram allows for sponsored posts, but they don't have ad breaks with revenue share yet like there is on Facebook Watch. An Instagram spokesperson said the company had no updates to share on any upcoming monetization products.
At IGTV's launch in June 2018, agencies were immediately intrigued since IGTV was, to put it simply, a part of Instagram. Kohler said many brands these days have their "strongest presence" on Instagram so involving them in a new product within that network made sense.
Instagram's initial pitch to advertisers was that video viewing was going mobile: as of June 2018, time spent watching video on Instagram had increased 60 percent from the year prior, according to the August 2018 pitch deck.
"Other platforms like Facebook and YouTube had already seen success in long-form and editorial content, so it was a good time for Instagram, the darling child of social media, to step into those formats," Kohler said.
However, 360i, like other agencies, didn't initially jump on IGTV for its clients. Flaherty said her team started testing the product in November 2018. At that point, they hadn't seen "anyone breakthrough and saw that as an opportunity to dive in," she said.
To attract more interest from agencies, IGTV would benefit from more functionalities and reporting metrics. Kohler said he would like to see more discover and search functions and more effort by Facebook and Instagram to grow the brand off the platform. Yet even without those steps, he's betting on success.
"The digital and entertainment worlds are becoming one, and it's the wild wild west right now. I'd love to see Instagram take a stab at crashing that party," Kohler said.
https://digiday.com/?p=334645
December 8, 2023 • 3 min read
For Atlas Creative, expanding into Roblox is not solely a play to scale up. The company believes there are concrete benefits that will come with having a hand in multiple metaverse platforms.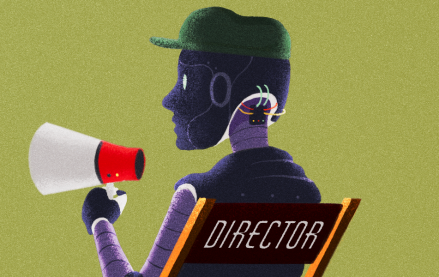 December 8, 2023 • 5 min read
Since ChatGPT became a breakout hit, the names of numerous AI companies and products have entered the cultural vernacular.
December 8, 2023 • 4 min read
Even as linear TV ad spend declines, 23andMe is reinvesting in the channel to boost brand awareness.