Food delivery app Postmates looks to retail as the next on-demand frontier
On-demand delivery service Postmates is looking to retailers to expand its network.
Online fashion retailer Revolve has partnered with the delivery app to quickly get its Coachella collection in the hands of consumers before they fly off to Indio, California, for the festival, which kicks off today. The company is promising its goods will arrive in under 60 minutes to shoppers in New York City, Dallas, San Francisco, L.A. and Orange County. And if festival-goers didn't think to buy their floral-printed rompers and wide-brimmed sun hats in advance, Postmates will be on the ground in Palm Springs/Coachella Valley during the event, delivering last-minute Revolve orders.
"This year, the week leading up to Coachella alone was bigger for us than the holiday season," said Revolve CEO Michael Mente. "We think about it like Black Friday, without the discounts."
The collaboration with Revolve is part of Postmates' push to make retail a bigger part of its delivery business. When Postmates launched in 2011, food orders made up 99 percent of its delivery. Thanks to partnerships with retailers like Everlane and Revolve, food now accounts for 80 percent, while retail, health and beauty make up for 20 percent of Postmates' deliveries. It's planning to grow that percentage in 2016, as well as expand its reach from 40 markets to 100, and its delivery rate from 1 million per month to 10 million.
"To grow, we're making retail bigger and better," said Luedorf, who added that when Postmates delivers retail items instantly in its branded packaging, it elevates the online shopping experience for retailers. He also believes that services like Postmates can put retailers in a position to compete with Amazon by offering that convenience.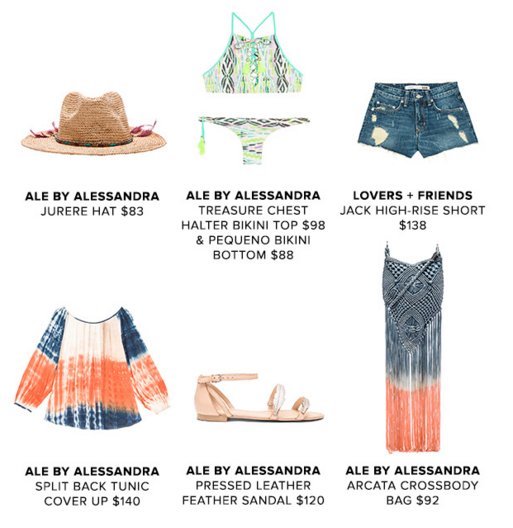 Holger Luedorf, svp of business and head of partnerships at Postmates, said that in the past six months, the service has begun heavily pushing its one-hour retail deliveries.
"Amazon changed customer expectation on deliveries from five days to two," said Luedorf. "What's happening now is a shift from two-day to same day. The customer is demanding and seeking retail on demand."
Postmates' relationship with retailers can take three different forms. It can be a pop-up service around events, like Revolve has done for festivals (Mente also said that the team has been considering making Postmates instant delivery a year-round feature). Or, a retailer can have a "storefront" within the Postmates app, which American Apparel and Lululemon have recently rolled out, making it easy for customers to add a bodysuit or a pair of leggings at the same time they order Chipotle for lunch through the app. Others like Apple and Everlane use Postmates' API to include the one-hour delivery (which costs $4.95) within their fleet of shipping options for those in eligible cities.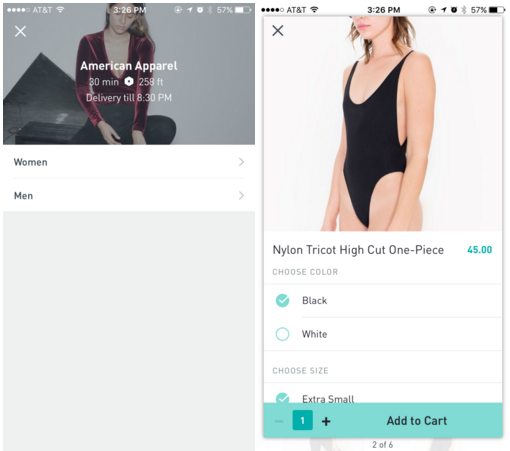 Postmates believes that it can expand its network by delivering items from retailers' store networks, whereas Amazon is held back by sourcing its deliveries from fulfillment centers. The exception is Everlane Now, Everlane's one-hour delivery powered by Postmates' couriers. Everlane, which doesn't have retail stores, launched its Postmates delivery in San Francisco in 2014 and expanded it to New York by opening a special fulfillment center in the city to deliver to Everlane shoppers in Manhattan in an hour.
While speedy delivery can come in handy in a pinch, data suggests that, in general, customers are looking to cut costs rather than get things quickly. In L2's 2015 Omnichannel Report, 68 percent of customers surveyed said free shipping was a top priority, while 32 percent said fast shipping was. L2 analyst Claude de Jocas said the number one obstacle for on-demand delivery was scale.
"These types of innovations are going to keep shipping not only affordable for retailers, but also allow them to deliver on expectations by making it more convenient for the shopper," said de Jocas. "But you have to wonder how scalable it will be outside of major metropolitan areas — especially once the venture backing disappears."
Revolve's Mente isn't worried. He said he only sees the millennial consumer becoming more reliant on instantaneous satisfaction.
"Our customers are looking at fashion as an instant need that they then post on Instagram and Snapchat," he said. "That customer wants things as quickly as possible."
https://digiday.com/?p=172629