Digiday Research: Communication is at the heart of media transparency problems
February 5, 2018 • 2 min read
• By
Digiday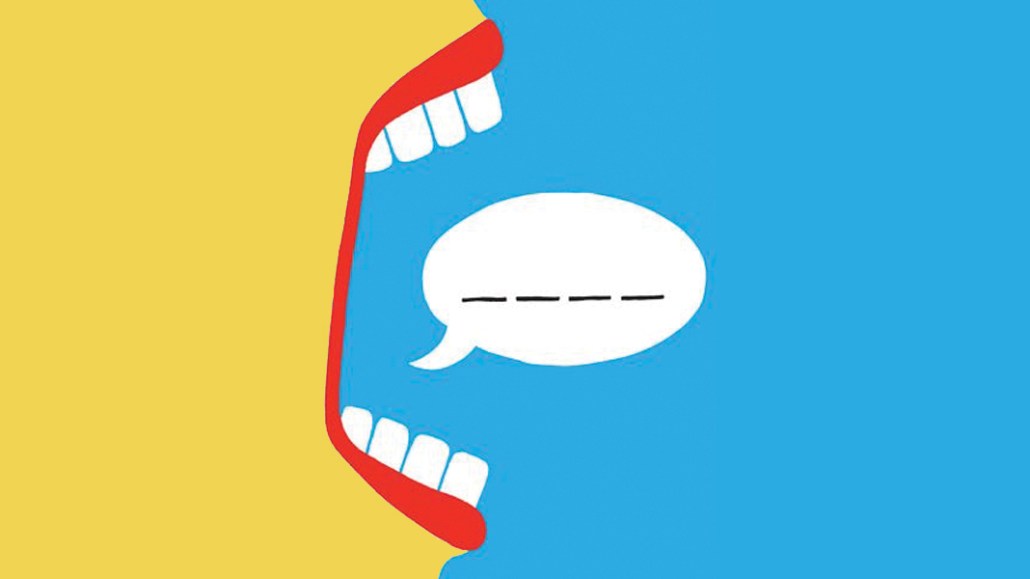 At the Digiday Hot Topic UK: Data-Driven Publishing event last November in London, we sat down with over 20 media-buying executives from major agencies across the country to discuss trends such as media-buying transparency and ad fraud. Check out our earlier research on addressable TV's role in a post-GDPR world here. Learn more about our upcoming events here.
Top findings:
Communication between clients and agencies was cited as the largest transparency-based issue in digital advertising.
Seventy-one percent of media buyers don't believe ads.txt is a sufficient solution to ad fraud.
Digital advertising is beset by transparency issues that have left brands skeptical about its effectiveness. The process of buying and tracking ads is notoriously overcomplicated, burdened by technology and laden with acronyms that few understand. However, Digiday's research found that the most common contributor to the lack of transparency was human interaction, not technical challenges.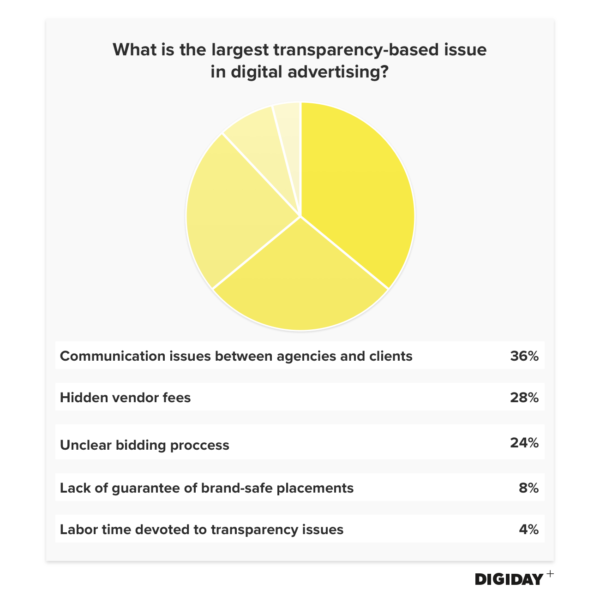 Thirty-six percent of respondents said communication issues between clients and agencies were the largest transparency-based issue in digital advertising. Few cases better highlight this than Uber's legal battle with Dentsu-owned agency Fetch. Uber sued Fetch, claiming that Fetch wasted Uber's ad spend on fraudulent or unviewed mobile impressions. Fetch, in turn, countersued Uber, alleging Uber failed to pay for what Fetch claims were millions of dollars in effective ads. This legal situation highlights the potential negative outcomes when miscommunication between an agency and a client results in a disconnect between standard metrics and outcomes.
Improving communication between agencies and clients poses a challenge for both parties. Technologies like Slack have started to bridge the gap by providing more direct access between those groups. An Association of National Advertisers study found that 60 percent of agencies are actively trying to address transparency.
Contracts also pose transparency problems. Vendor fees hidden in contracts were the second most cited issue by Digiday respondents. McDonald's and other major brands have already begun reviewing their contracts and auditing their media spend. Discovering these practices caused Marc Pritchard, Procter & Gamble's chief brand officer, to reduce the amount P&G spent on digital advertising and cut many of its agencies.
The ad-buying process itself was the third most cited issue contributing to the lack of media-buying transparency. And don't expect new solutions such as ads.txt to resolve the problem anytime soon. Ads.txt was created to limit shady practices such as domain spoofing and arbitrage. After a slow start, the initiative has gained steam as more publishers adopt it. However, most media buyers don't believe ads.txt is a panacea for ad fraud and related transparency issues, with seven in 10 respondents to Digiday's survey saying they don't believe it is a sufficient solution.
https://digiday.com/?p=274691