Why Marriott Bonvoy wants everyone to know it's more than just a hotel chain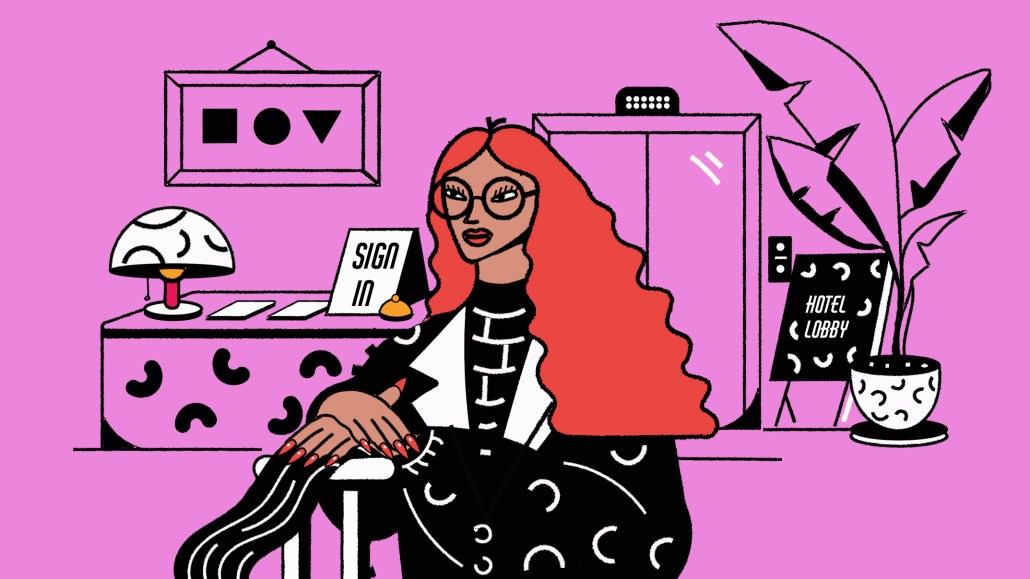 Ivy Liu
This article is also available
in Spanish
. Please use the toggle above the headline to switch languages. Visit
digiday.com/es
to read more content in Spanish.
Marriott Bonvoy wants people to know that it's more than just Marriott — the hotel chain actually has 30 brands under its umbrella and 500 boutique hotels. To get the message across to younger consumers, Marriott Bonvoy is taking an educational approach to its advertising to showcase the various experiences across its offerings.
"A lot of people hear Marriott — and there's tremendous brand awareness — but they think of Marriott Hotels or Courtyard by Marriott," said Brian Povinelli, svp and global head of marketing and brand at Marriott International. "The strategy for the company over the past decade has been to create a travel marketplace where we offer everything from entry-level, select serve to high luxury including yachts like the Ritz Carlton Yacht."
The hotel chain is looking to use its marketing efforts now to connect its various brands including Westin, Moxy and Ritz Carlton, as well as its many boutique hotels, so that consumers understand it has more to offer than its namesake brand. To do this, Marriott Bonvoy has joined the myriad brands using both in-house and external agencies for its marketing efforts. (Roughly 82% of marketers have some in-house now, according to the ANA's latest study.)
Marriott's in-house agency, Riot House, which has roughly 40 employees, came up with the strategy for this particular approach. The company then worked with creative shop Superbloom to execute the idea. "We've built a creative chassis," said Povinelli. "Affiliation is the underpinning of the strategy. Letting people know that Marriott Bonvoy has 30 brands and that Westin, for example, is a part of Marriott Bonvoy. You'll see whether the message is coming more from the portfolio or it's a Moxy ad there are elements [that are consistent throughout]."
Marriott is dedicating roughly 65% of its ad budget to streaming and digital ads, with the remaining 35% allocated to linear. "For a brand of our size — 30 brands across the whole realm of price points — we need reach vehicles and that's the role linear is playing," said Povinelli. "It's a small part of our overall media plan, primarily driven around sports. The tune-in moments where we can get reach and know people are tuning in for that specific event."
With streaming, Marriott Bonvoy is focusing on its broader message highlighting the various brands under its umbrella, as well as specific brand-focused, 15-second spots. "In streaming, we can show you a Westin ad, a Moxy ad and a portfolio ad within that one viewing and get that broader message across," said Povinelli.
It's unclear how much Marriott Bonvoy is spending on the educational effort, as the brand declined to share specific budget figures. Throughout 2022, Marriott Bonvoy spent $209.4 million on media, per Vivvix, including paid social data from Pathmatics. Vivvix and Pathmatics also found that, for the first two months of 2023, Marriott Bonvoy spent $39.7 million on media.
As for ad spending given the current uncertain economic environment, the brand isn't pulling back. "We're up from last year in our spend," said Povinelli. "We're generally seeing very strong business so far this year. We're obviously cautious and we're watching what's happening in the marketplace but what we're generally seeing is that people so far are still prioritizing travel."
Finding a way to convey that Marriott Bonvoy has a number of experiences to offer consumers is crucial for the brand to appeal to younger consumers, noted Allen Adamson, brand consultant and co-founder of Metaforce.
"They have to do it," said Adamson. "Younger consumers don't want a cookie cutter experience. They have to unpack all the brands and reimagine them for younger consumers that want boutique, local, different experiences. It's a big challenge but they have to pivot for younger consumers."
https://digiday.com/?p=503553