As crypto winter ramps up, why some marketers aren't feeling the cold
September 28, 2023 • 4 min read
•
•
Ivy Liu
Crypto winter? Not as far as marketers are concerned.
Skepticism around blockchain technology is rising — but the cold of crypto winter doesn't appear to have frozen brands' Web3 marketing budgets. Instead of pulling away from Web3, some marketers have instead expanded their definition of the concept, with an eye toward creating the utility that was sorely lacking in many of the NFT drops of yesteryear.
It's not that marketers haven't bailed on crypto; many have, particularly those who approached branded NFT collections as a short-term revenue grab. But over 95 percent of NFTs are now worthless, according to a recent study by the website dappGambl — forcing brand executives who still believe in the technology to get far more creative with it if they want to convince consumers to buy in in 2023.
"At the end of last year, I did see a bit of a downtick. There are a lot of people who had attempted to do some kind of branded metaverse, and the premise they had originally sold brands on had run a little bit dry," said Gracie Page-Fozzati, a founding partner at The Building Blocks, a Web3 venture building company. "It's obviously a lot harder to push past the shiny PR stuff and actually deliver something of deep value to their customers, and I think that's where a lot of CMOs realize they need to work with CPOs and CIOs to create new value — it becomes bigger than marketing."
Rather than viewing Web3 as a marketing or community building scheme, some brands now view Web3 as more of a direct commerce opportunity — a way to open up ownership of their products to customers who otherwise wouldn't have been able to access or afford them. Speaking to Digiday in recent months, marketing managers at both Puma and Ducati drew parallels between the current state of Web3 and the early days of online e-commerce.
"As a brand, we kind of look back at e-comm and social, and we're like, 'OK, we definitely don't want to miss out on this one,'" said Puma head of emerging marketing tech and Web3 Ivan Dashkov. "We want to invest in and test and learn some of these technologies; maybe our use cases shift over the next few years, but we'll be ready for it."
Indeed, getting tossed into the crucible of crypto skepticism has forced marketers to look beyond cryptocurrency and NFTs to use the underlying tech in a more meaningful way in 2023. Nike, for example, created its own Web3 marketplace, .Swoosh, that allows fans to bring their custom sneaker designs to life.
"With Starbucks Odyssey and Lufthansa announcing Uptrip, which is their NFT loyalty program — people are really stepping back and realizing that the use of Web3 is much broader than cryptocurrency and NFTs, and it's really the underlying utility that drives engagement," said Tyler Moebius, CEO of the Web3 enterprise firm SmartMedia Technologies.
Loyalty programs are one of the ways companies have turned Web3 tech into a revenue driver, but some observers say that brands have yet to scratch the surface of deeper uses of the technology, such as fractional ownership of luxury goods empowered by smart contracts on the blockchain.
"I think it's going to be the killer business model — everyone's going to fractionalize everything. My co-founder at The Building Blocks worked with His Majesty's Land Registry, here in the U.K., to deliver the first-ever on-chain transfer of land ownership, so people are already playing with that," Page-Fozzati said. "And you see fractionalization of airline seats, fractionalization of artworks, it's the current darling Web3 business model. If luxury brands can design a fractionalization model that doesn't dilute their prestige, it could unlock huge growth in that sector, too."
In 2023, some brands' executive boardrooms are still insulated from the chill of crypto winter, for better or worse. But the rising pressure of crypto skepticism has made it more urgent than ever for companies to figure out how to use blockchain technology to support their core offerings and customer base rather than simply dropping branded NFTs and hoping for the best.
"My daughters, they are already in this world. They grew up with this new technology, and for them, it's easy," said Ducati marketing manager Alessandro Cicognani. "They would be the customer of the future — so we would like to be where the customer of the future will be."
https://digiday.com/?p=519684
December 8, 2023 • 3 min read
For Atlas Creative, expanding into Roblox is not solely a play to scale up. The company believes there are concrete benefits that will come with having a hand in multiple metaverse platforms.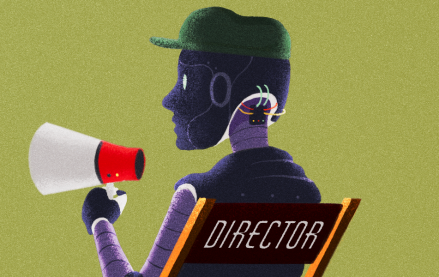 December 8, 2023 • 5 min read
Since ChatGPT became a breakout hit, the names of numerous AI companies and products have entered the cultural vernacular.
December 8, 2023 • 4 min read
Even as linear TV ad spend declines, 23andMe is reinvesting in the channel to boost brand awareness.