1-800 Contacts sees a bump as eye-care shops are shuttered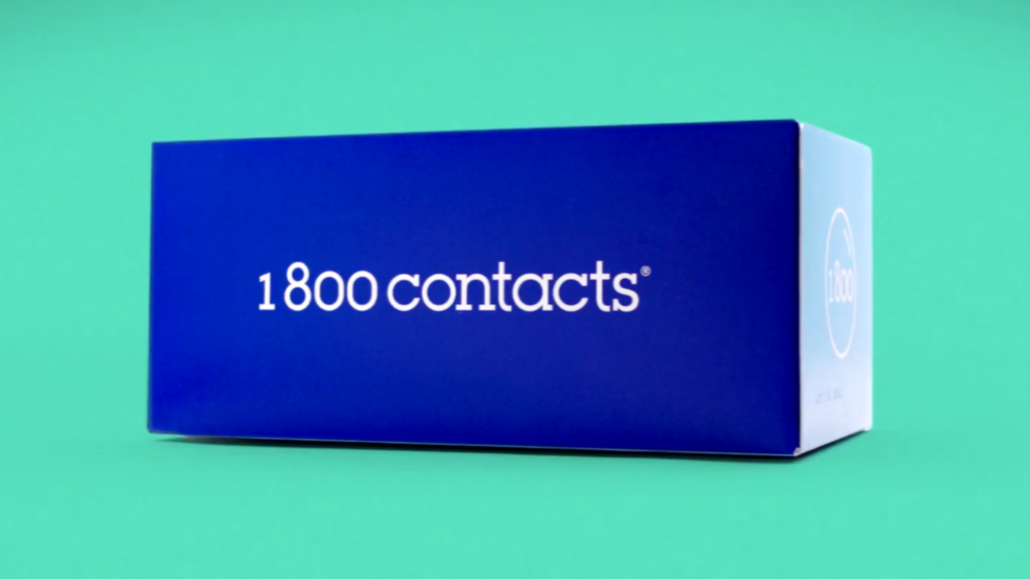 Unlike many major marketers, 1-800 Contacts has increased how much it is spending on advertising in recent weeks, adding new channels like podcasts, streaming audio and more linear television to its media mix.
Following the stay at home order, 1-800 Contacts started to see an uptick in new customers, as some of those customers realized the closure of most eye care providers could make it difficult to get a contact refill.
Phil Bienert, 1-800 Contacts' CMO, would not say how much the company has increased its advertising or break out how it has divvied up the budget. In 2019, 1-800 Contacts spent $12.5 million on media placements, per Kantar, which doesn't track social media spending.
1-800 Contacts is setting up meetings with publishers and providers that the company hasn't advertised with previously. New media placements include the podcasts Betches' U up?, Happier with Gretchen Rubin, Anna Faris is Unqualified and Wait, Wait Don't Tell Me as well as linear television shows Jimmy Kimmel Live, The Voice, Law & Order SVU, vintage SNL and the NFL Draft on ESPN.
The company declined to say how many new customers it has added. However, 1-800 Contacts did say that it has experienced a 23% increase in call volume since the pandemic began and a 20% increase in length of call time as well as a 200% increase in usage of its telemedicine tool, ExpressExam. The company did not provide context for those numbers to quantify from what and to what the percentage increases show.
Still, it appears that 1-800 Contacts may be part of a rarefied group of "winners" of the current moment. Much like online learning platform Masterclass, packed-goods giants, at-home fitness classes and streaming services, 1-800 Contacts is among a select group of industries that has benefitted from a world stuck at home.
"In the early days of the pandemic, we were getting calls from front-line health care workers who were saying they were running out of their contact lenses and that their eye doctors were closed so they were asking for help," said Bienert. "They said they can't wear their glasses because they have PPE on — that's when we realized early on that we can take care of folks." The company isn't donating lenses to health care workers but is "expediting shipping when needed," according to a press representative, adding that the company has "expedited contacts to ambulance workers before their next shift."
When it comes to choosing where to increase advertising, the company has been "following a lot of the media consumption changes," said Bienert. "There aren't any sports but a lot of folks watching broadcast TV. There's lots of people streaming audio; music, podcasts or other types of similar content."
Bienert continued: "Because we're a DTC company, we've always had a strong presence in digital and social media. A lot of where we've been trying new things has been more in upper funnel media because this is about getting a message out there that there's an option."
Using upper funnel media more now is a smart strategy, said "The rates are probably cheaper because a lot bigger players have pulled out," said marketing consultant Nik Sharma. "With a lot of Fortune 100s out, there's more inventory and better pricing available for DTCs."
Aside from the media mix, 1-800 Contacts has also adjusted its messaging by retooling previously shot ads. The spots, by Portland-based Rain Agency, feature people at home helped by the company, able to renew expired prescriptions or get their contacts delivered rather than having to venture out in the world to find them.
"We're really focusing on telling people that they can stay at home and we can give them contact-less delivery of your contacts," said Bienert. "Also, if you don't have an active prescription, which you need to legally buy contact lenses, we're telling people not to worry about it as we have a telemedicine solution."  

https://digiday.com/?p=365521