The UK's changing video ad landscape, in 4 charts
Despite brand-safety concerns, user experience issues and measurement gripes, digital video advertising is in decent shape. According to data from GroupM's "This Year Next Year," U.K. marketing forecast, this is at the expense of legacy media: TV has zero percent growth forecast for 2018 in the U.K.
Here are four charts on the state of online video advertising in the U.K.
Outstream overtakes pre-roll
The overall ad market has grown, thanks to digital video. In the first half of 2017, advertisers spent £699 million ($930 million) on video ads — a 46 percent year-over-year increase — making video the fastest-growing digital format, according to the Internet Advertising Bureau's latest report on U.K. digital ad spend.
Investment in outstream and social in-feed video ads has nearly doubled, making it the most popular format, accounting for 52 percent of video spend, overtaking pre- and post-roll ads.
Noticing the demand in outstream, publishers The Guardian, News UK and The Telegraph have joined forces to pool outstream ad inventory. "[The alliance] brings this kind of format and inventory back under direct publisher control, with guaranteed quality and brand-safe environments, while still having enough scale to satisfy advertisers and agencies," said Mark Holden, global strategy director at media agency Starcom.
Source: IAB
Ads are becoming more relevant 
Striving for more ad revenue has meant some publishers overlook user experience, particularly when it comes to autoplay video formats. According to data from the IAB's "Consumer Insights: Video" report, ads are becoming more relevant: 53 percent of adults who find online video ads more relevant than static ads also feel advertising relevancy has improved over the past year.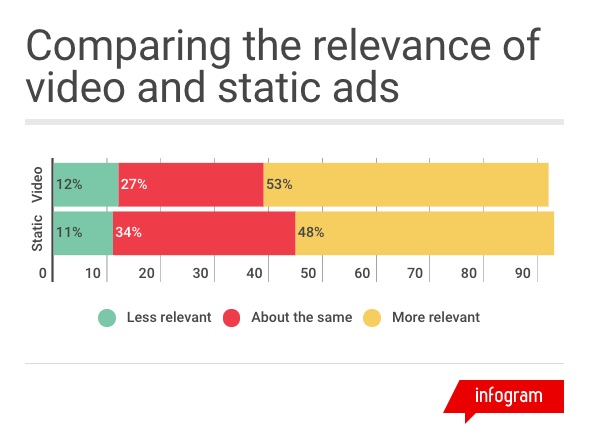 One in 10 video ads appears beside risky content
In its "This Year Next Year" report, GroupM estimates three-quarters of brands that paused advertising on YouTube in May after their ads appeared next to extremist content have returned to the platform. (The estimates were made prior to this week's reports of brands like Diageo and Mars pulling ads from YouTube after finding them running against unsuitable content, although buyers don't expect this to harm YouTube much.)
Integral Ad Science's "Media Quality Report" in the U.K., which examines ad inventory, from this year found that just over 13 percent of video inventory on desktop in the U.K. appeared next to content that was considered "risky." Most of this fell into the "moderate risk" category, with programmatic accounting for 12.2 percent and direct deals making up 9.2 percent of that category. (In the chart below, dark blue indicates no risk, gray is moderate risk, purple is high risk and red is very high risk.)
Although "risk" is a subjective term and brands have varying levels of tolerance for risk, IAS found that inventory with a level of risk was mostly next to violent and adult content, with 26.4 percent and 23.7 percent of that inventory appearing next to those categories, respectively, while hate speech was the lowest at 2.2 percent.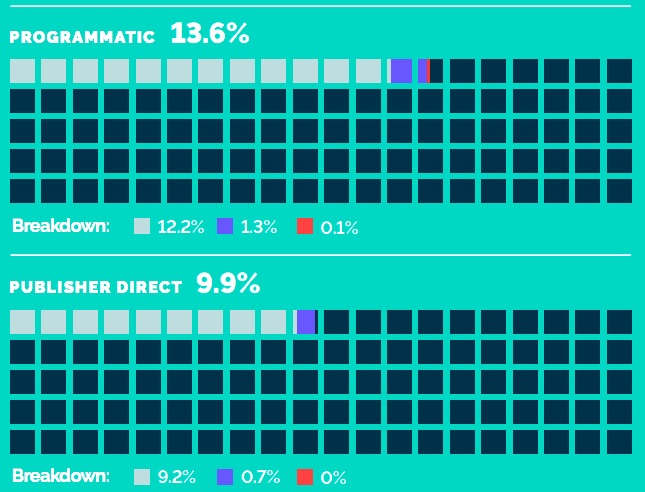 Sports rights holders command high ad rates
Live sports events have long attracted viewers and ad dollars. Now, platforms like Amazon and Facebook are joining the fray and bidding for rights.
According to GroupM's "The State of Video" report, 2021 will be a milestone year for live TV sports media rights. A total of 10 rights deals will be up for renewal, including the UEFA Champions League and Bundesliga soccer matches in Europe, as well as the NFL's "Monday Night Football" and MLB rights in the U.S. The value of these deals will total $5.7 billion (£4.3 billion).
"It may be broadcasters remain the best at TV production and the big-screen experience, with rights sliced accordingly," the report states. "Such broadcasters might themselves seek to sub-license new technology and digital partners to reach the markets and fans they are unable to service."
https://digiday.com/?p=265415