You can't browse the internet too long without running into an autoplay video ad. So ingrained (and derided) have autoplay video ads become that the leading browsers are cracking down. Apple is updating its Safari browser to block videos that play automatically with sound on and Google's Chrome is expected to follow suit early next year when it starts filtering out ad formats that turn off users.
Facebook's role
The explosion in autoplay can be traced back to Facebook, which started autoplaying videos in its news feed in September 2013. Facebook also has heavily promoted video in its feed generally. Since then, the number of daily video views on Facebook has skyrocketed, reaching 8 billion daily video views in November 2015, the last number it made public, up from 4 billion in April 2015 (although it only counts views as 3 seconds or more).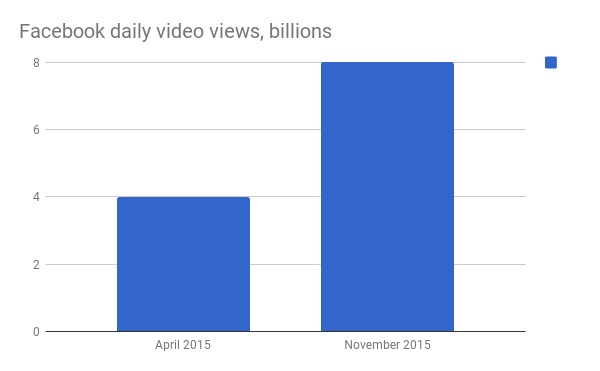 Now, 61 percent of video ads autostart in Chrome, the dominant browser (compared to 66 percent in Safari), according to JW Player.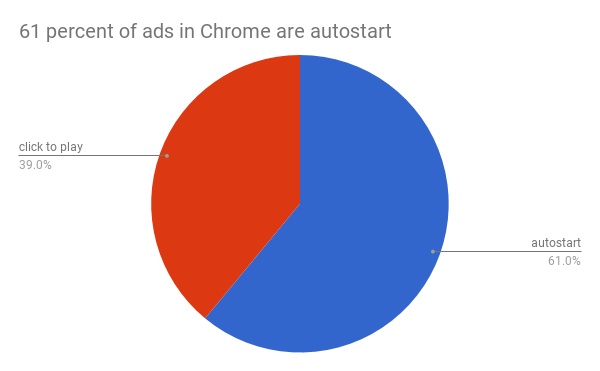 Autoplay pile-on
Facebook's use of autoplay, along with YouTube, Snapchat and Twitter, paved the way for publishers to pile on. Today, about one-third of sites autostart more than 75 percent of their video ads, according to MediaRadar, based on an analysis of sites that run video. One-third autostarts video ads 50 to 75 percent of the time. The final third autostarts video ads less than 50 percent of the time.
The drive for ad revenue that's driven the use of autoplay seems to be universal; everyone from Refinery29 to The Wall Street Journal runs autoplay, and they're just as likely to be small as big publishers, said Todd Krizelman, CEO of MediaRadar. "This was surprising and reinforces that video drives revenue for all size publishers," he said.
MediaRadar also found that consumer-aimed sites overall are almost twice as likely as business-to-business sites to run autoplay video ads (69 percent versus 37 percent), with the highest rates found among business/finance- and technology-focused sites, he said.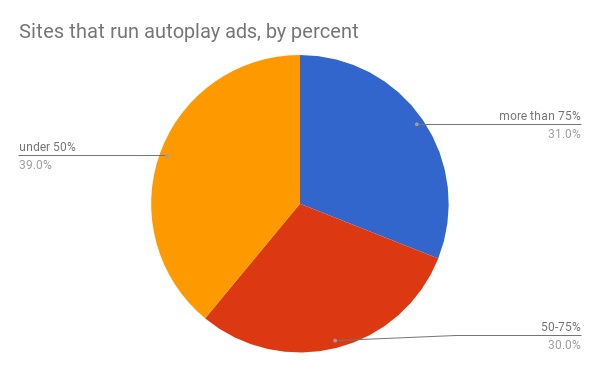 Ad blocking
Autoplay also has been linked to increased rates of ad blocking, which is now employed by 18 percent of internet users in the U.S. and 11 percent globally, according to PageFair's 2017 Adblock Report. PageFair, a company that helps publishers circumvent blocked ads, found that interruptive ads were the second most common motivation for blocking ads (cited by 29 percent), behind virus and malware concerns (30 percent). Non-interruptive ad formats are largely tolerated, while interruptive ones, starting with unskippable video ads, are the biggest annoyances.
"You hear people say, 'It's not fair with mobile phones; [autoplay] consumes data,'" said Mike Green, vp of Brightcove. "I think it's just more the disruption of a quiet workspace."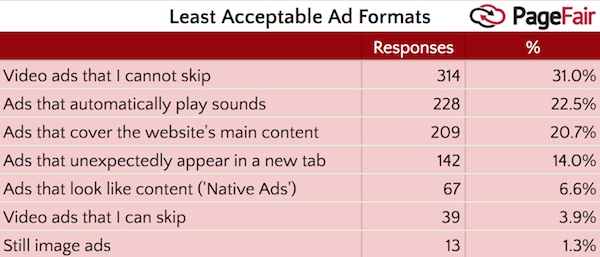 Negative sentiment
Still more evidence that people hate autoplay comes from Brandwatch, which found that since January, autoplay video has been mentioned more than 25,000 times on Twitter, Facebook, Instagram and Reddit. Interest peaked on two days in May when Pinterest introduced autoplay ads. There also were big spikes in mentions on news relating to Chrome combating autoplay videos. During that time period, the overall sentiment toward autoplay was 74 percent negative, according to Brandwatch.

https://digiday.com/?p=259286