Signs that Facebook food videos are losing their luster
November 3, 2017 • 3 min read
•
•
Facebook's pivot to video was a boon for food-content providers, leading to a flood of "hands-in-pans" videos stuffing the News Feed. Now, engagement on food videos has been declining on Facebook, advertisers have raised their expectations, and the prices for branded food videos are largely coming down.
Monthly Facebook video views at several leading food-focused publishers are either flat or have declined over the past year, according to CrowdTangle data.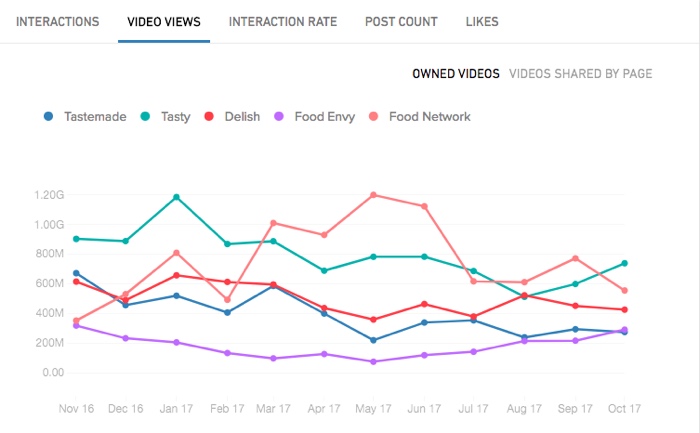 That said, Facebook's algorithm still loves a hit: Through the first eight months of 2017, Facebook views of food videos with at least 100,000 views are up 43 percent year over year, according to Tubular data. Recipe videos still deliver a lot of impressions, but the sheer supply of publishers offering to shoot branded-content videos has given advertisers leverage.
One of the big struggles food-video creators face: Everything pretty much looks the same, particularly when people are whizzing past in a feed. The overhead recipe format, where a dish is assembled, step by step, in a sped-up presentation, is easily replicated. The Facebook audience's hunger for recipe videos helped a number of new media companies, including Jungle Creations, So Yummy and Render Media, pile up nine-figure monthly video view counts. Legacy publishers like Hearst and Time Inc. also got on board.
"There's not a significant difference between Partner A and Partner B," said Whitney Smith, digital partner at Mindshare North America. "It gives us more negotiating power."
That, in turn, has put downward pressure on prices. A separate media agency source said that publishers, citing increased competition, have lowered prices for branded overhead recipe video on a cost per view and CPM basis. Minimums on spend remain because of overhead production costs, however, the source said.
One exception is BuzzFeed's Tasty, simply because of the sheer scale of distribution it brings to the table: Seven of Tubular's top 25 food publishers are Tasty verticals. According to buyers, Tasty still commands premium rates.  "They're still the most expensive option," a third agency source said. "But you get what you pay for."
For example, that agency source noted that four Tasty videos costs twice as much – $300,000 – as a program that included three videos, three pieces of written sponsored content and a batch of supporting media offered by a competitor, Tasting Table.
That third source said that other publishers are fighting for the crumbs left at Tasty's table. With the space getting crowded, food publishers are diversifying in search of new ways to make money.
Render Media, which owns Cooking Panda, has moved into shows and sales of branded products. It's also looking to launch a subscription video product later in the year. Tastemade has expanded into home and travel and started getting into events.
Recipe videos will remain a staple of food publishers' content diets, though. "[They] will always be a large piece of what we do," said Stacey Rivera, digital content director for food at Time Inc. "People will watch a skilled person do a skilled thing."
https://digiday.com/?p=261389
This week's Future of TV Briefing looks at how the streaming ad market's programmatic guaranteed vs. private marketplace debate is reaching a compromise.
This week's Future of TV Briefing looks at how this year's upfront and recent announcements from AMC Networks and Paramount indicate the progression of programmatic in the TV and streaming ad market.
This week's Future of TV Briefing looks at how major streaming service owners' subscription business fared in the third quarter of 2023.