Pitch deck: How Amazon is selling ads on Fire TV
January 23, 2020 • 17 min read
•
•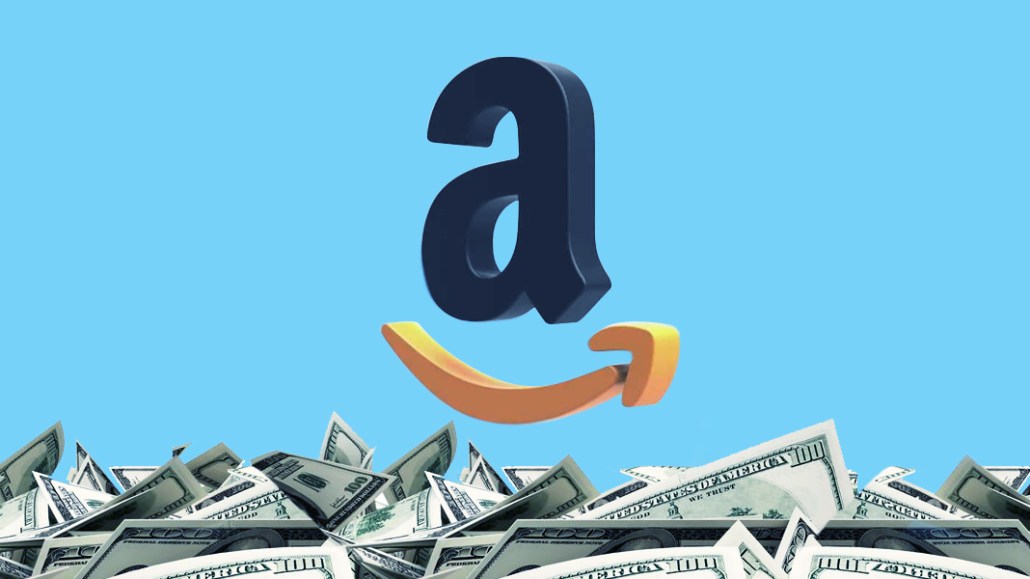 Amazon is throwing a whole kitchen sink of streaming inventory at advertisers, based on a recent pitch deck that the company has shared with ad buyers.
The sales pitch by Amazon largely centers on the ads it can sell across apps on its Fire TV platform. But that isn't the only streaming inventory that Amazon has on offer, as detailed in the pitch deck embedded below. The deck touts Amazon's "Thursday Night Football" viewership across its Prime Video and Twitch video services. It highlights the audience overlap between people who tune into IMDb TV (Amazon's ad-supported streaming service) and viewers who hook up all the third-party Fire TV apps that provide Amazon with their ad inventory. Amazon also teases out the opportunity to advertise on its curated news app, as well as an option for advertisers to connect their Fire TV ads to Amazon's voice-enabled Alexa devices.
An Amazon spokesperson declined to comment.
Here are five highlights (with the full pitch deck at the end):
Amazon aims to satisfy advertisers' demand for broad reach


By aggregating inventory from various apps on its connected TV platform as well as from its own streaming properties, Amazon aims to deliver the broad reach that advertisers are seeking through streaming services. And the company certainly attempts to push that position in its pitch deck (which seems to have been mistakenly labeled September 2019 although it includes November 2019 data).
In one slide, Amazon claims that people spent more than 8 billion hours streaming video on Fire TV in 2019's third quarter. In another slide, the company cites Nielsen data that asserts Amazon's connected TV platform reaches "nearly double the number of adults aged 18-49," compared with who is watching via rival platforms such as Apple's and Roku's. The deck mentions that more than 37 million people use Fire TV each month, but earlier this year at the Consumer Electronics Show Amazon updated that figure to more than 40 million.
"What they're trying to do is build out scale," said one ad agency executive who reviewed the pitch deck. "They're using a number of different strategies to do it, and that's what we need right now is scale."
IMDb TV is a path to incremental reach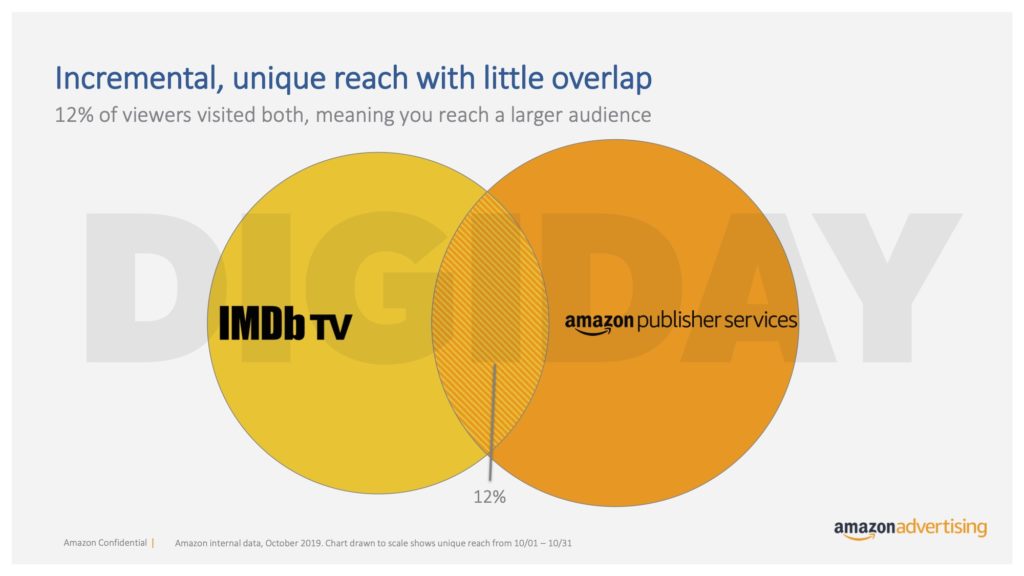 Amazon announced its free, ad-supported streaming service in January 2019, and in June it renamed the service IMDb TV while making it the centerpiece of its 2019 upfront pitch. Ad buyers have not been especially enthusiastic about IMDb TV, which mirrors other free, ad-supported streaming TV (or "FAST") services, such as Roku's Roku Channel, Viacom's Pluto TV and Walmart's Vudu.
"IMDb TV is one of those things that always feels like it's being added in to the conversations that we have with them. But it's just not viewed as a premium offering," said the first agency executive.
In the pitch deck, Amazon positions IMDb TV as an add-on to advertisers' broader Fire TV buys. One slide claims that, in October 2019, only 12% of viewers tuned into both IMDb TV and the third-party Fire TV apps that provide Amazon with ad inventory to sell. That makes for a compelling pitch to ad buyers.
"It's far more convincing to share the incremental reach story than to convince me that IMDbTV is a brand that consumers are actively seeking out in droves," said the first agency executive.
Thursday Night Football viewership has climbed substantially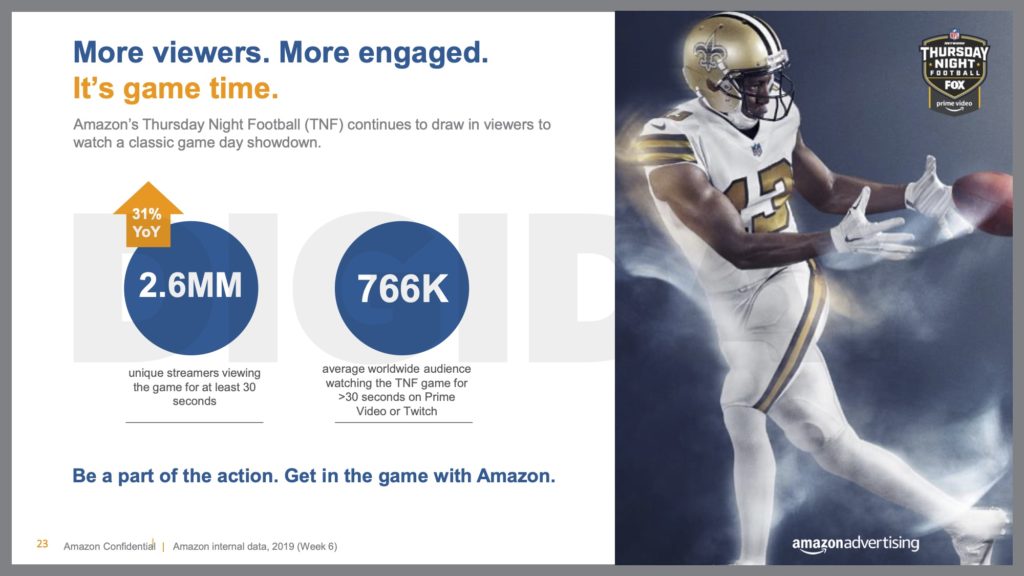 Amazon has kept viewership figures for its Thursday Night Football broadcasts close the chest. But it has opened up a bit to advertisers. In the pitch deck, Amazon cherry-picks a statistic about the Week 6 matchup between the New England Patriots and New York Giants: Citing its own internal data, the company claims that 2.6 million people tuned into its broadcast of the game for at least 30 seconds, a 31% increase as compared with the prior year.  
For ad buyers, the growth statistic is more impressive than the raw viewership figure. Yet neither figure is all that compelling considering that 16 million people watched that game on traditional TV, according to agency executives. Further undercutting Amazon's NFL sales pitch is the premium it puts on that inventory. "The pricing is higher than linear TV," said a second agency executive. When considering a price tag that is higher than regular TV's and an audience that is smaller, Amazon's NFL broadcasts "only work for a limited amount of advertisers," said this executive.
That said, for some companies that sell products on Amazon platforms, advertising during its "Thursday Night Football" streaming does seem to work. While Amazon does not specify in the pitch deck how many sales these ads drove for advertisers, it does report that 50% of all the purchases associated with Thursday Night Football campaigns were made by people who had not purchased a product from the advertiser through Amazon in the prior 12 months. "That's an impactful stat," said the second agency executive.
Amazon sees Alexa as a call to action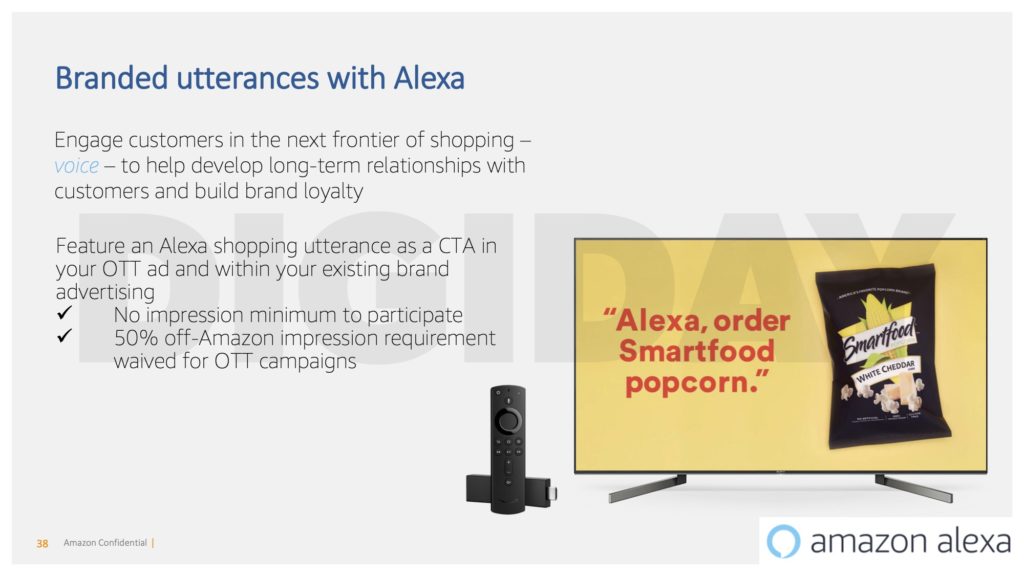 As Business Insider reported earlier this month, Amazon is lobbying advertisers to tie their Fire TV ads to its Alexa voice assistant. Advertisers can now let consumers use Alexa's voice recognition technology to act on an ad and order an advertised product from Amazon.
To entice advertisers to sign on for inclusion of  these "branded utterances" in their campaigns, Amazon is offering to provide companies their own "Alexa-branded experience," voice shopping-specific measurement and more than $750,000 worth of creative work, per the pitch deck.
But advertisers' interest in these Alexa-based branded utterances may depend on how much a marketer relies on Amazon to sell its products. "The transition to using voice as it pertains to brands and shopping hasn't happened in the way people predicted, so why would something necessarily change now?" said the first agency executive.
Amazon's pitching News app ads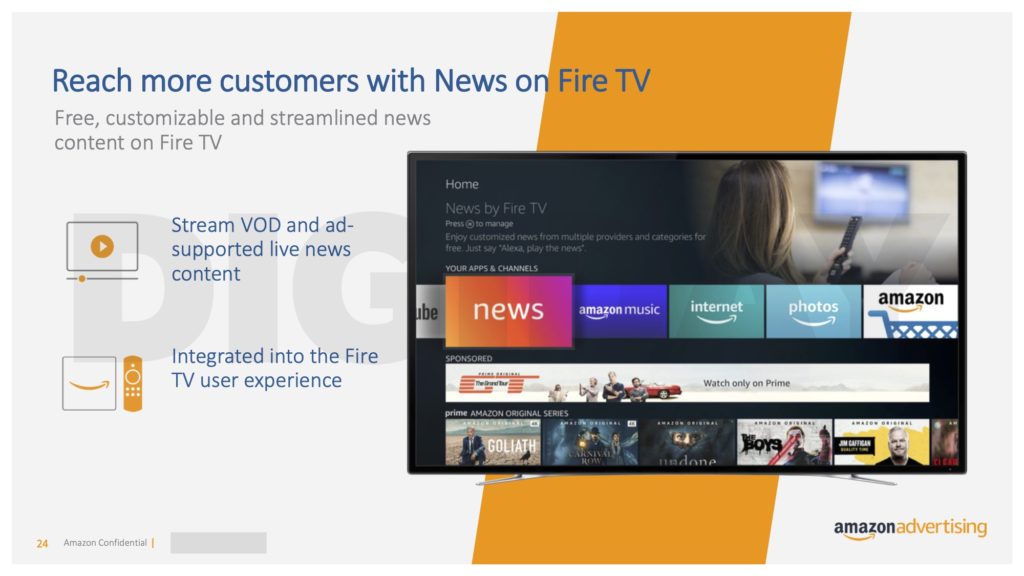 Amazon's pitch deck puts a spotlight on Amazon's own News app, which the company announced it was adding to Fire TV in October 2019. While early last year Amazon had expressed "no interest" in live news programming in meetings with media company representatives, the pitch deck specifically calls attention to the app's "ad-supported live news content" in addition to its on-demand news programming. But that's about all the deck has to say about Amazon's News app.
The second agency executive interpreted Amazon's News app pitch — along with its promotion of the advertising  on "Thursday Night Football" streams and IMDb TV's 24/7 streaming channels —  as being part of the company's overall pitch to advertisers to consider Amazon as an option when looking for live audiences. But unlike what's the case with live sports, "news doesn't have the hook," the second agency executive said.
Here's the full pitch deck: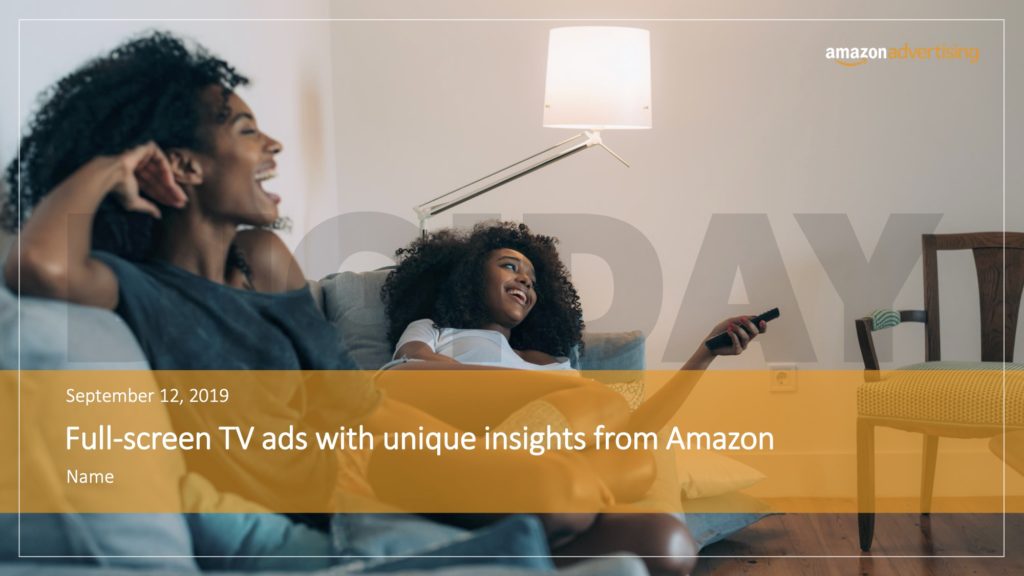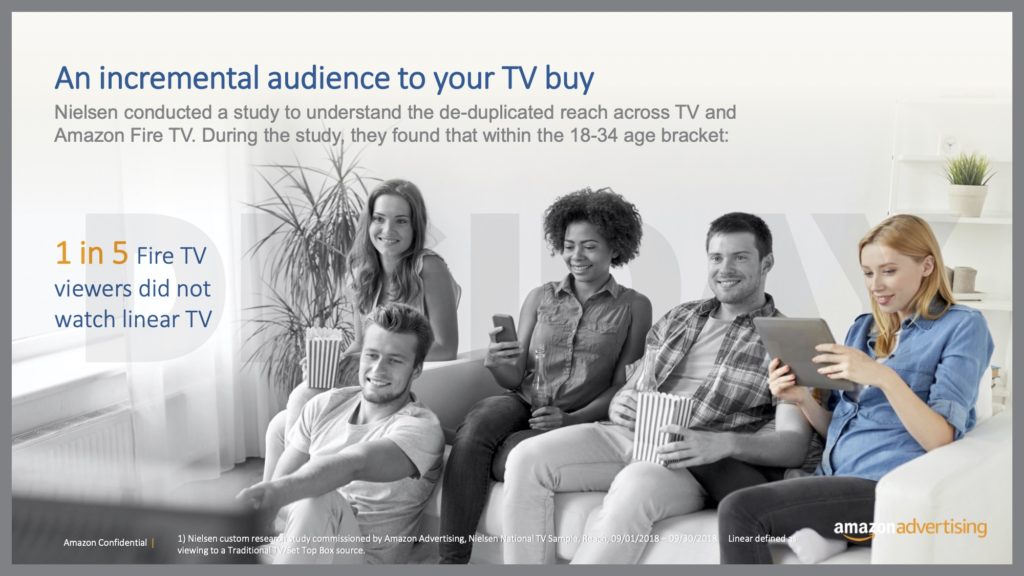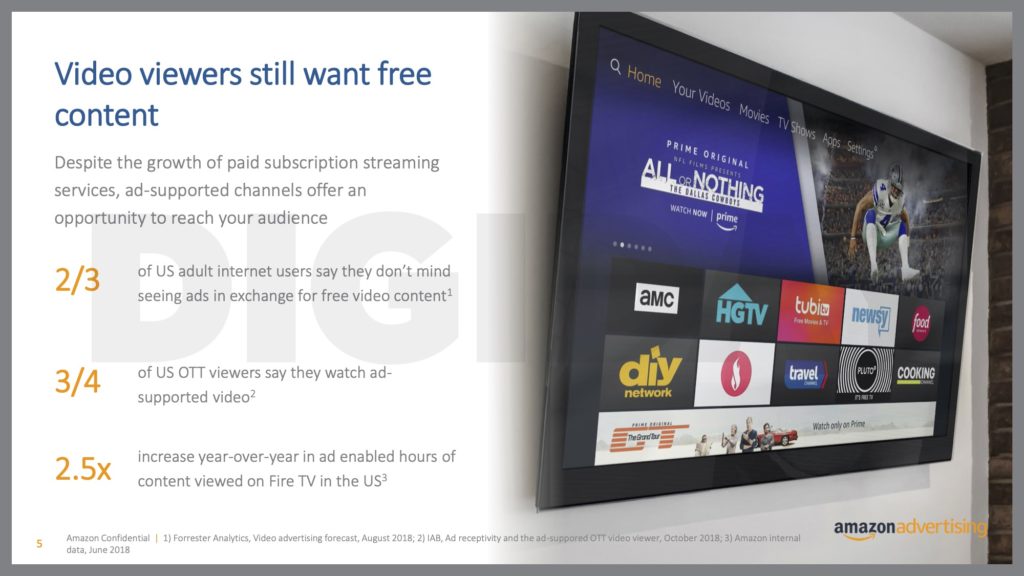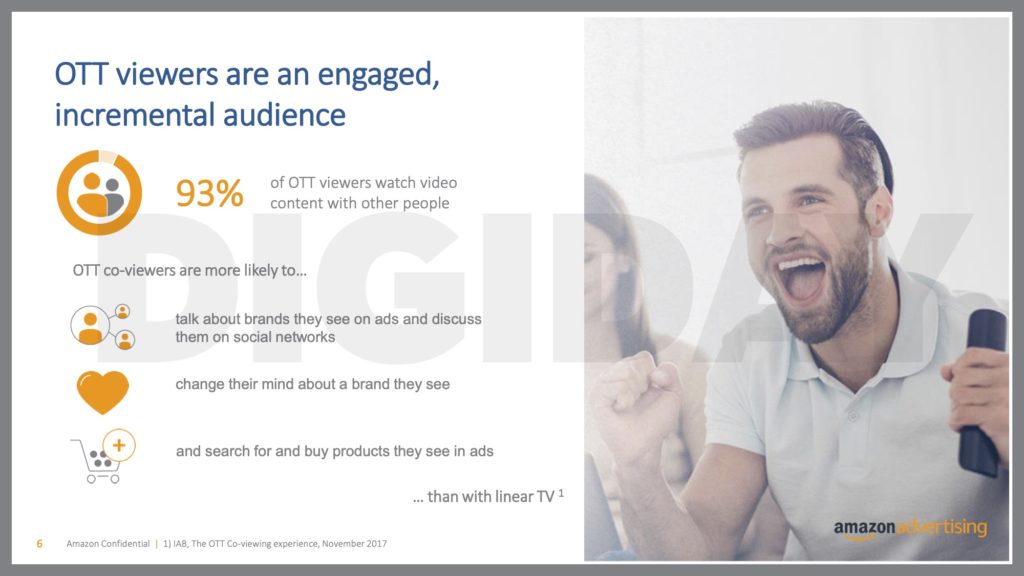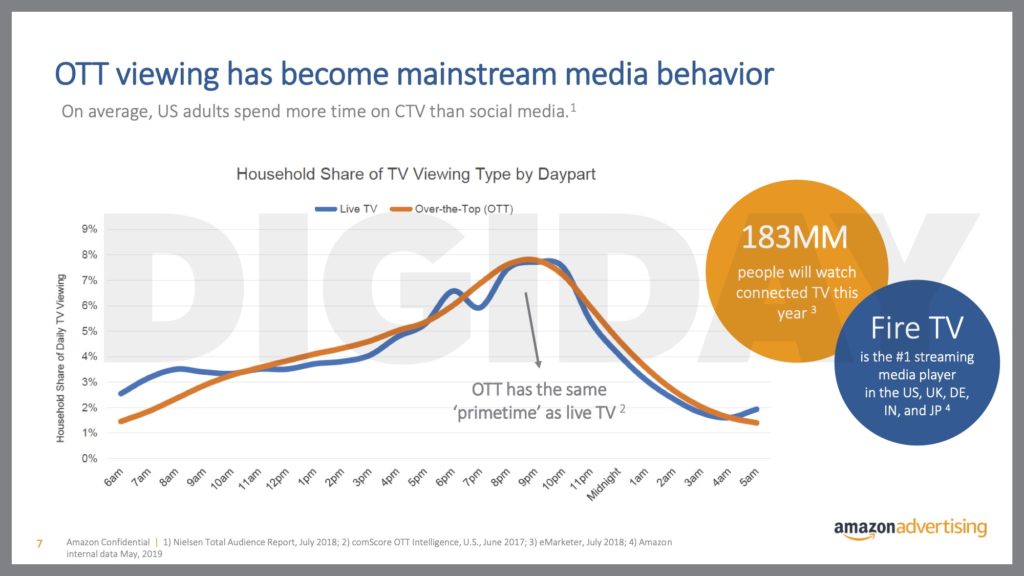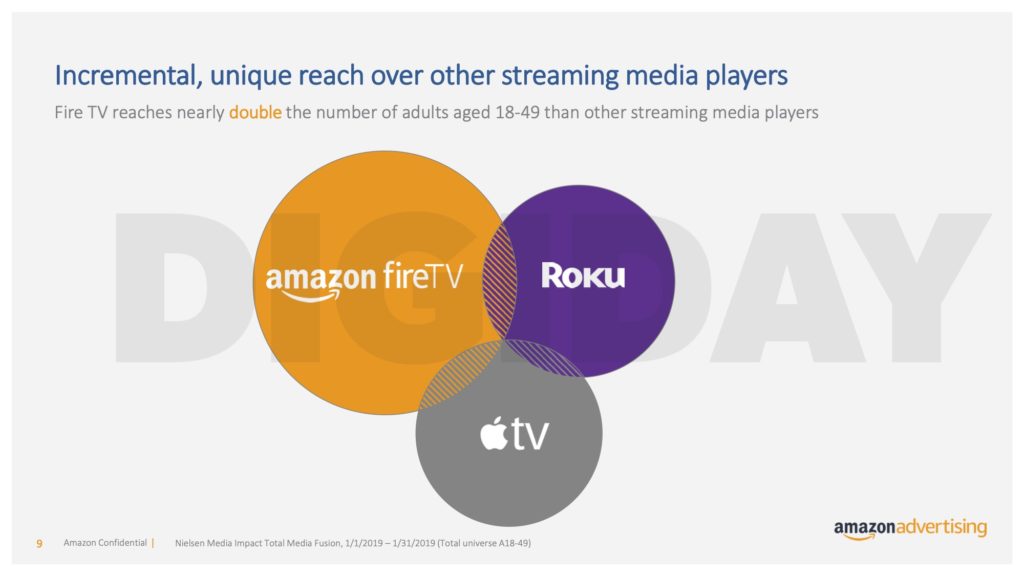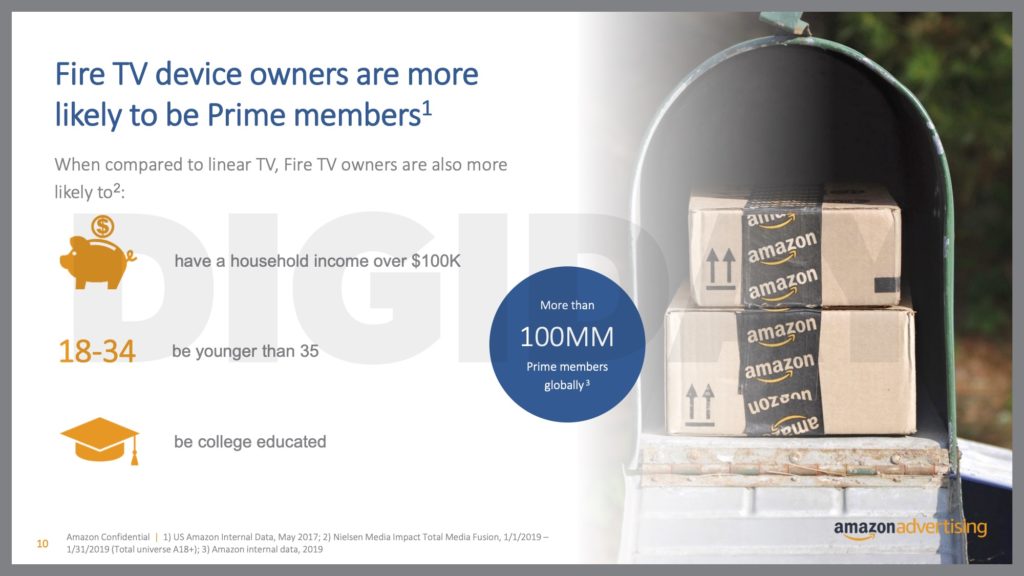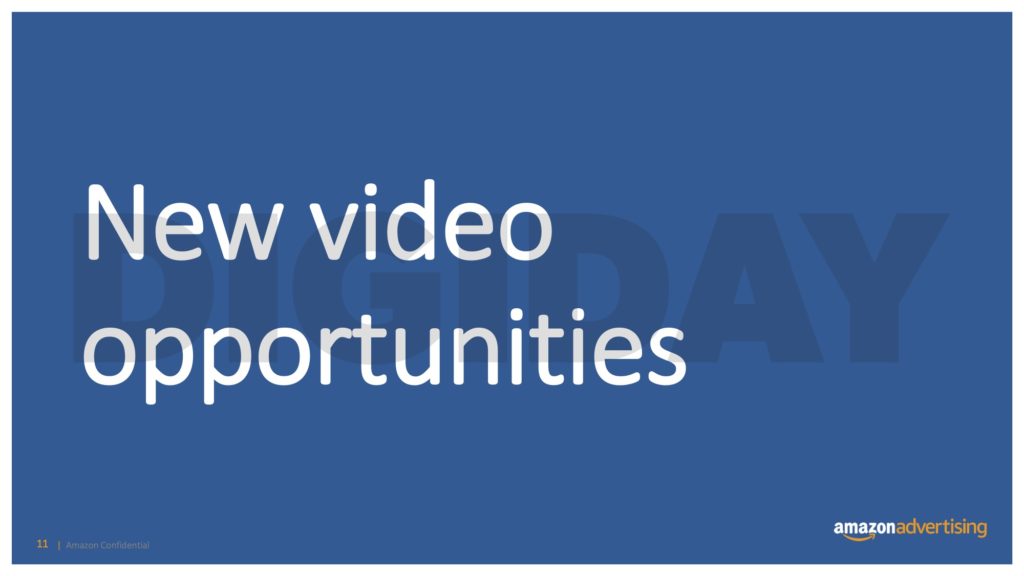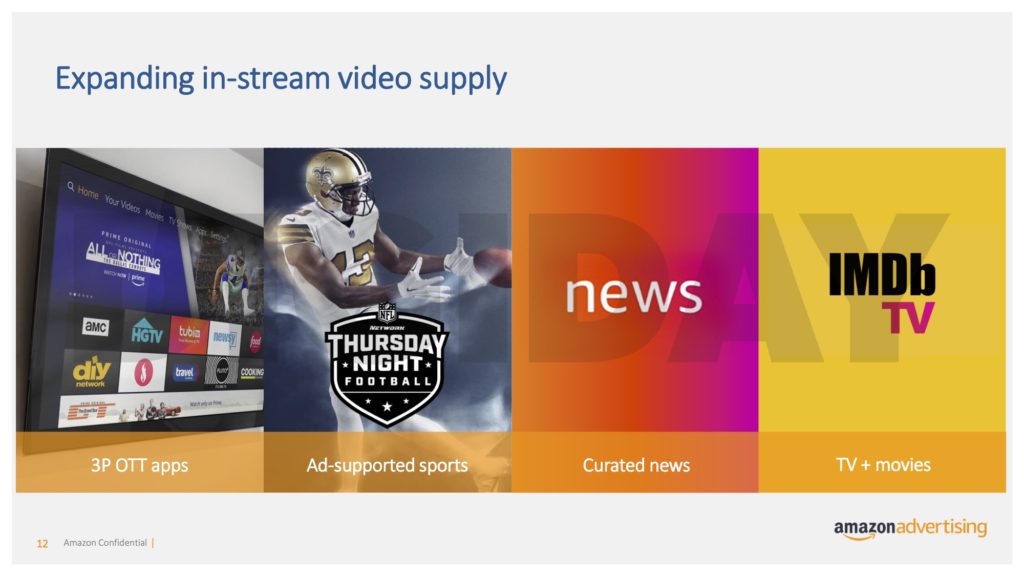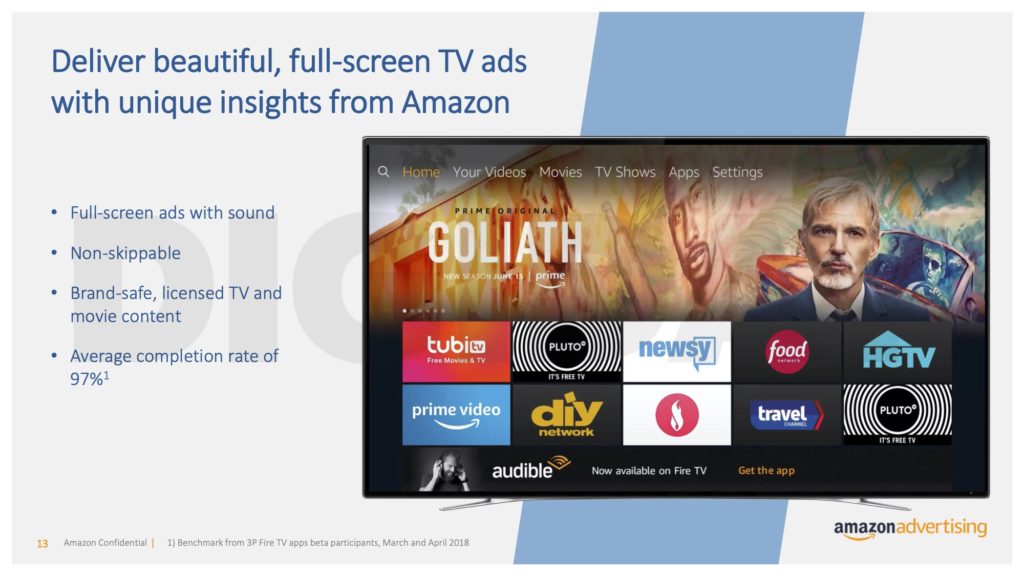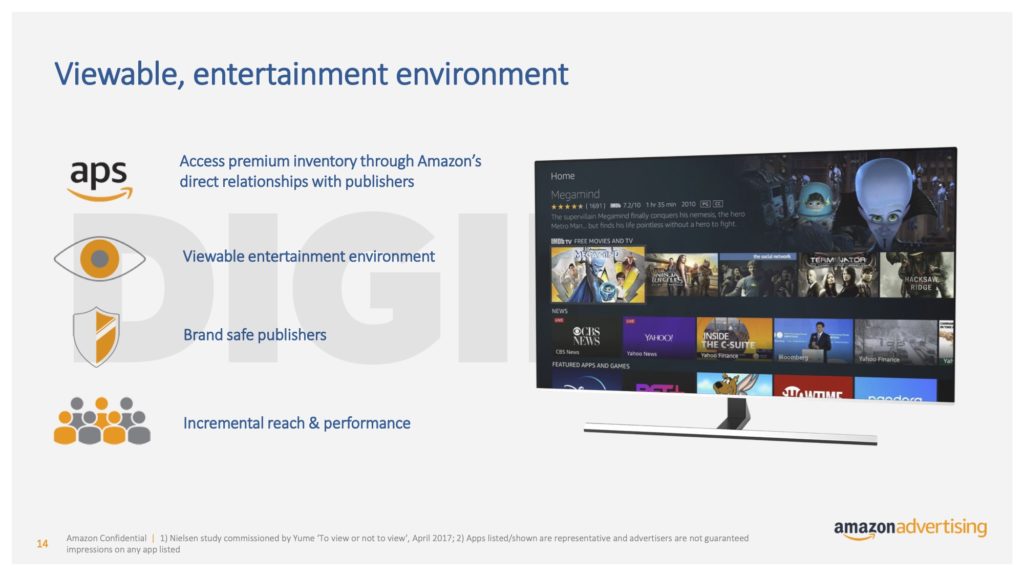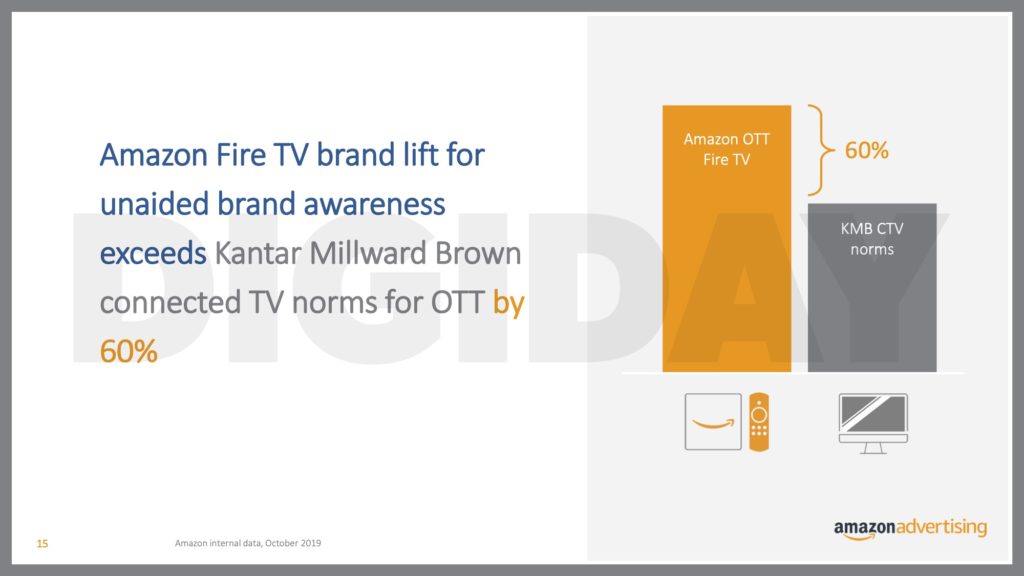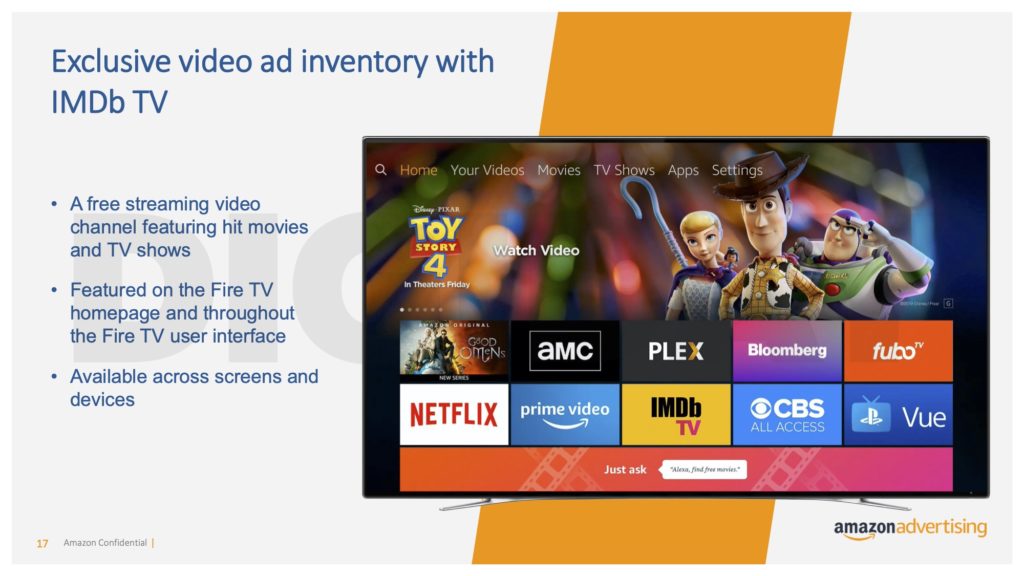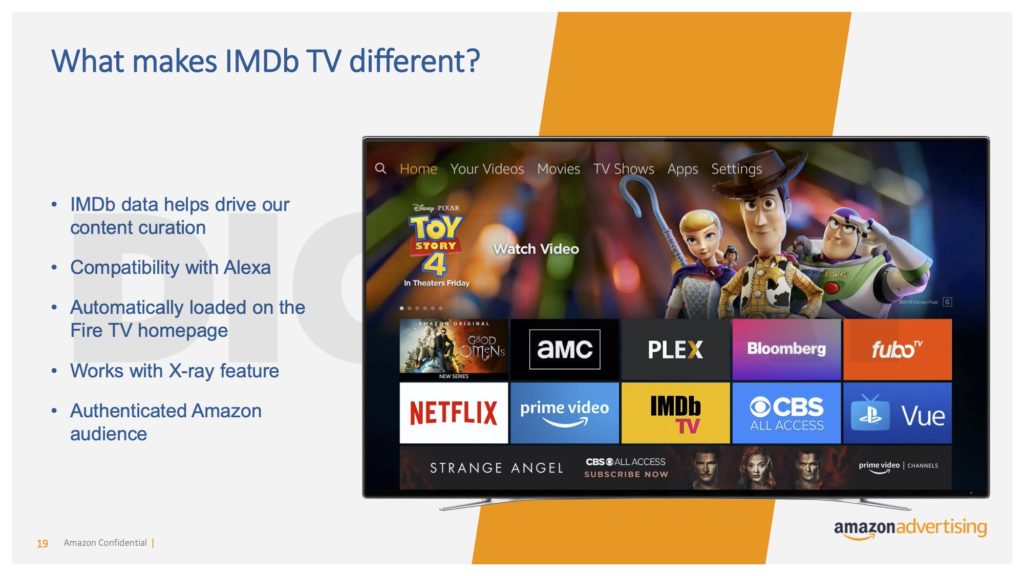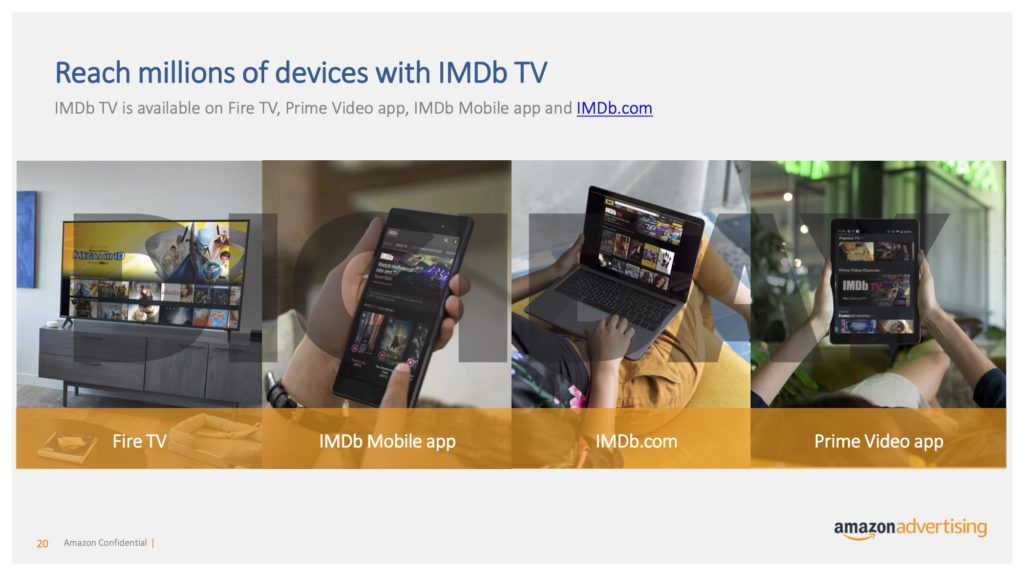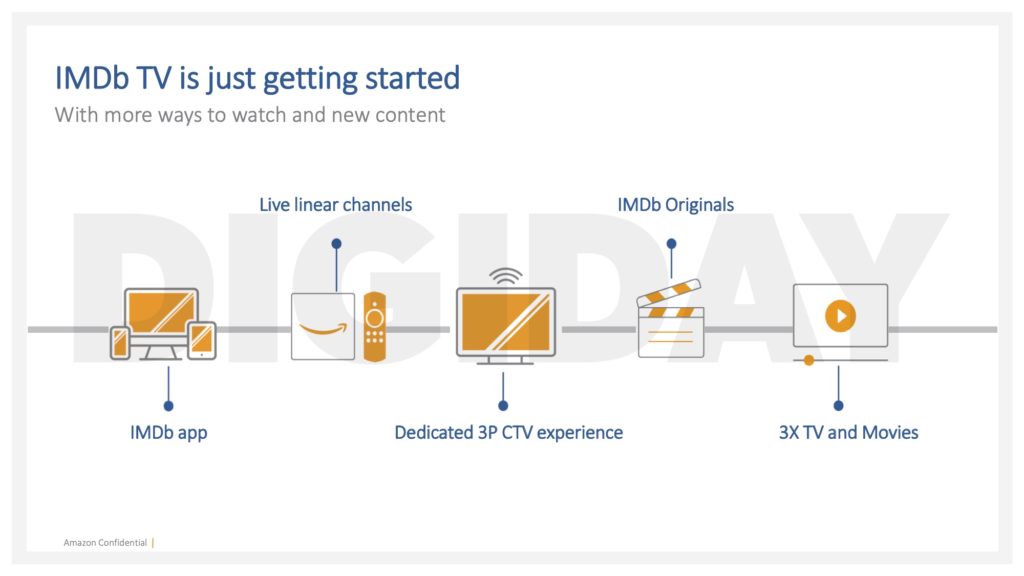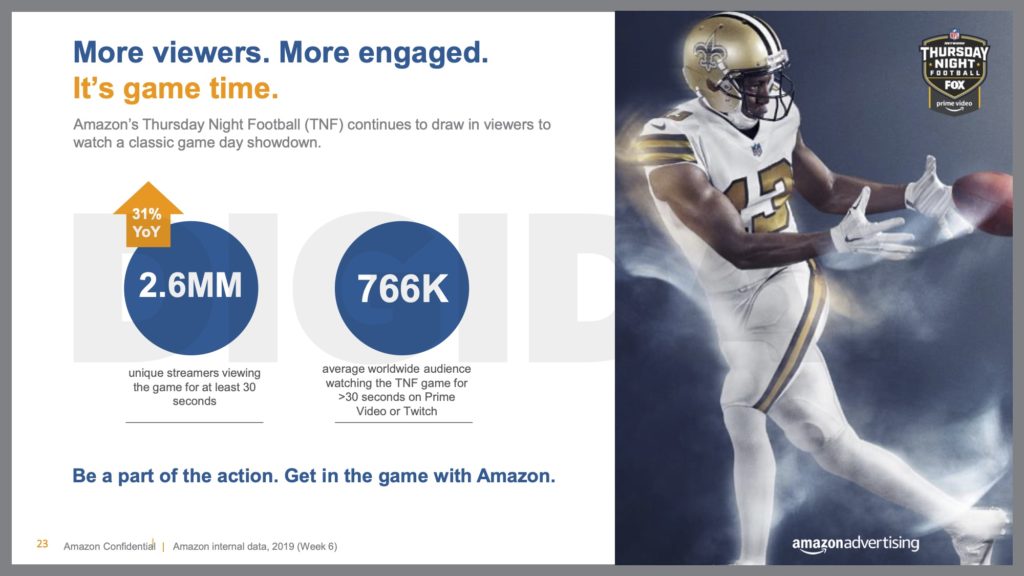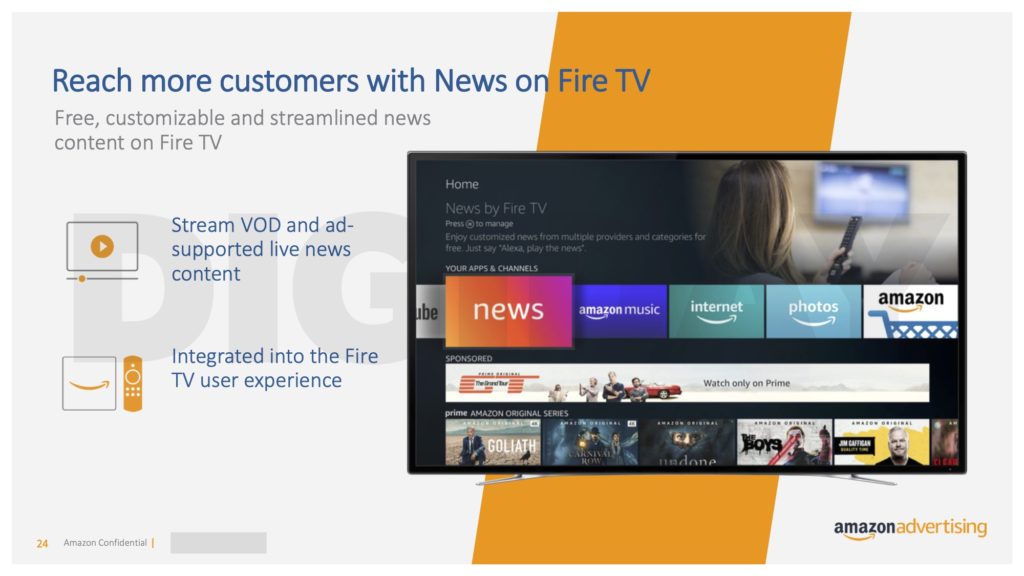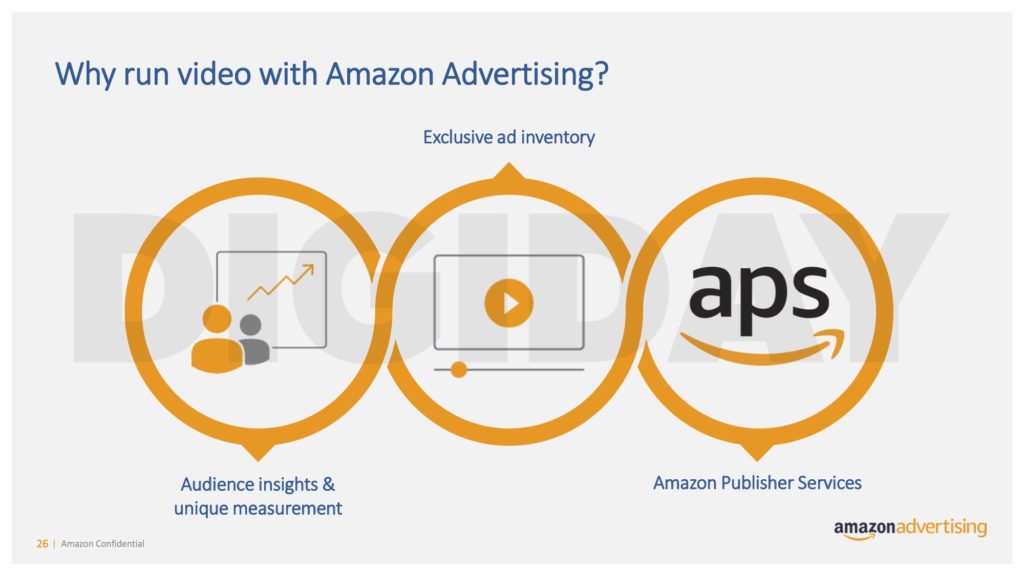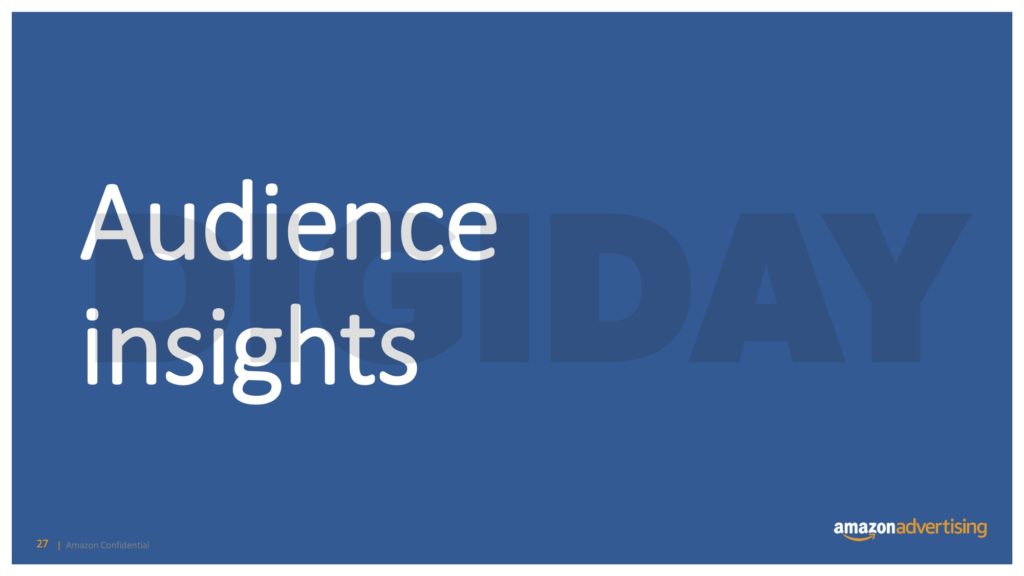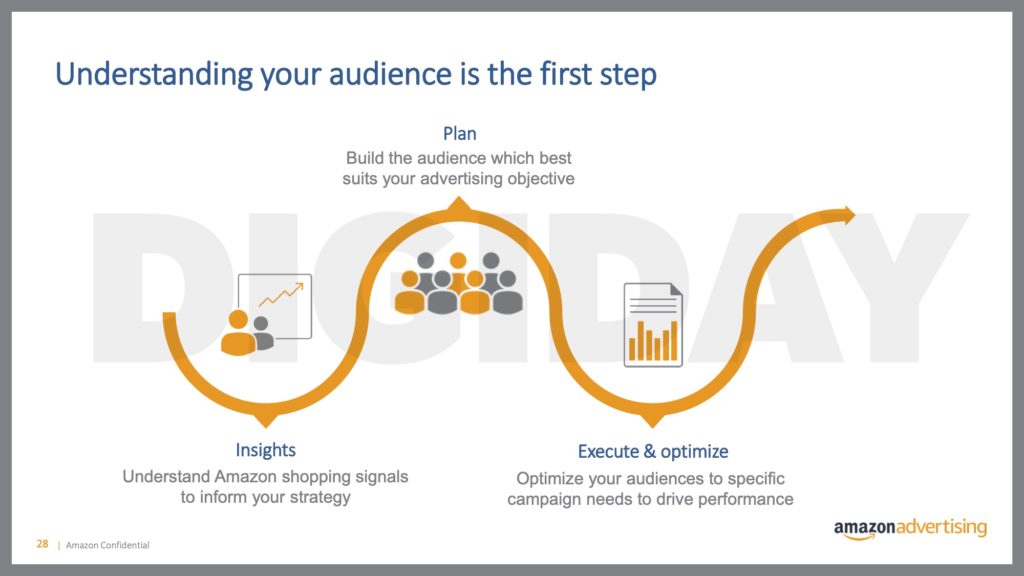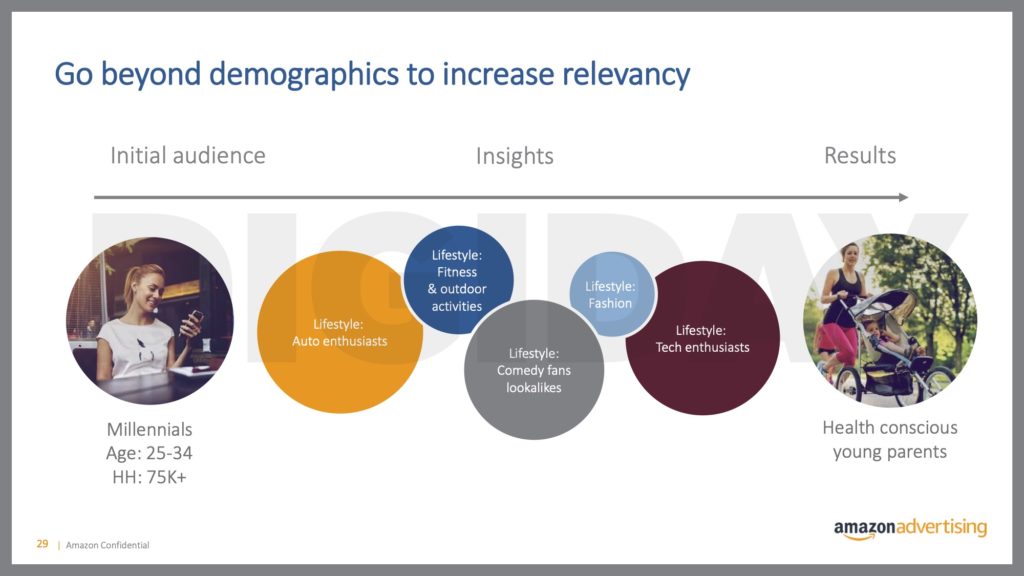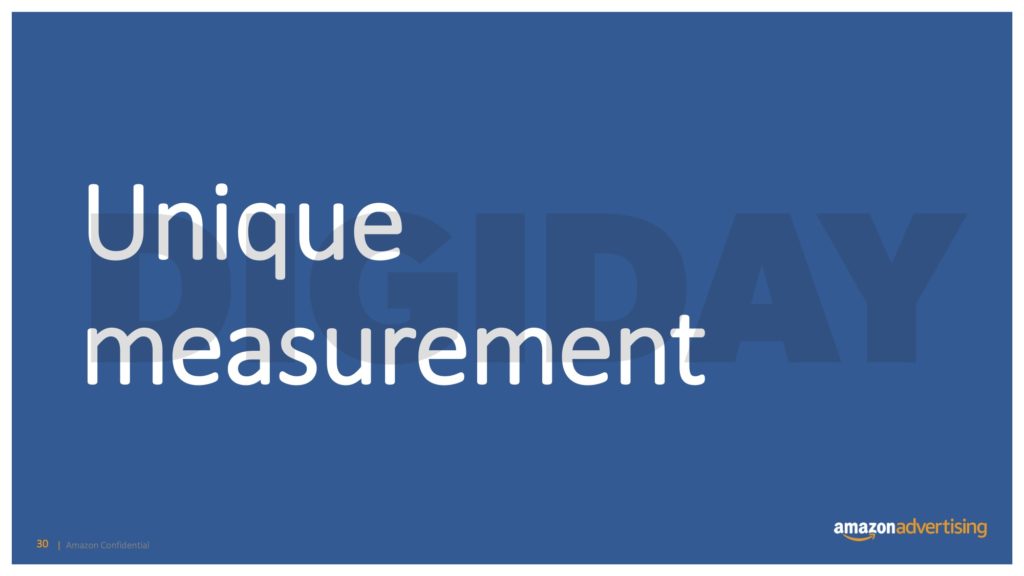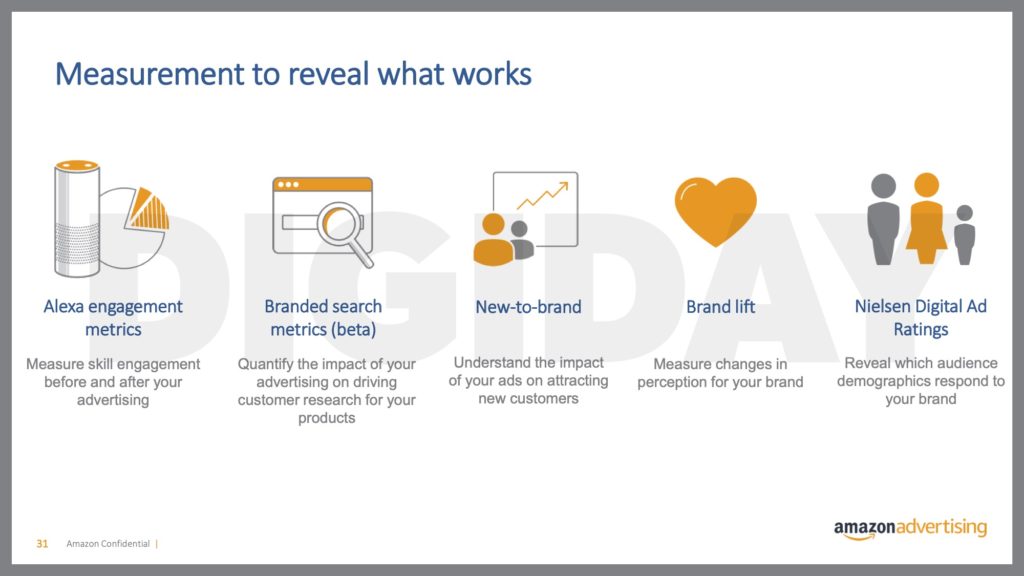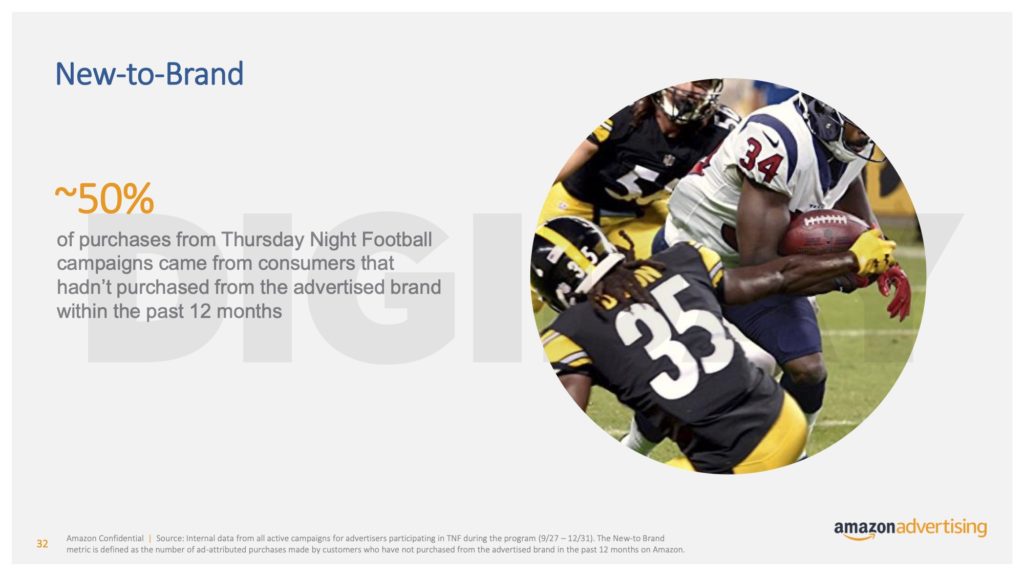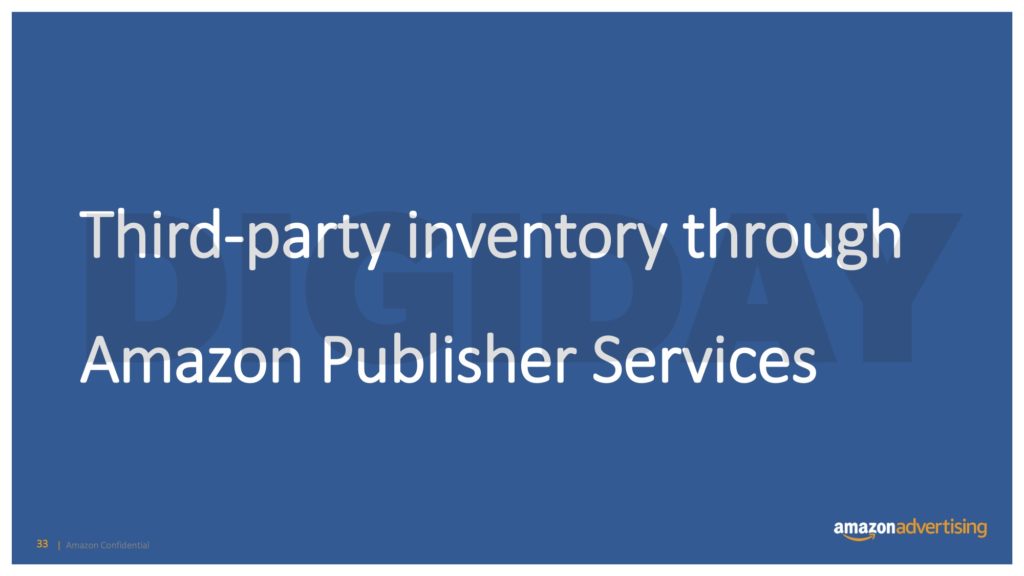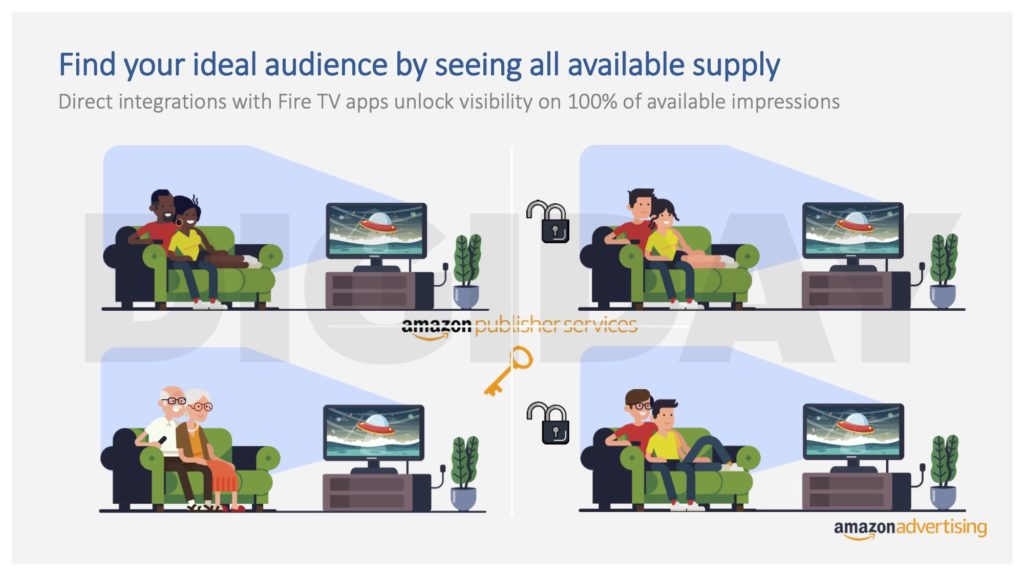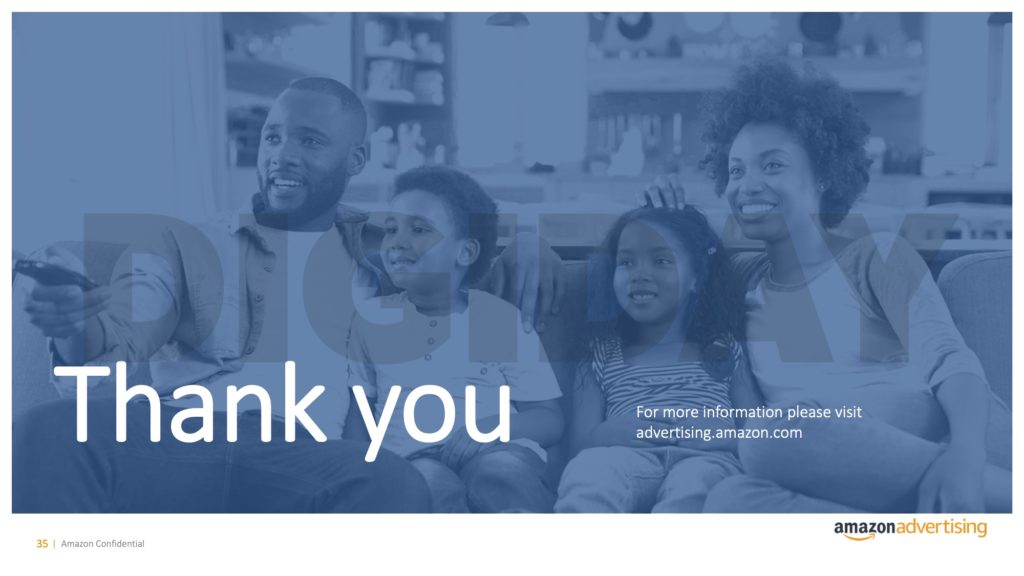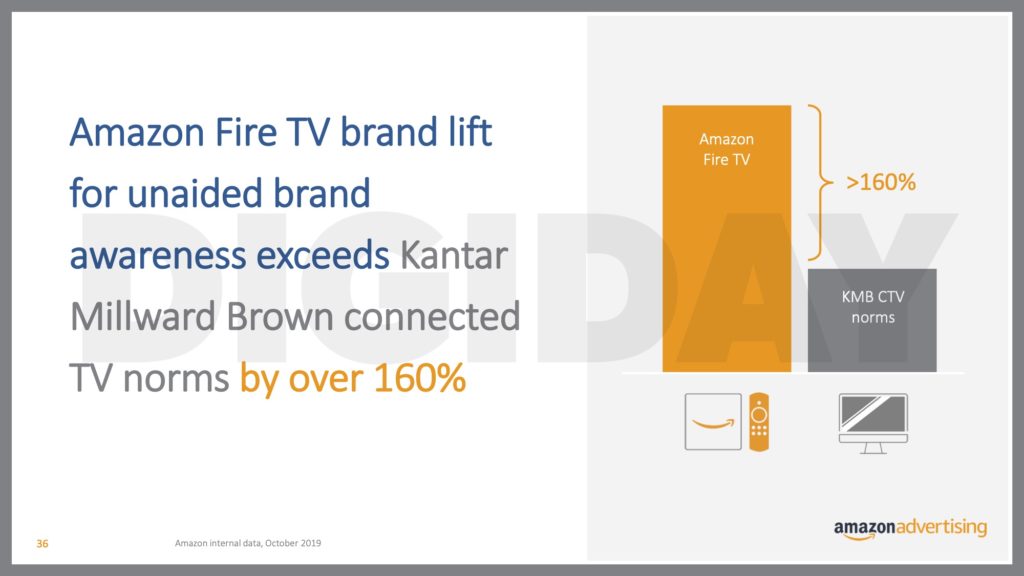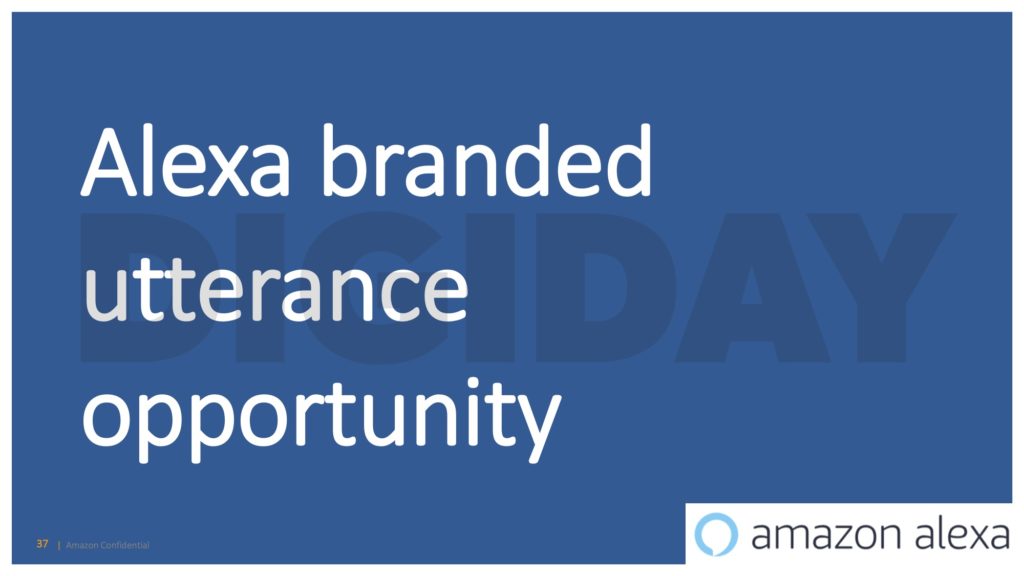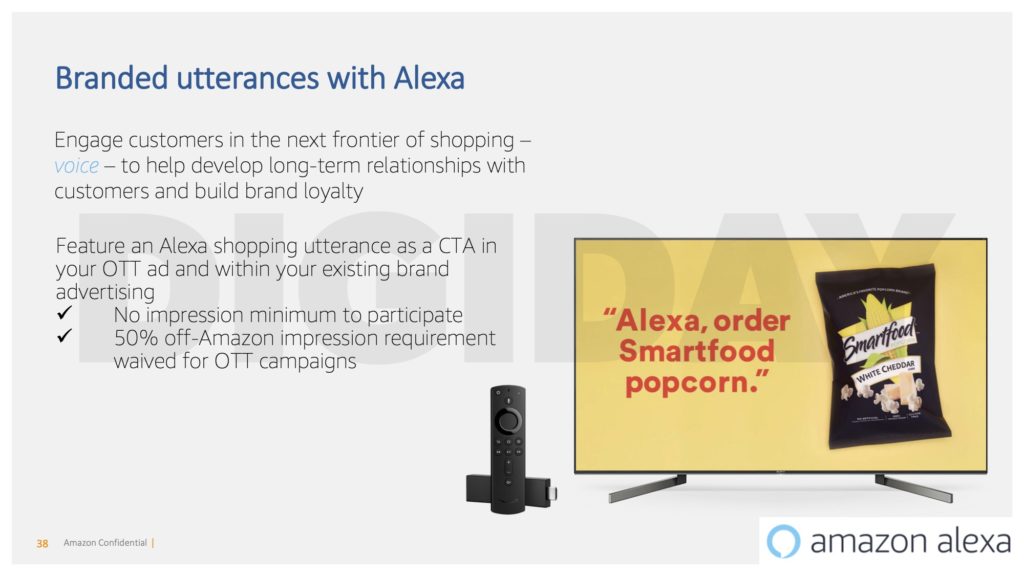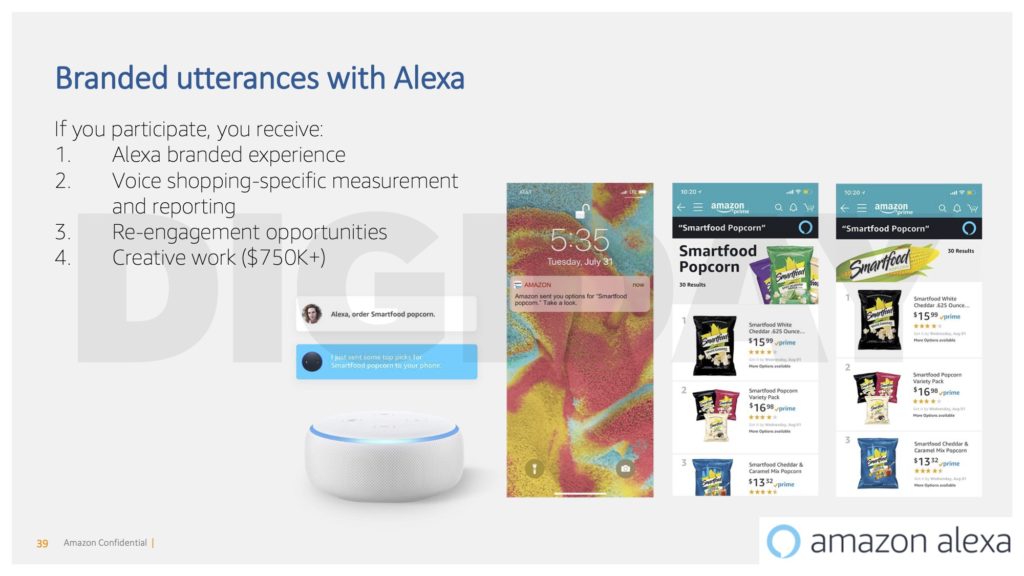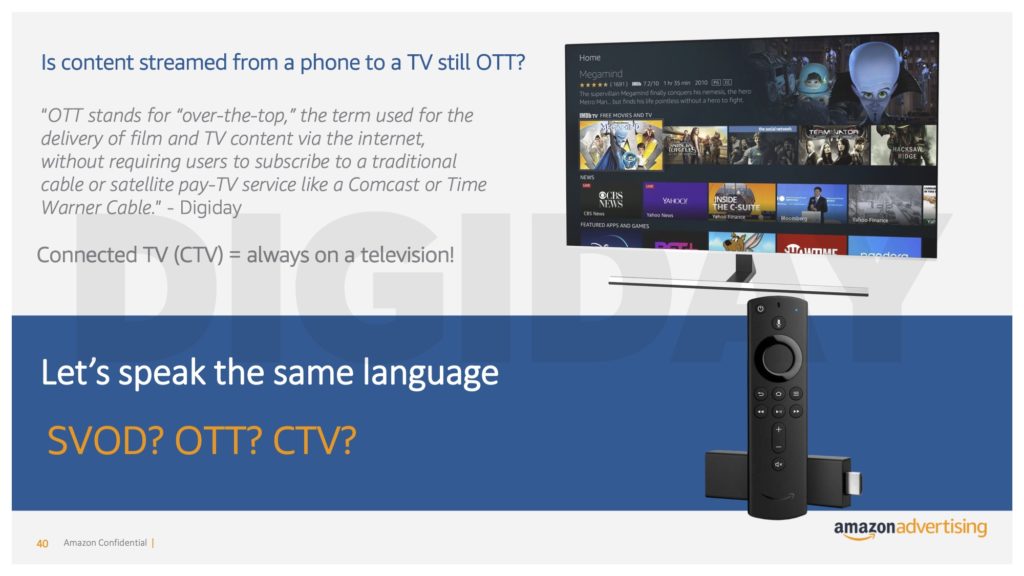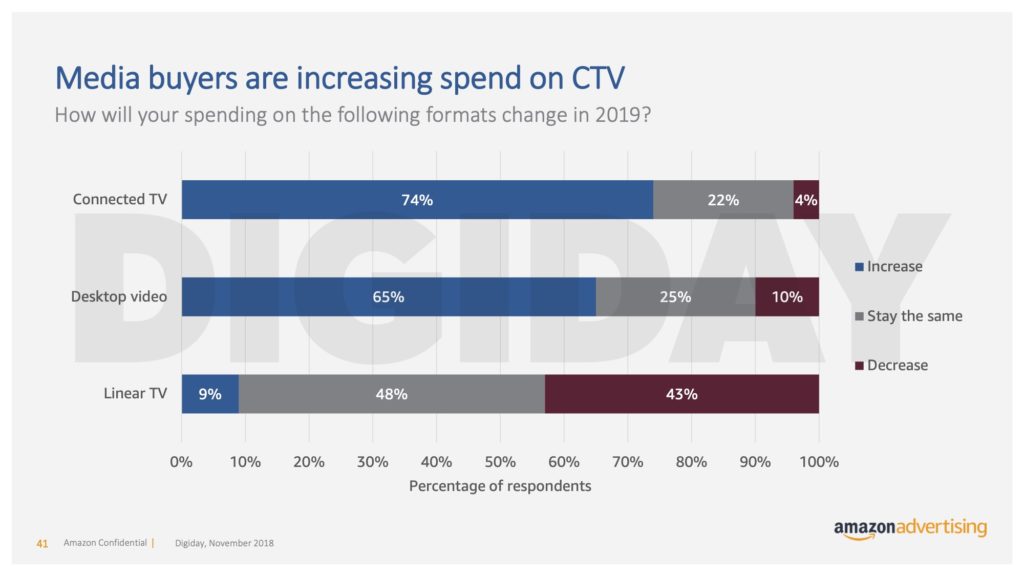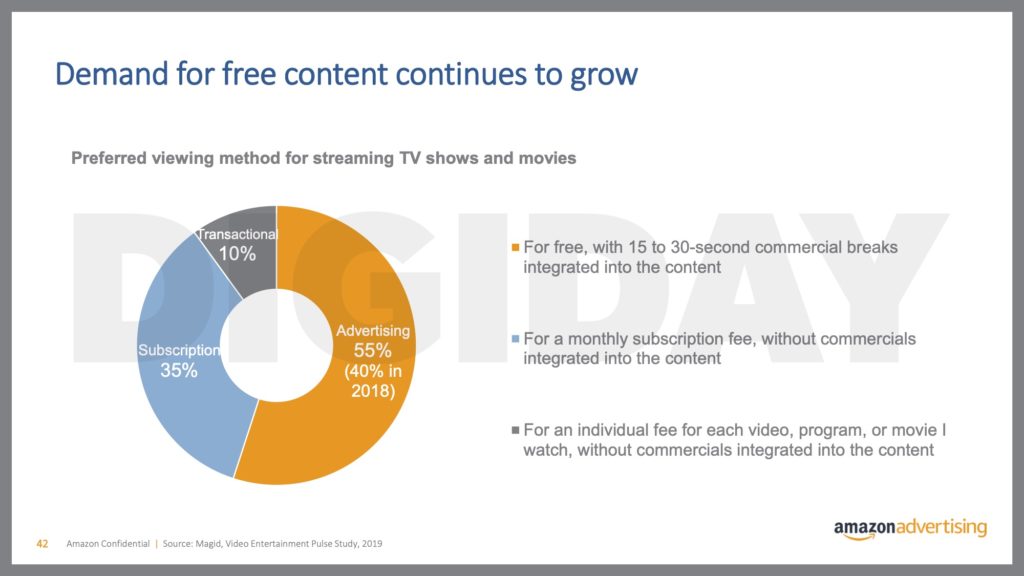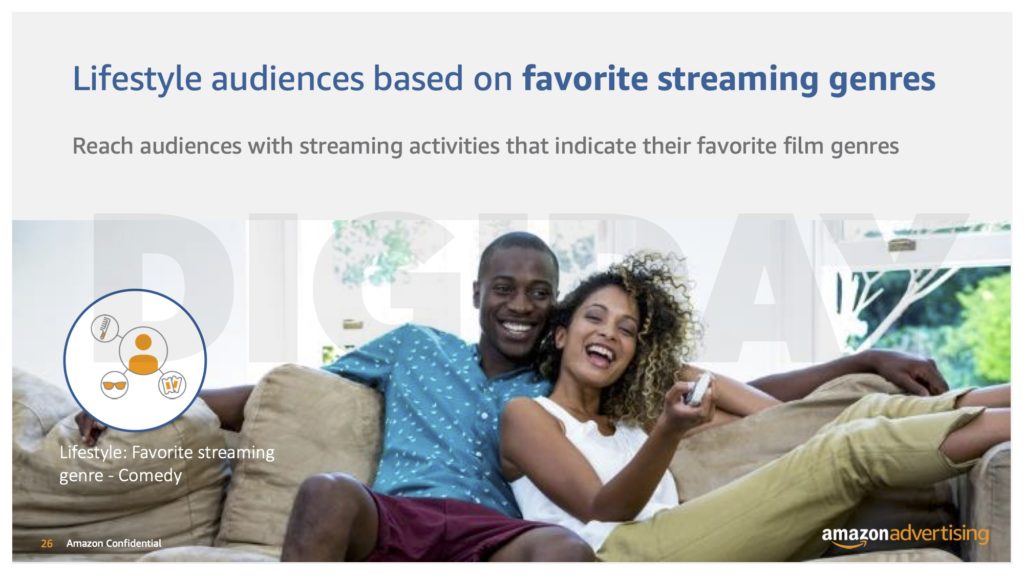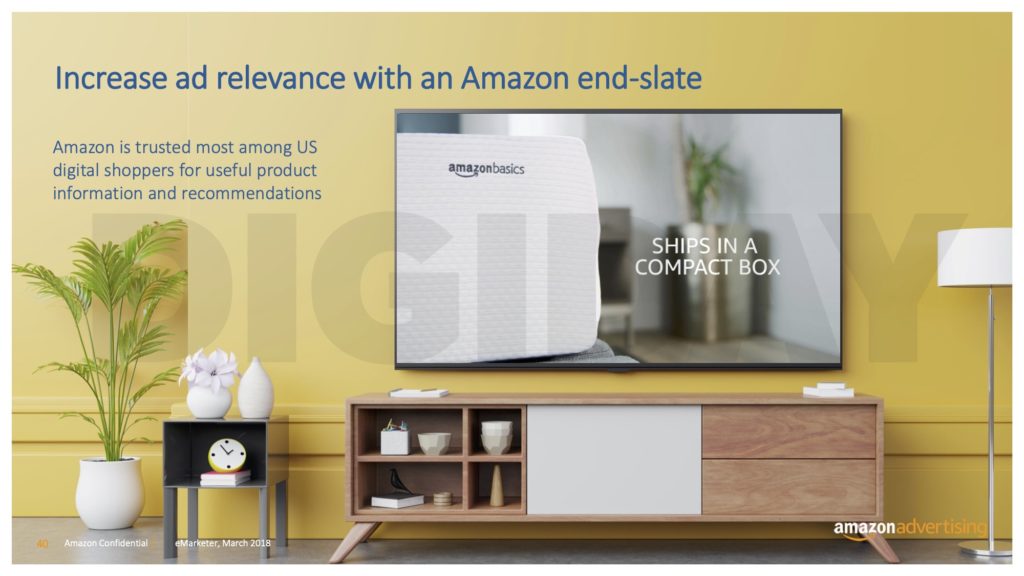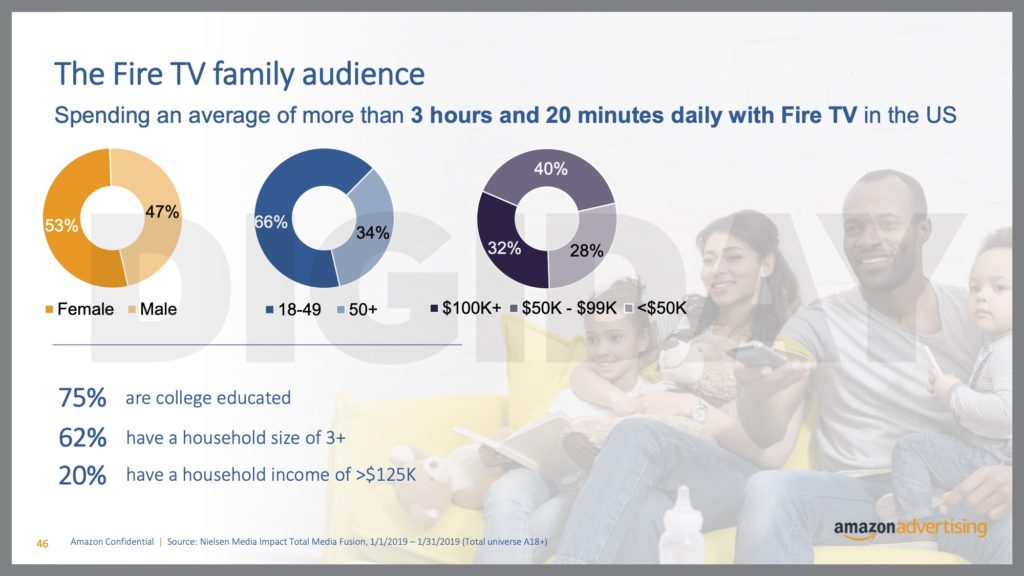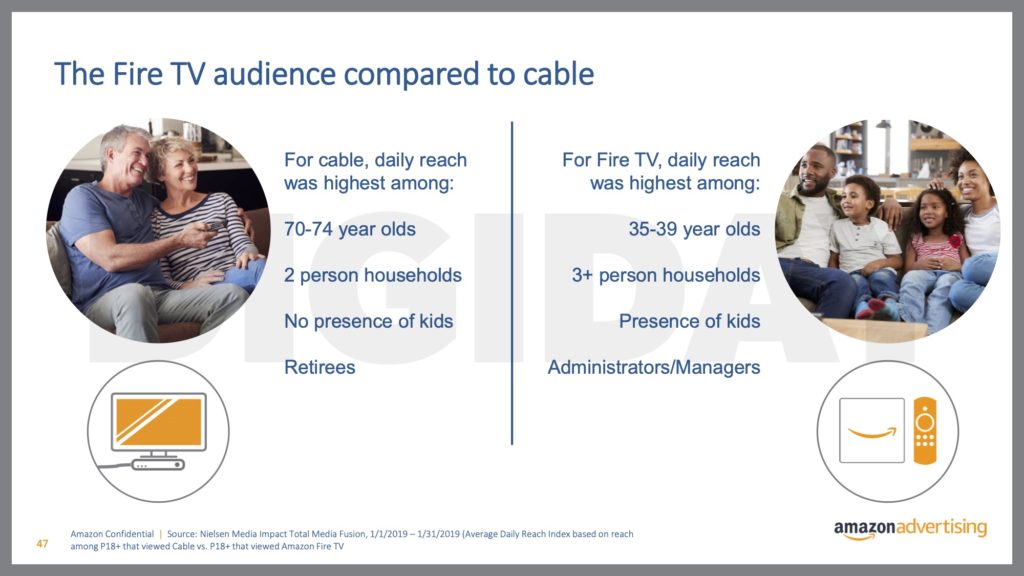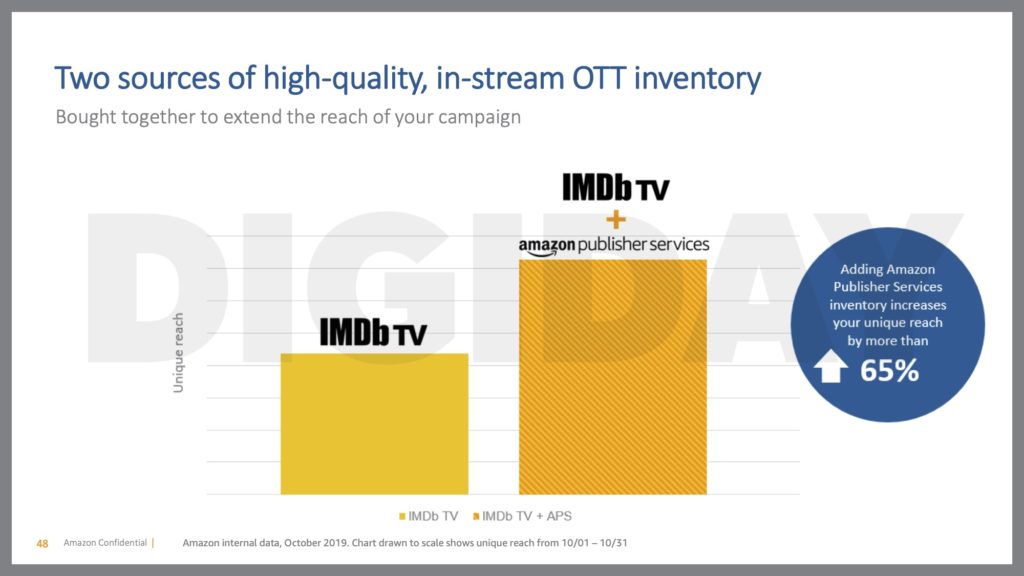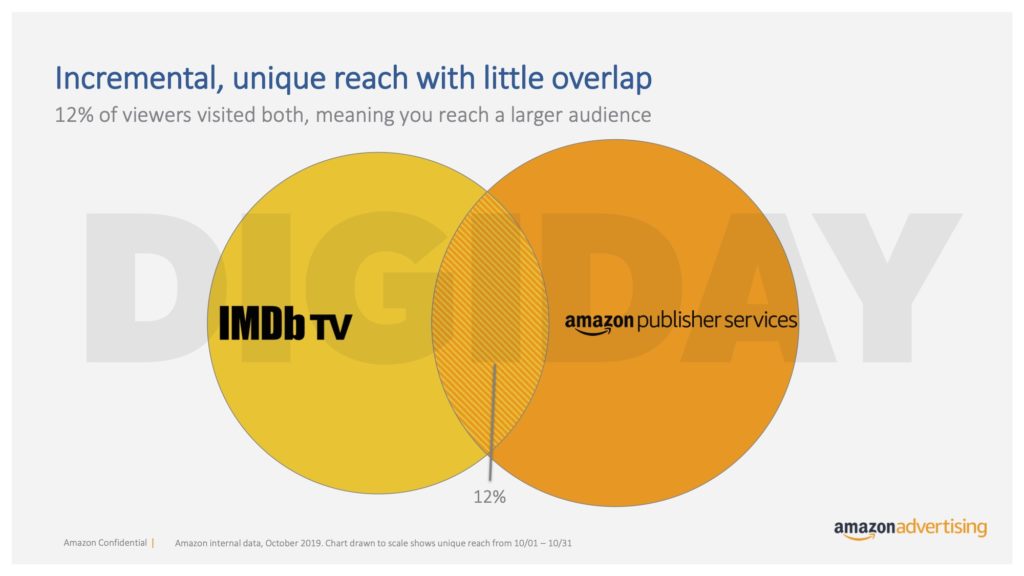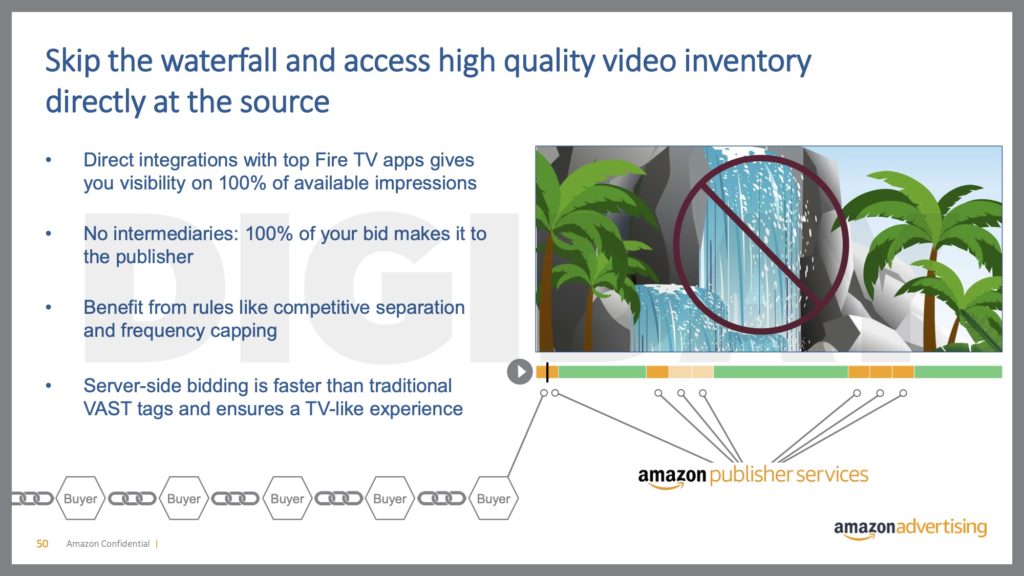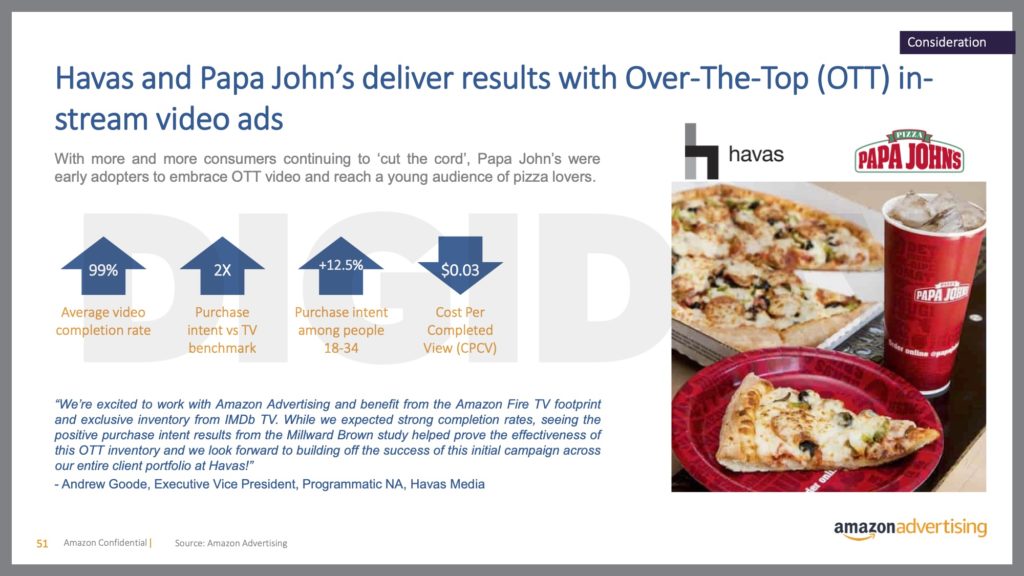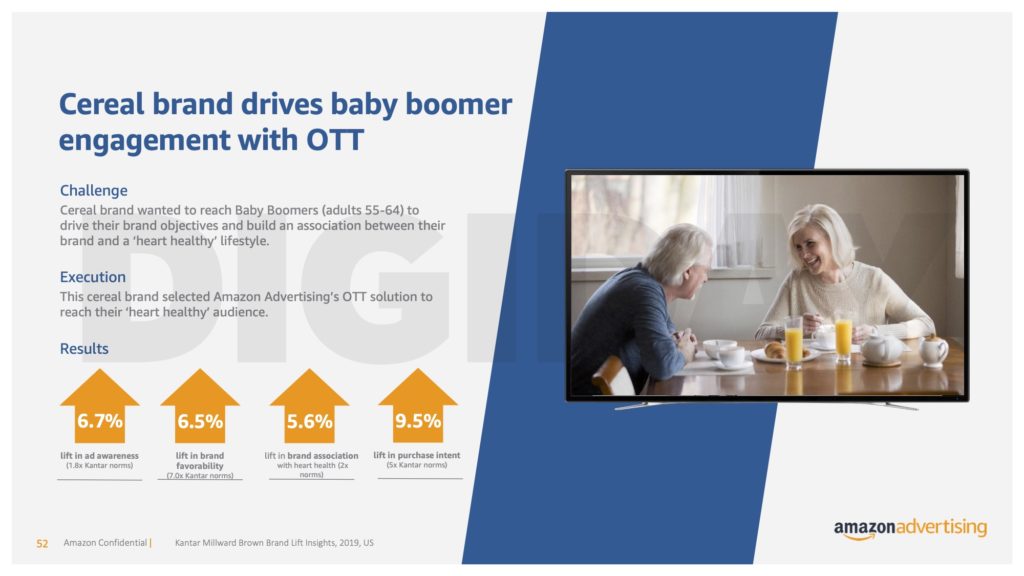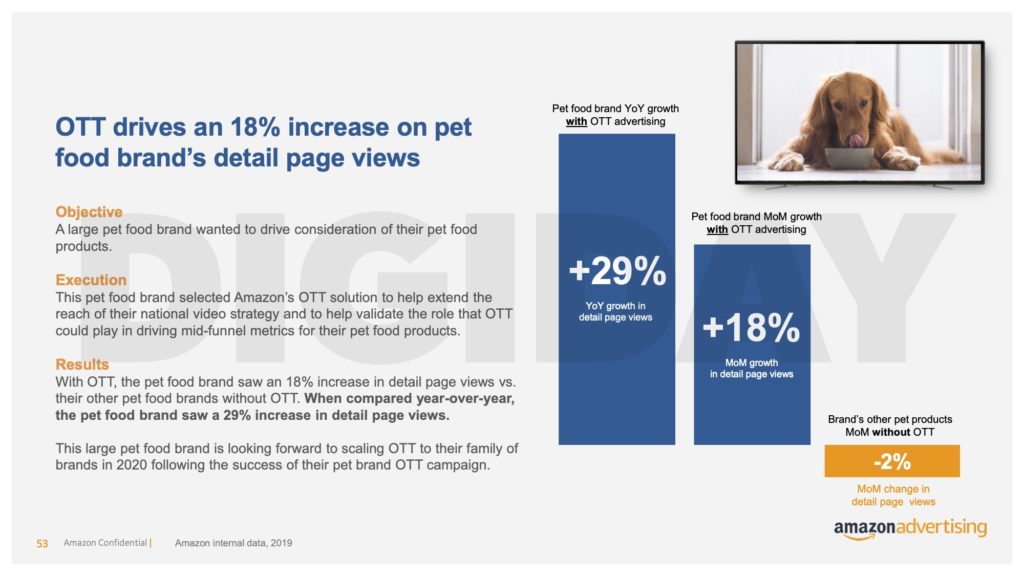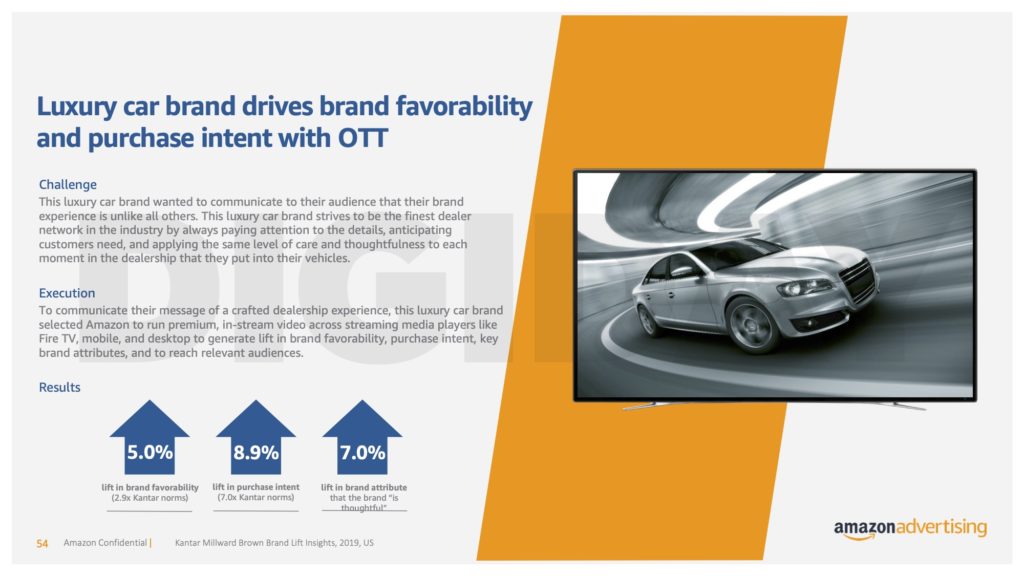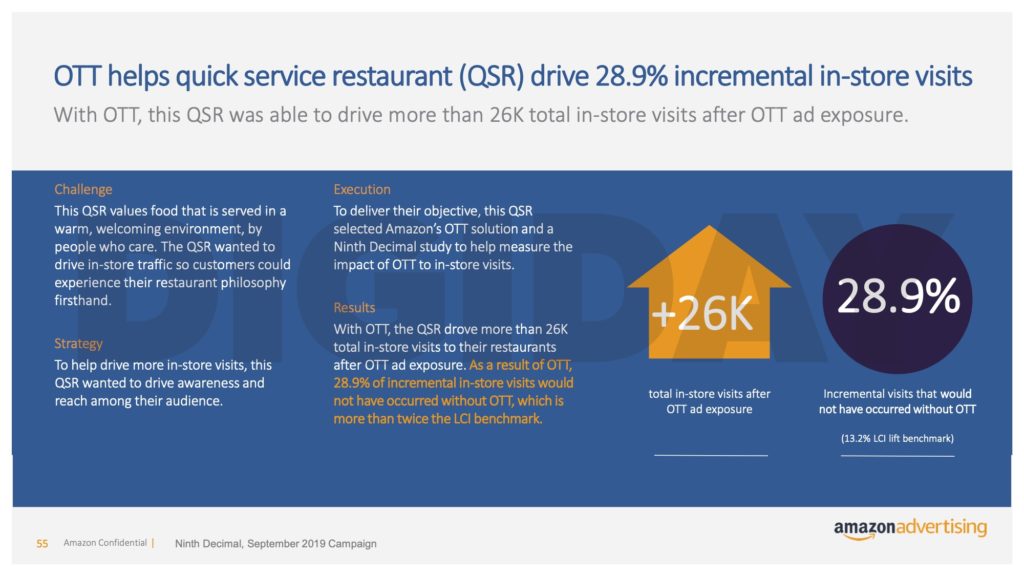 https://digiday.com/?p=357491
This week's Future of TV Briefing looks at how the streaming ad market's programmatic guaranteed vs. private marketplace debate is reaching a compromise.
This week's Future of TV Briefing looks at how this year's upfront and recent announcements from AMC Networks and Paramount indicate the progression of programmatic in the TV and streaming ad market.
This week's Future of TV Briefing looks at how major streaming service owners' subscription business fared in the third quarter of 2023.