'Jack-of-all-trades, master of none': Why Mashable flamed out
November 21, 2017 • 7 min read
•
•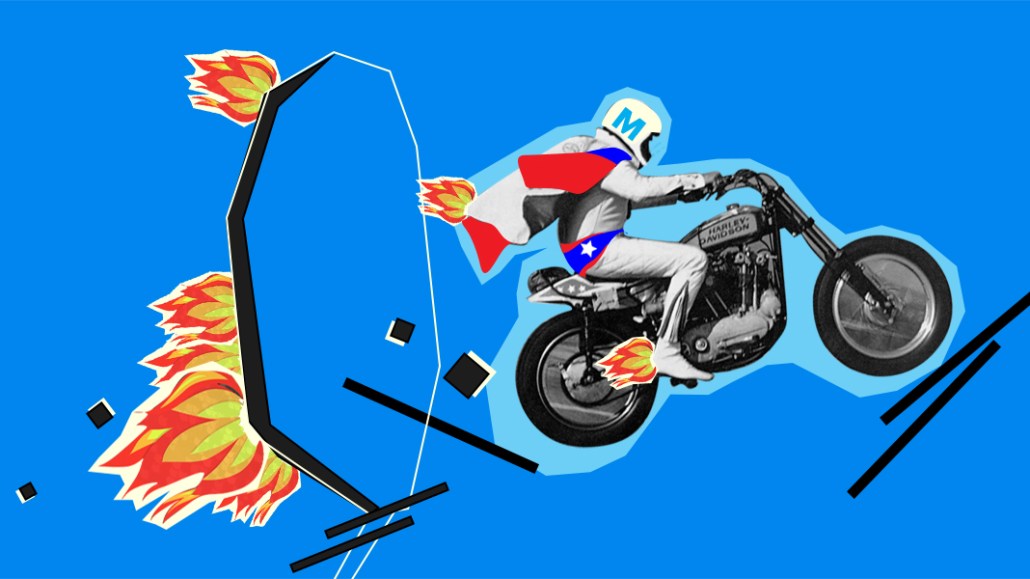 Few images better capture the unfettered optimism and indignity of digital media than 2014 at South by Southwest, where a line of hoodie-wearing attendees snaked around the block at Mashable House, a pop-up lounge run by the tech news site, to get their picture taken with Grumpy Cat. Nearby, AOL "digital prophet" Shingy swung on a Mashable-branded wrecking ball.
It was also a good time to be at Mashable, when it was still true to its founding in 2005 by a 19-year-old Scot named Pete Cashmore as a blog about social media but showing big ambitions. Traffic was on the upswing. The company wasn't making fistfuls of profits, but it wasn't losing money, either. It had just closed its first round of funding, $13.3 million led by Updata Partners. Former New York Times assistant managing editor Jim Roberts had joined the company to lead a more ambitious editorial agenda.
Success in digital media requires doing a million things right, though, and Mashable seems to have fumbled a number of them. Former employees and observers cite a loss of editorial focus and unique identity, lack of financial controls, an ill-executed shift to video content and hesitance to diversify revenue away from the fickle ad market. Mashable wouldn't make executives available for this story.
BuzzFeed envy
All this time, people at Mashable were closely watching BuzzFeed, which like Mashable, started with a focus on light, sharable content, but had hired Ben Smith from Politico to build a serious newsgathering operation. The meme coverage that built Mashable was becoming commoditized. So Mashable used its new capital to hire Roberts and other pedigreed journalists.
Soon, there were stories on terrorism and Ukraine leading the homepage, a big change for a site better known for covering social media and internet memes. Whether it was the increased editorial resources, Facebook's generosity or both, Mashable's traffic soared to over 27 million monthly uniques in December 2015, according to comScore.
The shift was debated internally, though, and caused friction between Roberts' new hires and pre-existing staffers.
"It came from Pete on down — 'What's going to be our version of Ben Smith?'" a former insider said. "'They got Ben Smith, so we need someone,'" said another, describing the philosophy. "'They started BuzzFeed Studios; let's start Mashable Studios.' I'm surprised they didn't call it 'MashFeed' at some point." But as an ex-editorial staffer said, the pivot to general news made Mashable a "jack-of-all-trades, master of none. Everyone was aware BuzzFeed was beating us on stuff, and the tech pubs didn't take us seriously."
Doug Rozen, chief digital and innovation officer at OMD, said he sees small or midsize publishers run into trouble when they change their editorial mandate. Ambition is a good thing until it becomes a cover for trying to be everything to everyone. Mashable was serving a need as a go-to resource as social media marketing took off. But was it serving a need being yet another publication covering general news?
"It's good if it extends beyond the core, but it's hard when you keep changing the core," he said. "One thing publishers need to do is work with their sales team to say they were going beyond their editorial core. Too often, publishers take for granted that if they created the news, the audience and the buyers would follow."
Runaway expenses
In the early days, Mashable was like any scrappy startup, crammed in a small office, but with a camaraderie and sense of fun. People brought their dogs to the office. There was a Twitter feed devoted to a mouse that ran around the office. People applauded snarkily when someone left early. Still, the company was breaking even.
The company took a long time to take outside money, but once it did, everything changed. In 2014, armed with its first round of funding, Mashable started spending it. The thing about venture capital is, investors don't give it to companies to sit on it for a rainy day; they want it deployed — and fast.
Mashable moved into swank offices on Fifth Avenue near New York City's Union Square befitting a well-funded startup. The fully stocked kitchen had a cereal bar, snacks, fresh cheeses, beer on tap and a wine fridge. Like a lot of media companies, Mashable also opened an office in Los Angeles, where its video studio was housed. There was a living plant wall, with its own attendant. At its peak, the company had more than 300 people and was in seven countries, including the U.K., India and Australia.
"You had all this venture capital money flowing in, so media companies were acting like tech startups," said someone familiar with the company. Mashable was hawking its own tech platform, Velocity, which it used to figure out what topics were going viral. The idea was it would get brands and agencies to license Velocity. (VCs love recurring software licensing fees.)
Like many publishers, Mashable rose with Facebook and felt the pain when Facebook started sending it less traffic. In 2015, there was a Facebook correction. By June 2017, Mashable's traffic had declined to 13 million, less than half its peak. Mashable signaled its pivot to video in 2015 as the easy traffic from Facebook was starting to end and the display market was buckling under the weight of the Facebook-Google duopoly. But even here, insiders point to BuzzFeed as the impetus, with executives laser-focused on the success of Tasty, BuzzFeed's food video offshoot.
But Mashable soon ran into execution challenges. There were three groups creating video, all competing for attention in Facebook's news feed. The newsroom was making serious news videos, as a part of the general news mandate, but they weren't audience- and advertising-friendly. The company also would drop 30-second pre-roll ads in front of videos, which didn't help viewership, an ex-staffer said. But with video, as with text, much bigger competitors dwarfed Mashable. For example, in the 90 days that ended on Sept. 21, Mashable had 339 million video views on Facebook to BuzzFeed's 11.9 billion and HuffPost's 771 million, according to Tubular Labs.
Return to roots
Mashable's general news experiment ended in 2016 as it replaced Roberts and cut an estimated 30 staffers while reverting to its core coverage of subjects like tech, web culture and social media. The company was fresh from raising $15 million led by Turner, its third round, and had a deal to develop video for Turner.
Like most digital media, Mashable was all but entirely reliant on advertising revenue. It finally got into commerce content earlier this year, long after other publishers made the move. By the time it moved into general news, BuzzFeed had a three-year head start. That hesitation and earlier missteps cost Mashable. In addition to Roberts, a string of top executives left in the past couple years, including CRO Seth Rogin, chief strategy officer Adam Ostrow and CMO Stacy Martinet, which doesn't help a company's ability to hone its message. It grew revenue 36 percent to $42 million in 2016, but not enough to offset $10 million in losses, according to The Wall Street Journal. It made progress across several areas, including vertical video formats that mimicked Snapchat, winning a 2017 Digiday Award as "most innovative publisher" as voted by industry judges.
But the numbers didn't work. Last week, the Journal reported that Mashable would be sold to Ziff Davis for $50 million, one-fifth of its one-time value and below what CNN was believed to have offered for it in 2012.
Perhaps one of the lessons is, some media companies aren't meant to become huge in the first place. Cashmore is given credit for having a great idea in Mashable, but even fans acknowledge he was an inexperienced founder, described as quiet and focused on the product side, in contrast to the more public-facing digital media CEOs like Jonah Peretti of BuzzFeed and Jim Bankoff of Vox Media. Once it took funding, Mashable faced big expectations to return profits for investors, but struggled to figure out what it was.
In fairness, Mashable wasn't alone in chasing funding on unrealistic growth promises. And it likely will not be alone in facing the music when the metric for success is no longer the ability to raise another venture round but the mastery of finding a sustainable business model. With Facebook handing out referral traffic to publishers left and right, an insider said, "It really seemed like there was this moment when Mashable, Vox and Mic were going to become the next New York Times."
The rise and decline have left current and former employees angry, sad and frustrated about a former media darling they believe helped define digital publishing.
"It gets me in the door," said Josh Catone, who was executive director of editorial projects at Mashable until 2014. "I think people associate it with, 'They know digital media.' I don't know how long that lasts, though."
This post was updated to include Mashable winning a 2017 Digiday Award.
https://digiday.com/?p=264474
This week's Future of TV Briefing looks at how the streaming ad market's programmatic guaranteed vs. private marketplace debate is reaching a compromise.
This week's Future of TV Briefing looks at how this year's upfront and recent announcements from AMC Networks and Paramount indicate the progression of programmatic in the TV and streaming ad market.
This week's Future of TV Briefing looks at how major streaming service owners' subscription business fared in the third quarter of 2023.