Limited in their ability to monetize video on Facebook, publishers eye video-licensing opportunities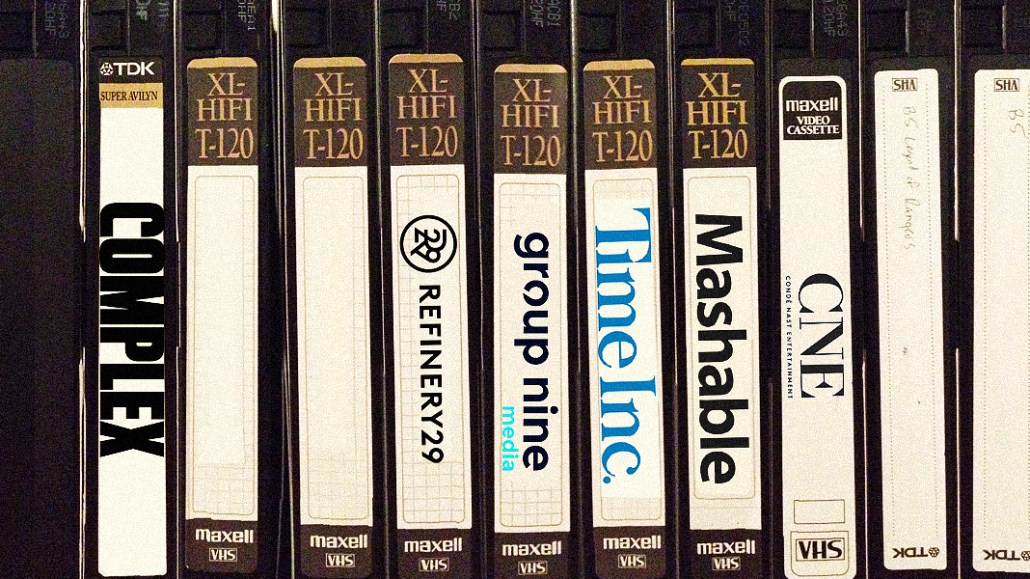 Digital video is a seller's market. So, publishers are starting to think like networks. In June, science-focused publisher Inverse announced it had eight new shows in development, including "Science and Chill" and "Meme Hunters," two of which it already sold to two platforms and two more that it expects to monetize through ads.
Inverse is not known as a video player. But with platforms, OTT services and publishers all clamoring for audience and content, publishers such as Inverse are starting to focus on producing content for platforms, then licensing it to other distribution channels that want high-quality content and audiences. It's a way to make money from their video content with fewer resources than cranking out short-form videos for distributed platforms.
"It's less about having a ton of people on staff that can pump out 20 videos a day now," said Inverse founder Dave Nemetz. "It's more about [staffing] the creative side."
While licensing isn't a big source of revenue for most publishers yet, those with a head start see a lot of runway. Electus Digital, the parent company of CollegeHumor and Dorkly, has licensed its digital video series to over 10 different platforms since 2015. Shane Rahmani, its evp and gm, said he expects video licensing to contribute a third of Electus Digital's video revenue in the next five years.
"We believe we're in the [intellectual property] development and monetization business," Rahmani said.
From quantity to quality
Three years ago, most video publishers had few reasons to move into video. It was more resource-intensive than text, and aside from YouTube, there were few platforms where one could build an audience, let alone monetize it.
Then, in the blink of an eye, things changed. Platforms, OTT networks and subscription services, including Verizon's Go90, YouTube Red and Comcast's Watchable, all sprang up, many of them backed by deep-pocketed players including Verizon, Google and Amazon. Most notably, Facebook dedicated itself to becoming a video colossus, riding a liberal definition of a view to eye-popping scale in record time; Facebook surpassed YouTube in monthly video views in October 2014.
Publishers, seeing the potential for big ad dollars associated with video, poured resources into pumping out short-form, distributed videos at scale. Some publishers centralized that work to further increase the efficiency of producing videos.
But Facebook's video priorities shifted away from quick clips toward longer ones that users would spend more time watching, which changed the calculus for publishers. Tired of their limited ability to monetize views on Facebook, they started to look for other ways to do so.
"Owning content, if it's done in the context of what appears to be a new company rather than a legacy media company, can garner high multiples and the attention of investors," said Jonathan Handel, an entertainment attorney at TroyGould and a contributing editor for The Hollywood Reporter.
Checks, balances
Facebook has more recently been recruiting publishers to produce shows that are four to 10 minutes long. The emergence of that convention has helped create a market for licensing, Handel said, and there is no shortage of places to put these shows: Condé Nast Entertainment has licensed shows to Spotify, Sky TV and Amazon; Refinery29 has licensed video to mobile subscription services like Go90, cable services like Watchable and even airlines like Delta. Electus Digital, which Rahmani said benefits from Electus' international rights-selling operation, has licensed its shows in numerous countries.
Licensing windows, which can last anywhere from a few weeks to more than a year, mean a new check for the content every time it appears on a new platform. But so far, they are modest checks because the audiences that most of these licensees have built are still small. Go90, for example, has just 2.1 million monthly active users, according to App Annie.
"[The deals are] not necessarily always shorter, but definitely for smaller amounts of money," said Greg Boyer, entertainment and media sector advisory leader for PwC.
Another problem is that some platforms are committed to original programming. YouTube Red, which at last count had just 1.5 million subscribers, has yet to license video content that's been previously available elsewhere. (It has, in some instances, licensed films that were shown at film festivals in the hopes of securing distribution.)
Closing windows
In the old days, a studio that licensed a television series to a broadcaster could expect the season to stay with the broadcaster for a while. Today, a window of exclusivity for a show can last just a few weeks, according to publishers. In theory, that should give publishers a chance to flip the show again and again for more audience. But not necessarily.
"Shows become popular faster than they ever have before, but they burn out faster than they ever have before," said Complex Networks CEO Rich Antoniello. "And the window's only going to continue to get shorter."
Antoniello said publishers have to figure out how to promote shows on behalf of licensees without overloading audiences. "We know we can drive audience," he said. "There's been plenty of people out there that are trying to grab as much money as possible."
Don't throw a basket on the fire
Any video-focused publisher would love to be able to command "Seinfeld" money for several seasons of a video series. But because all of these things are in such an early stage, some publishers are willing to take a lax approach to licensing fees if it means continuing to get their content in front of as many people as possible and building their brand as TV producers.
That's why some publishers are even going the other way. Chive TV, a silent stream of viral content clips that Resignation Media offers to out-of-home locations, including Royal Caribbean Cruises, Westin Hotels and Dave & Busters, built a footprint of more than 1,400 screens around the world by offering its content for free to start, in some cases even paying to buy Roku sticks it uses to distribute the content.
Later this summer, bars will have the opportunity to programmatically pipe their own advertising into their individual Chive TV streams at a cost of $200 per month.
Resignation co-founder and president John Resig said he could eventually see a world where Resignation charges a hefty monthly or yearly licensing fee for any access to Chive TV. But when, or if, to start doing that remains an open question among colleagues. Resig thinks Chive TV will have to be available in over 2,000 locations around the world before the company can start charging substantive amounts of money to license the content on a monthly basis. At that point, he said, there would be a critical mass of people seeing Chive TV when they go out on the town.
"You need people hooked on the crack first before you can pull those knobs," he said.
https://digiday.com/?p=242509