Future of TV Briefing: TV networks' total audience push likely to stretch to a full-court press in this year's upfront negotiations
April 13, 2022 • 8 min read
•
•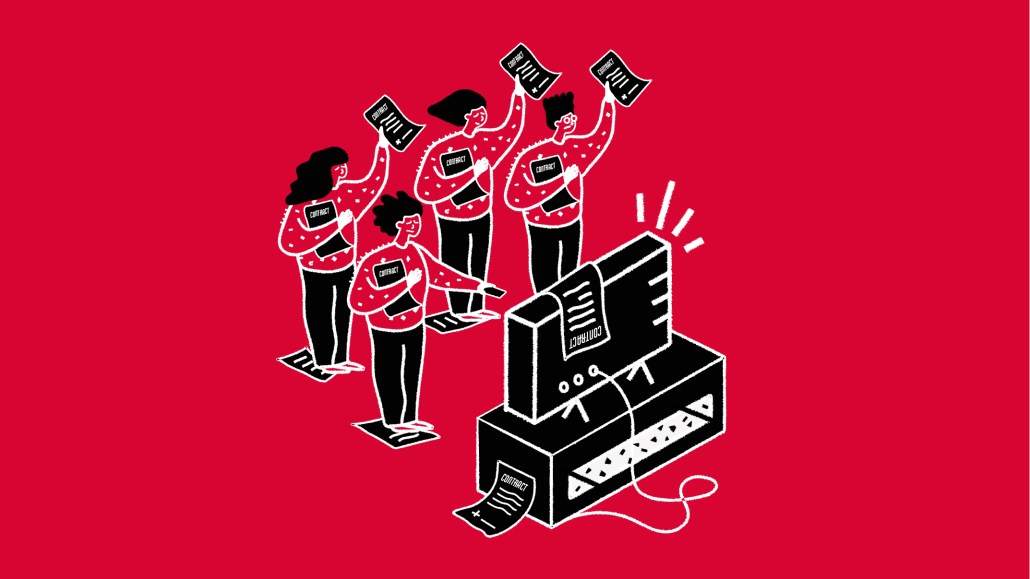 Ivy Liu
This Future of TV Briefing covers the latest in streaming and TV for Digiday+ members and is distributed over email every Wednesday at 10 a.m. ET. More from the series →
This week's Future of TV Briefing looks at the growing push among TV network owners to get advertisers to expand their upfront deals' demographic targets.
All you can reach
What now for Warner Bros. Discovery?
TV measurement's diversity deficiencies, CNN+'s slow start, Roku's upfront programming pitch and more
All you can reach
The key hits:
Agency executives expect more TV network owners to lean on advertisers to expand audience age ranges in this year's upfront market.
The networks may charge an additional premium for demo-based buys.
The shift to total audience deals could provide greater flexibility and efficiency for both buyers and sellers.
A major question heading into each annual TV advertising upfront cycle in recent years has been how much traditional TV ad prices will increase as advertiser demand remains high despite dropping viewership. That question remains outstanding at this point, but one factor that will impact pricing has become apparent.
More TV networks are preparing to follow A+E Networks' example from a year ago and push advertisers to buy against their total audiences as opposed to cherry-picking prized demographic groups like people between the ages of 18 and 49 years old. And advertisers unwilling to expand their age range to run the full gamut of adults tuning into traditional TV will be pressed to pay a premium.
"Right now we're speculating that the rate of change is going to be double digits. That's without any premium placed on it. And then you might be looking at a double-digit increase premium on keeping a demo," said one agency executive.
The total audience push is not entirely new to the upfront, given that A+E Networks introduced this approach ahead of last year's negotiations. But this year multiple agency executives said they are expecting broadcast TV network owners including Disney, NBCUniversal and Paramount to follow suit to the point where a total audience pitch becomes table stakes on the sellers' side.
The sellers' rationale is pretty straightforward. Linear TV audiences continue to age, and they don't want to be leaving money on the table as viewers mature into the 55-and-over demographic or losing money as the volume of younger viewers falls short of audience guarantees made to advertisers. But the push also plays into two other shifts taking place: the rise of streaming and the overhaul of TV advertising's measurement system.
With respect to streaming, the demographic expansion of linear TV puts TV network owners in a better position to use their streaming inventory to make up for any audience shortfalls. Effectively, a TV network would be able to deliver an advertiser however many people 18 years old and older — or even as broad as the "P2+" age group of anyone two years old and older — as it can on its linear TV networks and fill in any gaps on streaming without the limitation of those gaps being specific to certain age groups.
"If those advertisers, those agencies and those media companies are looking to solve for something like fluidity across all and that total audience approach — they're just trying to aggregate impressions across linear [and] nonlinear and just looking for a larger media buy, there has to be a certain level of consistency. So if that's going to be the case, a P2+, an 18+ or a household impression across all is probably going to be easier to manage," said Fernando Romero, head of ad sales at Fuse, which has adopted a total audience approach for its upfront deals.
The transition to total audience buying on traditional TV also can make the transition to a new measurement system easier to manage. While reach-and-frequency measurement will continue to be an important component for brand advertisers, TV ad buyers and sellers have been hoping to make outcome-based measurement more of a standard option. However, clinging to specific age groups can slow that shift.
"If you take off all of these shackles around demos and even delineating linear and digital, we can get into more of an outcomes-based conversation where the client's like 'Put [the ad] anywhere that's going to drive our business.' That's a better dialogue than the old construct around I just got to deliver on some artificial proxy," said a TV network executive.
So the total audience transition's benefits to TV network owners appear to be pretty clear. But some agency executives also see advantages in this approach. The pros from the buyers' perspective go beyond avoiding any demo-based premiums to providing advertisers with more flexibility and mitigating the FOMO that has pushed clients to overcommit in the upfronts for fear of missing out on opportunities to reach large concurrent audiences.
"There's an overestimation going on on the agency side or on the client [side]. The clients are really like, 'Just put [the upfront commitment] in, and if I don't need it, maybe I won't convert on order or will pull back on order.' There was a lot of that happening last year," said a second agency executive.
Of course, a major con for buyers in accepting TV networks' total audience pitch is that it would give the networks a new baseline from which to increase ad prices over time. But it could also create a cross-platform baseline that would provide the pricing parity that ad buyers have been seeking between networks' TV inventory and more expensive streaming inventory.
I know. It doesn't make sense that broadening an audience would make advertisers' upfront dollars more efficient. But the first agency executive made a fairly convincing argument. It goes like this: On traditional TV, advertisers have historically bought against a specific age group like 18- to 49-year-olds but their ads air in front of everyone watching a given show, regardless of their age. In streaming, however, the ads are only delivered to 18- to 49-year-olds. "We actually make it inefficient immediately in what it delivers compared to TV," said the first agency executive.
In other words, to make TV and streaming ad deals more efficient for buyers and sellers requires making those deals less efficient in some respects. Welcome to the TV ad market in 2022.
What we've heard
"There needs to be a sliding scale for the value of a view. If you're getting someone to watch something for three minutes on YouTube, that's not the same as two-and-a-half seconds on TikTok."

— Agency executive
Stay tuned: What now for Warner Bros. Discovery?
Well, it's finally happened. WarnerMedia and Discovery have completed their merger. The new Warner Bros. Discovery has already answered some major post-merger questions, though those answers beget new questions.
A major question since the merger's announcement last May was whether WarnerMedia's HBO Max and Discovery's Discovery+ would remain standalone streaming services or be combined. The company's CFO Gunnar Wiedenfels addressed this in March by saying that the streamers would initially be bundled and eventually consolidated. Now the questions are what subscription prices will Warner Bros. Discovery charge for the all-in-one streamer and how many subscription tiers may it offer?
Warner Bros. Discovery answered another question on April 11 by announcing the combined company will hold a unified upfront presentation next month. Coming in the wake of last week's announcement that Discovery ad sales head Jon Steinlauf would oversee U.S. ad sales for the combined company, a unified upfront approach will give Warner Bros. Discovery a lot of leverage at the negotiating table. The combination of Turner's live sports inventory with Discovery's CPG- and retailer-friendly food-and-home programming into a single ad sales package — in addition to the aforementioned streamers' ad inventory — raises the question of how high will Warner Bros. Discovery raise ad prices and commitment thresholds in this year's upfront market.
Numbers to know
$11 billion: How much ad revenue TikTok is projected to rake in this year.
>817,000: Number of unique program titles being carried across TV networks and streaming services.
18%: Percentage increase year over year in the amount of time people spent streaming shows and movies in February 2022.
What we've covered
Connected TV advertising's major misperceptions:
For as much as CTV advertising has matured, the emerging medium maintains myths that must be dispelled.
The myths include CTV's cookie problem and ad viewability issue.
Read more about CTV ad myths here.
How YouTube stars Colin and Samir went from nearly quitting to creating their own media company:
Colin Rosenblum and Samir Chaudry cover the creator economy across their YouTube channel, podcast and newsletter.
The creator duo kick off the Digiday Podcast's new limited series on creators.
Listen to the latest Digiday Podcast episode here.
How esports organization Gen.G's cross-market strategy helps attract new brand partnerships:
The Korean esports team has established presences in Korea, North America and China.
Roughly a third of Gen.G's followers are located in the United States.
Read more about Gen.G here.
L'Oréal eyes impulse sales on TikTok:
L'Oréal -owned brands are selling curated gift boxes directly through TikTok's Shop marketplace in the U.K.
TikTok's transience poses a challenge for brands looking to push sales through the app.
Read more about L'Oréal here.
What we're reading
TV measurement's diversity deficiencies:
Nielsen and its rival measurement providers are coming up short when it comes to accurately tracking TV viewership among multicultural audiences, according to Ad Age.
CNN+'s slow start:
Less than 10,000 people have been streaming CNN+ per day since its launch in late March, according to CNBC.
Beauty YouTubers lose their luster:
Beauty-focused YouTube stars have shed some of their influence over audiences' purchases as people turn to TikTok's less produced cosmetic clips, according to Business of Fashion.
Cricket as streaming's crown jewel:
Amazon is among the companies vying to seize the streaming rights to the Indian Premier League, which are opening up for the first time and expected to cost at least $7 billion, according to Vice.
Roku's upfront programming pitch:
After peddled the original programs acquired from Quibi in last year's upfront market, Roku will be pitching a slate of entirely original shows during this year's negotiations, according to Marketing Brew.
https://digiday.com/?p=444766
This week's Future of TV Briefing looks at how this year's upfront and recent announcements from AMC Networks and Paramount indicate the progression of programmatic in the TV and streaming ad market.
This week's Future of TV Briefing looks at how major streaming service owners' subscription business fared in the third quarter of 2023.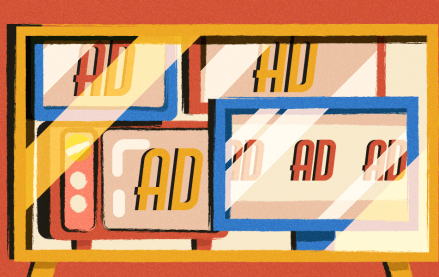 This week's Future of TV Briefing looks at what TV and streaming companies' latest quarterly earnings reports indicate about the state of the TV advertising market.