Future of TV Briefing: 3 questions heading into this year's TV upfront negotiations
March 2, 2022 • 7 min read
•
•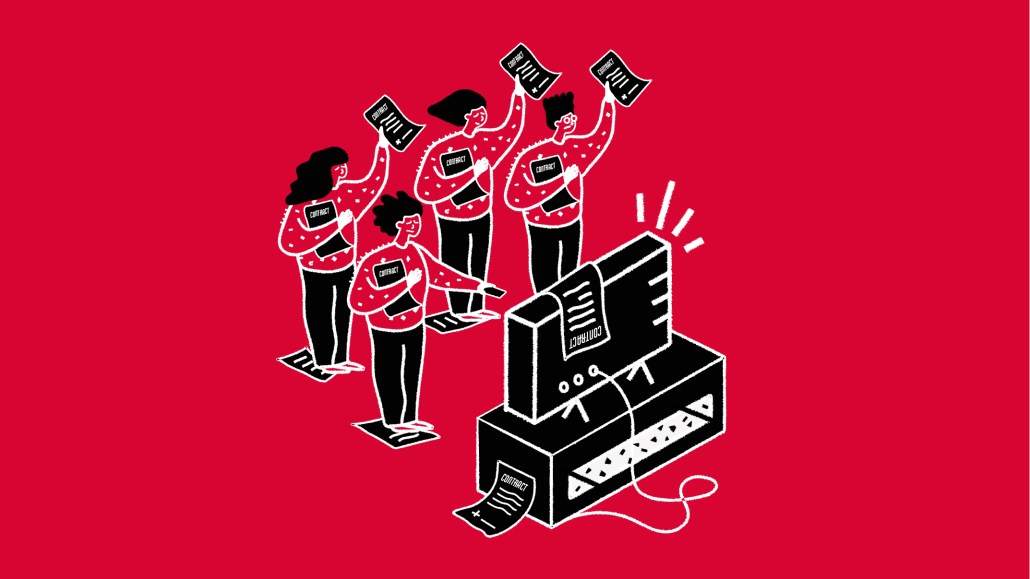 Ivy Liu
This Future of TV Briefing covers the latest in streaming and TV for Digiday+ members and is distributed over email every Wednesday at 10 a.m. ET. More from the series →
This week's Future of TV Briefing looks at a few of the top questions on the minds of both buyers and sellers as this year's annual buying cycle commences.
Up in the air
Is long-form vertical video financially viable?
Warner Bros. Discovery's streaming tiers, Nielsen's MRC accreditation, NFL Sunday Ticket's streaming suitors and more
Up in the air
The key hits:
What measurement providers will gain adoption?
Are business outcome guarantees back on the table?
Was flexibility just a fad?
This year's TV advertising upfront market seems set to be unlike any other — which is a description that was applied to each of the past two annual negotiating cycles. And yet it's true (once again).
There remain the trends that were top topics during the most recent rounds of advertisers and their agencies haggling with TV network owners and streaming-only sellers, like the erosion of linear TV audiences and rise of streaming viewership. There also continue to be recurring questions, like how much higher can linear TV ad prices rise and when will streaming ad rates drop by comparison or when will programmatic gain preference. And then there's the measurement makeover, which is what stands to make this upfront a singular cycle (at least until next year).
So, with preliminary discussions between buyers and sellers already starting up in recent weeks, here are a few questions on the minds of both sides heading into this year's negotiations.
What measurement providers will gain adoption?
Measurement is the major question heading into this year's upfront negotiations and by a wide margin. "Measurement is the biggest one," said one agency executive.
"I spent the bulk of the past two weeks talking about alternate campaign measurement. That is the topic of this upfront," said a second agency executive.
The main measurement question surrounds which are the measurement providers that advertisers and TV network owners will adopt as alternative currencies to Nielsen. Both buyers and sellers still expect Nielsen to be the primary currency, but they will be setting the non-Nielsen providers as "shadow currencies" in order to put in place baselines for future upfront commitments.
However, some advertisers may opt to adopt the alternative currencies as primary currencies because they are new or newer to the upfront market and may view them as a way to somewhat future-proof their upfront prices by setting rates on these alternative currencies at a time when the value of an impression, for example, is still being calculated and may only appreciate in the years to come.
"If you're a cryptocurrency or a DTC [brand] and never worked in TV, it's a good opportunity to bring those clients to the forefront and establish their bases on a new currency," said a third agency executive.
Are business outcome guarantees back on the table?
Prior to the pandemic, advertisers and TV networks had begun including components in their upfront agreements that guaranteed campaigns would generate specific business outcomes, like a certain percentage lift in sales. Then the pandemic happened, and no one was trying to make any kind of assurance.
Now business outcome guarantees are being put back on the negotiating table. Sort of. Agency executives plan to seek out business outcome guarantees for some clients, and TV network executives said they plan to acquiesce to those requests. But that's kind of the extent of it at this point.
"We're more than open [to business outcome guarantees]," said one TV network executive. However, with the pandemic putting a giant asterisk on the historical business numbers that would be used to calculate those guarantees, "the benchmarks are getting tricky. Whether it's web traffic or foot traffic or some other metric, I don't know what to compare to."
Was flexibility just a fad?
Two years ago, the big buzzword surrounding the upfront negotiations was flexibility. Advertisers were dealing with the pandemic's impacts on their businesses and seeking options to make their annual commitments more fungible. Two years later, flexibility seems poised to be much less of a focal point.
While some advertisers have needed to postpone or cancel portions of their current upfront commitments in the wake of the omicron variant, "I haven't seen [the number of advertisers exercising their cancelation] options go through the roof this year. It's been pretty stable," said the TV network executive.
What we've heard
"I find Shorts to be a real distraction to the YouTube experience. It seems so out of place on desktop or [connected TV]…. They haven't figured out how to optimize it on a per-platform basis."

— Digital video executive
Is long-form vertical video financially viable?
Instagram's initial attempt to make long-form video monetizable has officially failed, the Meta-owned platform announced on Feb. 28. On the same day, TikTok said it is extending videos' maximum lengths to 10 minutes.
These moves raise the question of whether video makers have any hope of ever seeing long-form vertical video become financially viable.
Publishers' underwhelming experiences with Instagram's in-stream video ad program would suggest the answer is no. However, publishers' and producers' experiences with Snapchat signal there is hope.
"The numbers are there and the revenue is there. We've had months where we've hit $40,000 a month in profit on Snapchat just off one show," said Jade Watson, founder of SickBird Productions, which has produced Snapchat Discover shows with publishers including Doing Things Media and The Shade Room.
That's good money. In my wealthiest dreams, $40,000 will always be a good amount of money. But what's worth noting, as Watson explained, is a big reason that SickBird is able to have months when it pulls $40,000 in profit from Snapchat is because it can keep its production costs pretty minimal by maintaining a lean team of one to two editors and shooting shows on an iPhone.
So what has Snapchat done that Instagram did not and TikTok may need to? Well, through Discover it seems to have established a destination for people to intentionally seek out these long-form videos where they would be willing to sit through ads to watch them all the way through. What a novel idea.
Unfortunately for long-form vertical video makers, Snapchat may remain the outlier when it comes to generating revenue directly from these videos. TikTok has not said if, when or how it will open up a revenue-sharing program. Meanwhile, Instagram said that later this year it will add a revenue-sharing program for Reels — which likely ape Facebook's test of putting display ads atop Reels — but didn't say anything about updating its monetization approach to long-form videos.
Numbers to know
22 million: Number of subscribers that Discovery has across its direct-to-consumer streaming portfolio, which includes Discovery+.
-70,000: Number of streaming pay-TV subscribers that Sling lost during the fourth quarter of 2021.
13.6 million: Number of streaming pay-TV subscriptions that were active in the U.S. in 2021.
38%: Percentage share of Magnite's revenue that came from connected TV in the fourth quarter of 2021.
What we've covered
Condé Nast inks deal with TikTok to monetize exclusive content:
Vogue and GQ will make content exclusively for TikTok.
Condé Nast's and TikTok's sales teams will work together to secure deals with advertisers for that content.
Read more about Condé Nast's TikTok deal here.
A Q&A with Leonard Edwards, Evil Geniuses' new head of global partnerships:
The esports organization hired the veteran sports executive in February.
While working for the Philadelphia 76ers, Edwards worked on partnerships for the team's esports org Dignitas.
Read more about Leonard Edwards here.
How Abercrombie & Fitch is using TikTok to reintroduce the brand and 'reflect back who our consumer is today':
The 130-year-old brand is using TikTok to reintroduce itself to millennial and Gen Z audiences.
Abercrombie & Fitch is hiring TikTok creators for sponsored posts and running ads on the platform.
Read more about Abercrombie & Fitch's TikTok strategy here.
What we're reading
Warner Bros. Discovery's streaming tiers:
After Discovery and WarnerMedia merge, the combined company plans to operate a single streaming service that will feature three tiers: a paid, ad-free one; a paid, ad-supported one; and a free, ad-supported one, according to Bloomberg. In other words, a Discovery+-HBO Max hybrid that mirrors Peacock's business model.
Nielsen's MRC accreditation:
Nielsen thinks it will be able to regain Media Rating Council accreditation by the middle of the year, according to Variety. That timeline may or may not mean Nielsen will be accredited before this year's upfront negotiations wrap up, though that may not matter since none of the other currency contenders are currently accredited.
NFL Sunday Ticket's streaming suitors:
Amazon and Apple are the leading candidates to secure the rights to the NFL's Sunday Ticket package of out-of-market games, according to Sports Business Journal. Disney remains in the running, but Amazon and Apple are reportedly willing to dig deeper into their respective pockets.
Netflix's India issue:
Netflix only has an estimated 5.5 million subscribers in India despite the streamer setting out years ago to convert 100 million people in the country into subscribers, according to Financial Times. What seems to be setting back is Netflix is not taking an India-specific approach but instead applying a generic international strategy to the country.
https://digiday.com/?p=440768
This week's Future of TV Briefing looks at the post-strike landscape for producers preparing to pitch projects to TV networks, streaming services and film studios.
This week's Future of TV Briefing looks at what an industry group's conditional certification of three measurement currency contenders signals about the TV ad business's measurement overhaul.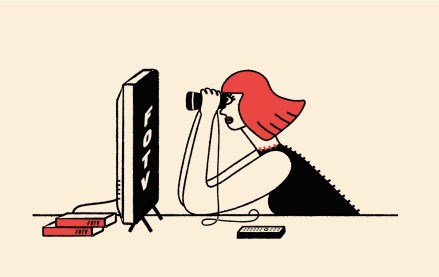 This week's Future of TV Briefing offers an updated list of the key terms that can cause confusion when talking about the TV, streaming and digital video industry.