'We wanted people to know we were big': How Defy Media went from YouTube heavyweight to abrupt shutdown
November 13, 2018 • 7 min read
•
•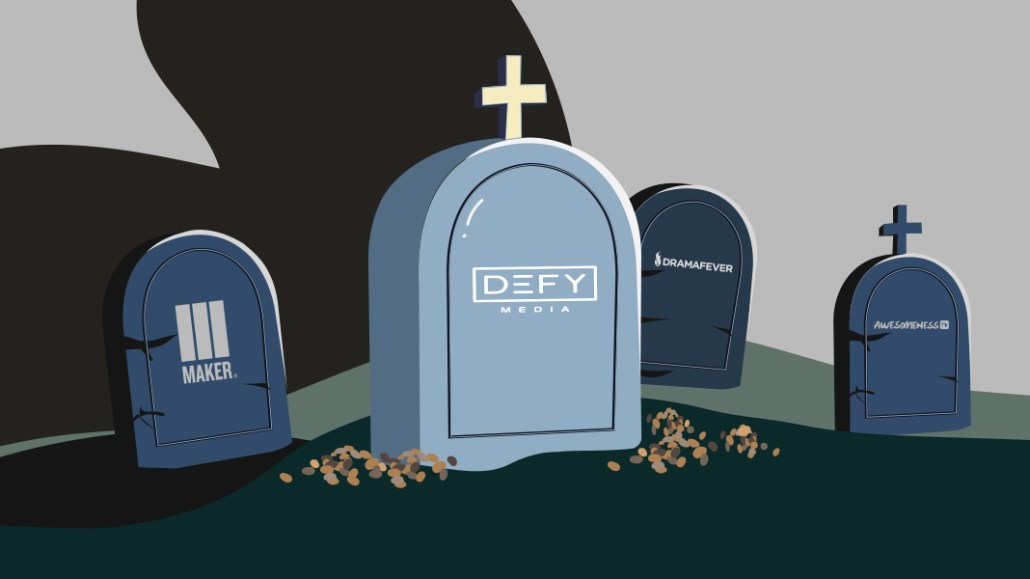 Life was good for Defy Media in early 2017. The digital media company behind YouTube heavyweights such as Smosh and Clevver had just raised a $70 million Series B round the previous fall. It was scouting snazzy production facilities to move into in Los Angeles, and it had just hired the design firm Collins to redo its logo heading into that spring's NewFronts.
"We wanted to put ourselves up there with the AwesomenessTVs and Maker Studios and everyone that was getting the big money," said one former Defy Media executive. "At the time, we were doing great, we had big aspirations, and we wanted people to know that we were big."
A year and a half later, Defy Media is no more, as the company's creditor has seized its assets, forcing an immediate shutdown of the business.
In some ways, Defy seemed to be doing the right things. The company was very public about how it wasn't a typical YouTube multichannel network and actually owned its programming with media brands that young people cared about. At its peak, Defy was producing 75 different regularly scheduled shows for media properties that it owned, including Smosh and Clevver. Each of these properties also targeted different audiences, with Defy Media standing as the corporate entity that one former executive described as a "Viacom of the internet."
But like many digital media upstarts with big ambitions and big backing, Defy largely did not own the distribution of its content. For that, Defy relied mostly on YouTube: The company did 296 million video views on YouTube and 272 million video views on Facebook in September, according to Tubular Labs. And while Defy more recently started experimenting with subscriptions and commerce, the company almost entirely relied on ad revenue — most of which went through YouTube, which took its customary 45 percent cut. Living off the ad business alone is hard; it's even harder when you need to pay half to your landlord. That factor, combined with a drier market for digital and social video sellers as well as mounting debt, proved to be too much for Defy Media.
This story is based on conversations with five current and former Defy executives.
In the shadow of platforms
Defy Media was a big YouTube programmer. Across media properties such as Clevver, Smosh and AweMe, the company had built up over 75 million YouTube subscribers and 120 million followers across other social platforms.
Defy Media's overall business was on track to do more than $50 million in revenue this year, 60 percent of which "went through YouTube," according to sources familiar with the company. Defy's YouTube business includes ads sold directly by Defy Media (its biggest revenue driver) as well as ads sold by YouTube, sources said.
More than 80 percent of Defy's revenue came from advertising, although that wasn't always the case. In 2016, when platforms such as Go90 were actively buying content from digital video programmers, Defy Media's revenue was split between advertising and non-advertising revenue streams. But as Go90 shut down and other platform buyers pivoted their content-buying strategies, that created a hole that was hard for Defy media to plug. And it did not help that more and more digital ad dollars were being swooped up by Google and Facebook.
"The reality is that the direct sales side of the business is the most labor- and cost-intensive," said one source. "But when that's becoming an increasingly competitive space and you're competing for a smaller part of the pie, things got out of whack. We had to shed off business units — profitable units."
Earlier this year, Defy Media sold its ScreenJunkies property to Fandom, and The Escapist Magazine to Enthusiast Gaming. This came after the company spent millions to build a subscription streaming service for ScreenJunkies, sources said. Defy also went through several rounds of layoffs and was down to roughly 100 employees from a peak of more than 300 employees two years ago.
"Mistakes you make that are write-offs in a big company are catastrophic at a small company," said a source. "We didn't do some basic blocking and tackling about where we were spending money and being realistic about what to invest in."
Trouble with the programmatic ads business
Alleged payment problems at Defy Media's programmatic advertising business earlier this year seemed to signal the company's shaky state of affairs. Several publishers came forward in June 2018 to claim that Defy Media owed them money for ads that the company had sold on their sites, with some missing payments dating back to at least August 2017.
Among those publishers was Topix, which filed a $300,000 lawsuit against Defy Media in June. The companies are currently in settlement talks, according to Topix CEO Chris Tolles. Also in June, Chive Media Group filed a complaint against Defy Media, claiming the latter company owed the publisher $35,000 in unpaid advertising fees, according to a copy of the legal complaint reviewed by Digiday. According to Chive's lawyer, Andrew Smith from law firm Kennedy Berg, Defy Media never responded to the company's complaint, "so they are technically in default." Like many other publishers, Chive is assessing its options for recouping its revenue from Defy.
Some publishers thought they might at least receive some payment after Defy execs offered in June to pay 20 percent of the money owed in exchange for the publishers agreeing to cancel the remainder of Defy's debt, according to several publishers. However, the publishers that Digiday spoke to only received a verbal offer, never one in writing; therefore, they were never in a position to accept it. Some of the publishers said they were inclined to accept the 20 percent offer for fear that Defy Media would file for bankruptcy and, as a result, they would never receive a penny from the company.
An abrupt end
Defy's troubles came to a head in early November, when a creditor froze the company's assets. Less than a day after Defy announced that it would be closing its Beverly Hills production office, the company notified all employees that it was shutting down immediately.
The move has also left between 40 and 50 YouTube creators in Defy's multichannel network with no access to their September YouTube ad payments, according to Tubefilter. Defy sources said the company's assets were seized on the day it was supposed to pay creators. Last week, YouTube took the unusual step of rapidly unlinking creators from Defy's network on the platform, which will allow them to get paid directly from YouTube. Whether creators will ever see their September funds is still unclear.
Defy Media was also looking to sell. Company executives, including CEO Matt Diamond, refuted rumors earlier this year that Defy was actively shopping for a buyer. But multiple sources tell Digiday that Defy was in conversations to sell the entire company or various pieces to multiple interested parties, including broadcasters Altice, Sinclair Broadcasting Group and ProSiebenSat.1 (which owns Studio71, a rival digital media company and YouTube network). Representatives for the broadcasters did not respond to a request for comment by press time.
But the company had a lot of investors, including Zelnick Media, Lionsgate and Viacom, and was more than $10 million in debt. Recent news about the difficulties that still plague digital media companies, prompting the seemingly annual round of fall layoffs, did not help Defy's prospects at a sale.
"The bottom line is that 2018 has been brutal to many new-media companies, and Defy Media isn't the only casualty of new industry headwinds," said Peter Csathy, founder of digital advisory firm Creatv Media. "Disney just significantly wrote down its investment in Vice Media, and other companies such as the Latino-focused MiTu have had significant layoffs. Many of these new-media companies still overly rely on Facebook, YouTube and other social media platforms that are constantly tweaking their ad algorithms. Defy simply had no chance against those adverse market forces."
And that's before the creditor seized the assets.
"No one saw it coming," said a source. "There was always a plan to keep it going. There were a few plans put in front of the bank, some of which would have required them to take a reduction on their loan. Ultimately, the bank said no."
Tim Peterson contributed to this story.
https://digiday.com/?p=311787
This week's Future of TV Briefing looks at what an industry group's conditional certification of three measurement currency contenders signals about the TV ad business's measurement overhaul.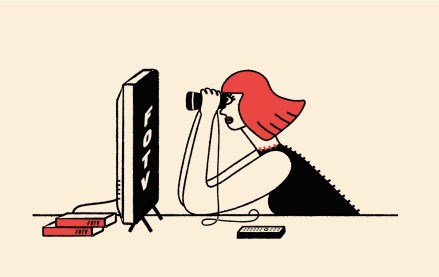 This week's Future of TV Briefing offers an updated list of the key terms that can cause confusion when talking about the TV, streaming and digital video industry.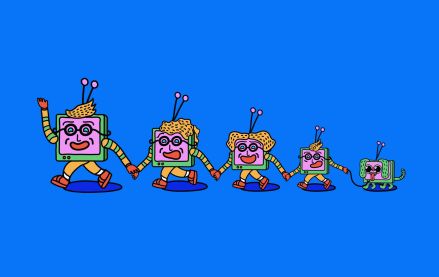 This week's Future of TV Briefing looks at what the Disney-Charter pay-TV distribution deal seems to indicate about the increasingly more-complementary-than-contentious relationship between traditional TV and streaming.