Cheat Sheet: NewFronts' final day showcased the merging of TV, streaming and social video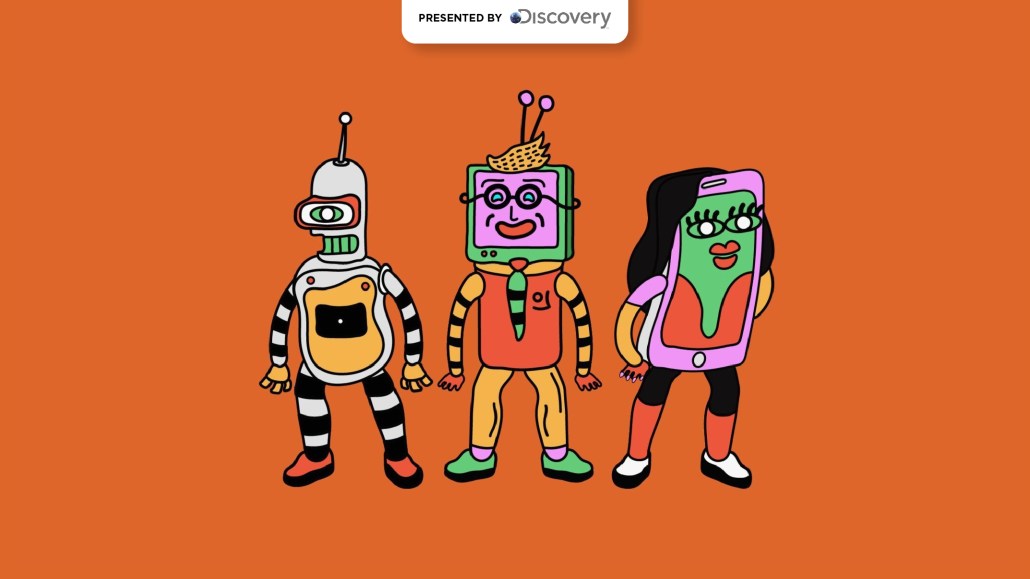 Ivy Liu
The first three days of the Interactive Advertising Bureau's NewFronts demonstrated how the TV and digital video industry is flattening among traditional TV, streaming and social video companies. As if to put a point on the mashup, the event's fourth and final day featured a social video platform, publishers and a TV network group sharing the virtual stage.
Key details:
Nearly every presentation flaunted the targeting tools and first-party data that large media publishers and platforms have at their disposal and can offer advertisers looking to reach — and engage with — specific audiences.
TikTok urged marketers to find a way to fit into the conversations and trends happening on the platform to resonate with its users.
Meredith introduced new measurement tools for video advertisers and a slate of programming, with a focus on entertainment and women's experiences.
NBCUniversal announced a new ad unit for Peacock and teased audience targeting and programmatic buying offerings coming later this year
DE&I discourse
The last day of IAB's NewFronts 2021 opened with a conversation between Sheryl Goldstein, evp of member engagement & development at IAB and Monique Nelson, chair and CEO of agency UWG, on diversity, equity and inclusion progress across the industry. Goldstein said that the Inclusion Institute that IAB launched last year has been getting a lot of "interest" from IAB members "but not much funding yet." She urged members to invest in the initiative. Without a DE&I strategy in place to move forward with these efforts (rather than "staying on the wheel" of DE&I commitments without accountability), brands and agencies "won't make it," Nelson said.
TikTok
TikTok's presentation was the highlight of the last day, with its entertaining and informative presentation that directly surfaced and answered marketers' questions on how to use the platform to align their brands with community-driven content.
The presentation — with its entertaining, informal but informative segments — was the talk of the NewFronts chat box. Advertisers and media executives praised the event, many calling it the highlight of the week. (A fireside chat featured Sandie Hawkins, general manager of global business solutions at TikTok and Sofia Hernandez, head of business marketing, in two armchairs wearing house slippers and thick socks, having a breezy but insightful conversation.)
"People check Facebook, Instagram and Twitter. They watch TikTok like Netflix and Hulu," Hawkins said during the presentation.
TikTok's NewFront was split up into four parts: the fireside chat — which went over questions marketers may have about aligning with community driven content, a discussion about the "paradigm shift" of defining the culture of the moment on TikTok, a segment highlighting TikTok creators and how brands can work with them and advice from marketers who have had success on the platform.
That last segment featured CMOs and other ad executives (from American Eagle to Chevrolet) stressing the need for brands to understand and fit into the cultural norms and community on TikTok in order to have success on the platform, participate in trends, shift marketing to match those trends and take risks and have faith in creators to build users' trust with a brand.
The presentation pointed to brands that went viral on TikTok organically, like Ocean Spray with Fleetwood Mac's "Dreams" song and American Eagle's crossover leggings, as well as the "unplanned purchases" made via the "#TikTokMadeMeBuyIt" hashtag. Hernandez described the consumer journey not as "a linear path to purchase," but a "flywheel," where consumers take action in the moment. The buzzword of the presentation was "community commerce," which refers to people promoting products without being paid for the endorsement — a phenomenon that used to be called "earned media" back when Facebook was the newest platform on the block.
Another message from TikTok repeated a few times throughout the presentation: the platform is not just for young people. TikTok may be trying to appeal to marketers who want to reach people beyond Gen Z.
30% of TikTok users in the U.S. said they watch less TV, streaming and other video content since joining TikTok, according to a March 2021 Kantar study cited in the presentation. TikTok has 100 million monthly users in the U.S.
Meredith Corp.
After an energetic presentation from TikTok, Meredith's NewFronts offering was more traditional. The publisher made an effort to show to advertisers the magnitude of its reach among women in the U.S. (94% of American women, according to the company). The presentation — which featured Alysia Borsa, president of Meredith Digital, Amanda Dameron, chief digital content officer and Marla Newman, evp of digital sales — began with a sizzle reel showing women using EatingWell to make a smoothie, Shape and Health to do a home workout, InStyle to choose a work from home outfit and Real Simple to improve home design.
At the NewFronts, Meredith announced the Video Accountability Suite, a variety of measurement tools aimed at proving video advertisers' performance, such as brand awareness, purchase intent or driving retail sales.
Borsa claimed Meredith's content drove more than $1.2 billion in retail sales. She also discussed Meredith's shoppable video offerings, the 12 billion intent signals at their disposal and its first-party data that can provide audience and trends insights and predictions. For example, a recent insight revealed interest in authentic international food went up 39% year over year among Meredith's audience, leading to a new cooking, travel and regional history show called "3 Ways," from AllRecipes and Food & Wine, that will show three ways to make a main dish in three different cities (from steak to tofu, and from Miami to London). There was a 128% increase in traffic to home improvement content year over year on Better Homes & Gardens, so a new show called "Home Upgrade" will focus on that topic.
The presentation ran through a list of programming on topics of female empowerment, lifestyle, food, entertainment and celebrity and parenting, such as "SeeHer: Multiplicity," in partnership with the Association of National Advertisers' movement championing women. Meredith also revealed a portfolio-wide new franchise called "She Rises," part of the company's mission to highlight more women from diverse backgrounds.
Meredith's streaming channel PeopleTV is a "springboard to introduce co-branded programming with other brands in Meredith's portfolio" this year, Dameron told Digiday in an earlier interview. Some new programming will be optimized for social distribution, with segments for PeopleTV as well. For example, the most searched topic on People.com is "parents." A new show called "The New Parenthood" is coming to People TV, as well as more lifestyle content. Ayesha Curry, who has a lifestyle magazine with Meredith called Sweet July, is coming out with a new streaming cooking show featuring one pot meals called "One & Done."
Meredith says its digital engagement rose 16% and video views across its owned-and-operated sites increased 45% year over year from January through December 2020, citing Google Analytics. Newman ended the presentation by stressing Meredith's flexible buying model.
Penske Media
Penske's presentation was made up of sizzle reels introducing the numerous brands until the company's ownership — from Billboard to The Hollywood Reporter. Mark Howard, chief ad and partnership officer at PMC, brought up the company's first-party data studio Atlas, and spoke of Penske's investment in the SXSW festival, which will expand the company's live events business opportunities.
Ellen Digital
Ellen DeGeneres' media company announced the launch of three new "fan-focused" digital brands: Bubble, Sage and Smile. Bubble will serve mothers and house shows like Kristen Bell's "Momsplaining" and Sage will focus on women breaking barriers and fighting for inclusivity, with shows like "Ladylike," a new upcoming series. Smile will feature feel-good stories and everyday heroes, such as in the new series "All Good Things" that will highlight people making a positive impact on their communities. The company says it has 300 million social followers that generated 8 billion views last year, across all platforms.
NBCUniversal
NBCUniversal touted its targeting capabilities and audience segments, via solutions like its new NBCU Audience Insights Hub, but the company really focused the conversation on One Digital Video, its streaming video ad program that opens up access to the company's premium video inventory across streaming, linear, cable, digital and social. NBCU claims advertisers can reach 200 million potential customers across access points.
One Digital Video also opens up the company's inventory in Peacock, NBCUniversal's "biggest investment in streaming," with over 40 million sign-ups and 40,000 hours of content, according to Jenny Burke, evp, advertising strategy. Two-thirds of Peacock users are new to NBCU's streaming platforms, according to Burke. Of those 40-plus million Peacock sign-ups, only 14 million households regularly use the streaming service.
Kevin Lappen, svp of Peacock advertising sales & partnerships, announced a new ad unit for Peacock called Spotlight, comparing it to the reach of prime-time ads on linear TV, but with better targeting, according to the presentation. With Spotlight, advertisers can pay for their ad to be the first shown to anyone watching Peacock within a given time period in an attempt to emulate the time-sensitive reach of linear TV.
NBCUniversal will open up Peacock's ad inventory for programmatic buying in the fourth quarter of this year, according to James Kreckler, svp of digital media sales. He also touted NBCU's ability to reach 35 million Hispanic consumers every month, in both English and Spanish.
Karen Schuchardt, svp of advertising sales & partnerships, mentioned NBCU Checkout, the company's ad product that makes content shoppable — the feature "turns content into a transaction," giving consumers the ability to buy products in "one click, one swipe and one scan."
https://digiday.com/?p=413582