Bleacher Report pushes football ambitions with new series 'The Champions'
September 18, 2018 • 3 min read
•
•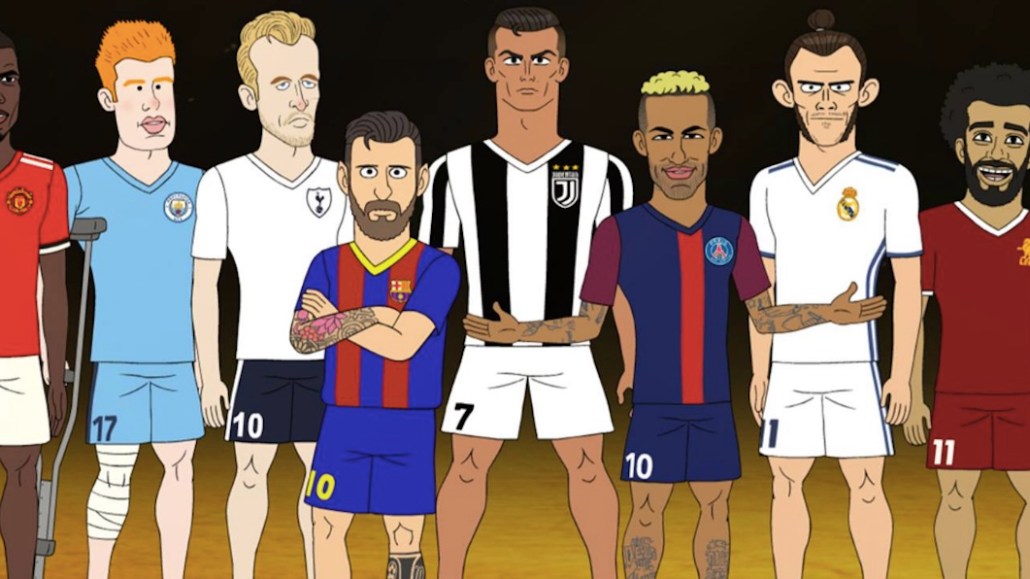 This week, Bleacher Report Football, the sports publisher's 37-person football hub, launched a 13-episode animated series called "The Champions," the latest push in building its football audience.
The show, a spoof-reality TV series where all 800 UEFA Champions League players and their managers live in a chateau, went live with its first episode on Monday on Bleacher's social channels, app and on TV in the U.S. as part of the B/R Football Matchday pregame show. Episode one follows the players moving into the chateau, with Tottenham Hotspur player and former England captain Harry Kane trying to lead his team through the mansion's stately gardens. Each episode lasts between two and three minutes.
"Soccer is a global game; it's culturally resonant," said Lee Walker, international managing editor at Bleacher Report, adding that the recent popularity of reality TV series like "Love Island" and "The Bachelor" has created a "great canvas to implant soccer stars, who are their own soap opera in terms of the drama, ego and vanity."
The new series builds off the success Bleacher Report has seen with "Game of Zones," a similar animated series devoted to the NBA that is in its fifth season. Football has been growing in importance for the publisher, especially since parent company Turner acquired U.S. broadcast and streaming rights to the UEFA Champions League.
"The Champions" was created by comedian and football fan Andy Haynes, who has previously performed on comedy shows "Conan" and "Late Night Jimmy Fallon." Nine animators and two producers join Adam and Craig Malamut, executive producers for Bleacher Report's other animated series, are behind the show.
"Combining the comedy and the nuanced knowledge of the sport is the center of what makes the other animated series really sing," said Walker, adding that animation is time-consuming. "It's not a cheap process; it's a labor of love. Commodity content is instantly forgettable, and we're in a copycat industry; we'd rather be at the front."
Like other football-focused titles, Bleacher Report Football — which changed its name from Bleacher Report UK 18 months ago — has seen audience growth over the summer during the World Cup. On Instagram, where B/R Football puts a lot of focus, highlights and comedy sketches have performed well with. According to Tubular Labs, in July, Bleacher Report Football had nearly 150 million video views across Facebook and Instagram, with two-thirds of these from Instagram. The publisher said it was producing between 10 percent and 20 percent more content during the tournament.
With "The Champions," the aim is to build the audience for the first season before attracting brands and leagues to sponsor later seasons, as it has done with "Game of Zones" and "Gridiron Heights." Walker added that Bleacher is pretty confident it can get millions of eyeballs. Certain episodes will focus on specific clubs, like Manchester United and Barcelona, offering a way for Bleacher to speak to these fans and clubs.
Digiday has previously reported that advertising tied to Bleacher Report's soccer coverage will represent 10 percent of its revenue this year, up from 2 percent last year. While the publisher's overall advertising has increased 40 percent this year, Bleacher has built out additional revenues lines through e-commerce and licensing through its series franchises, another area where there could be potential for "The Champions" to monetize, said Walker.
Outside of "The Champions" Walker said Bleacher Report Football has a number of storytelling formats in the works which it will use to test out longer-form shows or series. This 10-minute documentary about a sculptor's second chance at creating a Cristiano Ronaldo bust had 3.4 million video views across social channels within a week of going live. A recent two-minute video looks at the stories behind Brazilian player Neymar's tattoos, following in Bleacher Report's tradition of covering the cross-section of culture and sport.
Subscribe to the Digiday Video Briefing: A weekly email with news, quotes and stats around the modernization of video, TV and entertainment. 
Image: courtesy of Bleacher Report Football via Facebook.
https://digiday.com/?p=303366
This week's Future of TV Briefing looks at what an industry group's conditional certification of three measurement currency contenders signals about the TV ad business's measurement overhaul.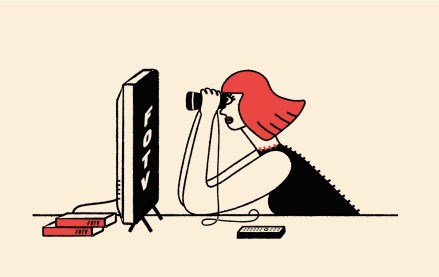 This week's Future of TV Briefing offers an updated list of the key terms that can cause confusion when talking about the TV, streaming and digital video industry.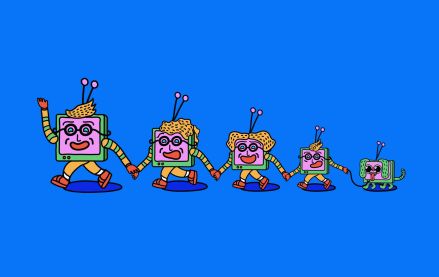 This week's Future of TV Briefing looks at what the Disney-Charter pay-TV distribution deal seems to indicate about the increasingly more-complementary-than-contentious relationship between traditional TV and streaming.