Sponsored
5 trends shaping the 2019 influencer marketing world
December 10, 2018 • 5 min read
• Sponsored by
Digiday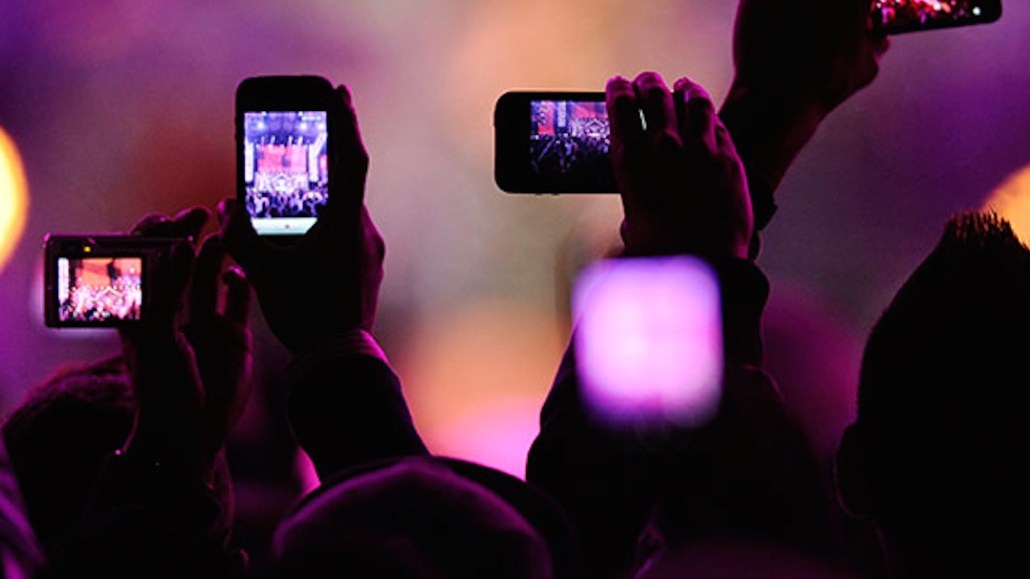 By Igor Vaks, CEO CreatorIQ
Influencer marketing has grown exponentially over the past year, attributable in no small part to the success that marketers find with the channel. 94 percent of advertisers find influencer marketing to be an effective practice that can generate 11x the ROI of traditional advertising. And with big brands and media companies increasingly moving marketing dollars into the space, the industry will undoubtedly continue to see explosive growth.
These are the big trends from this year that will shape the future of influencer marketing:
Fighting follower fraud
After Unilever's chief marketing and communications officer Keith Weed shone a light on the fake follower and bot problem plaguing social media marketing (which was strikingly similar to P&G's Marc Pritchard's call for digital to clean up the supply chain), audience integrity became a hot-button issue and social platforms themselves began to respond.
Twitter wiped out millions of fake followers and Facebook disabled more than one billion fake accounts — efforts propelled by media scrutiny and the growth of secondary marketplace channels like influencer marketing. And in recent weeks, Instagram — by far the most important channel for influencer marketing — announced it will begin removing fake likes and follows. For these platforms, it seems that at last the stigma of bot infestations now outweighs the stigma of perceived drops in their user bases.
In response to this problem, influencer marketing intelligence companies began pinpointing the telltale signs of fraudulent activity within social platforms. Fullscreen recently released a study with influencer marketing platform CreatorIQ that uncovered several ways to identify follower fraud amongst influencers, such as:
1. Most creators with fake follower issues have audiences severely over-index in click
farm hotbeds, like Brazil.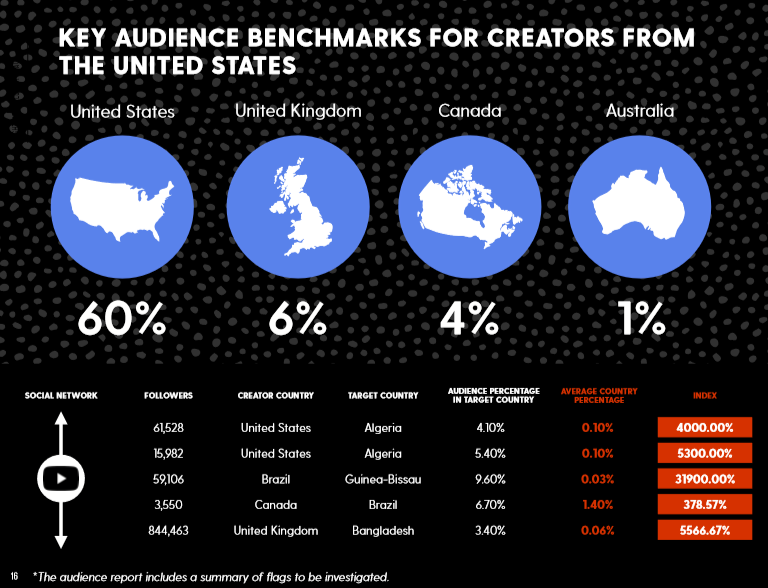 2. Creators with fake follower issues see either sharp increases (purchased followers         en-masse) or sharp declines (platform bot purges) in followers.
3. Rapid follower growth without a commensurate bump in total engagements (and         a decline in engagement rate) is a telltale sign of fraud.
Channel authentication and first-party data
Some of the biggest pain points of traditional advertising are murky supply chains and overreliance on estimations, which lead to fraudulent activity, loss of advertising dollars and a lack of true campaign performance metrics. Influencer marketing has the opportunity to learn from these shortcomings and ensure a more transparent, mutually-beneficial ecosystem for the industry.
The long-term solution to this problem is channel authentication. Authentication means true, first-party data for influencer marketing campaign performance. Once advertisers and business leaders learn that measurement of influencer marketing campaign performance can be exact, it will become normal for creator contracts to include required authentication into brands' influencer marketing platforms of choice.
This movement is not a pipedream — the use of creators with authenticated social accounts has grown by 60 percent in the last six months, proving the growing importance of first-party data to the larger influencer marketing ecosystem. Creators and brands alike will benefit from talent allowing analysts into their walled gardens, which can only lead to more deals at larger sizes.
True reach
The authentication conversation also includes large steps toward solving share of voice and audience deduplication questions for influencer marketing.
Estimated metrics (like estimated reach) or "vanity" metrics (like engagement rate) have traditionally been the best way to estimate influencer marketing success — but these numbers are not necessarily foolproof.
Engagement rate or estimated reach do not necessarily correlate with true campaign performance. By using anonymized first-party data among top creators authenticated into CreatorIQ, we're able to observe two fascinating truths:
1. Higher engagement does not necessarily correlate with higher reach.
2. Smaller audience sizes do not necessarily correlate with higher reach.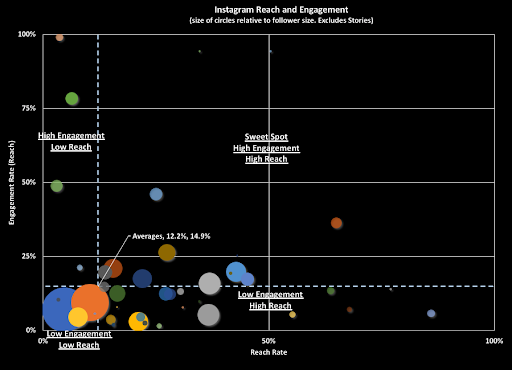 Methodology: This chart represents 40 anonymous creators commonly activated in         influencer marketing campaigns. Position on the chart is based on true reach (x-axis)         and true engagement (y-axis), which is derived from total engagements over actual         reach — a metric only accessible per creator authentication. These averages are from         Instagram campaign posts (images, videos, and carousels) from the past 30 days.
The x-axis represents a creator's ability to expose their audience to their content — notice the wide distribution. The y-axis shows the average engagement rate based on true reach — a much more accurate representation of audience impact than using that creator's follower count.
If a brand selects only creators who land closer to the top right corner of this graph, there's no telling how much stronger their campaigns could perform. Marketing leaders need to push for creator authentication in their influencer marketing platform of choice and prioritize real first-party metrics over estimations.
Consumer trust drives revenue
Influencer marketing media budgets are expected to reach $5-10 billion by 2020, spurned by the strategy's effectiveness. The channel has continued to grow because, when done well, it is one of the only digital channels where advertisers can purchase and quantify earnest advocacy and brand loyalty.
The idea that influencer marketing is just an awareness channel will continue to dissolve as marketers test and find success with direct response campaigns. Looking at deft brands like Daniel Wellington, MILK Makeup and YETI, there's no doubt that influencer marketing rivals the best programmatic channels in its ability to move product.
The rise of nanoinfluencers
In 2016, the average following of Instagram creators used in campaigns was around one million; today, it hovers around 500K. This trend is due in large part to a shift in KPIs among brands from campaign reach to measurable trust (and how that translates into ROAS).
Cue the rise of "nanoinfluencers" — brands leveraging creators with as few as 1,000 followers who are willing to advertise products on their personal social media pages. Nanoinfluencers, who are similar but even smaller in size than micro-influencers, boast a lack of fame (and of campaign history) that results in a genuine qualia not found anywhere else. These creators are typically easy to deal with, work for smaller fees (or even free product!) and are more open to brands' creative direction.
The influencer marketing industry should expect the follower count "floor" to disappear. Social media users with as few as a hundred followers will eventually be leveraged for advertorial campaigns.
https://digiday.com/?p=314467