The New York Times quietly paused its Snapchat channel
February 14, 2019 • 3 min read
• By
Digiday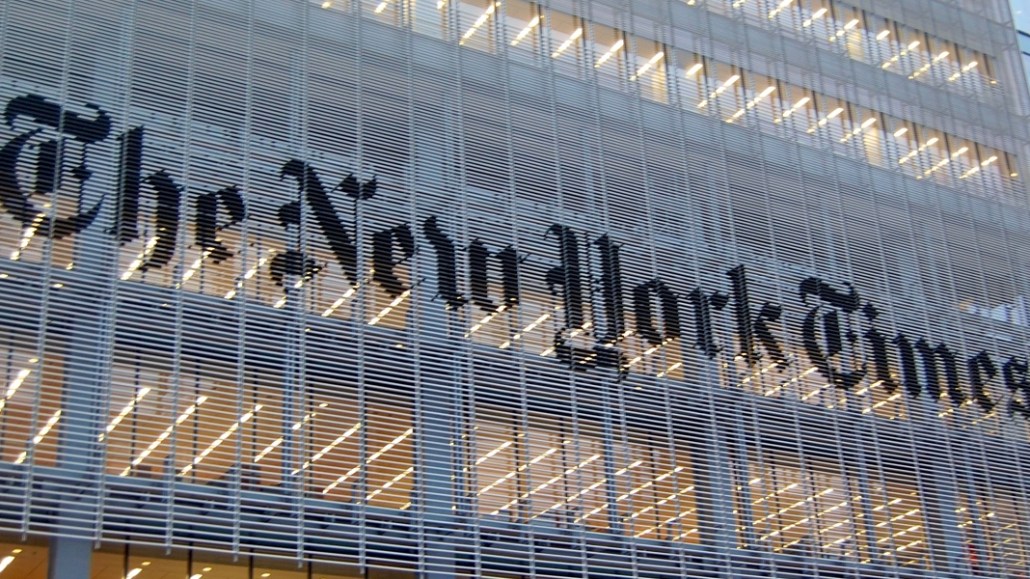 After publishing to Snapchat Discover every weekday, The New York Times has quietly stopped its channel.
The Times' most recent edition is dated Dec. 21, 2018. The publisher launched on Snapchat on April 24, 2017 — about seven weeks after Snap's Wall Street debut — and had been sharing newspaper and magazine stories as well as a miniature version of the crossword on the platform. The Times had 20 people across the company help with the launch of the channel, after which it had a team of about 10 managing it. The Times declined to provide a specific reason for stopping its channel.
"We're happy with what we have built for Discover, which has helped us reach millions of young readers each month. We're actively working on some new ideas that will best represent The Times on the platform," a New York Times spokesperson said.
Indeed, the Times is currently not publishing on Snapchat Discover, but it could sign a new contract with the platform in the future as other publishers have done. For example, CNN stopped publishing on Snapchat in December 2017. The news network was one of Discover's launch partners back in January 2015. It switched to doing a Snapchat Show called "The Update" in mid-2018. But after four months, it chose to cancel the effort. In September 2018, CNN rejoined Snapchat as one of the launch partners for Curated Our Stories, its breaking news tool.
A Snap spokesperson said the company is having ongoing "creative conversations" with the Times about launching something new on Snapchat. This effort could be a different version of the traditional publisher story or a Snapchat video show, the spokesperson said.
"The New York Times is an incredible partner and an important source of news for our community, especially in this unprecedented political climate. We're currently working with their team on the next evolution of the New York Times on Snapchat. We're excited to reimagine what the NYT can be on Snapchat and look forward to sharing more details when we're ready," the Snap spokesperson said.
Snap and The Times declined to share their revenue agreement. Some publishers split the ad revenue evenly with Snap while other publishers have more generous deals that include a certain guaranteed payment, according to Snap media partners.
Publishing on Snapchat Discover has changed significantly since its 2015 debut. It started with a dozen partners but has since expanded to more than 100. Snapchat now allows publishers to use repurposed content. It's also been adding more shows, some of which are from Hollywood studios and others from news networks. For example, NBC launched "Stay Tuned" in July 2017, which now attracts between 25 million and 35 million unique viewers every month, two-thirds of which do not read or watch other NBC content, according to Comscore data.
Meanwhile, The Times has continued to focus on growing its subscription business as well as invest more in podcasts. On Feb. 6, The Times reported $709 million in digital revenue in 2018 and touted 4.3 million subscribers of its digital and print products. Its podcast "The Daily" grew to 5 million monthly listeners by July 2018.
Snapchat is no longer growing users, but it is increasing its revenue. The company reported 186 million daily active users on Feb. 5 for its fourth-quarter of 2018 earnings, which was the same number as last quarter. Its quarterly revenue was $390 million, up from $286.7 million the year prior.
https://digiday.com/?p=322347