'The needle is starting to move': Inside Turner Sports' plan to fix Bleacher Report's diversity and inclusion problem
September 14, 2020 • 10 min read
•
•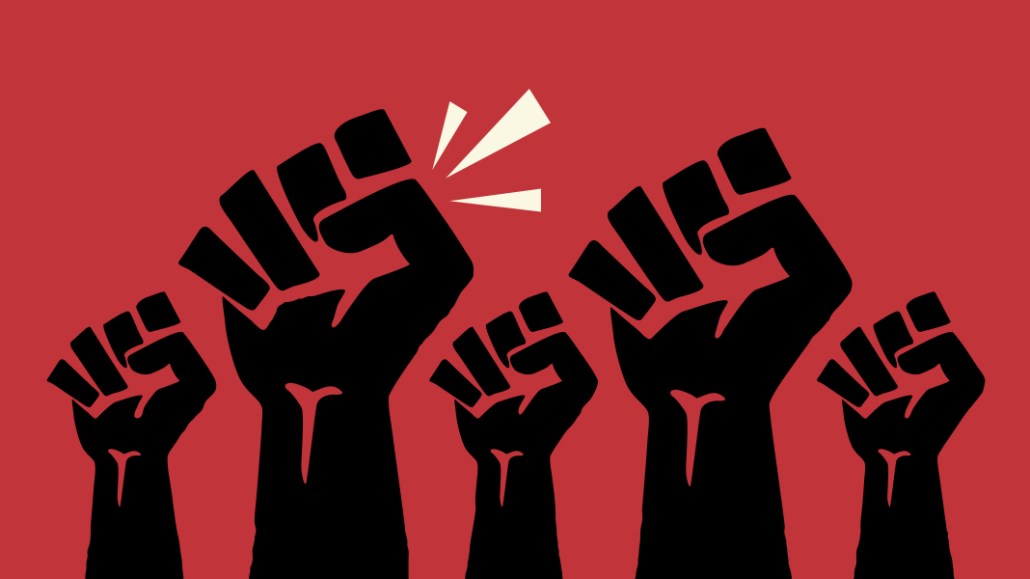 Ivy Liu
This article is part of the Future of Work briefing, a weekly email with stories, interviews, trends and links about how work, workplaces and workforces are changing. Sign up here.
On Aug. 19, Turner Sports president Lenny Daniels sent an email to all Bleacher Report employees to update them on the steps the lifestyle sports publication's parent organization was taking to address the diversity and inclusion issues inside B/R that boiled over in June.
In the email, which was reviewed by Digiday, Daniels wrote, "Growth in all aspects of diversity and inclusion is paramount to our success, but in order to do so it must become much more than words."
Turner Sports' efforts to address B/R's D&I problem are starting to become just that. The company has reformed its People Advisory Council to become involved in B/R's hiring and employee retention practices. It has installed multiple Black executives from Turner Sports within B/R's leadership ranks. It has hired a Black vp of sales that will work across Turner Sports and B/R. And the company has other efforts in the works, as detailed in the Turner Sports and Bleacher Report diversity and inclusion plan that Daniels shared with B/R employees on Aug. 19. Digiday obtained a copy of the D&I plan, and it is embedded at the end of this article.
Some current B/R employees feel the actions Turner Sports is taking are promising, specifically the PAC and the Turner Sports executives' appointments, based on conversations with five current B/R employees. But they also continue to wait to see those changes make an impact throughout the publication and have been discouraged by a recent round of layoffs that affected some employees of color. For example, the current B/R employees believe that any diversity hires will not happen until 2021, though a Turner Sports spokesperson said the company is not in a hiring freeze. Additionally, some of the initiatives outlined in the D&I plan, like a review of employee pay equity and the creation of a leadership development program for people of color, have timeframes set for 2021.
"A lot of it is talk, and a lot of is planned, but it's only been two months so far," said one current B/R employee.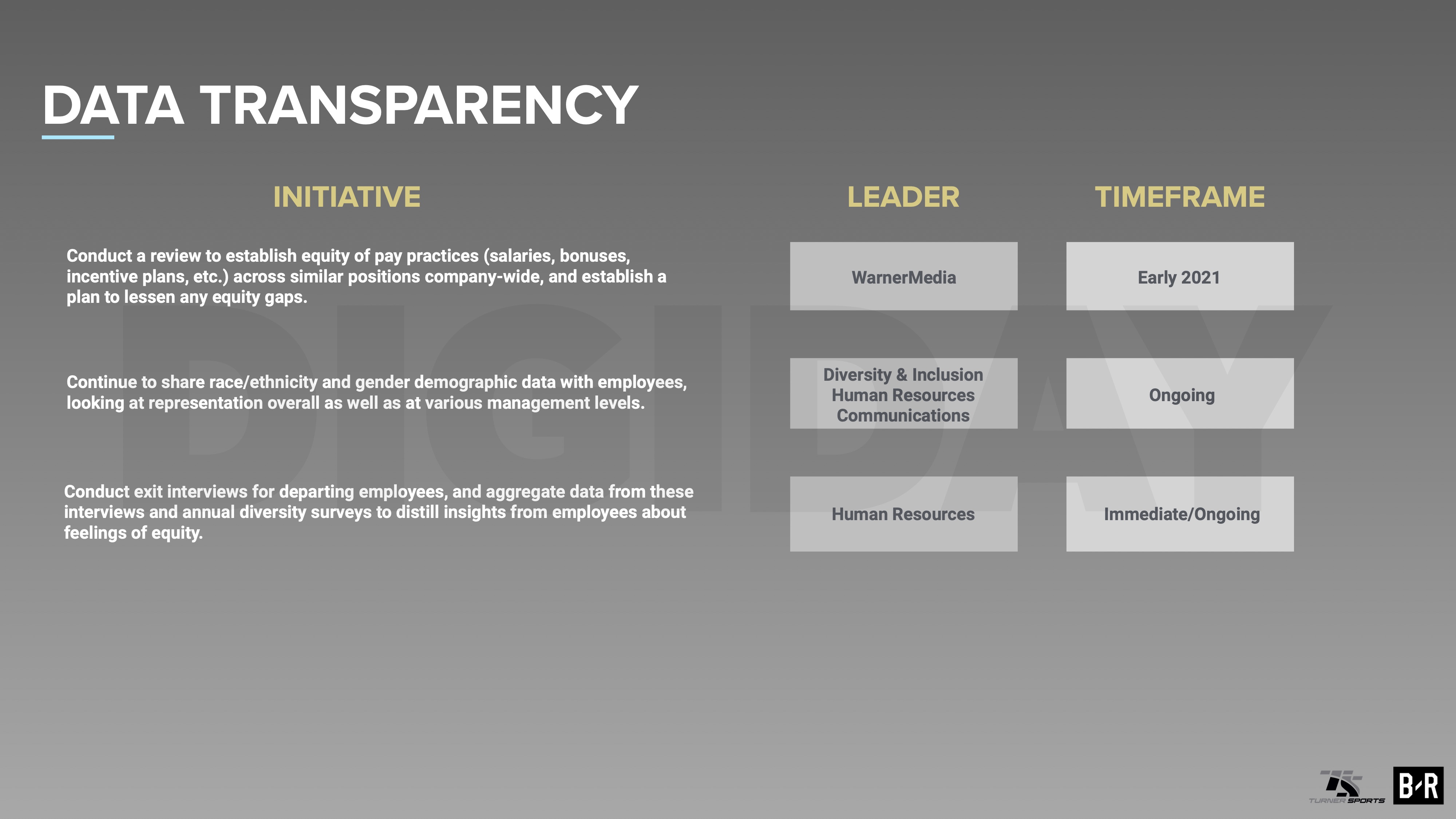 A little more than two months ago, B/R's diversity and inclusion problems reached a breaking point. During multiple company town halls in June, employees spoke up about the lack of Black executives within the publication's leadership ranks and the history of Black employees struggling to move up the ranks inside B/R despite the lifestyle sports publication's connection to Black culture. According to a diversity report shared with B/R employees in early June and conducted in February, only 10% of B/R employees were Black and there were no Black employees at the vp level or above.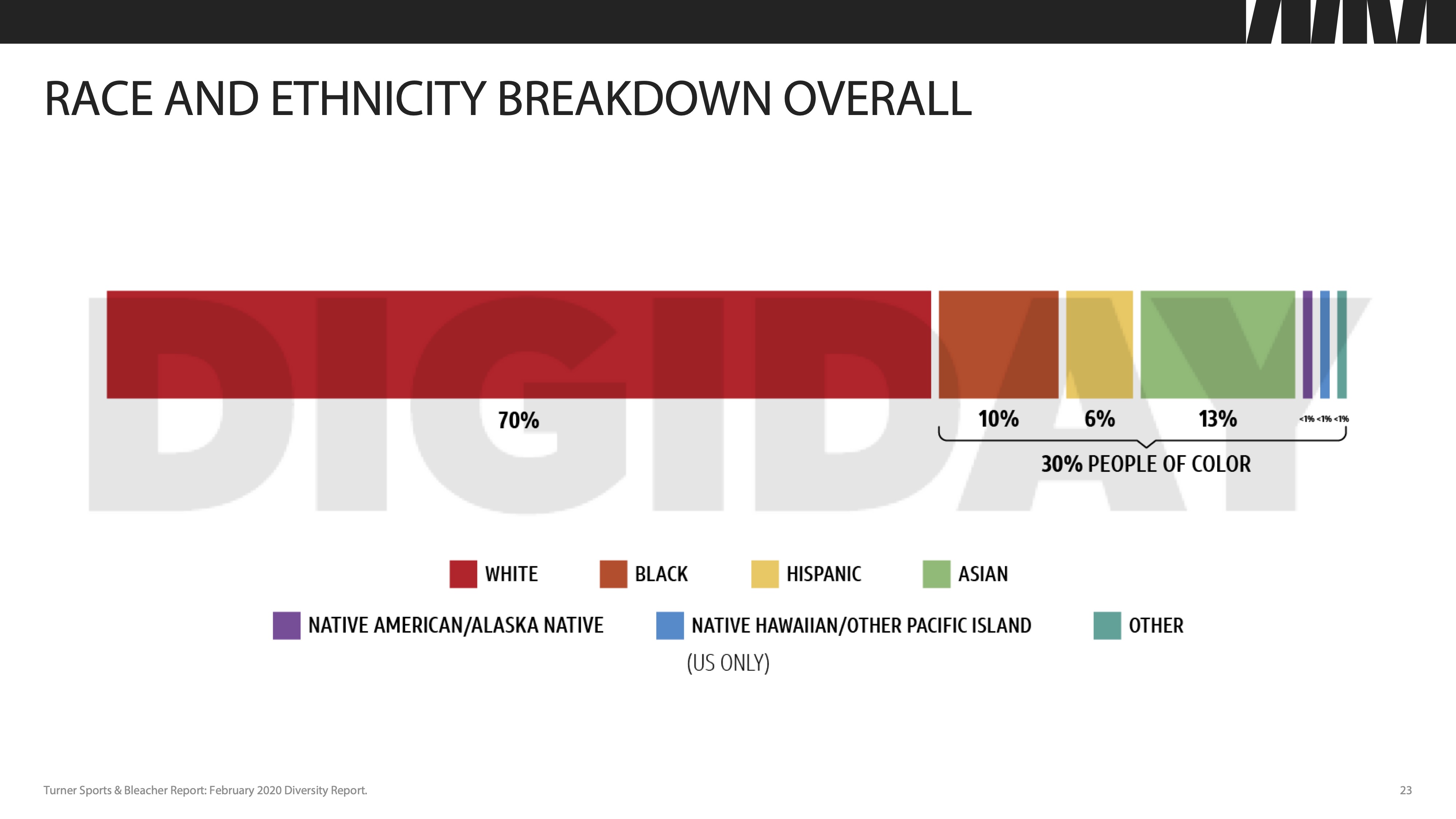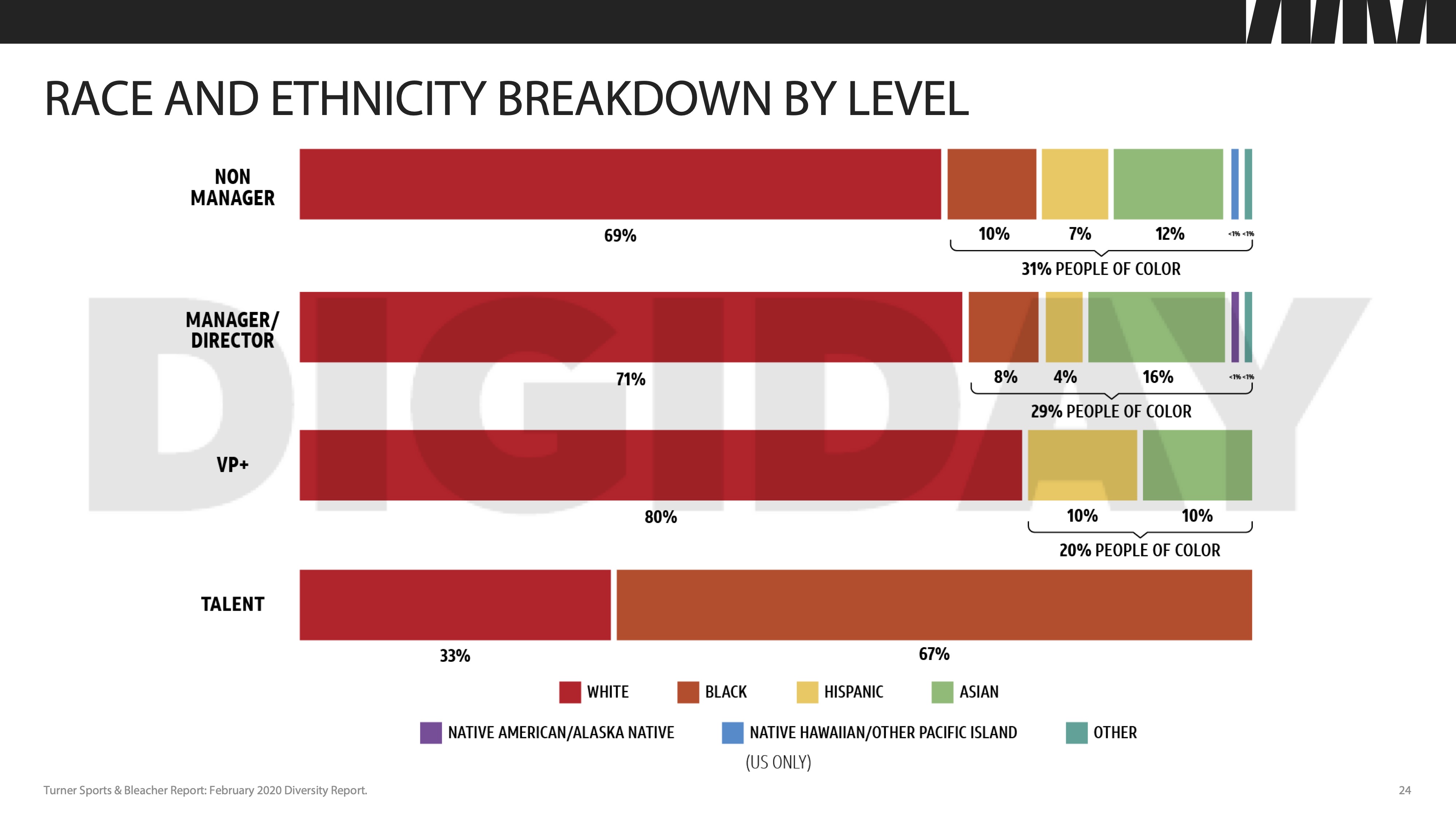 Following the employees' uprising, B/R CEO Howard Mittman left the company and Daniels assumed responsibility over the publication. The Turner Sports president pledged, in a June 23 memo sent to B/R employees, that "significant change needs to occur now." Many other media companies made similar pledges at the time. But now, months later, employees inside those companies have grown anxious waiting for their companies to act upon those pledges. That is also the case inside B/R. "There's been a lot of talking," said a second current B/R employee.
"If we really think about all of the things that are possibly broken internally, that will take a good amount of time to fix. Can you really put a timeline on systemic issues? I don't really know. So I'm not 100% satisfied with what's happened so far, but I'm pleasantly surprised to see the needle is starting to move," said a third current B/R employee.
There is real urgency for that needle to move. For starters, B/R risks losing employees frustrated by the publication's lack of diversity and inclusion. In June, B/R creative executive Bryan Graham resigned over the publication's failings. Those failings have also hurt B/R's business. In mid-July, financial services firm Zelle canceled a deal with B/R to sponsor a YouTube series after Digiday reported on the publication's lack of diversity and inclusion, according to a screenshot of an internal B/R Slack thread obtained by Digiday. Zelle did not respond to a request for comment by press time.

Elevating people of color at B/R
The current B/R employees have been optimistic about the appointments of Turner Sports executives Tara August, Drew Watkins and Eric Jackson to roles working with B/R in addition to their Turner Sports duties. All three executives are Black and have been put in positions of power at B/R.
In addition to serving as svp of talent services and special projects at Turner Sports, August has become executive sponsor of the People Advisory Council as well as EmB/Race, B/R's employee resource group for Black employees.
Watkins, a 20-time Sports Emmy Award winner, has been promoted to svp and creative director for Turner Sports and B/R Studios, replacing Rachel Brill who had previously overseen B/R Studios and left B/R in July.
And Jackson has been promoted to svp of NBA digital content operations and diversified sports content at Turner Sports and is leading a new team at B/R focused on diverse storytelling.
"Now we're having folks who look like me calling the shots and having a large say at the company," said the first current B/R employee.
In connection with the diverse storytelling team's formation, B/R has elevated two of its Black employees. According to an email that Daniels sent to B/R employees on July 30, which was reviewed by Digiday, B/R's senior director of social strategy Julian Patterson has been appointed the team's creative lead. "Additionally, Lakia Holmes is being promoted to Senior Producer and she will be an integral member of this newly formed team, reporting to Julian," Daniels wrote.
However, some of the current B/R employees questioned why the personnel changes so far have largely revolved around Turner Sports executives being given additional leadership responsibilities at B/R instead of Black employees and employees of color already at B/R being given those opportunities. "I've only seen one promotion [of a Black B/R employee since Mittman's departure]. It was well-deserved, but I haven't seen any other ones. You never really see Black people get promoted at Bleacher Report," said the second current B/R employee.
The People Advisory Council is supposed to address B/R's history of Black employees finding limited opportunities to grow within the company.
Already in place at Turner Sports, the PAC has been expanded to also cover B/R. The council consists of 30 members across Turner Sports who will serve as advisers and be attached to select open positions, August said during an all-hands meeting with B/R employees on Aug. 27, a recording of which was obtained by Digiday.
The advisers are involved in the creation of job postings, distributing the postings to diverse alumni groups and other organizations, identifying internal candidates, reviewing resumes, interviewing candidates and recommending who to hire, August said. The PAC has "ultimate power. If they don't want to hire somebody, at the end of the day we're not hiring somebody," Daniels said during the Aug. 27 meeting.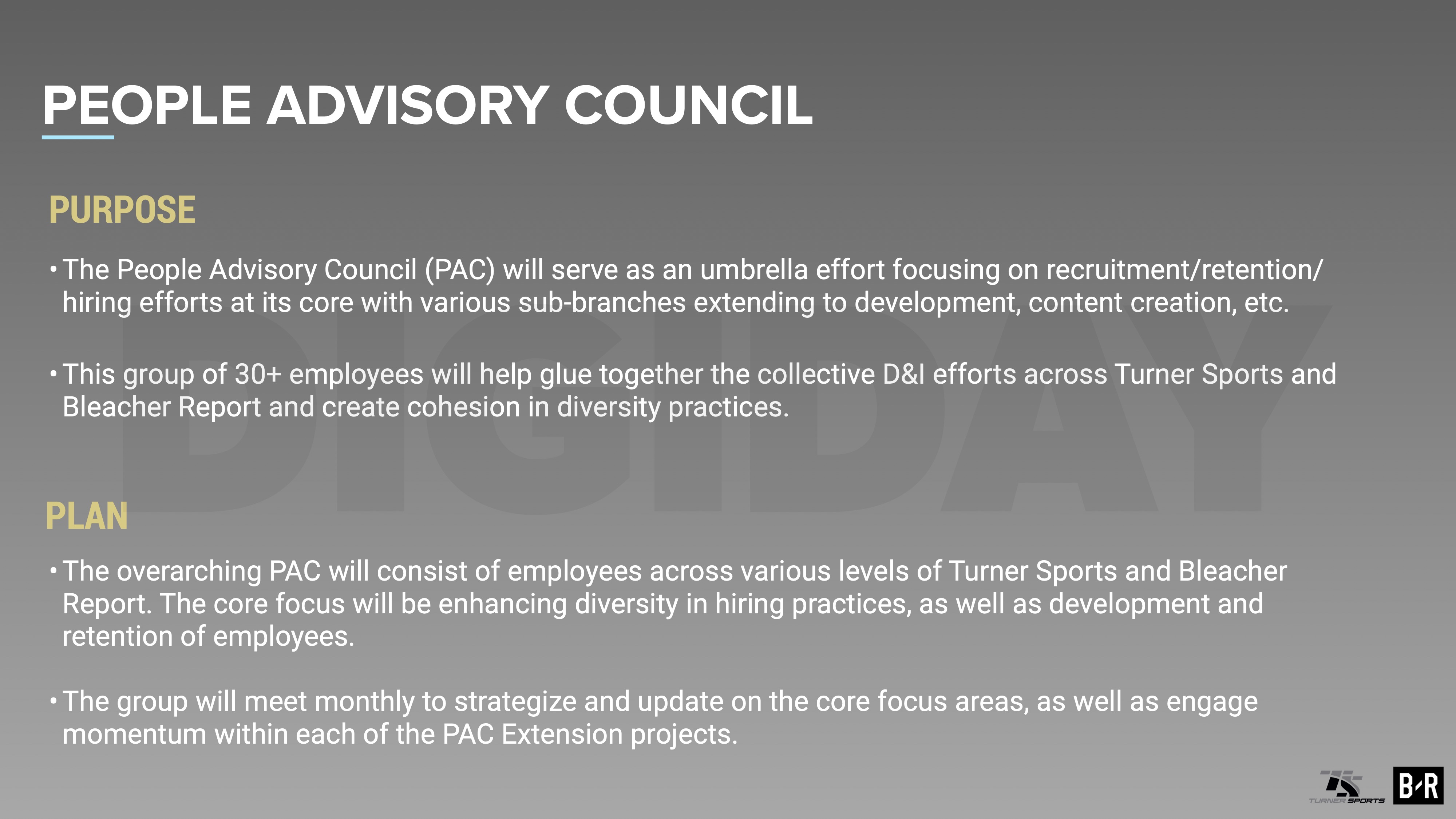 Laying off people of color at B/R
However, despite the steps that Turner Sports is taking, a recent round of layoffs at B/R has drawn criticism from some of the current B/R employees for how employees of color were affected. The layoffs, previously reported by Awful Announcing, resulted in four employees of color from B/R's six-person innovation team losing their jobs, while the team's sole white member stayed employed with the company, moving to another team within B/R. "The feeling was they had choices and their choices were to fire people of color," said a fourth current B/R employee.
To be clear, that round of layoffs affected more than a dozen B/R employees across three teams: B/R Mag, B/R Football and the Innovation team. During an all-hands meeting on Aug. 27, Daniels described the layoffs as the result of "reprioritizing resources" within B/R.
The publication is shifting its emphasis to long-form video and content posted to social channels like Instagram, making the long-form journalism its B/R Mag team published less of a focus. And in June, Turner Sports canceled its Champions League rights deal, lowering the importance of B/R Football's soccer coverage to the broader company's business.
Some of the current B/R employees said they were willing to accept that layoffs may have been necessary to protect B/R's business, which is not profitable. Layoffs are all-too-common in the media industry, especially during an economic downturn. And the layoffs at B/R Mag and B/R Football seemed reasonable in light of the larger organizational changes. However, the employees were less willing to accept the layoffs on the Innovation team and the fact that all were people of color. Their objections were aggravated by comments that Daniels made during the Aug. 27 all-hands meeting regarding the layoffs.
"A lot of what you're seeing is really about reprioritizing resources. We just talked about D&I. We talked about funding it. We're not getting extra money. We need to reprioritize the money we have. This, D&I, is not cheap, and we're going to have to find ways to fund it. So a lot of what you're seeing right now is reprioritizing in a way to free up resources and to honestly better position the brand, better position the business model of Bleacher Report and as that connects to the business of Turner Sports and WarnerMedia and so on," Daniels said.
Some of the current B/R employees interpreted those comments as saying that B/R employees, including employees of color, needed to be taken off the payroll in order for Turner Sports and B/R to invest in addressing the publication's diversity and inclusion issues.
"It's so hypocritical of Lenny and Tina [Shah, evp and gm at Turner Sports] to say this diversity initiative costs money and that's why we had to make these layoffs. It's distilling the message of 'we have to lay off people of color so us c-suite execs can figure out how to hire more high-profile people of color," said a fifth current B/R employee.
The fourth current B/R employee acknowledged there may have been performance reasons that would legitimize the Innovation team layoffs. However, that was not communicated to B/R employees. This employee and others also wondered where the PAC was on the matter.
In the Aug. 27 all-hands meeting, August said of the PAC, "At its core, it's designed to help with our diversity and our retention." Given that positioning, some current employees believed the PAC should have been involved in the layoff decisions, especially in light of August mentioning in the Aug. 27 meeting that the PAC had held the first meeting with its 30 members the week before the layoffs were announced.
Asked if the PAC was involved in the layoffs process, the Turner Sports spokesperson said the PAC is focused on hiring and employee development. That answer is unlikely to satisfy some of the current B/R employees who viewed the Innovation team layoffs as a sign that the company has yet to fulfill its pledge to increase the level of diversity within B/R.
"The first opportunity they get to prove something to us in terms of keeping the numbers around, they proved to have failed us. So what happens next time?" said the fourth current B/R employee.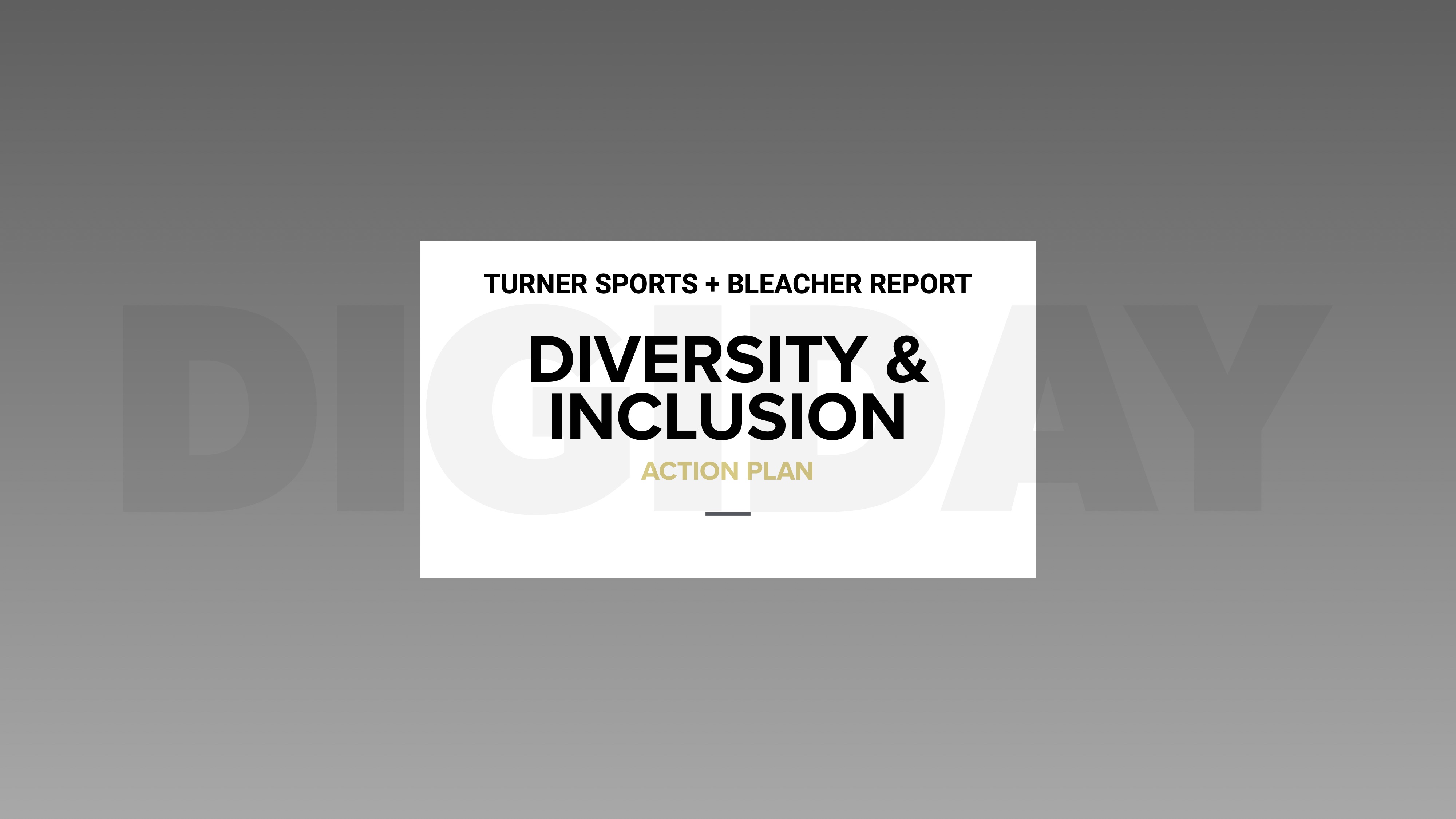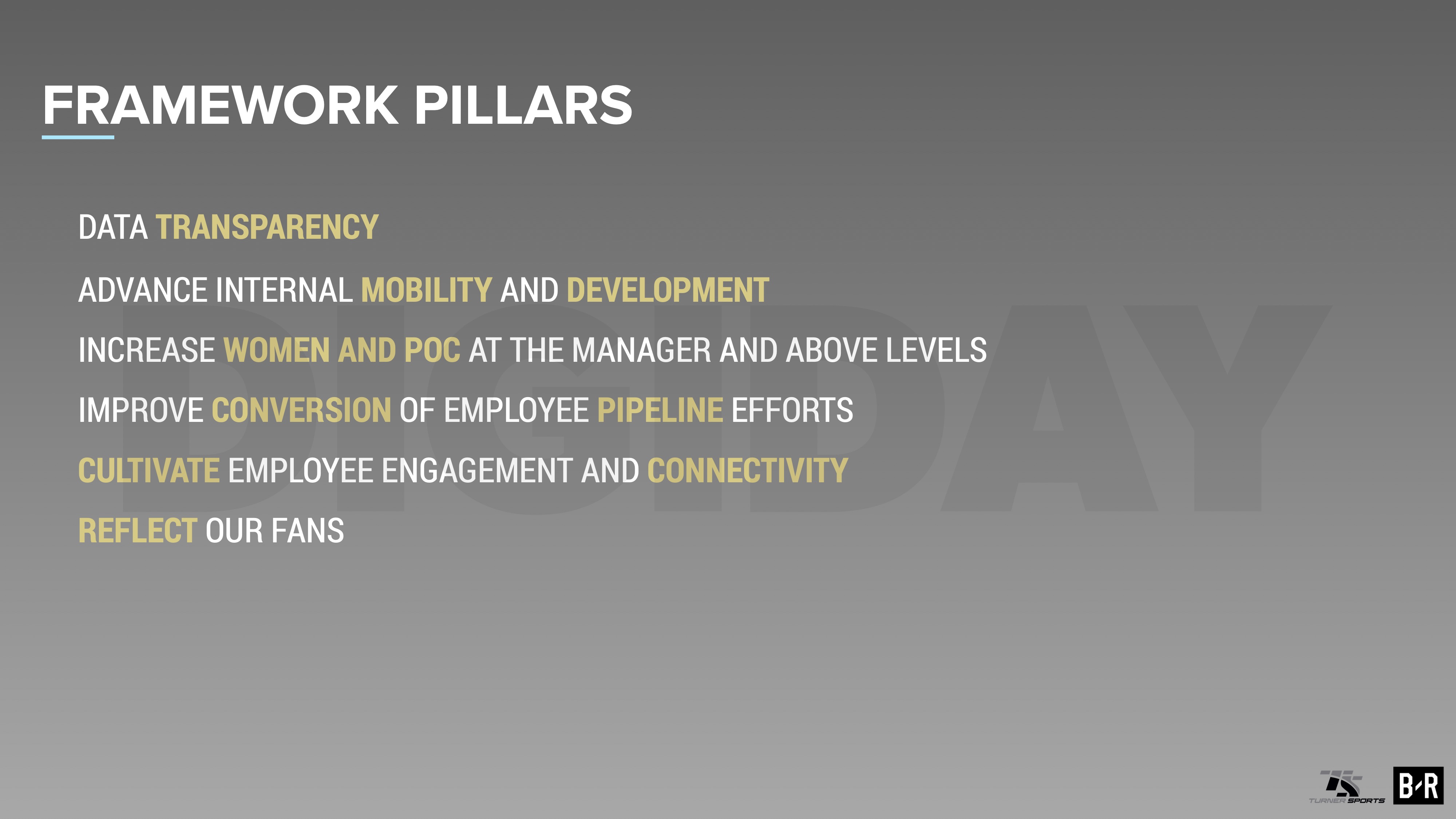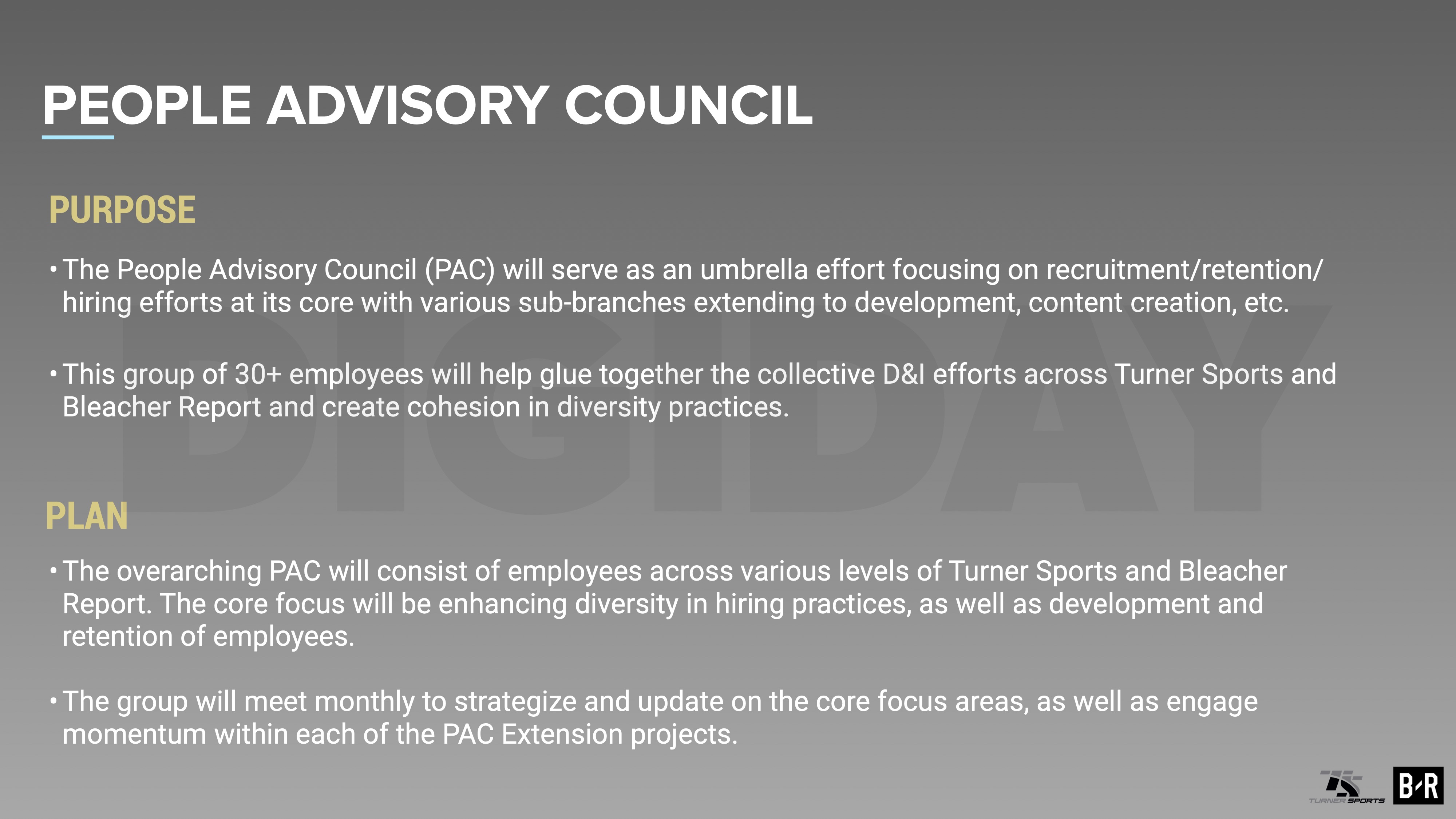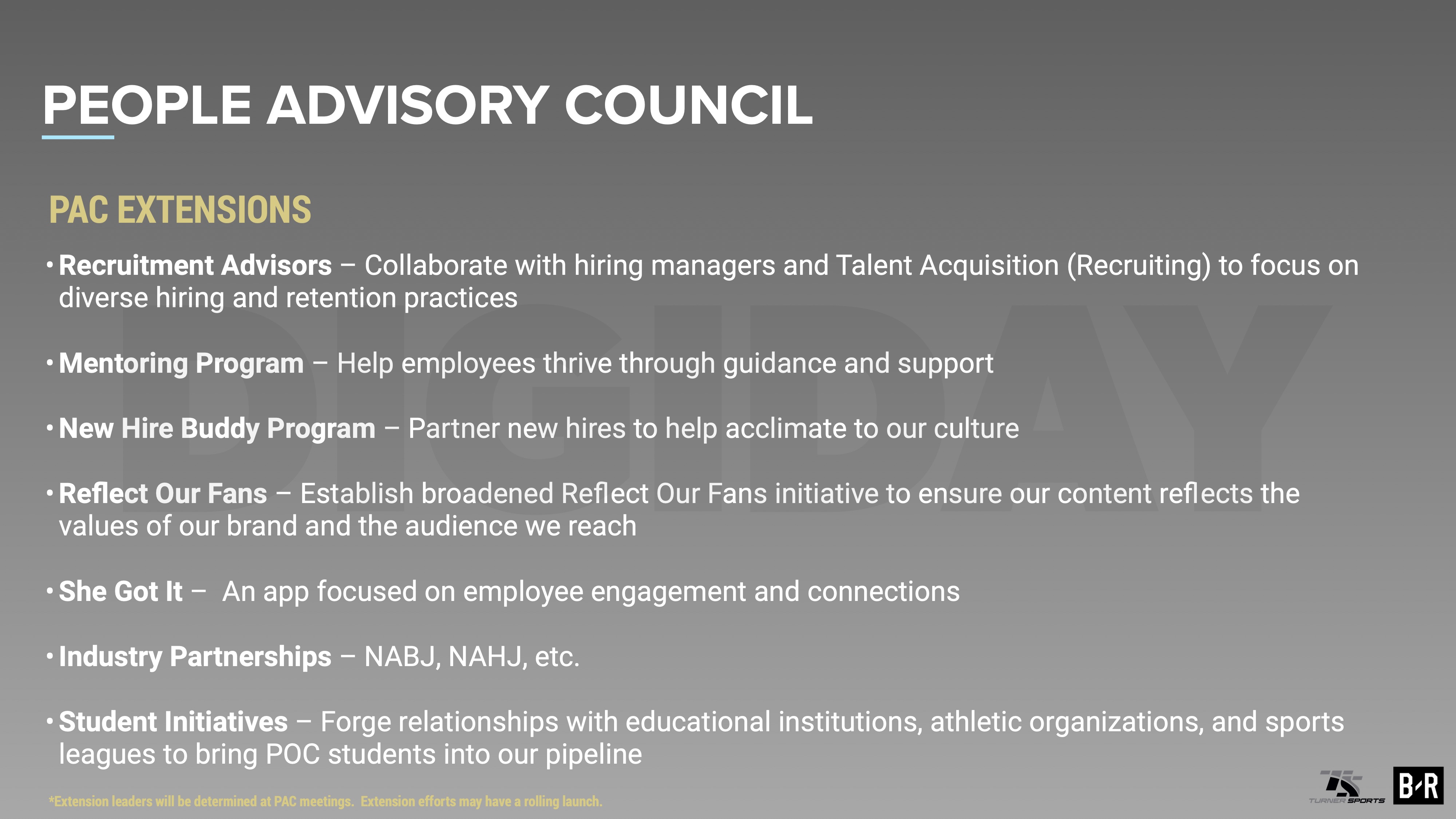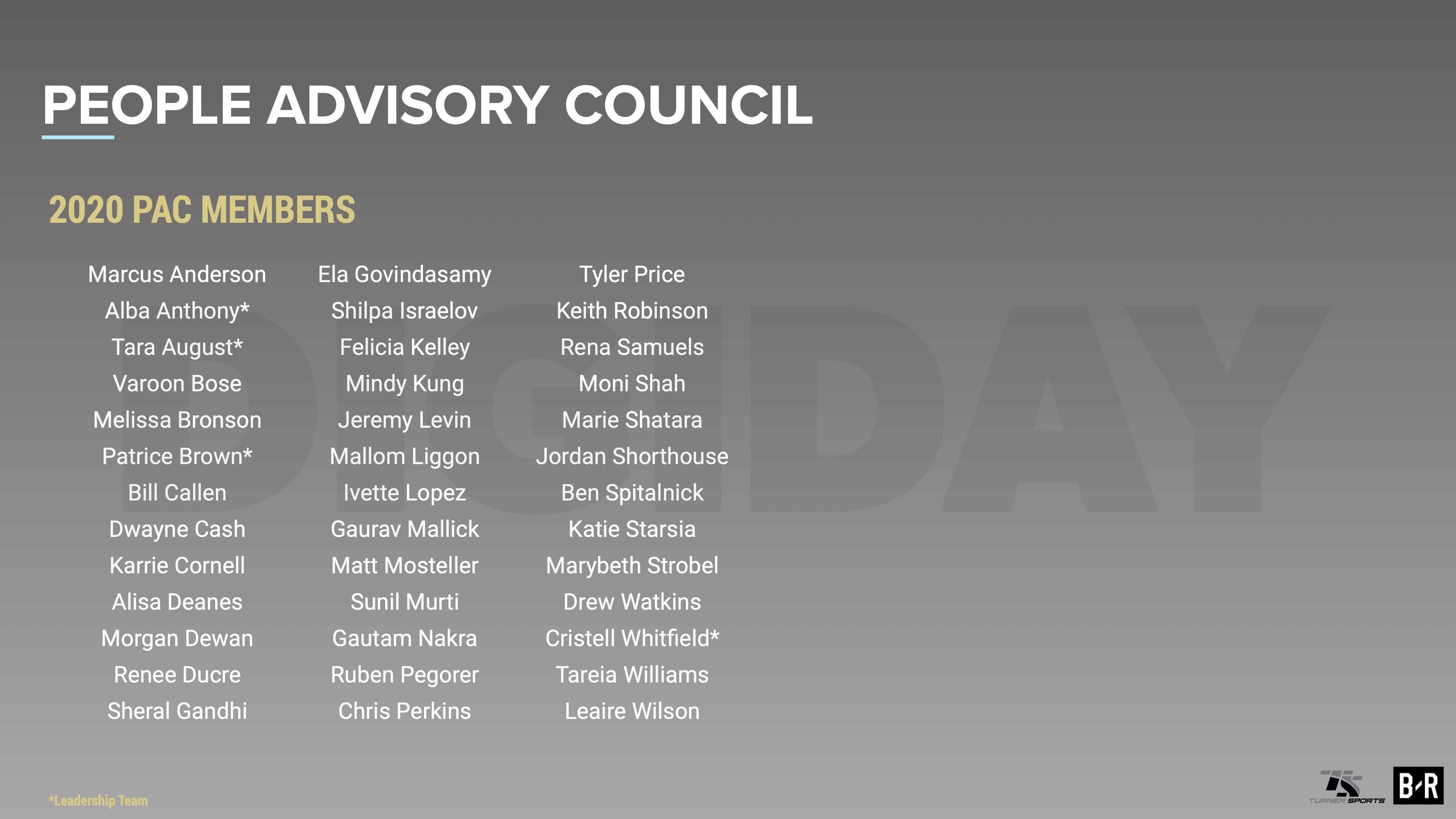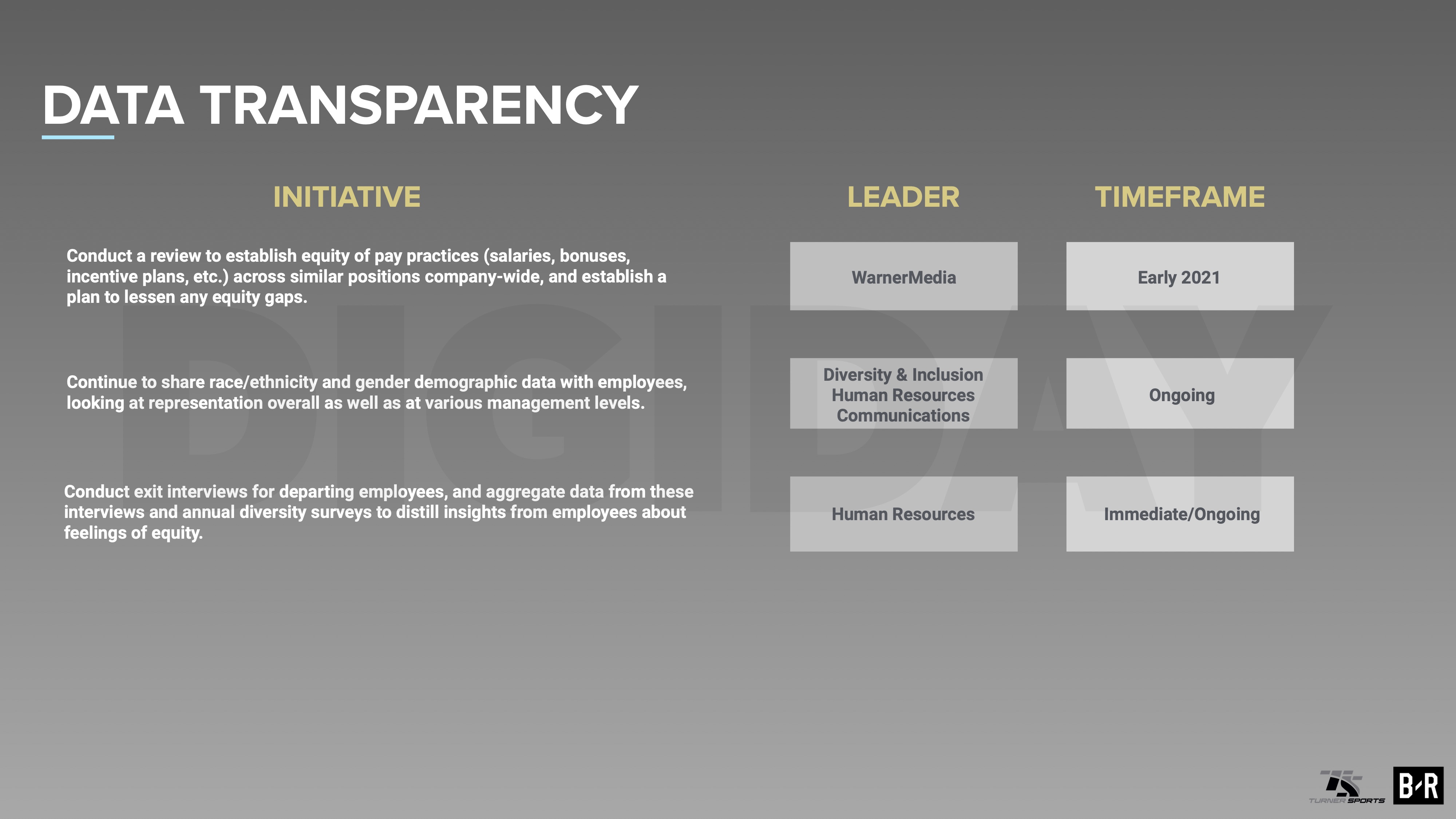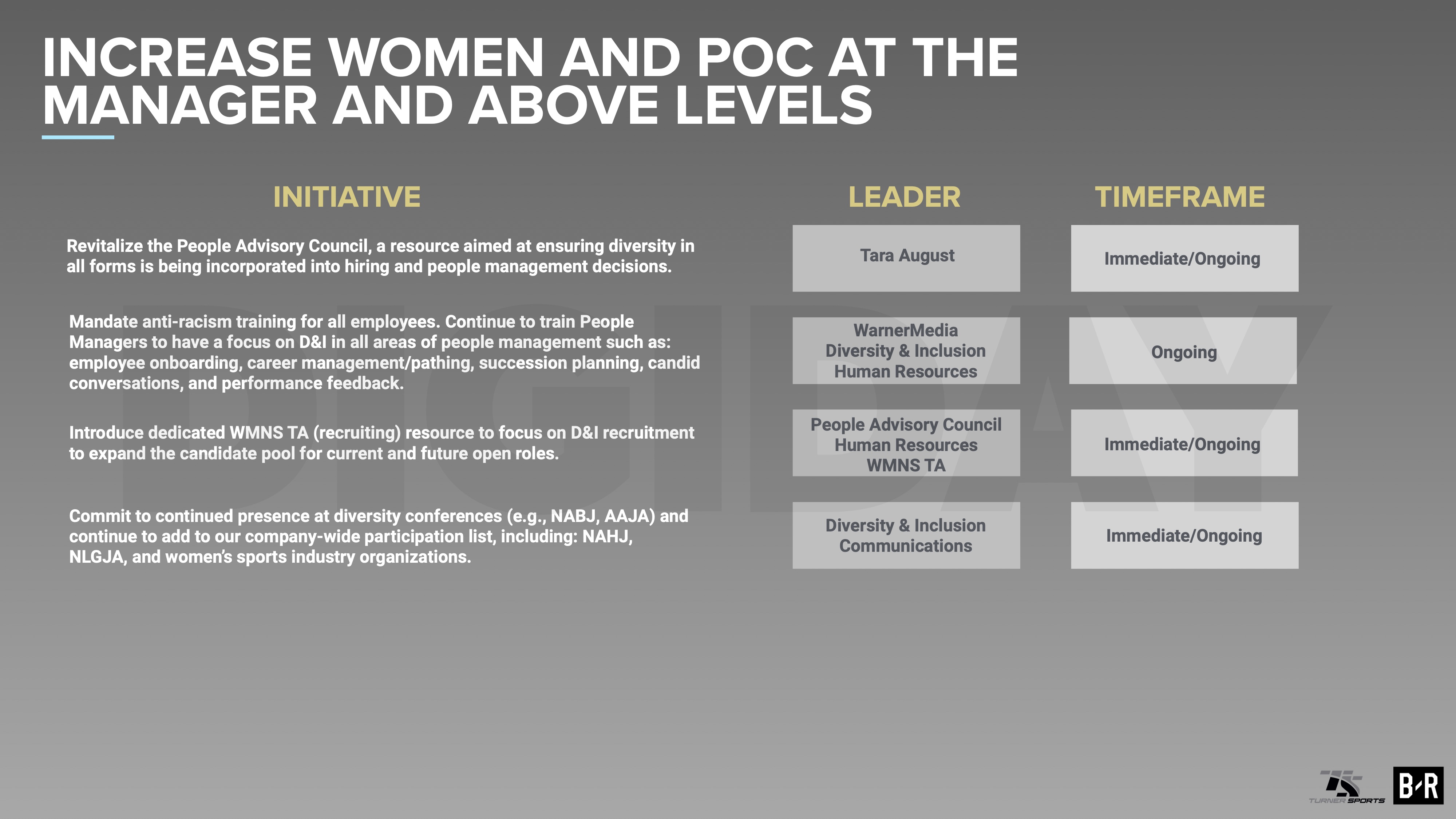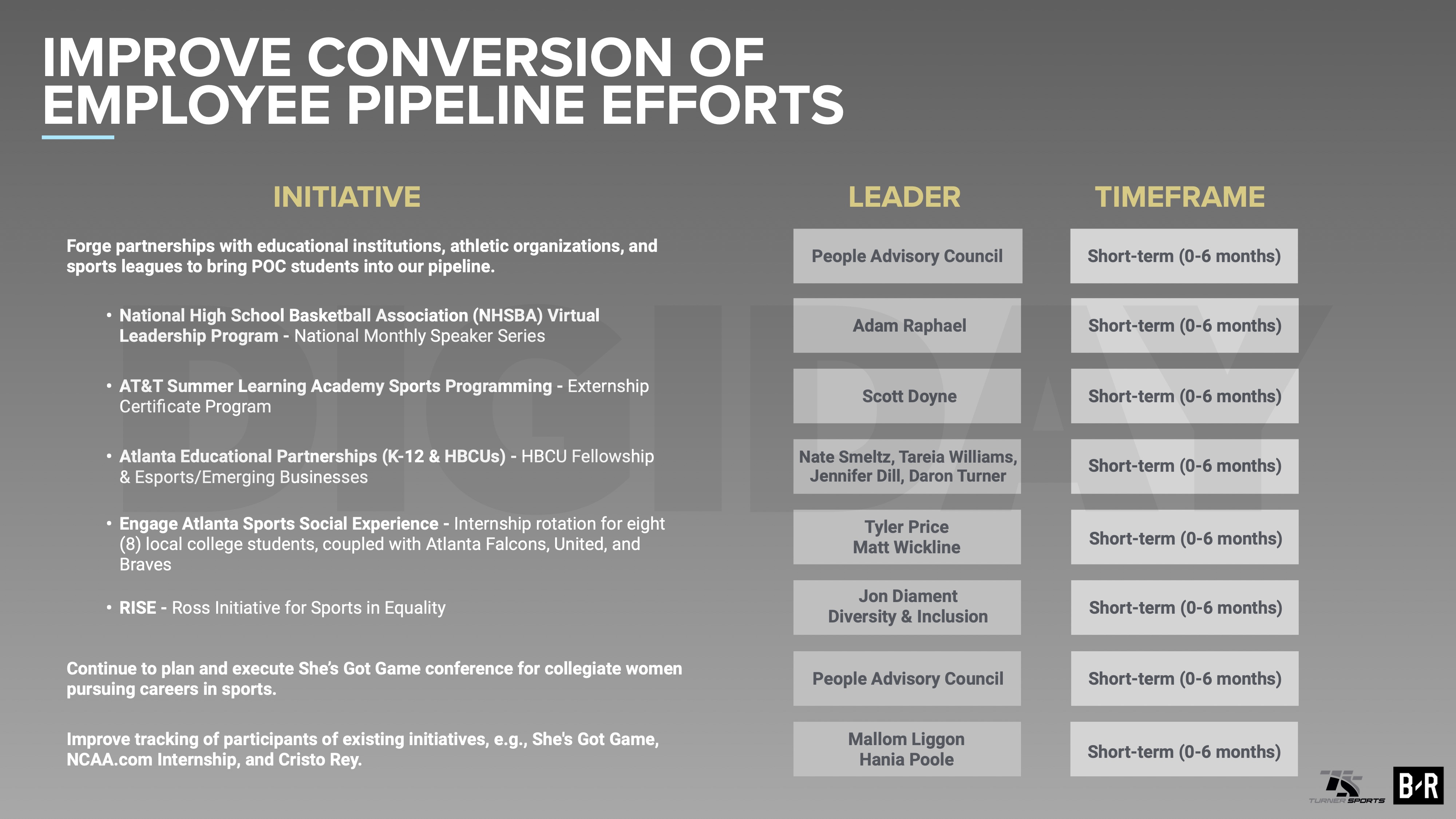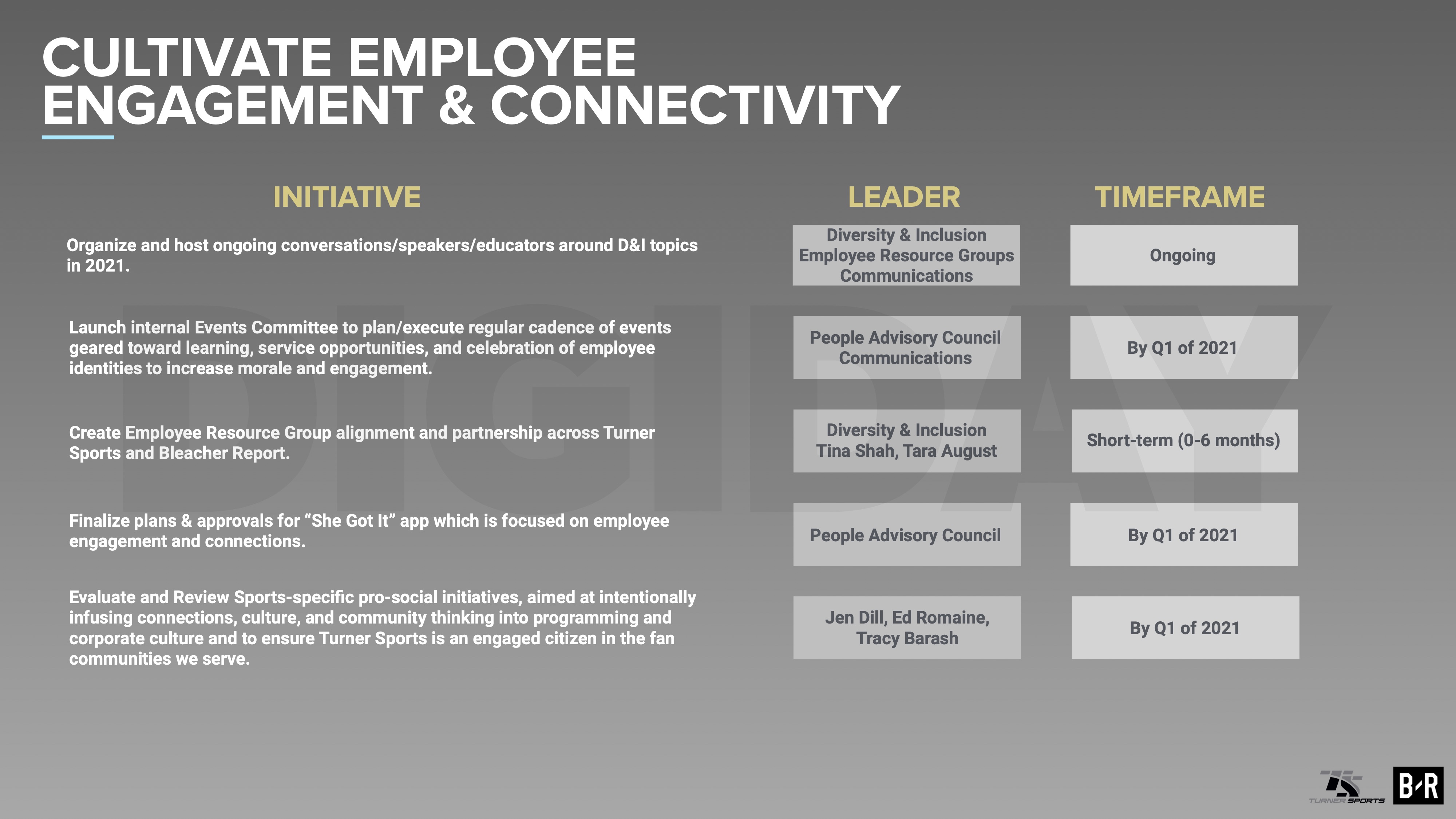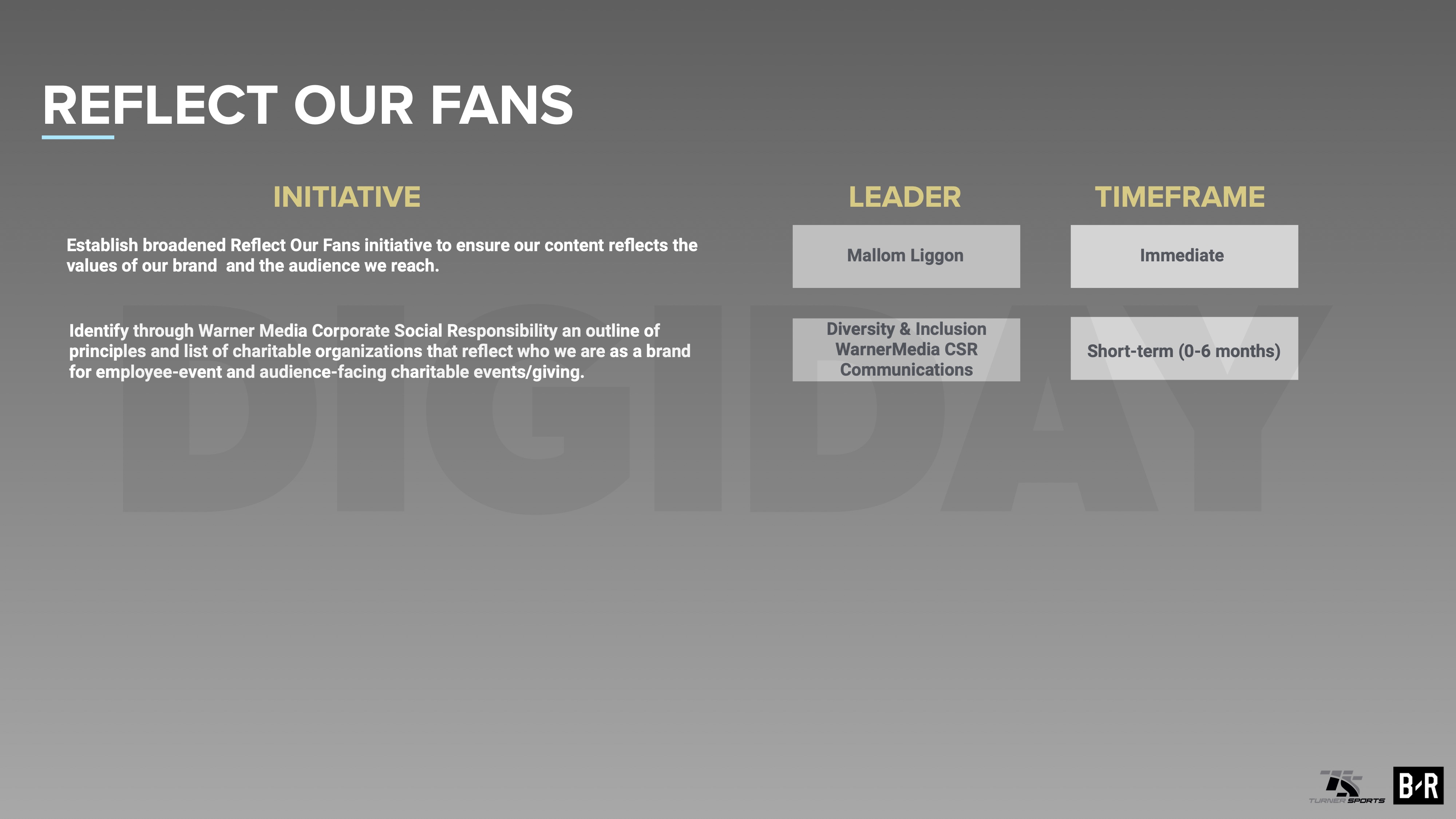 https://digiday.com/?p=377127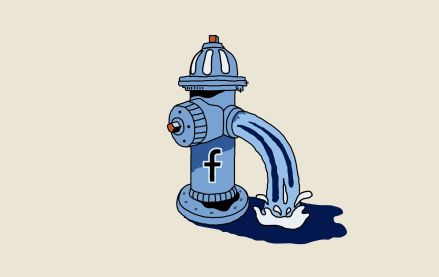 October 4, 2023 • 5 min read
•
•
Publishers are still feeling the effects of a change Facebook made in May that caused a steep decline in referral traffic. Nearly four months later, publishers aren't sure when — or if — that traffic will come back.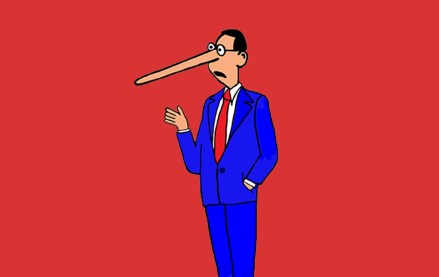 October 3, 2023 • 7 min read
•
•
A new definition for MFAs is available but the vague nature of the guidelines is leading to a lack of standards that might prevent adoption.
October 2, 2023 • 1 min read
•
•
The publishers who attended DPS were focused on the potential upsides of applying the technology to their operations while guarding against the downsides.