The latest big transparency report again shows ad tech is a mess
May 12, 2020 • 5 min read
This Media Briefing covers the latest in media trends for Digiday+ members and is distributed over email every Thursday at 10 a.m. ET. More from the series →
This is the latest of a weekly column about the big changes and challenges facing media and marketing leaders. Be sure to join Digiday+, our membership program, to get access to this column and all Digiday articles, research and more.
Digiday+ members also get access to our exclusive Plus Talks series. Join me today (Tuesday, May 12) at 10 a.m. EST where I'll be joined by Jarrod Dicker, vp commercial at The Washington Post and Jason White, svp and head of publishing at Liveramp to discuss what comes after the cookie.
The latest auditing of the programmatic supply chain delivered an outcome not unlike many big consulting projects: It told everyone what they already knew, with snazzy charts, and now the top brass is furiously pointing fingers over who's to blame.
The two-year, $1 million-plus study, commissioned by U.K. advertiser trade body ISBA and in partnership with the Association of Online Publishers, is probably the most forensic look yet at the programmatic supply chain. PwC examined log-file data on 267 million impressions traded between 15 large advertisers, eight agencies, five demand-side platforms and 12 premium publishers.
A quick summary of the biggest findings:
Despite the researchers' best efforts, only 12% of the impressions (31 million, or 290 chains) could actually be traced.
On average, for every £1 an advertiser in the study spent on their digital ad buys, just 49p made it to the end publisher. (This is largely similar to the 42 cents on the dollar reaching a publisher that the ANA/ACA commissioned Ebiquity study found occurs in the U.S. programmatic market in 2017. The WFA estimated in 2014 that just 40 cents of a programmatic ad dollar was reaching the publishers.)
Of the 31 million matched impressions analyzed, there was a 15% "unknown delta" on average of spend that couldn't be attributed to the disclosed fees — around one-third of supply chain costs.
There are several breadcrumbs to follow in attempting to solve the 15% riddle. There could be discrepancies between the DSP and the SSP, as they calculate the data and their fees differently. To that end, the report suggested DSP fee (averaging around 10% of advertiser spend) can vary wildly from the contracted rates, which could signal funny business, though those fees were both above and below the stated rate in the contract, according to the study. But clearly, in some cases, "data and other tech fees" made up an extraordinary portion of the buy-side cost, as the graph below demonstrates.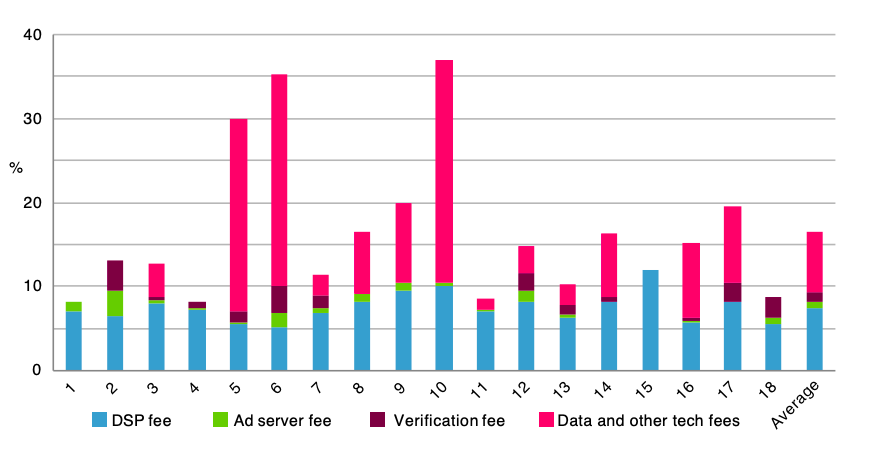 Beyond additional vendor fees, the difference could be explained by array of factors — the sheer number proves the point that this is one complicated system — that include post-auction bid shading, ad reselling, trading deals, current fluctuations, money lost to ad fraud, discrepancies between the advertiser and publisher over brand safety, incorrect geo-targeting or suspected bot traffic. Or, in what could be ad tech's razor, it could be simply poor data and attribution.
In short, it's a confusing, jargon-filled mess. Welcome to ad tech.
The sheer number of potential culprits points to a a mantra publishers have used for some time: If advertisers understand their dollars are being eroded by extraneous tech fees, they'd be better off cutting deals directly with publishers.
Not so fast, according to one digital advertising executive.
"It's so frustrating that some publishers think [the PwC study] is a good story," the executive told me. "To me, it just says to advertisers, 'Put all your money on Google and Facebook where it's safe and you know where it goes'."
The wider digital advertising supply chain needs to become a value chain if it's to prevent this from happening. Ebiquity's Return on Investment database shows that desktop display is one of the lowest of any media channel, averaging £0.82 on the pound — for both short- and long-term effects. TV has an ROI of £1.73 in the short-term and £4.20 in the long-term, according to Ebiquity. But, as I wrote in last week's column, a procurement-forced incentive to grab as many impressions for as low prices as possible has meant the context where those ads are appearing often goes out of the window. In PwC's study– looking at just 15 advertisers, remember — ads were placed on more than 40,000 sites. The large number tells you those weren't all premium placements.
The digital advertising supply/value chain needn't be so Byzantine. Fortunately there's a rather large external force looming that could nudge it in the right direction.

Google's move to eliminate third-party cookies in Chrome by 2022 has been deemed apocalyptical by some members of the digital ad industry. But it's also an opportunity to dismantle Frankenstein's monster and start again — with the interests of publishers, advertisers and consumers pushed to the forefront. There's a reason IAB dubbed its response to the Chrome news "Project Rearc."

Raman Sidhu, vice president of business development at analytics platform Beemray, would like to see the PwC study repeated for transactions that don't rely on third-party cookies.

"Passing and matching cookies down the waterfall, inevitably you lose some — I'm surprised this hasn't been cited as a contributing factor in the 'unknown delta'," in the PwC report said Sidhu. "Cookies limit the true potential of programmatic. Removing them eliminates a number of layers and fees from the supply chain."

But as the industry works over the next two years to figure out how online advertising could operate without third-party cookies, there's a danger they are replaced with something that is similarly confusing — and a landscape in which the value is even harder to audit than it is today.

Clearly it's time for a mindset change, but it's easier said than done and it's a shame it's had to be forced.
David Kohl, CEO at publisher trade body-funded private marketplace platform TrustX, likens the task to the Alcoholics Anonymous' 12 Steps Program.

"First step: You admit you have a problem. But it's so hard to admit you have a problem " said Kohl. In describing the next 22 months ahead of the Chrome cookie deadline, he added: "This is your amnesty period."
https://digiday.com/?p=366803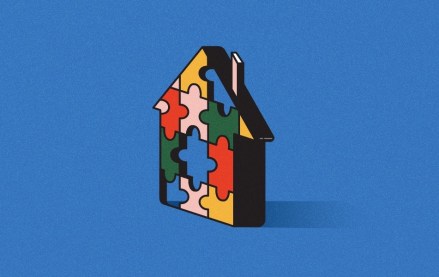 September 22, 2023 • 4 min read
Apartment Therapy's president Riva Syrop took the stage at the Digiday Publishing Summit to discuss the convergence of commerce and sponsorship revenue within its Small/Cool event.
September 22, 2023 • 4 min read
Media execs took stage at the Digiday Publishing Summit to discuss the growing importance of ROI in ad campaigns this year.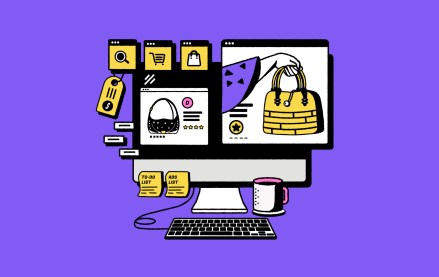 September 22, 2023 • 4 min read
CEO Satya Nadella said AI assistants will be as ubiquitous as PCs and will help users navigate across apps, operating systems and devices.