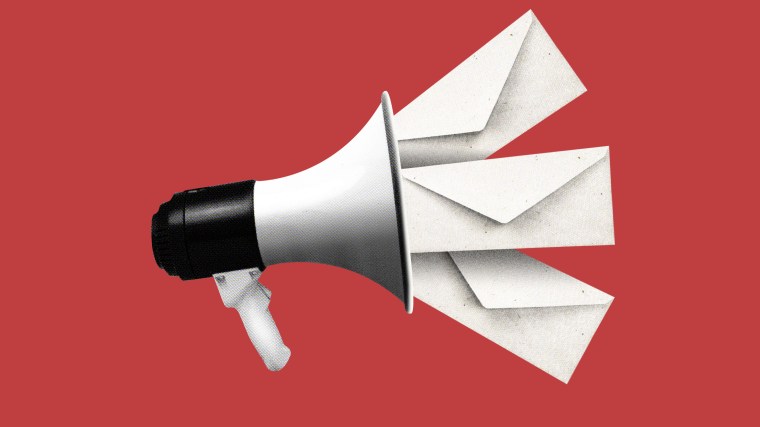 Ivy Liu
March 28, 2022 • 13 min read
•
•
There's nothing new about email. But the way publishers are using newsletters is changing, and growing in importance, as media companies work to develop a better understanding of their readers' habits and patterns via first-party data and for their revenue and audience development goals, especially as privacy changes and the impending death of the third-party cookie looms.
Here's Digiday's guide on all the ways publishers are finding success with newsletters as a method for driving advertising revenue, subscriptions and brand awareness.
01
How a changing privacy landscape makes emails more important than ever
At its simplest, a newsletter provides publishers with an email address. But that email address serves as a channel: to communicate directly with readers without having to battle the algorithms of social and search platforms, and to reach them in the closed environment of a reader's inbox, in a consumable format able to read in its entirety from top to bottom. Email addresses are especially valuable at a time when the media and ad industry is preparing for the demise of the third-party cookie, pushing publishers to prioritize first-party data like emails to target people with ads and to sell subscriptions.
Publishers will only continue to double down on newsletter production and innovation: the Reuters' Institute for the Study of Journalism's 2022 report on journalism, media and technology trends found 70% of participants (who are in senior media roles) said they would put more resources into newsletters this year — the only focus higher than newsletters in terms of audience-facing innovation was podcasts and other digital audio (80%).
Rather than banking on the traffic sent to publishers' websites via Facebook and Google (and those platforms' algorithms that could impact whether a reader sees their content at all), using newsletters to drive traffic and collect data means a publisher can build a "one to one relationship" with readers across devices, said Jeff Kupietzky, CEO at multichannel monetization and engagement platform Jeeng (formerly known as PowerInbox).
By opting in, readers also give publishers certain signals about where they are for ad targeting, Kupietzky said.
A publisher can use the data it collects to tailor their messaging to a reader, based on what they know about the kind of content that the reader enjoys. If they like to keep coming back for articles about soccer, for example, a publisher can customize the messaging in their requests to subscribe, or suggest more articles related to soccer to get a reader to eventually hit a paywall and want to open their wallets to continue reading.
"Email addresses are key to identity in a mobile-first world," said Adam Berkowitz, svp, corporate communications & industry relations at email marketing platform LiveIntent.
He believes newsletters are moving more toward personalization thanks to the emphasis on first-party data, versus curated newsletters that put together the top articles on a publisher's site, for example. While this may mean publishers will be sending out more emails this year, they will contain "three to four stories" rather than "20 articles," which will likely lead to a higher engagement rate because they will be tailored to a reader's interests.
"This is a must-do for the industry. Everyone should be investing in personalization to engage their audience through the email channel," Kupietzky said.
02
A tool for driving brand awareness & subscription growth
When readers hand over their email addresses, publishers can use the data they now "own" to more effectively use newsletters to drive brand awareness and traffic to the site, grow subscriptions and develop an additional revenue stream.
Driving brand awareness
There's a lot at stake: media organizations are challenged to build habit-forming relationships with readers. Publishers have found newsletters, delivered at regular times in readers' inboxes, is a way to accomplish that.
"The strategy behind putting so many resources behind this email is it's a great way to introduce new readers to what the newsletter has to offer, habituate them and have a long term relationship with us. It leads eventually to people paying for the paper," said Adam Pasick, editorial director of newsletters at The New York Times.
Newsletters as a tool to convert readers into subscribers
Like other publishers, The New Times is using its suite of newsletters, including its daily, The Morning, which touts over 5 million daily readers to drive subs. However, Pasick could not say how many readers The Morning converted into paying customers. That strategy "is still in progress."
"We are continuing to learn how to optimize that dynamic," Pasick said.
In general, news publishers tend to create one flagship newsletter, and then grow to offer other topic-specific newsletters. It's a crucial first step in testing new coverage areas and seeing what news subscribers will pay for. Email newsletters are "typically the first step in getting someone to convert to a paying member or subscriber," said Melissa Chowning, founder and CEO of audience development and marketing firm Twenty-First Digital.
That has proven to be true at The Telegraph, which has seen newsletters become the "number one source of converting registrants," said Dan Silver, The Telegraph's director of email and newsroom innovation. He did not share how many readers subscribed from the newsletters.
Telegraph's registrants, unlike paying subscribers, can access a select number of articles and some newsletters for free. Readers who sign up to multiple newsletters have "significantly higher rates of conversion" within the first 30 days compared to those who don't sign up to any newsletters, Silver added. They also are seemingly more willing to stick around longer: subscribers coming from newsletters have 30% better retention at three months and over 50% better retention at 12 months compared to the average subscriber, according to Silver.
In terms of getting readers to sign up for a newsletter, some publishers are taking a unique (and more cost-effective approach) than paid acquisitions by adopting newsletter referral programs, which theSkimm and Morning Brew have had success with. Publishers can offer swag like branded T-shirts and stickers, exclusive content, or even trips to visit the companies' offices. Morning Brew's referral program accounted for 35% of its daily newsletter growth in 2019, the company said.
Newsletters can also serve as a tool for reducing subscriber churn (when a subscriber cancels or does not renew their subscription). One way of achieving this is by using newsletters as a way to curate content for readers that keeps them engaged with a publisher — especially for newsletters that can personalize reading recommendations based on previous reader behavior.
It's a strategy the L.A. Times uses. If someone doesn't engage and return to the L.A. Times' site or open its emails within the first 14 days of signing up, they're likely to remain unengaged and could be at risk of churning, CMO Joshua Brandau said last August. Because of this, L.A. Times analyzes data like newsletter sign-ups as one of the "key signals for churning or remaining subscribed," he said.
Katherine Bell, Quartz's editor-in-chief, said newsletters are part of the company's retention strategy — they help develop "a more intimate and lasting relationship with readers," which would reduce the likelihood of a subscriber canceling their membership.
03
How publishers are turning newsletters into a revenue stream via advertising
The ad tech that powers these newsletter businesses has not innovated as quickly as the rest of the industry, publishers said.
"Trying to figure out the email advertising landscape — it's almost like trying to find an island offshore if you're a pilot, and trying to triangulate the signals and find common ground. There aren't many resources on it," said Dan Oshinky, who runs email consultancy Inbox Collective.
But some media companies, like theSkimm, have been built around successful newsletter businesses. While their newsletters are free to read, these companies focus on "native" advertising, in which ads are designed to mimic the look and tone of the rest of the newsletter.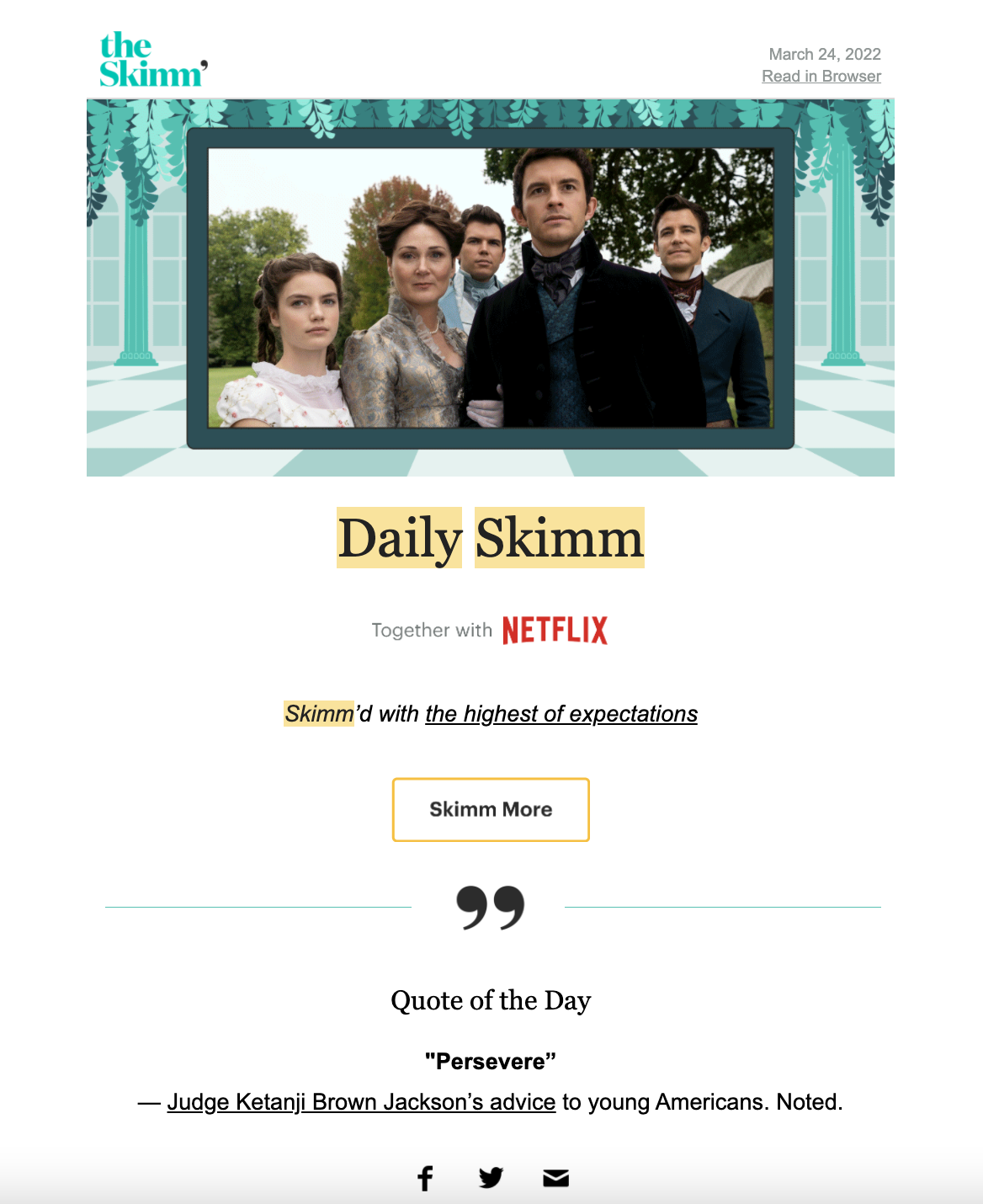 For example, theSkimm's daily newsletter Daily Skimm offers a "featured sponsorship" header or full newsletter takeovers by a brand. theSkimm also offers "custom sections" designed to fit into the other sections of the newsletter but contain a brand's messaging, and another section promoting often direct-to-consumer products for its female millennial audience with discount codes and links. theSkimm offers single day, directly-sold campaigns. In 2021 more than 70% of ad sales were driven by returning advertisers, according to Keeley Patterson, svp sales strategy at theSkimm. theSkimm declined to say what share of its total revenue is from advertising. Sponsorship packages are customized to advertisers' "needs and goals," a spokesperson said.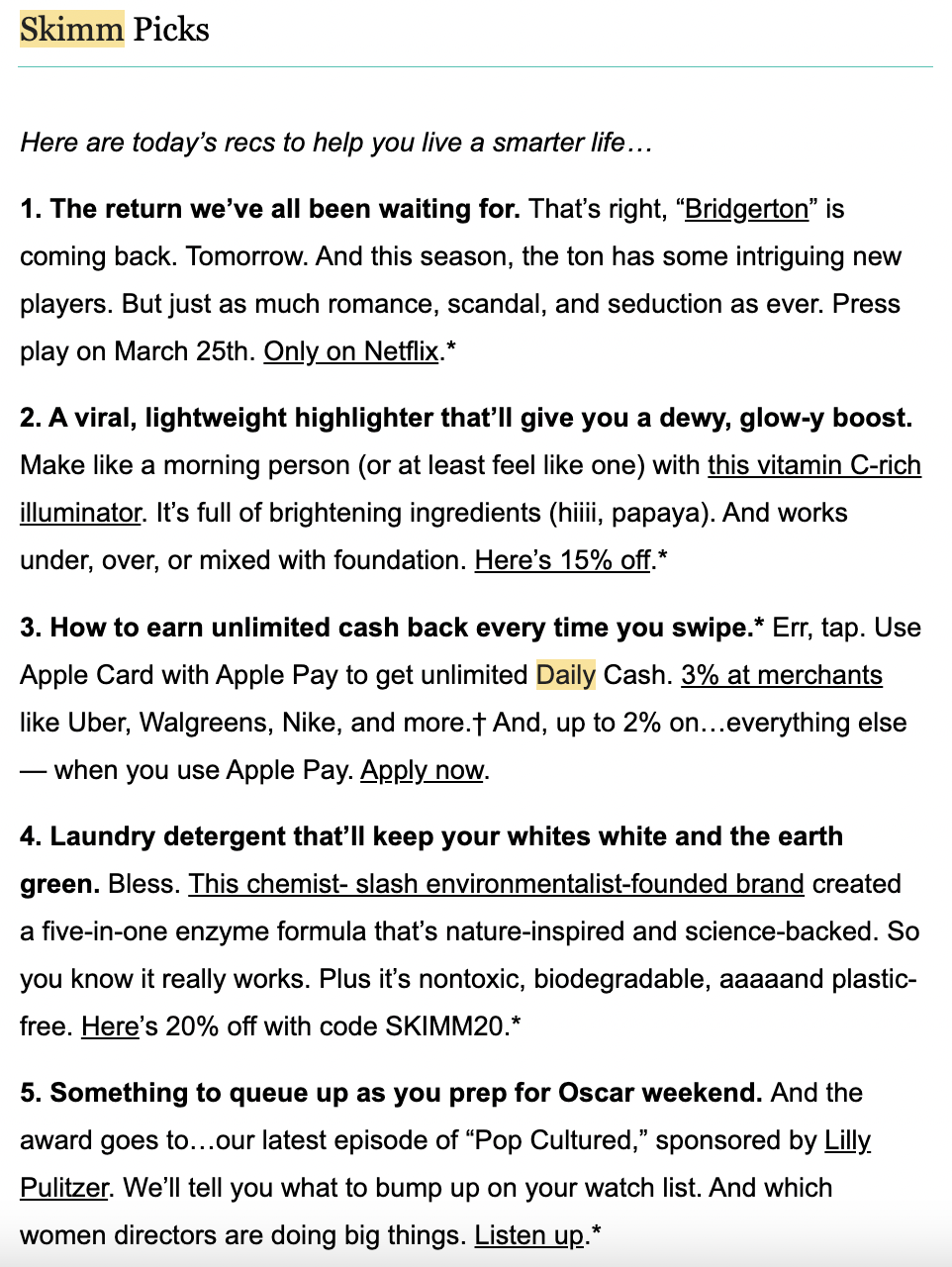 Selling email inventory
Some publishers use email marketing platforms like LiveIntent and Jeeng to place ad units in their newsletters, which can be programmatically filled by either the publisher or by the platform's ad server.
Jeeng, which has 600 publishers using its email product (most of them without dedicated newsletter teams, like the Seattle Times), works with publishers to extend ad campaigns running elsewhere on their website to newsletters or to secure deals through Jeeng's network, according to Jeeng's Kupietzky.
Using programmatic versus native advertising depends on the publishers' goals for the newsletter, Oshinky said.
'Nascent' native ads
Native ads are "still nascent," said LiveIntent's Berkowitz, which went live with a native product late last year that more than 30% of the publishers on its exchange have adopted or are in the process of adopting, he said.
Content aggregation platform Flipboard, for example, shifted its newsletter portfolio from selling programmatic display ads to directly-sold, native newsletter sponsorships last spring. "We realized we were making pennies on the dollar for what we could make if we monetized our newsletters differently," Andrew Zalk, head of paid content partnerships at Flipboard, said at the time.
Ads from the company's newsletters contributed less than 2% of the company's overall revenue in April 2021. A year later, Flipboard says its more than tripled that number — thanks to higher CPMs by selling native ads, and working with more brands with the native format, Zalk said last year. He declined to give exact figures.
Direct sold inventory
The New York Times makes money from The Morning by directly selling single-day sponsorships to advertisers, for example. LiveIntent's technology places the ad in the newsletter.
Revenue from Axios' local news emails — focused on cities like Atlanta, Austin and Chicago — comes from email sponsorships from both local and national advertisers directly sold by Axios. National advertisers can choose which combination of markets or which region they want to reach via Axios Local's newsletters.
Each newsletter has an ad at the top of the email, and then two branded content units within the email. Pricing differs based on the size of each market (smaller markets like Des Moines have lower rates, for example). Axios Local also is hosting job boards in some of its newsletters, after the success of the Charlotte Agenda's board that charged $250 per listing (the Charlotte Agenda was acquired by Axios in Dec. 2020).
CPMs, and how they've changed
Back in 2021, Oshinsky said he was seeing CPM rates ranging from $5 to $25, based on the pricing of a newsletter's total list size.
But that's changed since Apple began rolling out last fall its privacy update in iOS15, which includes mail privacy protection and limits individual tracking. Marketers used email open rates as a metric of success in email marketing campaigns. Oshinsky described the new update as Apple "opening" emails on behalf of users to hide data, such as when they opened them and their location at the time. This means email open rates went up 10 to 20% — which has changed the way publishers are negotiating newsletter ad pricing.
How success is measured
Now, "responsible publishers… have to be very upfront with advertisers and give not what their [email service provider] says the open rate is but what they estimate actual open rates are based on historical trends," Oshinsky said. Some ESPs are developing updates to show what percentage of a newsletter's audience is affected by the update.
Another issue with the pricing of email advertising is whether publishers are charging based on their list size, or list engagement size (the percentage of their email list opening the newsletter every day, for example). The Telegraph developed its own internal metric to measure the success of its newsletters in 2021, because Silver felt open rates weren't measuring engagement. If a newsletter has 100,000 subscribers with a 20% open rate, it could be considered a low-performing newsletter, according to Silver. However, the open rate doesn't show if one-fifth of subscribers are opening every email, or if everyone on the email list is opening one out of five emails.
Many publishers, consultants and agencies believe the goal should be a unique open rate of 30% or above. Quartz's average weekly email open rate was around 35% for both paying and non-paying readers last year, for example.
04
The rise of paid newsletters
The rise of paid newsletters
Newsletters can also serve as a new path for direct reader revenue, beyond driving subscriptions and advertising revenue.
In August, Quartz, for example, refocused its subscription program to around 10 newsletters available only to paying readers, after a March 2021 survey found 75% of Quartz's members were primarily accessing Quartz's content through email. In February, Quartz took it another step further and introduced a membership product focused on coverage and an exclusive briefing on the tech startups, innovators and sectors in Africa, its second geographically-focused subscription product, after Quartz Japan. Separate from its main subscription product, which costs $100, Quartz Africa costs $60.
Nicholas Johnston, Axios' publisher, was tasked with overseeing Axios' first foray into the paid subscription business last year. Called Axios Pro, five paid newsletters have rolled out this year on business deals in different industries, from climate to fintech. Each newsletter costs $599 a year, and a subscription to have access to all of them is $1,800 as of March 2022.
Other publishers are adding newsletters exclusively for readers already paying for a subscription to access content behind a paywall. In August, The Times announced it would roll out a collection of 15 new and existing News and Opinion newsletters available only to Times subscribers, from writers like John McWhorter and Kara Swisher. The Times has over 80 newsletters and email briefings in total, read by around 15 million users a week. On Oct. 19, the Times Opinion section announced a new initiative to offer subscribers commentary from artists. The columns are being offered in newsletters sent to subscribers' inboxes but also will run on the Times website.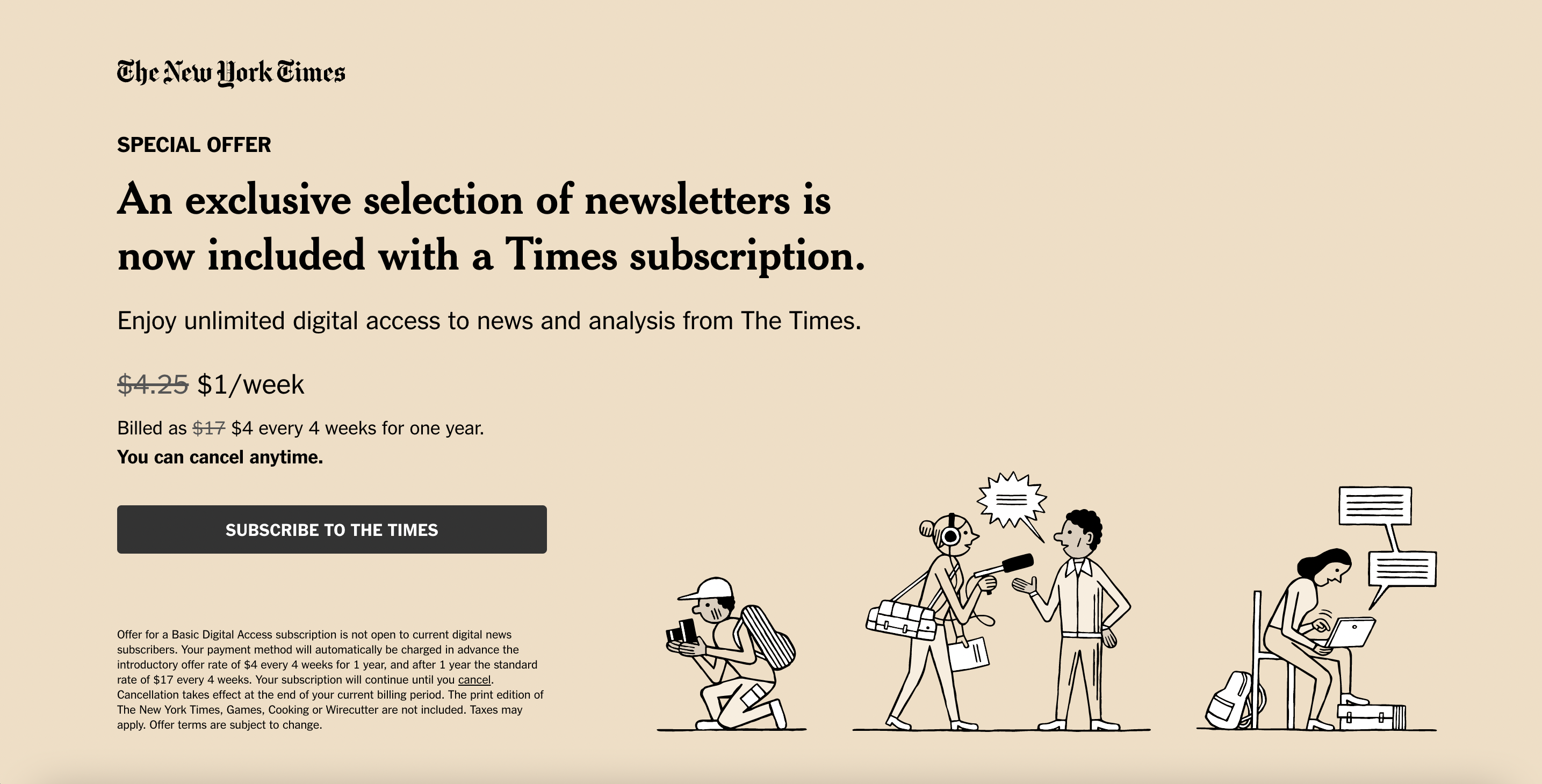 But the strategy is not fully developed yet. Times Opinion editor Kathleen Kingsbury called the Times' slate of subscriber-only newsletters "a little bit of an experiment" that the Times is "trying to learn from."
"We want this to feel like a value-add for our subscribers. We hope that it will help with retention of subscribers, that the package that people are paying for feels more valuable," she said.
The Information established a newsletter business in March 2021 with seven newsletters, which are free to read. However, The Information's founder and editor-in-chief Jessica Lessin said they will eventually require a subscription to access and will decide when that time is right by monitoring open and engagement rates. She did not share those exact benchmarks.
There's also a platform approach to paid newsletters. Last year, Forbes formed its own newsletter platform to attract new writers and support its paid newsletter program. Twitter bought Revue to compete with platforms like Substack, which has more than a million paid subscriptions to read the newsletters it hosts (the platforms take a cut of what readers pay). At the end of last year, Twitter announced users could now subscribe to a newsletter by directly clicking on a tweet.
And The Atlantic announced a strategy at the end of last year that combines the two: letting writers who already have a paid newsletter business come under the Atlantic's wings and combine a subscription to that newsletter with a subscription to The Atlantic – as a way to convert those writers' followers into Atlantic subscribers. (Those writers will not be full-time Atlantic staff, but instead will be paid based on hitting specific subscriber goals). It's already snagged writers like Charlie Warzel, Molly Jong-Fast and Nicole Chung.
"Publishers are interested in building stronger relationships with their audience to deliver the best possible experience for readers," Oshinky said. "Email is a great tool for that relationship building."
This article has been updated to note Jeeng has 600 publishers using its email monetization product, not 20, as originally reported. It has also been updated to reflect that Substack has more than a million paid subscriptions after previously stating the count at half a million.
https://digiday.com/?p=442898