The Telegraph gets 1 million monthly readers from Google Play Newsstand
April 4, 2017 • 3 min read
• By
Digiday
Publishers are learning that an over-reliance on reaching audiences on one platform is not a fail-safe strategy. For The Telegraph, Google Play Newsstand has become a valuable channel for finding new readers: After publishing content to Newsstand for the last 12 months, The Telegraph has increased audiences by 78 percent to 1 million monthly readers.
The Telegraph publishes 80 percent of its content (about 240 stories) to Google Play Newsstand, while the remaining 20 percent is kept back for paying readers. This is, broadly speaking, the same content strategy as it has with all third-party platforms, including Apple News. Several top News stories within Newsstand include a profile on the suspect of the St. Petersburg bombing, and a row between the Church of England and the National Trust over an Easter Egg hunt.
"We want to be on all platforms where consumers want to access The Telegraph content, it's not a case of prioritizing one over another," said Paul de la Nougerede, commercial product director at The Telegraph. "We want to support as many as possible, as long as it still makes economic sense."
The main driver of reader growth on Google Play Newsstand has been splitting out the content verticals from seven — which it has on its site and on Apple News — to 30 or so. The sports vertical, for example, is broken out into separate sections for football, rugby, swimming, tennis and athletics. The culture vertical is split out into theatre, radio, art, comedy and books, the same has been done for the lifestyle vertical, too.
"This meant users could see The Telegraph logo in a much wider variety of places than previously because we have much more breadth of content on the app," said The Telegraph's lead project manager, Melinda Rogers. Since it broke out the verticals last summer, monthly readers have been steadily climbing.
As well as adding more granularity for readers, breaking up the verticals meant that branded content is more targeted.
"We've seen positive results but it's early days," said de la Nougerede. "We see platforms as a way to reach new audiences, which works well with our branded content strategy."  
Branded content campaigns created by Spark, The Telegraph's branded content arm, can run within Newsstand, and according to the publisher, click-through rates have been better than expected, although it wouldn't go into details. While there are currently no branded content campaigns live within Google Play Newsstand from The Telegraph, previous clients include Kia, Michelin, Nikon and Sky Atlantic. 
Readers can't directly subscribe to The Telegraph's Premium service via Newsstand. But, as with Apple News, The Telegraph runs ads, served via Google DoubleClick, pushing people to download The Telegraph app where they can subscribe. "Once these people are acquainted with The Telegraph we pull them into the ecosystem. That funnel approach is the same on other platforms."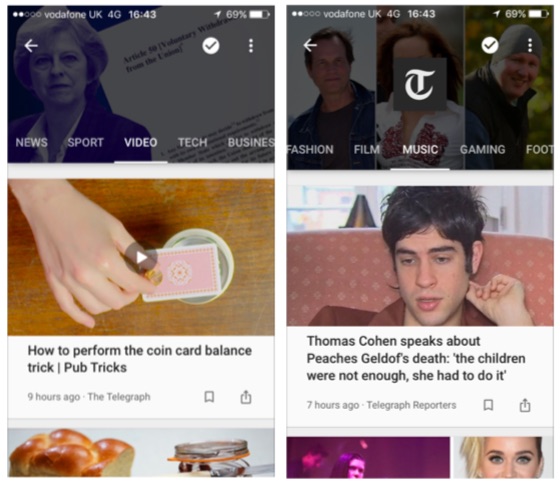 The increase in readers is also fueled by Google's tweaks to Newsstand in November. The updates included incorporating Google's machine learning capabilities to learn about reader preferences, as well as more autoplay videos, podcast controls and higher-resolution images. 
As third-party news platforms go, Google Play Newsstand — where brands like The Guardian, The Mirror, Financial Times and Reuters also publish — hasn't gotten as much attention as Google's Accelerated Mobile Pages or Apple News. Unlike Apple for iOS, Newsstand does not come pre-installed on Android devices, users have to download the app or read it on the Google Play website. In November Google claimed it has 100 million monthly users, while in November Apple News reportedly had 70 million unique users.
For some publishers, the barrier to getting readers into the Google Play ecosystem is still too high compared to Apple News.
"The big issue is reaching consumers with the app," said Stuart Forrest from Immediate Media. "Apple solved that one by first installing news on every device. Second, by enabling push notifications with iOS10 and third, employing a team of journalists to promote content from publishing partners within the app."
https://digiday.com/?p=230182