'Somber, for sure': Expectations of more consolidation hang over magazine conference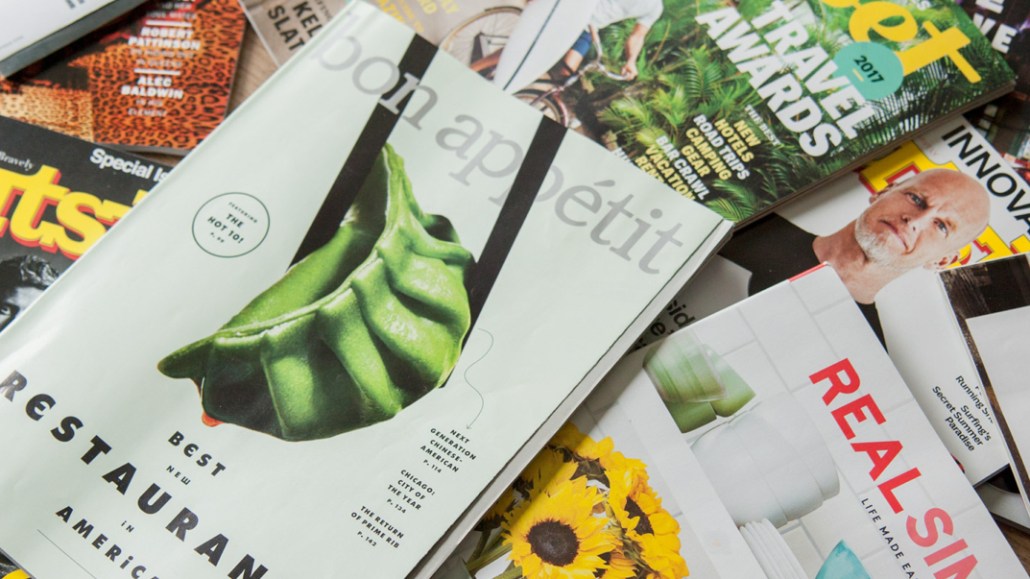 After a year that saw the sale of magazine stalwarts Time Inc., Rodale and Rolling Stone, there was plenty of black humor at the magazine industry's annual gathering, the American Magazine Media Conference.
Hearst Magazines chief content officer Joanna Coles joked that she was surprised to see so many people still worked in the magazine industry. Jim McKelvey, the founder of Invisibly, quipped that this was the first industry event he'd attended that gave away Kleenexes in the gift bags. Kim Brink, COO of the agency BTG, gave a presentation about rescuing legacy brands from the brink of extinction. After Fortune President Alan Murray asked the crowd in the ballroom how many could say their business was booming, just one hand went up.
"Everybody's looking for a reason to be optimistic," one attendee said. "But it's somber, for sure."
There were plenty of highlights held up throughout Tuesday's presentations. There were 700 magazines launched in 2017, according to MPA – The Association of Magazine Media data; Magnolia Journal, which won the MPA Award for Best Magazine Launch, built a circulation of 1.2 million in its first year. And publishers such as National Geographic talked up their success in diversifying their revenue streams. Executives including Hearst Magazines president David Carey saw in the disruption a chance to launch new products. Conversations about diversifying revenue and trying new technology abounded.
"People are realizing there's no silver bullet," one attendee said. "I think people are finally getting bold enough to try something different."
The industry's recent consolidations were only flicked at on stage – Stephen Lacy, executive chairman of Meredith Corp. and president of MPA, alluded to it during his opening remarks – but they figured more prominently in offstage chatter.
"I think it gives us some more heft," said one Time Inc. executive in attendance. "But things are going to get uncomfortable in some departments."
Those not affected by last year's mergers first-hand saw them in a different light. "It opens up more space for little guys," said another attendee.
And while some digital publishers have held up the idea that publishers could band together to fix their problems, not everybody is optimistic that that will work. Onstage, Murray asked WPP CEO Sir Martin Sorrell if he thought publishers should band together to combat the duopoly. Sorrell replied, "When industries that are highly competitive are faced with an existential threat, they rarely come together."
https://digiday.com/?p=275029