The office perks at VC-backed publishers, from BuzzFeed to Vox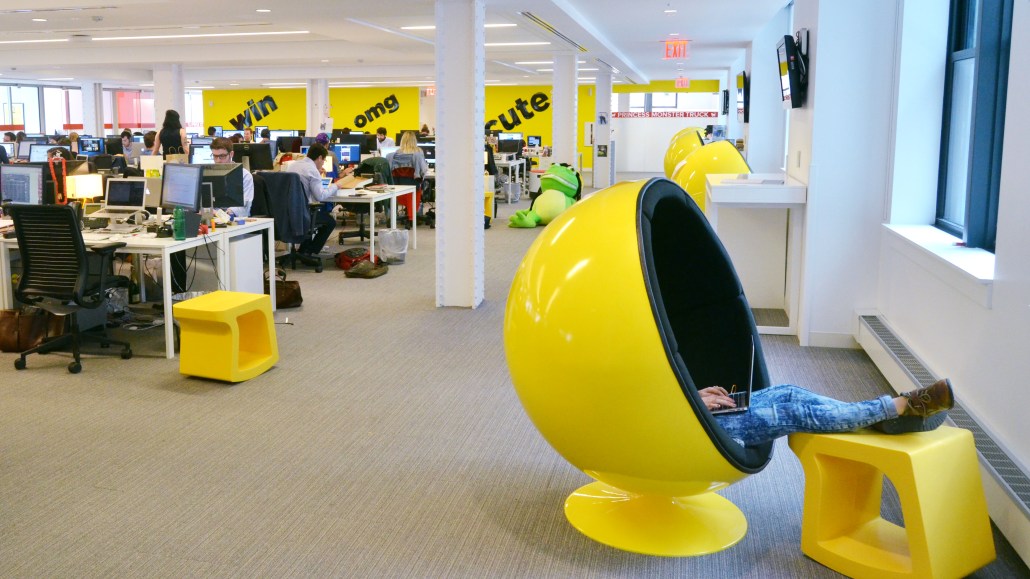 In the glossy magazine heyday, the likes of Condé Nast and Hearst were notorious for their upscale parties, lavish lunches and personal town car services. Their digital successors are, in comparison, showing a bit more restraint.
That's not to say capital-fueled media companies such as BuzzFeed, Business Insider and Vox Media don't have their perks. Like their tech startup counterparts, these modern publishers use their weekly Fresh Direct orders, fully stocked beer cabinets and unlimited vacation plans to both attract new employees and raise the spirits of the ones they already have.
Here's a look at a few benefits these publishers offer.
BuzzFeed
While BuzzFeed has raised $96.3 million since 2008, it seems to be taking things slow when it comes to employee perks. In addition to a snack room with pretty standard fare (granola bars, carrots, humus, coconut water, string cheese) BuzzFeed's NYC office also houses an office froyo machine; BuzzFeed employees vote on the featured flavor each month. On the event side, BuzzFeed's lineup includes bi-weekly catered lunches, "bagel Fridays," and BuzzFeed Brews, an event series recently headlined by Pharrell Williams, Daniel Radcliffe and Sir Patrick Stewart. BuzzFeed also offers employees gym membership discounts and plans to introduce a free yoga program in the next few months.
Vox Media 

Vox Media, despite being backed by $107.6 million in venture funding, is likewise pretty tame in the perks department. While its NYC office has two kitchens — both of which are fully stocked with coffee machines, snacks, sodas, and beer — the best perk, according to Vox employees, is the free food that comes from outside the company. Eater, Vox's food site, frequently gets spreads of food and drink from restaurants, which the Eater's staff shares with the rest of Vox's employees. Recent samplings include sausage sandwiches from DBGB, a dessert bar from Bouchon, a Starbucks holiday latte bar and wine tastings.
Mic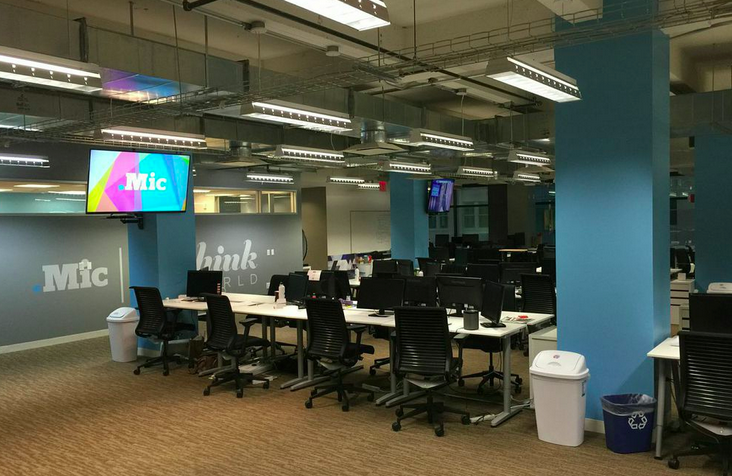 Mic, the $15-million funded millennial publisher formerly known as PolicyMic, offers variety of events and perks meant to keep its employees happy. The most notable benefit might be the flexibility it offers employees: Non-editorial staff are able to start their days in the office as late as 1 p.m., and are given even the option to work from home. "We just want people to get things done," said Mic director of operations Jordan Taylor. Other perks include gym membership subsides, a $50 per-month phone stipend, Macbook Air laptops for every new employee, and monthly company outings.
Business Insider

Beyond its fairly standard list of office perks such as snacks and office happy hours, Business Insider, which has raised $30.6 million, also offers its employees access to a roof deck and an office seltzer tap. It's also unique among publishers in that offers its employees unlimited vacation time, which Business Insider president Julie Hansen said is inspired by "the Netflix HR philosophy of treating employees as grown-ups."
"We expect them to do a great job and to take an appropriate amount of vacation," she said, "and if we see people not taking enough time off, we encourage them to take more. So far, the policy has worked quite well."