Facebook's latest video shift irks news publishers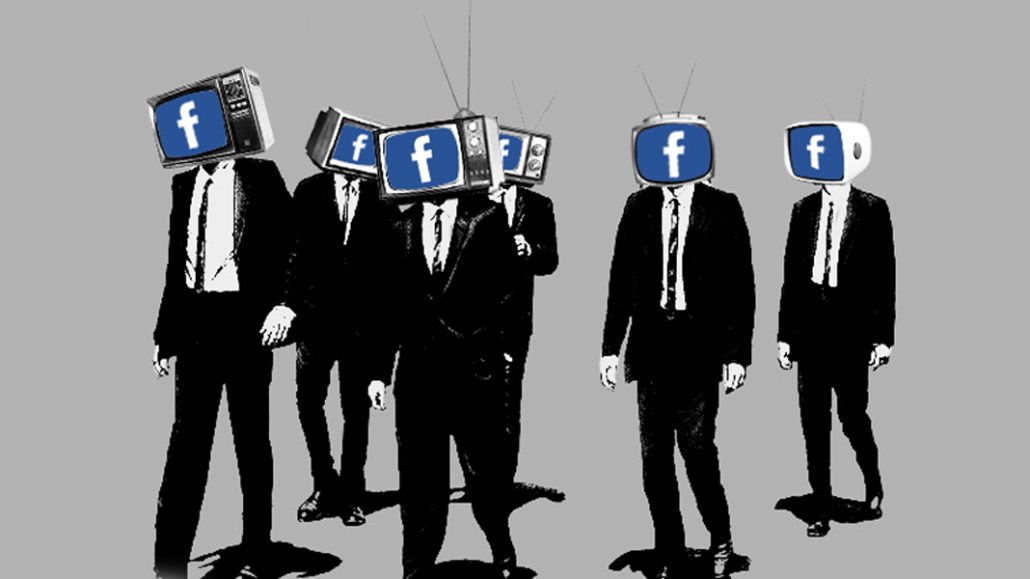 News publishers, already wary of Facebook's ever-morphing ambitions, are skeptical that Facebook's new video initiatives will help them generate revenue on the platform.
Two weeks ago, Facebook invited dozens of media companies including news outlets such as The New York Times, NowThis and The Washington Post to New York to discuss the platform's content and monetization product roadmap for 2017. Conversations covered Facebook's plans to fund original shows, the platform's focus on getting publishers to distribute more long-form videos for Facebook's video tab and soon-to-launch TV app, and mid-roll advertising products for live and on-demand videos.
As many publishers in attendance noted, it was a step in the right direction for Facebook, which has struggled to build an ad product that helps media partners generate consistent revenue on the platform. What's troubling some hard-news publishers, however, is that Facebook's new plans don't really seem to have their specific interests top of mind, according to multiple news media executives that were in attendance.
Take, for instance, Facebook's original content plans for 2017. Led by CollegeHumor co-founder Ricky Van Veen, Facebook is looking for scripted and unscripted shows covering light genres like entertainment, lifestyle and sports — not hard news. It's unclear how much Facebook is willing to spend on original content, but the company has been making the rounds in Hollywood to speak with L.A.-based studios and producers, sources said.
That's far from New York, where most of the news media is headquartered. This makes sense. Facebook is after TV money, and the big money on TV is for entertainment content, not the latest atrocity in a war zone.
"They are going after TV studio content — whether that will ultimately reach publishers like us, I don't know," said one executive at a news publisher. "Their goal is figuring out a reason to get people to go to the video tab on their phones and their video app for OTT. To do that, they're going to need programming that's differentiated, and not what people already get in the news feed."
And news is huge in the news feed. Three of the top 10 Facebook video publishers in January are squarely in the news category, including CNN and NowThis with a billion views a piece, according to Tubular Labs. A third publisher, NTD Television, is a New York-based broadcaster mainly known for covering Chinese news and issues; it did 1.2 billion views in January. A fourth publisher, The Daily Mail, which accumulated nearly 1.7 billion views on Facebook in January, sometimes does news.
"The reason they're focusing on entertainment and sports content as opposed to news is because they want content that's episodic," said another news publisher attending Facebook's product pitch two weeks ago.
It might be understandable where Facebook is choosing to focus with original content, but news publishers are also wary of the platform's mid-roll ad product. Currently in beta with a handful of publishing partners, the new mid-roll product for on-demand videos allows publishers to insert a five- to 15-second ad within a video — as long as the video is 90 seconds long and the ad does not appear within the first 20 or last 30 seconds of the video.
Naturally, this will force publishers to get creative with editing videos to ensure an ad break appears seamlessly inside the content.
"It's meant for content that is built to have a story arc, where there is a natural place for commercials — which is not what a lot of publishers do [on Facebook]," said one top publishing executive, whose company is working with Facebook to test mid-roll ads. "If you're a local TV channel with a clip of a house on fire, you're going to put a 10-second ad in the middle of that?"
"People will be turned off by a 10-second mid-roll within a two-minute video of a speech," added another news executive. "They have not solved the use-case for hard-news publishing."
Some hope might come in the form of video ads inside Facebook Live, which comes with its own restrictions. Ad breaks in live video are only available to Facebook pages with at least 2,000 followers and videos that have surpassed a minimum of 300 concurrent viewers. What's more, an ad can't run during the first four minutes of a live video, and each subsequent ad break has to be at least five minutes apart. That could work, but Facebook does not have the track record to give news publishers confidence. And when the company was asked to model out what sort of revenue media partners could make with the new ad products, Facebook executives said it was "too early to tell."
"Until they are serious about figuring out what a good ad model is — and maybe that's pre-roll because pre-roll works, we all hate it, but it works — until then, we're talking about pennies," said one of the attendees. "But we'll do it because we want to be good partners."