Mindbodygreen's Jason and Colleen Wachob on the business of wellness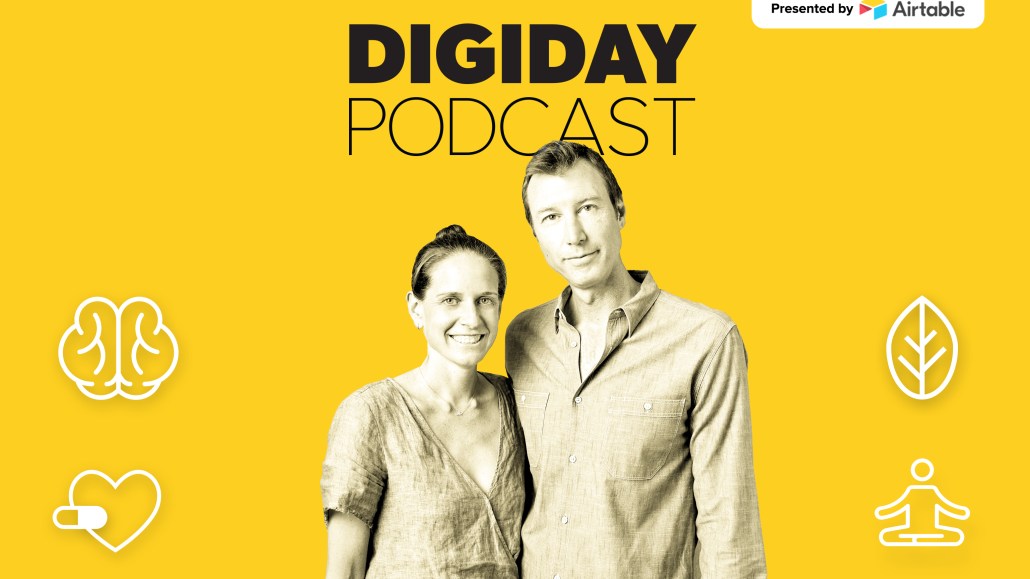 Subscribe: iTunes | Google Play | Stitcher | Anchor
Wellness is an exploding industry, with some estimates putting it at $3.7 trillion in annual spending.
On this week's episode of the Digiday Podcast, Mindbodygreen cofounders Jason and Colleen Wachob want to put what they call an accidental media brand in the middle of the growing cultural shift to putting a premium on health, mindfulness and sustainable living.
"When Mindbodygreen started in 2009, wellness wasn't a part of the zeitgeist," said Colleen Wachob. "It was associated European medical spas and dropping $20,000 to stay at fancy resorts."
For Mindbodygreen, that provides an opportunity to cater to not just devoted vegans and devoted practitioners of earthing but also the broader population simply interested in living better.
"[Now] it is mental, emotional, physical, spiritual and environmental well-being, and that they are all inter-connected," said Jason Wachob. "It's one word [Mindbodygreen], not three. There's an opportunity to not just preach to the choir of the converted in LA or Boulder, but to build a bigger church. Content was a big way to do that."
The Wachobs discuss diversified revenue and traffic sources, the wellness space, events business and more on this podcast. Edited highlights below:
The business opportunity of wellness.
Colleen Wachob: "Brands that want to work with Mindbodygreen are brands that are interested in doing cool stuff. They want to touch the entire ecosystem of influencers, domain experts, content with authentic business, potentially touching our class business. If you want to buy efficiency at scale, Mindbodygreen is not the first place to look."
Jason Wachob: "If you're not a must-buy in a category and if that category is not big enough and you don't have massive scale, you're in a tough spot," said , who also joined the podcast. "If I'm buying scale, it's a race to the bottom. If I'm buying trust, looking to engage with a certain audience that's passionate about wellness, we're a must-buy.
Multiple points of view.
Jason Wachob: "We believe that wellness is personalized. What may work for me, may not work for you. Wellness and science are evolving with data. We also believe in multiple points of view. On our platform, we have doctors who lean on paleo, and some cardiologists who believe in going in vegan. There's also a tension in being futuristic. We want to push the envelope. We're known in the space as an influencer platform. Doctors love us. We work with them to make it successful."
The demographic
Colleen Wachob: "We think of a 35-year-old woman. The inflection point that you read about of someone having children and thinking about wellness and health in a more real way. Pregnancy is a top search term when you're on our site."
The perils of the Facebook gold rush.
Jason Wachob: "Mindbodygreen definitely benefitted from the Facebook gold rush, where we went from two million uniques to 13 to 15 million uniques. Now, we're between eight and ten [million uniques]. That time, Facebook represented 70 percent of our traffic. We diversified as fast we could. It took a couple years. Now, we're at 35 percent organic search, 20 percent email, 15 percent social, 15 [percent] direct and 15 [percent] dark web, which we don't know where it comes from. From a business point of view, you never want to have all eggs in one basket. You want to have a direct relationship with your audience."
Multiple touch points for a brand.
Jason Wachob: "We don't view ourselves as a media company. We think of us as brands that started in content. People want to learn and do. It can come across as media, brand or product. We have permission to offer multiple ways to interact with people. The idea was that people are reading content and if I'm in Kansas, I don't have access to doctors in New York City. If they want to go deeper, how do we serve them? We launched three classes. If you're a mission-driven company, education is paramount. There are only so many 3,000-word piece you can read. It was also a way to monetize and compensate influencers with another revenue stream."
https://digiday.com/?p=296276