Marissa Mayer's mobile spending spree is starting to pay off for Yahoo
April 3, 2014 • 3 min read
•
•
It appears that Yahoo CEO Marissa Mayer's mobile app spending spree has paid off. Not only has the portal's mobile traffic increased at an above-average rate over the past year, its revamped apps and new mobile ad units have caught the attention of media buyers who once viewed Yahoo's mobile pitch as muddled.
"We're more excited about the possibilities with Yahoo given some of their recent app redesigns and launches," said one such former skeptic, Adam Shlachter, head of media activation for North America at DigitasLBi. "It's early and there's still a lot in the works, but they've piqued our curiosity."
Yahoo's first acquisition under the Mayer regime came in October 2012 when it acquired social app Stamped. Since then, Yahoo has picked up a staggering 36 other companies, most of which are mobile-focused. (That tally does not include online video network NDN, which Yahoo is reportedly in talks to buy.)
Nearly all of those acquisitions were "acquihires," in which Yahoo acquired a company more for its talent than for the product they developed. Those companies had their products discontinued post-acquisition and were then tasked with using their mobile know-how to improve and expand Yahoo's existing offerings. By that measure, the acquisitions appear to have been effective.
Mayer unveiled Yahoo News Digest in January to much fanfare, for instance. The app is based off of the technology previously used in mobile news app Summly, which Yahoo acquired for $30 million last year. Yahoo News Digest has ranked in the top 20 for iPhone news apps since its inception, according to app analytics firm App Annie.
Last October, it updated Yahoo Mail to improve its functionality across all devices. Yahoo updated its Fantasy Sports app last summer to allow users to draft teams from their mobile devices, a feature that was linked to its acquisition of Bignoggins earlier that year.
Advertisers, of course, are interested in traffic. And Yahoo delivers in that aspect as well. Yahoo's U.S. mobile uniques increased by 47 percent from February 2013 to February 2014, a higher mobile growth rate the overall Internet, which was 29 percent, according to comScore.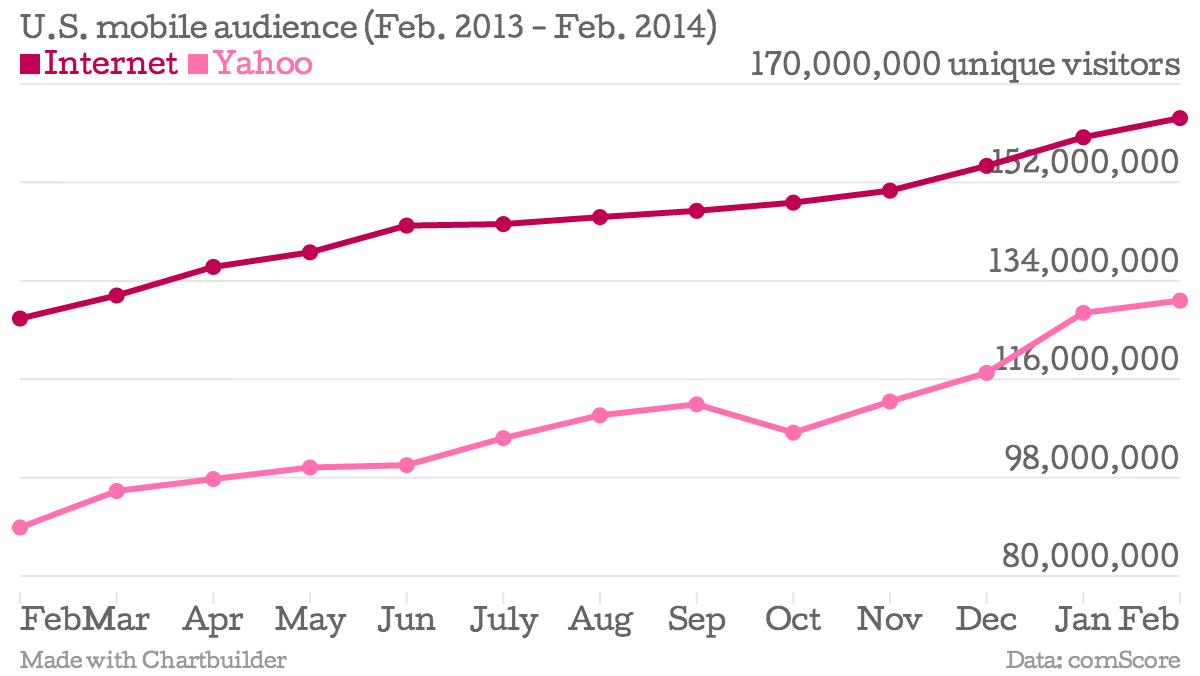 In fact, Yahoo trails only Google when it comes to U.S. mobile audience.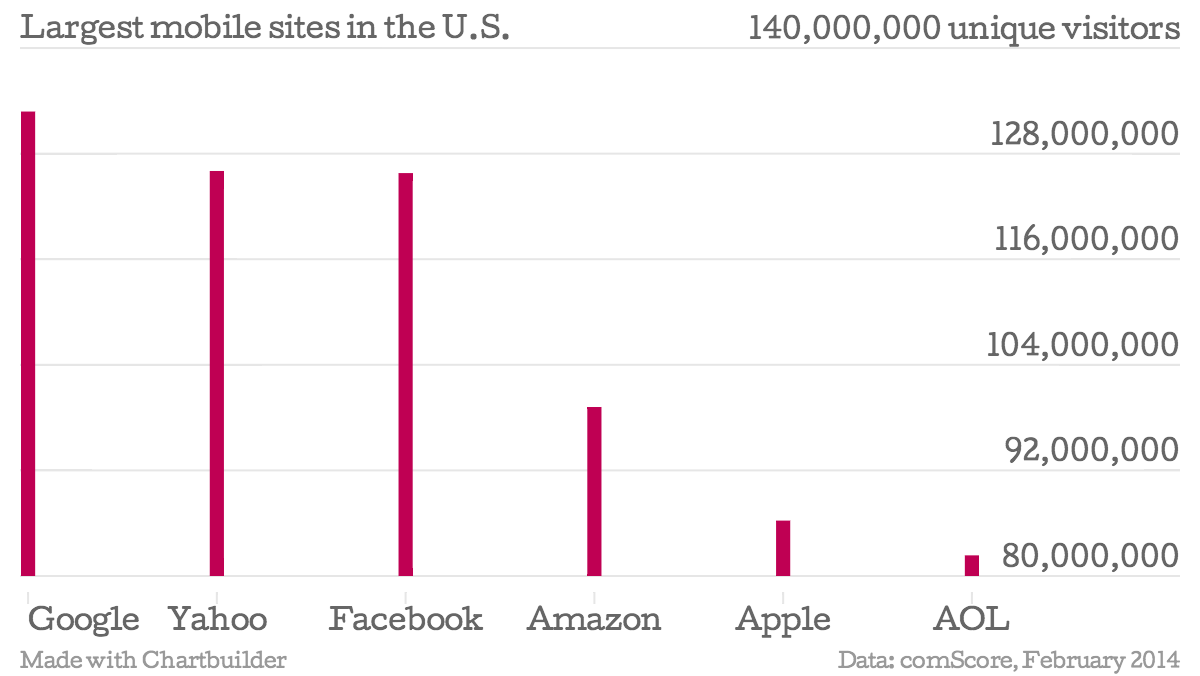 With worldwide mobile media spend projected to more than triple from $31.45 billion in 2014 to $94.91 billion in 2018, according to eMarketer, Yahoo seems well-positioned to see an increase in mobile ad revenue.
"They're doing more than keeping up," Shlachter said. "They're putting themselves in a position to be ahead of the curve."
Shlachter added that much of what makes Yahoo a compelling mobile ad buy is that it's now shirking banner ads on mobile and focusing "native" ad formats like its Stream ads. Leo Polanowski, Yahoo's head of client services for the Americas, previously told Digiday that Yahoo is hoping to phase out all banner ads on its mobile products by the end of the year.
Yahoo declined multiple requests for comment for this story, however.
"Call it in-stream, call it native, but Yahoo appears to be built for a mobile-first world," Shlachter said. "It's an evolution for display advertising on mobile. The format has the potential to both fit in and stand out better."
Rachel Pasqua, head of mobile at MEC, takes a more cautious stance, however, saying that while Yahoo's mobile moves have grabbed her attention, she's waiting to see whether the disparate acquired parts can amount to a more alluring whole.
"They're investing in the right place," she said. "The thing is how they're going to integrate it into a compelling, cross-screen buy for my clients, and they're still figuring that out. I'm pretty sure they will though."
https://digiday.com/?p=70288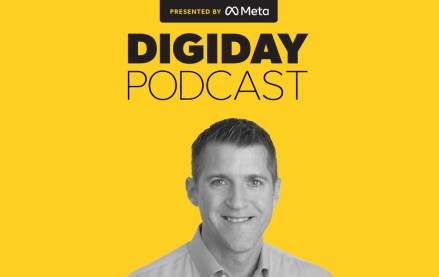 November 28, 2023 • 4 min read
Google's vp of global ads is confident that cookies will be gone from Chrome by the end of next year, despite all the challenges currently facing the ad market.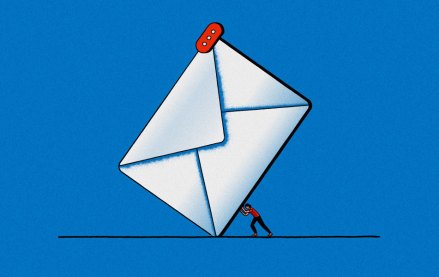 November 28, 2023 • 6 min read
Some email newsletter platforms' click-through rates are actually click-to-open rates, which are measured against the number of emails opened rather than the emails sent. But buyers seem to prefer it that way.
November 24, 2023 • 5 min read
Publishers' events businesses picked up pretty significantly during the back half of this year — and they will focus on sustaining that lift into 2024, according to Digiday+ Research.