How Le Monde is reinventing the ad unit for mobile
France's Le Monde was creating a new smartphone app, though, which gave it an opportunity to build new ad formats from scratch. The result is a new app with a clean reading experience where the ads are integrated into the editorial content and the experience is uncluttered by banner ads.
Many U.S. publishers have been doubling down on responsive mobile sites as consumers' reading time shifts to mobile from desktop, and with good reason. According to the Pew Research Center, most mobile news consumers are getting most of their news from the device's browser.
Isabelle André, CEO of Le Monde Interactif, the department that oversees the newspaper's digital activities, said it's actually the opposite in France, where app usage outpaces that of mobile sites. Smartphones generate 40 percent of Le Monde's traffic, according to André. But while one third of its visits come through its mobile app, less than 10 percent come through its mobile site. The mobile app itself gets 1.9 million monthly visitors.
"In France, the advertising market is not very well developed on mobile," André said. "We wanted this market to move to something else, because everyone wants to buy a splash [ad]. The splash screen is a very good format, but it's only one. And advertisers don't create very beautiful ads for banners. So we thought it would be very interesting to have new formats with a good experience that readers could accept and would be exciting to advertisers."
The four new formats were developed internally and first used by Sony Mobile and Land Rover. The first one, the Slider, appears in the middle of an editorial page and enables the advertiser to animate an object as the user scrolls on the page. The Resized also takes up the width of the page and expands as the reader navigates on the page. A third, the Topstitiel, comes into view when the reader chooses an article and moves up the page, partially obscuring the article, then disappearing from sight. The Parallaxe, as the name would suggest, appears in the middle of an article page and enlarges while the article is in view, then shrinks.
Below is a LandRover ad using the Slider.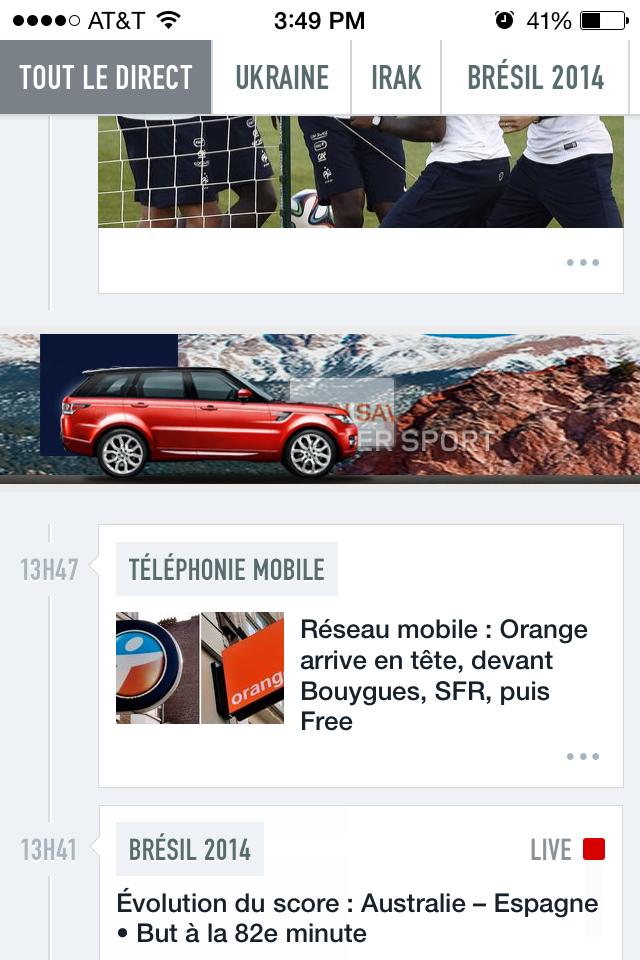 And here is a Sony ad using Resized.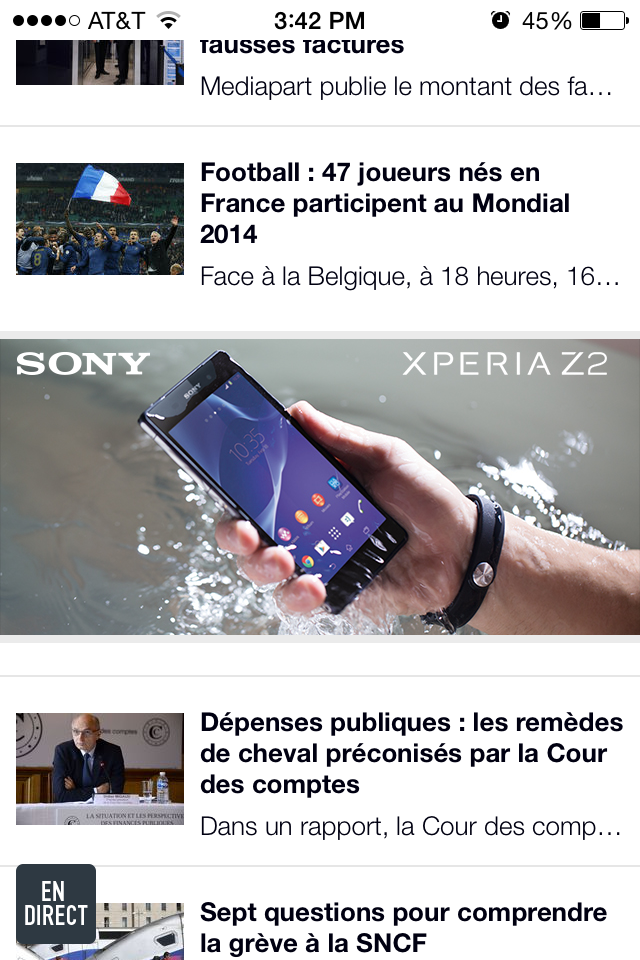 André said that just as the new app is designed to let readers get to the news quickly and navigate easily among sections that are designed in the form of cards, the ads are meant to entertain without being in the way.
"It's more fun, and as far as the advertiser, it's a good way to be sure you see it," she said.
https://digiday.com/?p=79171