How James Kirkham is helping grow Copa90 while retaining its independent culture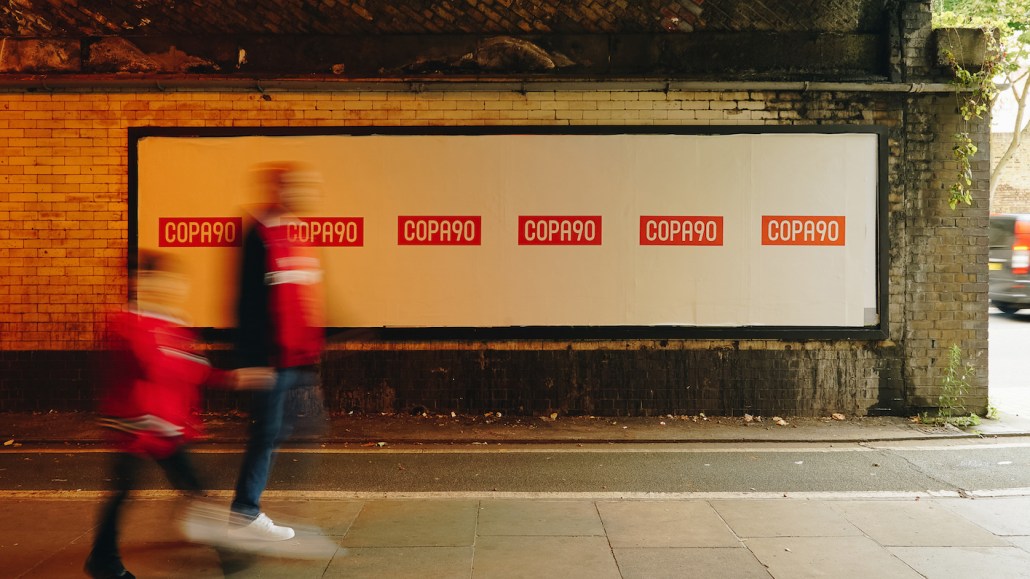 The story usually goes that when small, independent companies become part of big, global entities, corporate processes stifle the independent firm's culture. When James Kirkham, co-founder of digital agency Holler, sold the company to Leo Burnett in 2011, he experienced this firsthand. Kirkham had a reputation for an open-door policy and championing young people, but when he took on the role of global head of social and mobile, more of his time was spent out of the office traveling.
"I took my eye off the ball of culture at Holler for a year, and it slipped massively," he said. "It was my mistake in forgetting to care."
Now that he's head of Copa90, Kirkham is determined not to make the same mistake.
Kirkham started in early 2016 at the football publisher, a part of Bigballs Media. His challenge has been to grow the brand while retaining its internal culture and enable the creative team to keep making content that focuses on fans. There is a lot of football video content out there, Copa90 differentiates by associating itself with changing football for the better. It was a campaign for Hyundai exploring the rise of amputee football that attracted Kirkham to the role. Last year, Copa90 hosted The Liberté Cup, a tournament that included people from the refugee camps in Calais, France.
On Aug. 27, it released a documentary about Syrian Ultras, the country's die-hard football fans. Along with broadcaster Sky and others, Copa90 is supporting a football game to raise money for those affected by the Grenfell Tower fire that left hundreds homeless.
And in the wake of the racial unrest in Charlottesville, Virginia, it released a one-minute video on how Americans are standing up to fascism through the lens of football. "We believe football is the universal language, the most accessible one that we have. We think at its best it can unite and heal division," said Kirkham.
Growing beyond YouTube
Copa90 has expanded beyond its YouTube origins; the content team distributes across Facebook, Snapchat, Twitter and Instagram. Rather than just create content for Snapchat, Kirkham stressed that Copa90 should be famous for its work on Snapchat. The result was a weekly Snapchat series, "Saturdays are Lit," which pulled in 49 million views over 39 episodes. Other YouTube interview-based-show formats like "FIFA & Chill" and "Comments Below" attract football players, celebrities and politicians alike.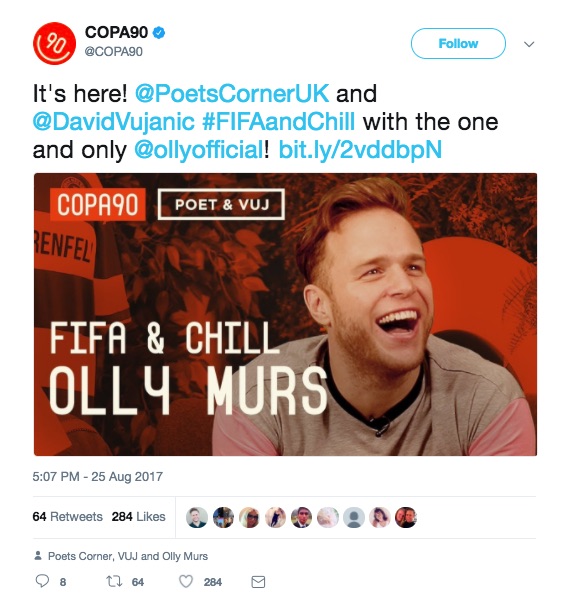 Video views have grown from 10 million in July 2015 to 85 million in July 2017, according to the company. Tubular Labs calculated 27 million monthly views across just Facebook, YouTube, Twitter and Instagram for the same month.
Copa90 also expanded the brands it has worked with, including Adidas, Pepsi and Beats by Dre in the past 12 months, doubling revenue year over year, according to the company. "[Copa90 is] more proactive in thinking through in advance who the partners to work with are," said Aksel van der Wal, evp of digital ventures and innovation at Turner International.
Copa90's appeal to millennial football fans, social media growth and branded-content-driven business caught the eye of Turner Broadcasting, which bought a 15 percent stake in Bigballs Media in February. Since investing in Copa90, Turner has promoted sharing of Copa90 football content with its other sports brands Esporte Interativo, Turner Sports, CNN and Bleacher Report.
"Their passion was a key reason to invest. That comes through in the tone of voice and the content it produces. It resonates with a millennial audience," said van der Wal.
Emboldening staff
It's harder to measure cultural impact, and Turner's investment is a very different story to Holler's acquisition. Copa90 sits in its own office, with Kirkham staying put, too. Elsewhere in Turner, the broadcaster's acquisition of Bleacher Report has been successful.
Rather than implementing any massive changes, Kirkham has focused on making small moves to "embolden people and grow their confidence," like introducing compulsory Friday meetings where various team members showcase the week's successes and emphasizing that it's OK to get things wrong now and then. Kirkham said the editors are so in tune with the audience that nothing's gone out the door "that hasn't been proven yet."
An example of this was Copa90's Facebook Messenger bot during the UEFA European Championship in 2016, which fed followers animations of each goal within 45 minutes of it being scored. According to Kirkham, the bot was a success and accrued more than 7 million views of these goals. 
"When I gave my first talk, I told [staff] that I've made a shed-load of mistakes, but I won't make any of those again," he said. "I'll never take my eye off culture. That's something I think about every day."
Image courtesy of Copa90
https://digiday.com/?p=251486