Publishers have eagerly embraced autoplay video, but advertisers have concerns
Autoplay video is invasive, controversial — and immensely popular. Blame Facebook.
Thanks to the embrace of autoplay video by Facebook and sibling Instagram, automatically playing video, with the sound off thankfully, is the new normal. Publishers like Bloomberg, CNN and ESPN have rushed to embrace the tactic, which has the advantage of goosing view counts and helping them milk the cash cow of video advertising. And some agencies are wondering if publishers are being too aggressive.
"Autoplay absolutely makes sense when the consumer mindset is about checking out different things," said Charlotte Cochrane, svp and managing director of digital at Horizon Media, in reference to Facebook, where autoplay video has become ubiquitous. "When it's distracting the consumer or preventing them from getting the content they want, it doesn't."
The line is fuzzy when it comes to what's "distracting." Many publishers use autoplay video when users have landed on an article page. Whether that person is in the "mindset" for video is unclear. Some publishers get away with the tactic by including an image or text with the article link on the homepage, which makes it clear that the article contains a video. But that changes when users come to an article from Facebook or Twitter, where publishers are not always clear that a link contains a video. Plus, in the case of Bloomberg, CNN and ESPN, many of these videos also come with pre-roll ads and start playing with the sound on as soon as the page loads.
"We are not spamming people with video — that's not the idea," said Matt Dornic, vp of communications for CNN, which moved to autoplay in the spring of 2014. "We want to engage, not repel, and our belief is that if we produce great video, our users will want to watch it."
It certainly doesn't hurt the numbers. CNN bested competitors Yahoo News, FoxNews.com, MSN News, BuzzFeed.com and NBCNews.com in terms of watch time on desktops in 2015, according to comScore: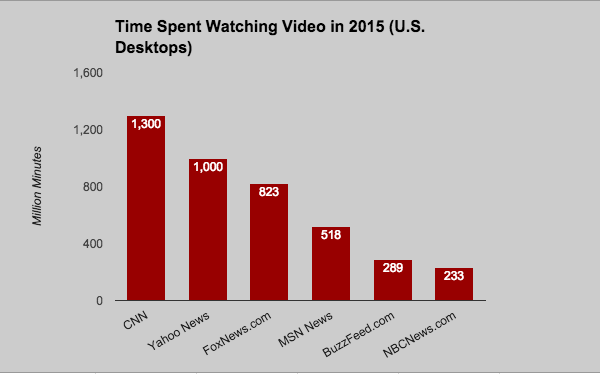 Ziff Davis-owned gaming site IGN uses silent autoplay video as a promo. Users are 20 percent more likely to click on a muted video on the homepage versus a still-image promo.
"There are lots of websites that will autoplay content [with sound] when you don't expect it," said IGN general manager Peer Schneider. "That can only work for so long. That is the kind of move that leads to ad blocking."
Some agency executives said they don't mind if a video autoplays with sound, as long as there has been some form of user initiation.
"It's all about the context that video is in," said Mike Haberman, vp and group director of media at DigitasLBi. "Video with audio on autoplay that's not user initiated is a negative experience. But if someone clicked on an article link, and part of that article is a video [which autoplays], then that's a different story."
Autoplay is beginning to change how advertisers negotiate with digital publishers when doing direct buys. For instance, buyers are increasingly looking for publishers to make guarantees against 15-second or 30-second and completed views, instead of three or five seconds. Haberman favors looking at cost per completed view versus a traditional CPM. "How much did we spend to get people to watch a 15- or 30-second pre-roll? That's a more valuable measure of a successful campaign versus just looking at cost per thousand views," he said.
Trouble is, only a quarter of top-tier publishers that have instituted autoplay are currently willing to enter into those types of deals, according to Nick Pappas, CEO of media-buying firm SwellShark.
Measurement overall will remain a key issue, especially as different publishers and platforms have different standards by which they charge for a video view. And as a result, buyers will remain uncomfortable with the autoplay tactic.
"Looking at how many videos were played is no longer enough, because [with autoplay] a lot people are doing that," said Cochrane. "We're making sure that we're having those conversations, where whoever we're working with will give deeper metrics to show who has actually viewed the ad."
Image via ArtFamily / Shutterstock.com
https://digiday.com/?p=159170