How Glamour UK is using product sampling to drive branded content revenue
September 10, 2018 • 3 min read
• By
Digiday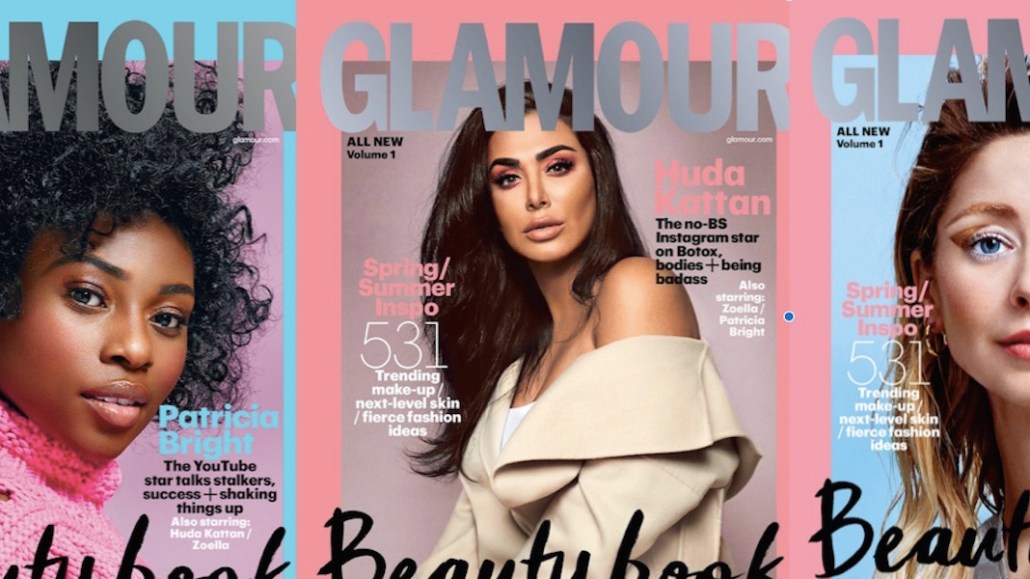 Condé Nast's Glamour UK went almost entirely digital last October, and since then, it's boosted its loyal readership and branded content business by focusing on beauty sampling.
The publisher said loyal readers — those who visit the site more than four times a month — are up by 33 percent year over year.
Glamour is building loyalty through its Glamour Beauty Club, a free membership program that sends readers product samples that brands pay to promote.
"The vision for Glamour being beauty-first is to cover all channels from fashion, celebrity and lifestyle, but to also be that authentic place where people go to to find the best moisturizer," said Camilla Newman, Glamour UK publishing director.
The club started a year ago and has grown to 120,000 members. To sign up, readers answer questions about skin type and tone, hair type, makeup routines and favorite fragrance notes. Brands choose their sample based on targeting criteria. A product for under-eye serum can be targeted to women in a specific age range that mark under-eye dark circles as a problem area, for instance. The brand is charged based on the weight of the product and the targeting criteria. Newman said brands pay on average £20,000 ($26,000), most of it going to postage and packaging. A fulfillment company carries out the orders.
The club is also helping drive ad revenue by pairing brands' samples with targeted media buys including Instagram posts and Stories, sponsorship of Glamour's online beauty section, native ad-style articles and print ads. For Dior's long-lasting Forever Undercover Foundation, Glamour created 67 Instagram posts that generated 2,000 likes and 133 comments. In post-campaign analysis, 76 percent said the product delivered on its promise and 63 percent said they would switch to Dior's foundation.
The publisher also started a closed Facebook Group in March to drive interest around beauty products, since then it's grown to 3,500 members. "Building community is where you can start to charge for content," said Bridey-Rae Lipscombe, co-founder and chief strategic officer of social and creative agency Cult LDN. "That's an ideal captive audience in the customer acquisition lifecycle."
The publisher has run 31 campaigns since the club launched, on products like razors, fragrances and retinol serum capsules, with nine more booked before December. Five of these campaigns have included media buys, and eight brands have run multiple campaigns. The goal is to win repeat business by having brands send out monthly product samples as part of their media plans. Glamour wouldn't say now much branded content revenue it's generated this way, but Newman said it's small but incremental. In March, Glamour said that 60 percent of its revenue came from branded content.
Getting into product delivery has its complications that stem from high costs and using third-party providers, so the publisher had to set a minimum sample size of 5,000 members to get enough reach while still being efficient.
"Brands have always sampled in the magazine," Newman said. "Now we're just two print issues a year so to have the mechanism to get products into the hands of audiences while we're talking about it is something we have exclusive to us. When brands see the explosion on social media and competitors success, it encourages them to also trial with us."
https://digiday.com/?p=302199