Digiday Research Report: Half of publishing industry workers are concerned with job security
January 7, 2020 • 5 min read
•
•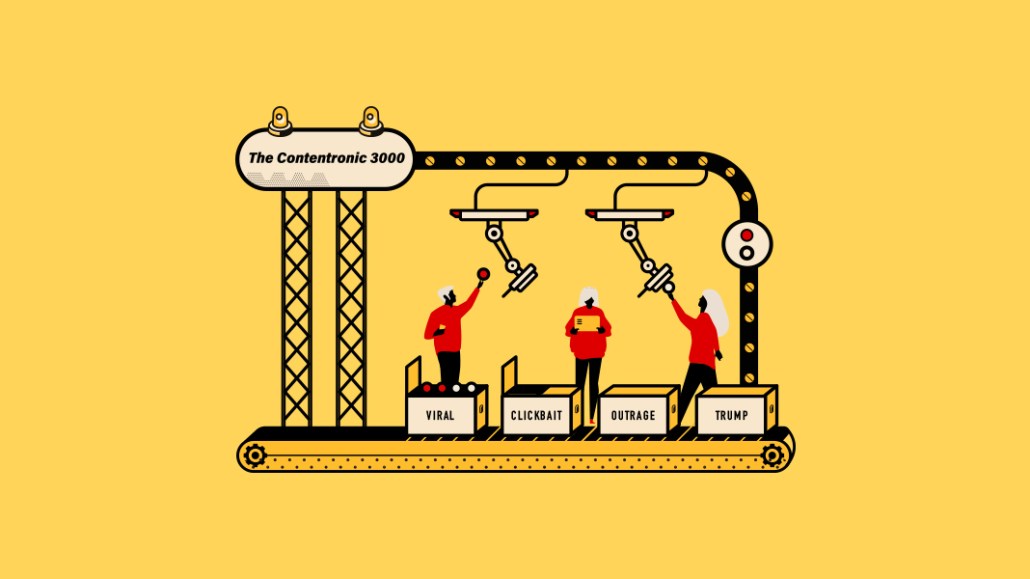 This research is based on unique data collected from our proprietary audience of publisher, agency, brand and tech insiders. It's available to Digiday+ members. More from the series →
The business of publishing has undergone dramatic shifts in the past few years. The rise of platforms, the pivot to video, and the decline of ad-supported endeavors has meant publishers are now focused more than ever on getting paid directly, either through subscriptions or direct-sold ads, or both.
We surveyed over 200 publishing employees in business and revenue roles to understand how work culture, mental health, the business and benefits affect their satisfaction. Survey respondents were selected from Digiday Research's proprietary panel, made up of thousands of executives and decision-makers across the media and marketing industries.
The key hits
1.  About half of all employees don't think their job is secure. And among those looking for a new job, more are looking to leave publishing than find a job within the industry.
2. When it comes to job satisfaction, the work itself matters more to employees than even compensation, healthcare or time off.
3. Publishing employees largely think their compensation is fair, and many aren't working more than about 44 hours a week, in line with the national average.
Job security and mental health are concerns.
Less than half of all publishing employees believe their jobs are secure. About 49% of them say they think their jobs are secure, while 33% aren't sure, and 18% do not think their current roles offer them job security.
About 7,800 jobs were cut last year in journalism according to estimates, across companies like BuzzFeed, Gannett, HuffPost and Vice Media. At the same time, changing business models mean that many publishers still say finding good talent is hard — the difficulty is now that they're looking for a different skillset (in product-focused roles, for example) than they were before.
About 43% of them are worried about the financial health of the companies that they work in.
Half of all publishing employees are looking for new jobs. About 22% of people are currently looking for a new job in publishing. But 28% of them are looking to get out, looking for a new role outside the publishing industry.
And for women, they're likelier to say their jobs aren't secure, and only 54% of them, compared to 70% of men, are happy at their jobs.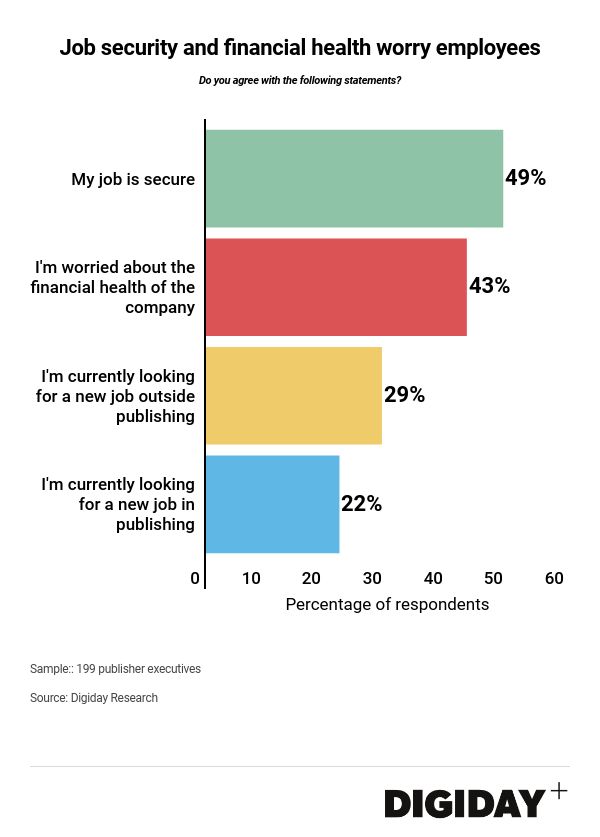 Mental health inside workplaces became last year a matter of national conversation. The way people work — and what they expect from their bosses and employers — is changing. For those inside publishing companies, about 27% of them say they worry about their mental health while at work.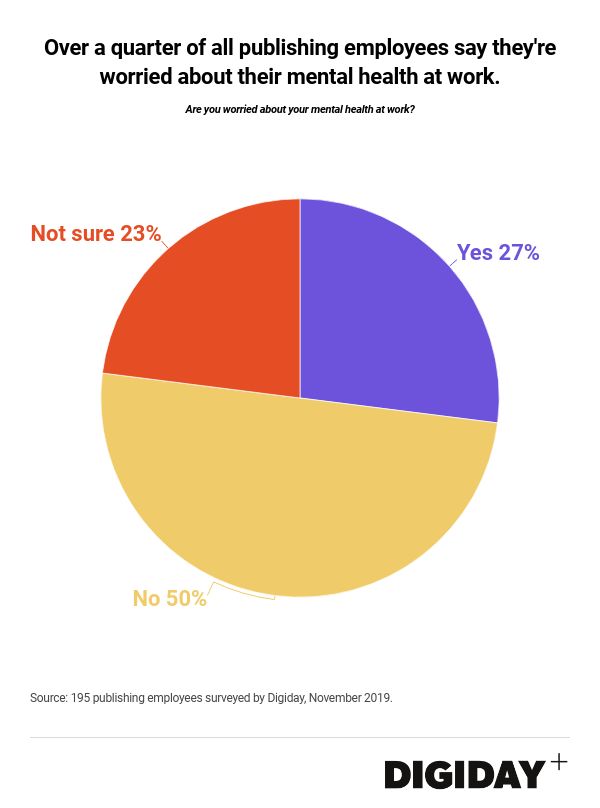 About 64% of people are happy at their job.
Overwork — despite those average work hours numbers — is a perceived issue. More than a third of employees said they are expected to answer emails or work calls on nights and on weekends. About 18% of women and 16% of men said they were expected to work on vacation.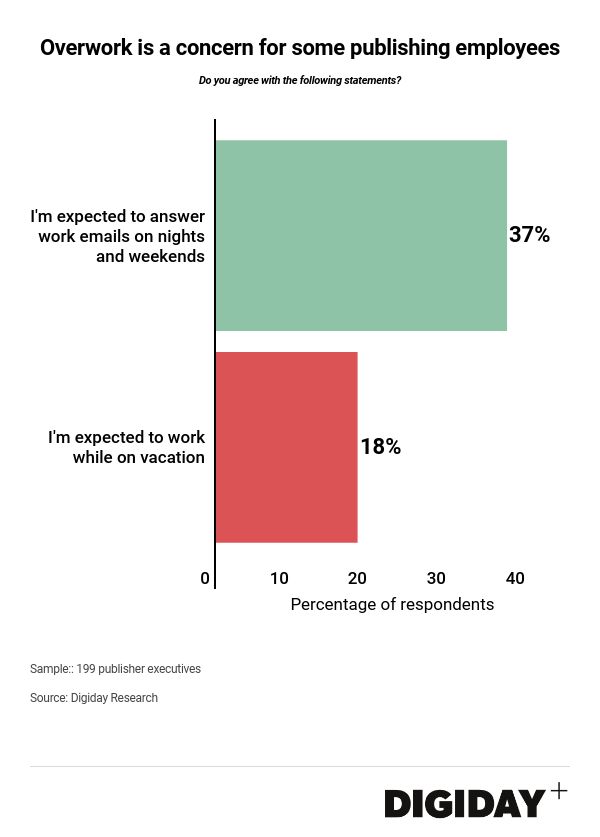 Compensation rises with experience, but only up until a point.
For the purposes of this research, we define "entry level" as those with under four years of experience, mid-career as those with between 5 and 14 years of experience, "experienced" as those with 15 to 19 years, and anyone with 20 years or more of experience working in publishing as "veteran."
Most (60%) of entry-level professionals are earning between $50,000 and $74,000 annually. For those who are mid-career, the average salary rises to between $74,000 and $99,000. About 44% of experienced employees make between $75,000 and $125,000 a year. And the average salary rises to between $175,000 to $299,000 for the veterans in the industry.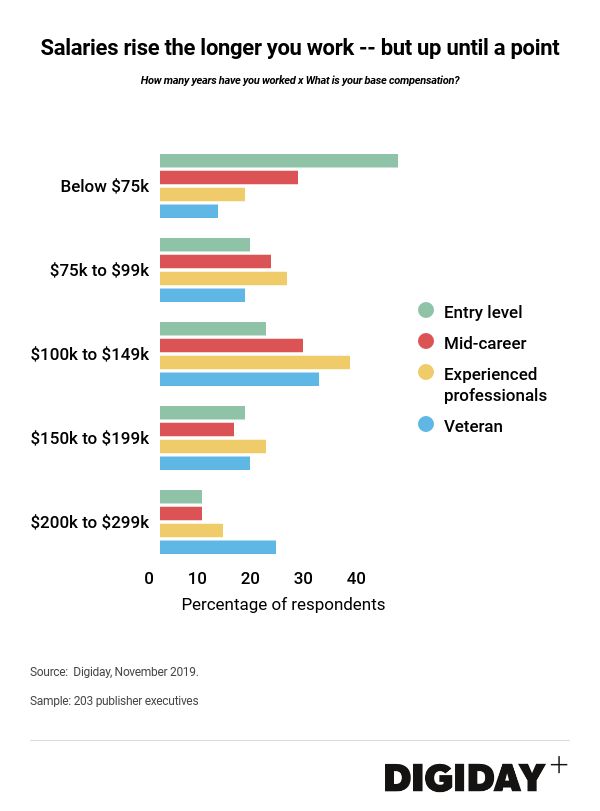 Most employees think their compensation is "fair" — almost 60% overall say so. More experienced employees are likelier to think their compensation is fair, compared with those who we classify as entry-level. Life is meaningfully worse for women: 44% of them say they're not fairly compensated for their work, compared to 36% of men.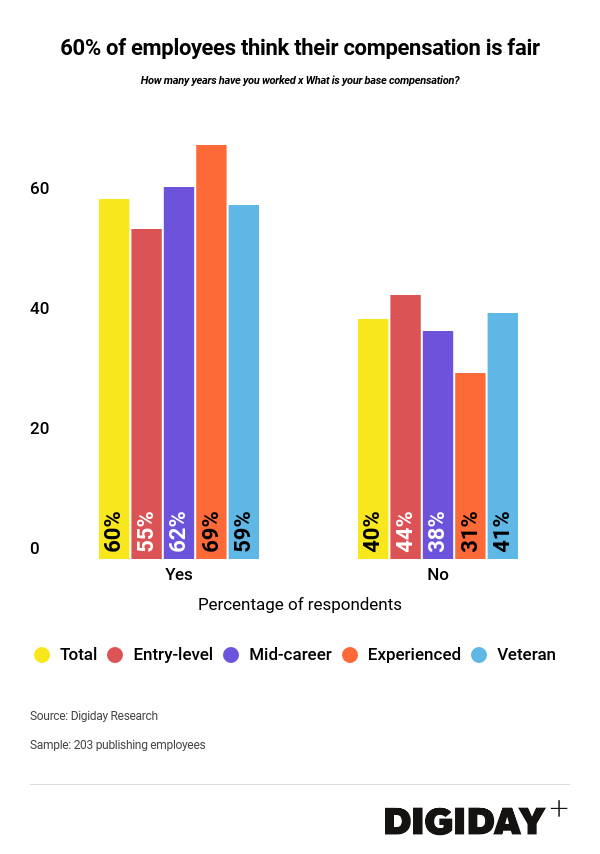 Hours
Publishing employees overall aren't working too much. Half of all the employees surveyed say they work under 44 hours a week, with the most popular answer being between 40 and 44 hours every week. That's about in line with national statistics in the U.S.. The Bureau of Labor Statistics estimates that the average American works 44 hours a week. How experienced someone is doesn't really change those numbers. Those who have worked in the industry longer are also working slightly more.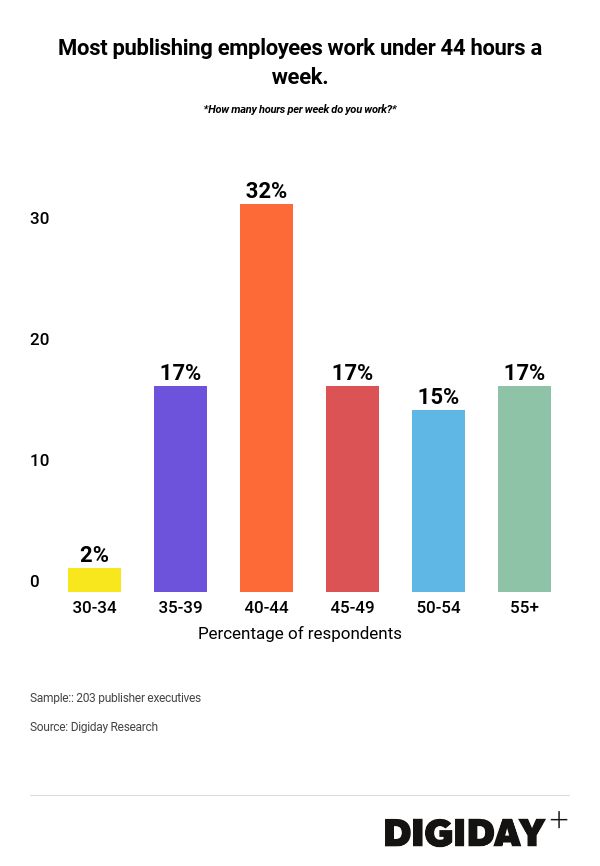 What determines satisfaction
While compensation is important for 93% of publishing employees, a whopping 97% of employees said it is actually the "work itself" that is important to them when it comes to day to day satisfaction.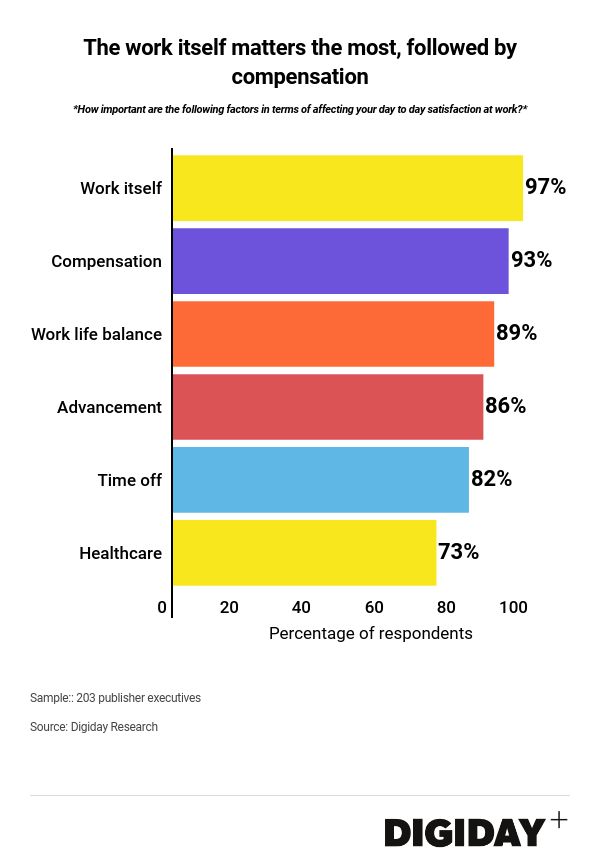 Work/life balance comes in next, with 89% of employees deeming it important, followed by advancement opportunities. Next is time off, which is important to 82% of all publishing employees.
About 38% of respondents said consolidation in the form of mergers and acquisitions is one of the most important factors affecting their day to day job satisfaction. About 35% said it was a pivot to subscription revenue. But 76% — a vast majority — said their employers' efforts to diversify revenue sources had a major impact on their job satisfaction, while 86% said it was their employer's business model and the employer's reputation. What isn't important: The "social scene" in the office or work perks like food and happy hour.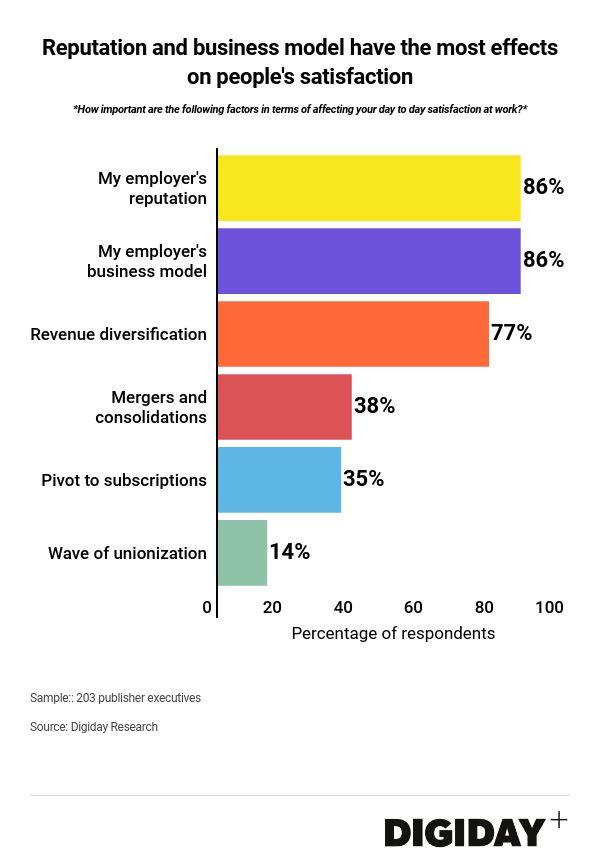 That last one is important. Publishers are reckoning with a massive shift in their industries. Print advertising revenue has shrunk; budgets are down and the rise of platforms has meant many shifts — including the pivot to paid — for major media organizations. In this, it's led to a shifting of priorities inside organizations, and in many cases, a talent squeeze. Publishers are now looking for people who understand subscription revenue and product as well as journalism.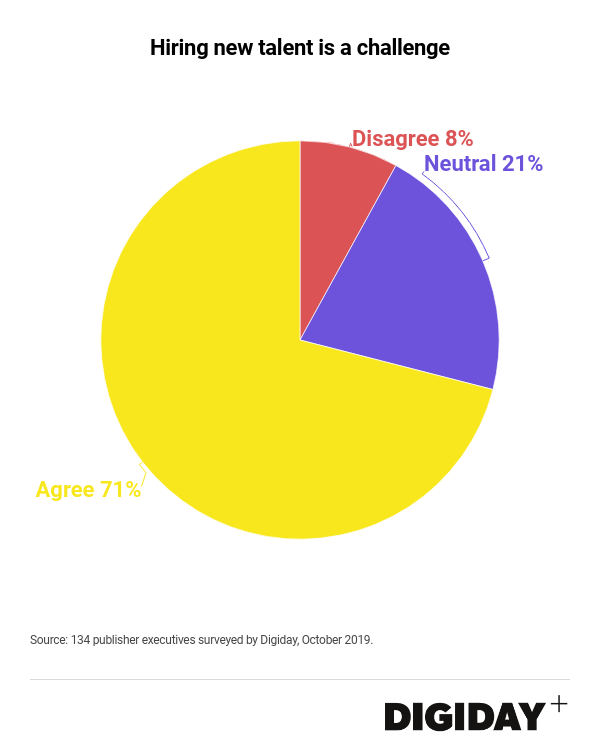 Perks and the rest
Paid maternity leave is now offered to 78% of respondents, while paid paternity leave still lags behind, only offer to 57% of respondents. Half of all employees surveyed said they get family medical leave.
When it comes to other benefits, 27% of publishing employees get either childcare allowance or childcare on site, almost half get a fitness discount, and 38% get free snacks.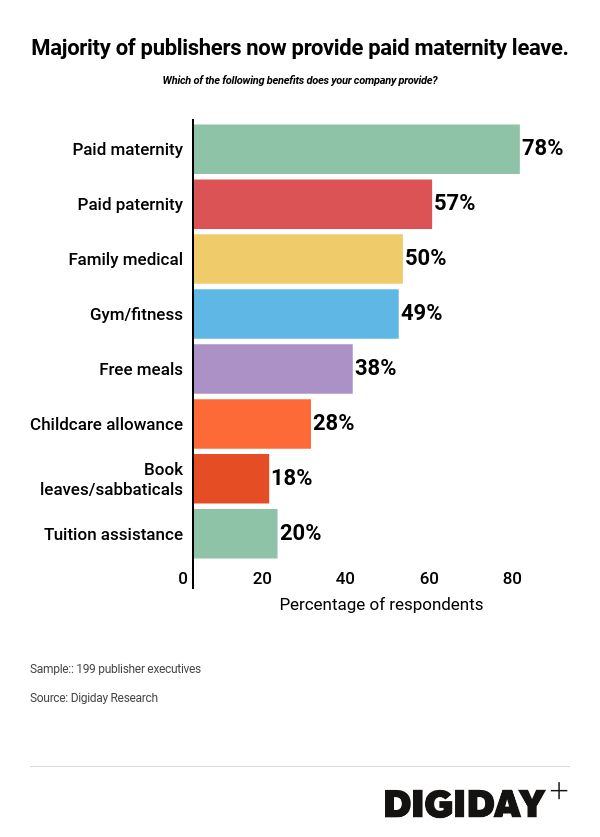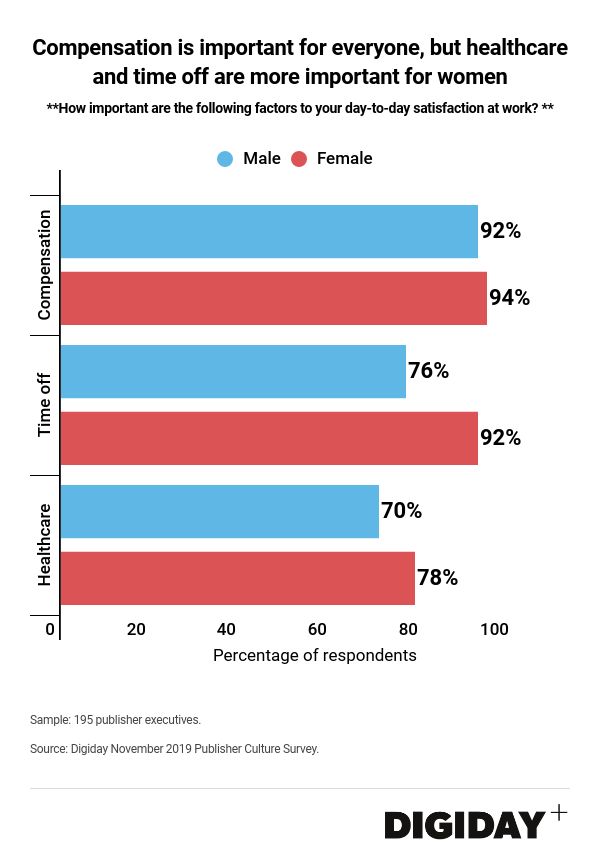 https://digiday.com/?p=355689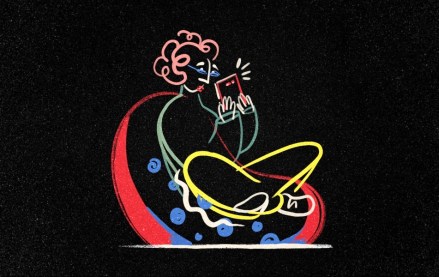 September 28, 2023 • 3 min read
•
•
The Financial Times has launched another lower-priced, subscription-based mobile app product a year after the debut of FT Edit to reach international readers.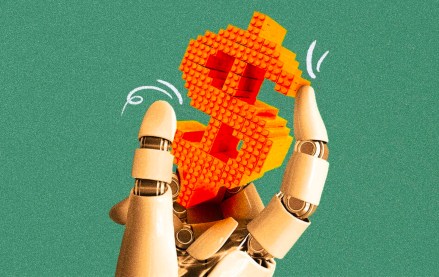 •
Publishers are starting to apply AI to their sales operations.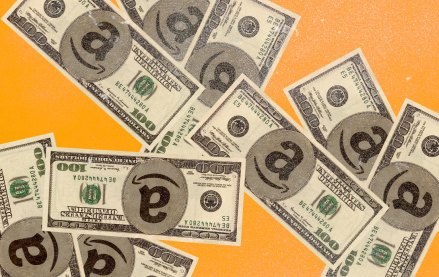 September 27, 2023 • 6 min read
•
•
The agency accused the e-commerce giant of conducting a range of anticompetitive behaviors that hurt both shoppers and sellers.