Digiday Research: Marketers say Instagram is the best way to reach teens
Marketers targeting younger audiences on social platforms have an abundance of places to spend their ad dollars. But according to the latest Digiday survey, they have a preference on which platform should get it first.
In a survey of 189 media buyers by Digiday this March, 37% said Instagram was the ideal platform to reach audiences aged 20 and below. After Instagram, 30% of respondents selected Snapchat while 17% would start their campaigns with YouTube. Emerging platforms such as TikTok and Twitch nabbed smaller shares of marketers responses with 6% and 5% respectively. Facebook is clearly not the place for teens, with just 1% naming it the best platform.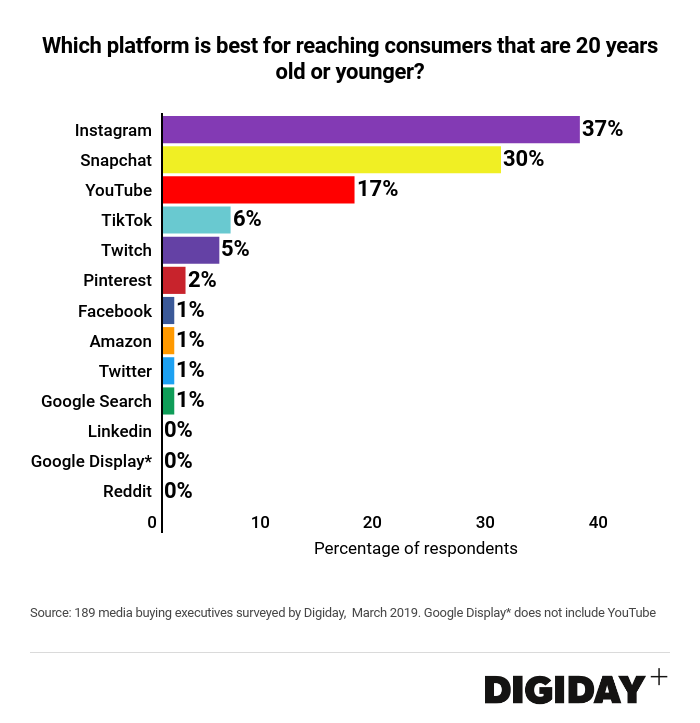 Buyers searching for easy ways to reach younger audiences have good reason to start with Instagram ahead of Snapchat. They pointed to the fact that Instagram ads targeting younger audiences can be effortlessly added to larger campaigns when buying across Facebook properties.
Also, compared to the heightened brand-safety worries marketers have on other platforms like YouTube or Reddit, "advertisers' concerns about brand safety is really low on Instagram," said Charlotte Kleiman, performance lead at Social Code.
But Snapchat does have its loyal adherents.
"Snapchat is definitely my No. 1 platform when it comes to reaching younger audiences," said James Douglas, svp of media at Reprise Digital. "You need to start where your audiences are."
Additionally, some buyers have found specific verticals such as entertainment, particularly movie trailers, and beauty resonate particularly well on Snapchat.
"Advertisers don't want to leave YouTube," said Kleiman. Repeated brand safety scandal might worry marketers, but an earlier Digiday survey of media buyers found that few will stop advertising on the platform
Ultimately view rates on YouTube ads are too good for marketers to pass up.
"A good view-through-rate on YouTube is 20% to 30%," said one media buyer. "On Snapchat or Instagram, no one is finishing is those ads unless they're non-skippable."