This research is based on unique data collected from our proprietary audience of publisher, agency, brand and tech insiders. It's available to Digiday+ members. More from the series →
This case study is part of a research series on a set of emerging technologies in media and marketing. Read our other reports on virtual reality, augmented reality and chatbots.
For a long time, Quartz didn't have a standalone app. All around it, publishers were launching carbon copies of their websites packaged for app stores, but the effort (and expense) didn't seem justified — or additive. Quartz was prepared to sit it out.
Then, AI assistants like Apple's Siri entered the everyday user experience for millions of smartphone users. The question was asked: "What if we could deliver the news this way?" Quartz for iPhone was the answer.
The entire app feels like a message thread with a very well-informed assistant, briefing the user throughout the day on world happenings and providing prompts for more information. Like The New York Times' election Messenger bot, the answers aren't assembled through some advanced, machine-learning procedure; they're written by Quartz's talented reporters and editors.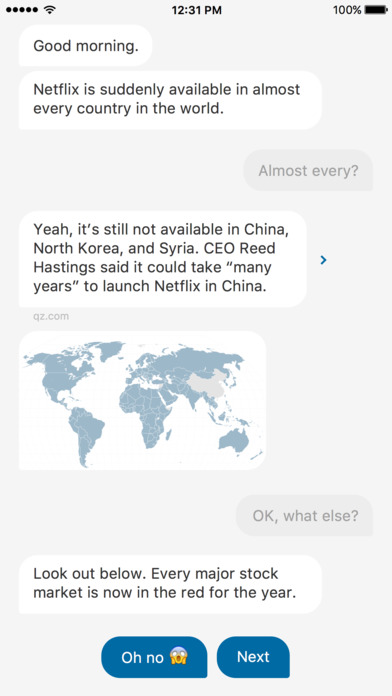 "They work really hard to maintain a particular voice," said John Keefe, bot developer at Quartz. "It's playful and informative and conversational in a way that's challenging." With four-star ratings in the App Store and a place in the App Store Best of 2016, Quartz was clearly on to something.
Thus began a company-wide exploration into conversational interfaces (and the automation that powers them) that resulted in the birth of the company's Bot Studio.
Built in part through a grant from the Knight Foundation, a national organization with a history of investing in journalism and the arts, the Bot Studio set out with four main focus areas: conversational interfaces involving typing, conversational interfaces involving voice, conversational and automation-powered tools for journalists and, more generally, exploring the intersection of journalism and AI.
"Some crazy high percentage of journalists are using Slack, and it's very easy to write bots for the platform," said Keefe. "We're making bots for our own journalists and sharing them as well."
The applications are endless, from keeping tabs on a website to alert for policy changes, monitoring Twitter for tips related to a reporter's beat or even something as particular as assessing whether a tweet posted by @realDonaldTrump was, in fact, authored by the president himself.
"The 'why' is obvious: You're one person trying to cover things well, and you can deploy bots to find interesting stories before other people."
Keefe is used to incredulity, frequently fielding questions like, "Are we really going to get our information by talking to a bot?" To this, he asks a second question: "How many of you have Alexa and have kids?"
"I have a 13-year-old and an 11-year-old," he said. "There is no friction in their interaction with a device they talk to. Just watching how easily they've moved from Googling to talking to a Google Home makes me realize that this is definitely an interface that will be part of the future."
https://digiday.com/?p=249040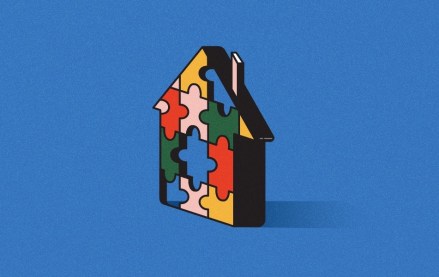 September 22, 2023 • 4 min read
Apartment Therapy's president Riva Syrop took the stage at the Digiday Publishing Summit to discuss the convergence of commerce and sponsorship revenue within its Small/Cool event.
September 22, 2023 • 4 min read
Media execs took stage at the Digiday Publishing Summit to discuss the growing importance of ROI in ad campaigns this year.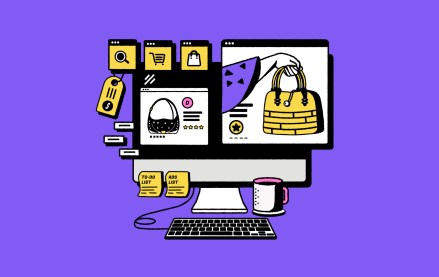 September 22, 2023 • 4 min read
CEO Satya Nadella said AI assistants will be as ubiquitous as PCs and will help users navigate across apps, operating systems and devices.