Digiday Research: Header bidding and first-price auctions boost publisher revenues
January 14, 2019 • 3 min read
•
•
This research is based on unique data collected from our proprietary audience of publisher, agency, brand and tech insiders. It's available to Digiday+ members. More from the series →
Shifting to first-price auctions and employing header-bidding is helping publishers significantly boost their yield and revenue from programmatic selling, according to Digiday research. In a survey of over 100 publishers who sell advertising programmatically, conducted by Digiday in November, 78 percent said first-price auctions have helped increase their revenues, while 88 percent experienced a lift thanks to header bidding.
Publishers were initially slow to shift from second-price auctions to first-price auctions, but the shift has accelerated in the past year. Demand-side platform GetIntent found that 43.3 percent of programmatic ads it analyzed during a study in March of 2018 were transacted through first price auctions.
For many publishers, that decision is paying dividends.
Marc Ropelato, director of programmatic revenue at Future plc, said that working with each of Future's partners to shift from selling inventory in second-price auctions to first-price auctions led to significant increases in revenue. "On average for a CPM, it would roughly be a 25 percent to 50 percent increase from that specific bidder," he said. Ropelato also noted that some of Future's inventory is still sold at in second price auctions depending on whether partners offer a first-price option.
Ad buyers are seeing a similar trend. Agency Hearts & Science ran a test where it bought in first price and second-price auctions, and found that the average CPM price was 59 percent when bidding in first-price auctions.
But not all publishers have seen a long-term boost. Sara Badler, vice president of programmatic at Dotdash, said the company has not experienced any significant CPM increases overall that it attributes to first-price auctions. "Perhaps at first we saw a few increases, but as buyers have become more comfortable with the changes, prices have adjusted themselves to remain within budgets and not overpaying for an impression."
Ropelato agrees that buyers had altered their strategies to accommodate first-price auctions. Rather than competing against the second-highest bidder, buyers are instead making bids on what they believe the value of the user is.
That could potentially help those publishers who have invested in understanding their audiences better to eke out greater returns from first-price auctions. "We have done a lot of work building an algorithm that can determine who our audience is and assess a value to a user. So when we send out the bid request, we can accurately measure what our inventory is worth based on our value of the user," said Ropelato. In theory, if publishers can demonstrate to buyers the quality of their inventory by attaching high-quality audience data to the bid request, that could help convince buyers to stump up higher bids.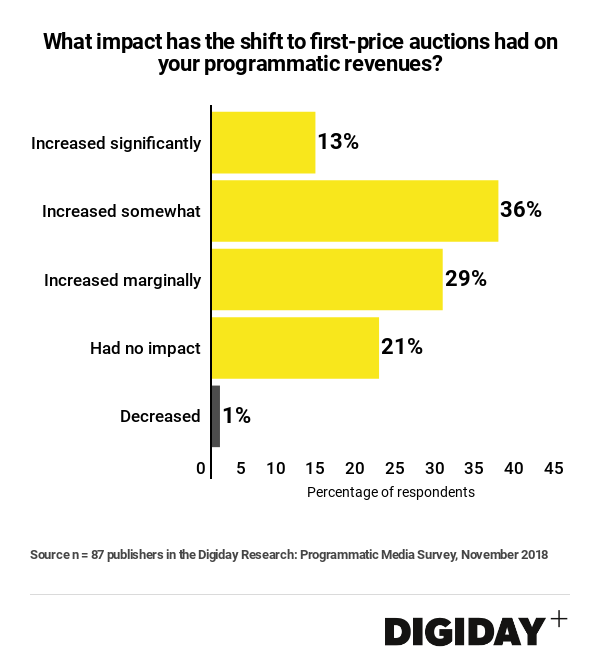 Meanwhile, header bidding continues to play an important role for publishers. Over a third of publisher respondents to Digiday's survey found that header bidding has increased yield rates by at least 25 percent. Sixteen percent estimated that header bidding has helped boost their yield by 50 percent or more. In an industry where margins are slim, that incremental revenue can be crucially important.
Some publishers, like Axel Springer, are going a step further to maximize the benefits of header bidding. Last year, the Germany media company decided to make all of its programmatic inventory available through header bidding.
Header bidding has come a long way to overcome the latency issues of its early days, but the technology is still far from perfect. Issues surrounding cookie matching persist, according to Ropelato. He added that having an industry-accepted universal ID would improve audience identification issues between advertisers and publishers. Though there are several consortiums that have created their own ID, the industry is a long way off from having a single shared one.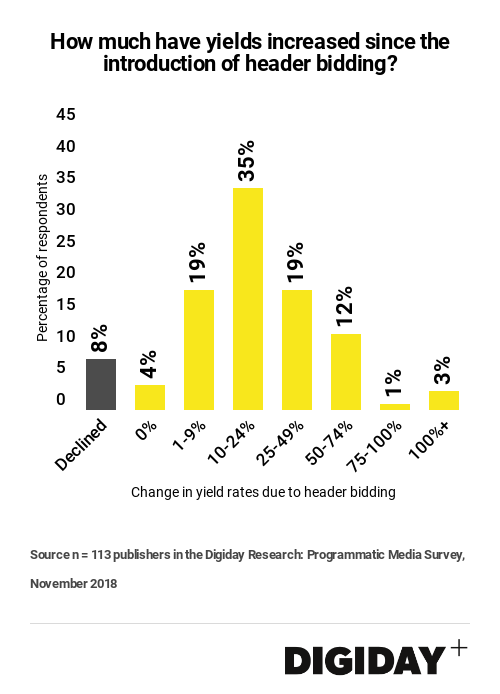 Although publisher success with first-price auctions and header bidding vary, the tactics — as with private marketplaces and programmatic guaranteed deals — are important levers publishers can pull to combat programmatic's negative effect on ad prices. "First-price auctions go a long way to mitigating the issue of programmatic's impact on pricing," said Ropelato. "It's a good step in the right direction." As publishers suffer through layoffs and missed revenue projections, strategies like first-price auctions and header bidding are not a panacea for the ills of programmatic, but they can't be overlooked either.
https://digiday.com/?p=317985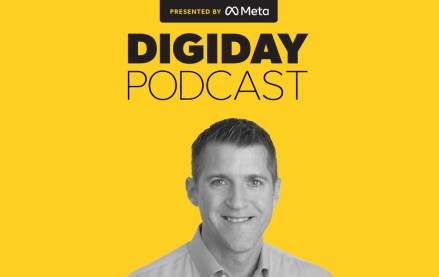 November 28, 2023 • 4 min read
Google's vp of global ads is confident that cookies will be gone from Chrome by the end of next year, despite all the challenges currently facing the ad market.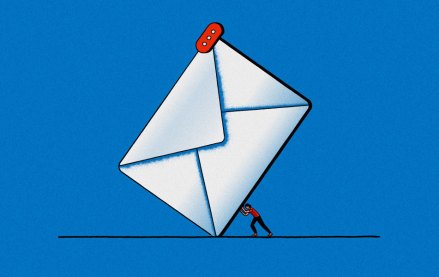 November 28, 2023 • 6 min read
Some email newsletter platforms' click-through rates are actually click-to-open rates, which are measured against the number of emails opened rather than the emails sent. But buyers seem to prefer it that way.
November 24, 2023 • 5 min read
Publishers' events businesses picked up pretty significantly during the back half of this year — and they will focus on sustaining that lift into 2024, according to Digiday+ Research.