Digiday Research: Almost half of publishers experienced layoffs in 2020
Ivy Liu
Thanks to things like a healthy Cyber 5, two quarters of positive momentum driven by resilient advertising budgets, many publishers see themselves ending 2020 on a high note. It's a stark contrast from the first half of the year when media companies of all sizes, gripped by panic, began shedding jobs to control their costs.
A full half of respondents to a Digiday Research survey of publishers said their companies had reduced their head counts in 2020.
This year, the media industry shed even more jobs than it did in 2008, when a financial crisis plunged the global economy into a recession that lasted several years. Through November, digital, print and broadcast news companies shed over 16,000 jobs, compared to 14,000 jobs in 2008, according to the outsourcing firm Challenger, Gray and Christmas.
While the furloughs and layoffs were largely driven by the sudden shock of the coronavirus crisis in March and April — over 11,000 of those layoffs came in the first half of the year — the reality is that media companies endured staff cuts all year.
And while ad sales and other revenue opportunities began improving shortly after the nadir of April, few hit the targets they'd laid out for the year and only about half even matched the revenue they generated in 2019; 43% of respondents said that revenues went down year over year in 2020, and a full third said their revenue declined by double digits.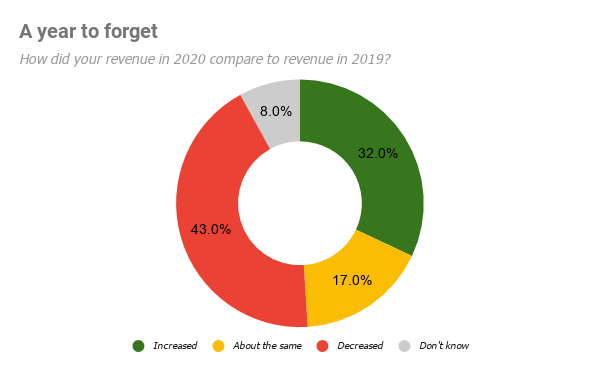 Those tough results contrast with the largely upbeat outlook most of the survey's respondents have, not just about the year ahead, but the year concluding. Even though much of American life will remain under a kind of lockdown through the first few months of 2021, and the American economy remains in a precarious position, most respondents are expecting a bounce back in 2021, and many even say that the company they work for did well in 2020.
https://digiday.com/?p=386596