This spring, HuffPost's new editor-in-chief, Lydia Polgreen, announced that she wanted the Oath-owned title to become a grand tabloid for the underserved.
It appears to be resonating with HuffPost's core audience. Since the site overhauled its homepage four months ago, the number of people going directly to the site's homepage is up 23 percent, year over year.
The site's traffic is still down from its 2016 election peak, and the HuffPost product and editorial teams are still experimenting with some facets of the rebranding effort, including recirculation strategy and how best to report on underserved communities. But they see the front page's reception as a sign that the site is moving in the right direction.
"We've been pleasantly surprised," Polgreen said. "Whenever you redesign a site, there's going to be turbulence. Our audience has really embraced it."
Like most other publishers that focused on last year's election, HuffPost is readjusting to life after Trump vs. Hillary: It attracted 64 million U.S. unique visitors in July, down from 81 million during the same month last year, according to comScore; HuffPost's sites accumulated 166 million unique visitors globally in May 2017, down from 178 million the previous May.
In April, it unveiled a new look and feel, with brash headlines and 30 percent fewer stories on the homepage. The move was designed to deliver what Polgreen described as "a visceral snapshot of the day."
The headlines that appear on the homepage, called "splashes," are more provocative and vivid than stories on section pages. For example, a story from last week titled "Donald Trump Defends People Who Attended White Supremacist Rally in Charlottesville" appeared on the homepage with an image of the torch-bearing white supremacists that assembled in Charlottesville. The splash read, "All the President's Men."
"The great tabloids were always driven by a sense of outrage," Polgreen said last spring.
At other times, the HuffPost editors have tapped another longtime tabloid direction: punning. In July, the HuffPost ran an article about the sputtering Republican effort to repeal and replace the Affordable Care Act with the front-page headline, "Last Mitch Effort."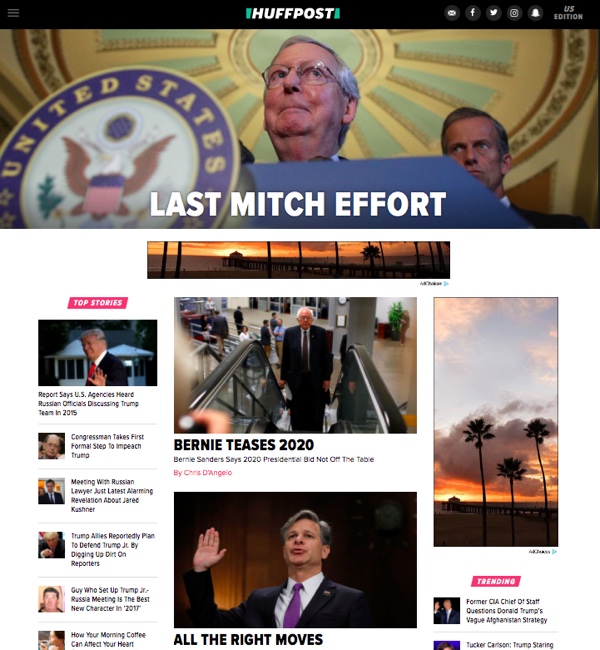 Next month, the HuffPost will embark on a 23-city "listening tour" to support Polgreen's vision of covering the issues that loom largest outside the country's coasts.
The decision to overhaul the homepage came with some risk. As much as a quarter of HuffPost's audience come directly to its homepage. And like with other publications, those visitors are among its most valuable: Homepage visitors read six times more HuffPost stories every month — 30, on average — than those who visit through social media, according to internal analytics.
The tabloid move's impact on video strategy is still emerging. The homepage now features more video, though those clips are hidden below the fold, several swipes or scrolls removed from the top of the page. And while editors from across HuffPost's editorial departments know they can expect what Polgreen called "fire hose" of traffic when their stories appear on the homepage, video clips get a different kind of boost: on average, videos featured on the homepage accumulate 50,000-100,000 more views than those that do not, according to a company spokesperson.
HuffPost's mobile app users consume video voraciously, and its product team made changes that boosted video viewership 27 percent on its site. But the video team's main focus is making videos to be shared on platforms like Facebook. "That's where our people are expecting it," Polgreen said.
Note: This story has been updated to include HuffPost's global traffic and homepage video view numbers. 
https://digiday.com/?p=250749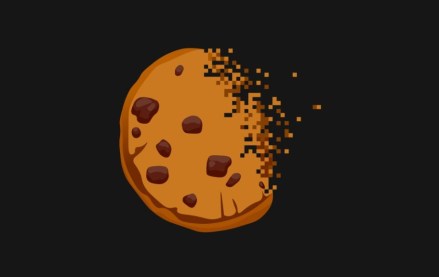 September 25, 2023 • 1 min read
During the Digiday Publishing Summit, execs from companies including Condé Nast, Dotdash Meredith and Thomson Reuters assessed the industry's readiness.
September 25, 2023 • 5 min read
Publishing executives shared their honest and unfettered opinions on the rise of generative artificial intelligence technology and its impact on traffic, IP protections, content production and jobs at the Digiday Publishing Summit last week.
September 25, 2023 • 5 min read
Here is A sampling of other AI-related news from last week.