BBC News is betting on Instagram Stories over Snapchat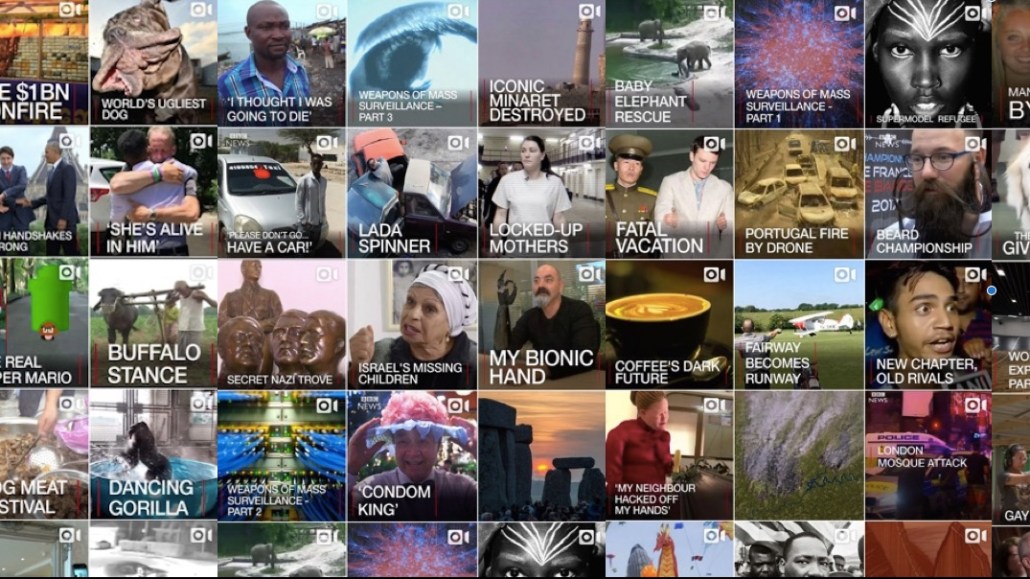 BBC News is getting more ambitious with off-platform distribution, particularly for video. But for now, that strategy is fixed on Facebook, Instagram and Twitter, not Snapchat.
The broadcaster has long been prolific with tools like Facebook Live, but Instagram is now a bigger focus, with a following of 3.8 million and climbing for its BBC News account. Since Instagram upped the maximum length on a video from 15 seconds to one minute 15 months ago, more publishers have prioritized video over photos on the platform. The BBC is no exception, publishing 154 videos compared to 12 photo posts on its BBC News account in May, according to NewsWhip data.
On the evening of the U.K. general election on June 8, the BBC published a single live Instagram Story that was updated throughout the night as votes were being counted, via its BBC News account rather than a separate election account, which it has previously used when covering elections. One of its best-performing Stories gave an overview of what happened throughout the night: It began with a graphic of the exit poll, then featured "Question Time" presenter David Dimbleby talking about what it all meant and cut to BBC correspondents reporting from different areas of the country, leading up to the key results.
Typically, BBC News' live Instagram Stories get an average of 100,000 views, with around half of those watching to the end, according to Mark Frankel, social media editor at BBC News. Views for non-live videos that get published in the Instagram feed can vary wildly, but tend to be in the hundreds of thousands. He said the team is still looking at what referral traffic each platform provided during the election coverage.
Driven by the audience growth and the Instagram Stories feature, BBC News is more focused on Instagram than Snapchat. While it has a Snapchat user account, it's not a Discover partner and publishes less frequently to its account than other channels. BBC News published to Snapchat as part of its Brexit coverage, but it left out the platform entirely for the June general election. That's not to say it will stop creating content for Snapchat, but for now, the focus is where it can reach a larger audience.
"We're funded by license fee, so we have to harness and hone our resources in a way which will make the biggest impact. It's not worth having a dedicated team of staff on a channel [Snapchat account] that has just 3,000 on for us," said Frankel. He added that could change in time, but the current focus is Instagram, Facebook and Twitter.
The BBC's public-service remit means it doesn't need to grapple with the issues commercial publishers face when it comes to monetizing social platforms. That said, resources are always tight, so although a lot of original video content is created for Instagram Stories, the same material is repurposed or reshot for other platforms to stretch it beyond the 24 hours it has on the platform before disappearing.
"We are keen to make the most of the Instagram because we see the growth potential, but I'm also conscious from a resource perspective that if we cut stuff for Instagram, those same assets can be repurposed for Facebook and other sites," Frankel said. "I don't want the work that goes into creating an Instagram Story to only be for that platform. Otherwise, you're creating lots of separate teams working on different platforms."
The biggest challenge for BBC News is connecting with the younger audiences that view traditional news broadcasters as part of the "establishment" and not connected with what they're interested in or believe in, said Frankel. "We're still figuring out how to get the balance right."