Finally, a vuvuzela that acts like a remote control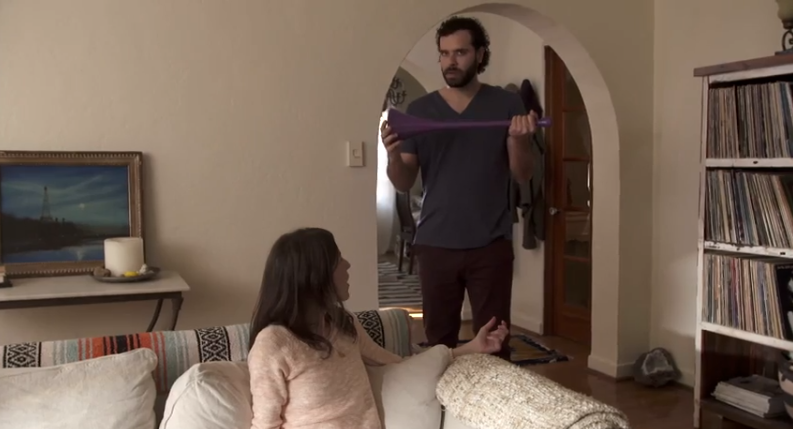 Relatively new global sports network, beIN Sports, has a real gamechanger on its hands. Literally.
The sports broadcasting landscape is, to put it mildly, a fairly crowded one. There are more than 20 networks in the U.S. alone — from ESPN to NBC Sports to Fox Sports 1 — vying for the attention of the American fan. The question for an unknown newcomer like beIN, then, becomes how to get viewers to change the channel. The solution? Do it for them.
Enter the vuvuzela. Popularized during the 2010 World Cup, the two-foot long plastic trumpet is South Africa's answer to the airhorn. BeIN's agency, TBWA\Chiat\Day New York has invented a vuvuzela that, when blown, will change the channel to beIN. It's called the "Gamechanger," and it would probably be ill-advised to bring one into your local sports bar during March Madness.
"Soccer fans are diehard fans, they will get up at any hour of the morning to watch a game, but in the U.S. soccer is kind of like the ugly stepchild of sports compared to football or basketball," said Ed Rogers, account executive at TBWA\Chiat\Day New York. "We wanted to create something that shows soccer fans that we really understand their passion."
As creative technologist at TBWA\Chiat\Day NY Dima Farer explained after a successful demonstration of the product at the agency's New York offices yesterday, the special vuvuzela works by using the Arduino prototyping platform. Its sound signature is recognized by a mini microphone, which is read by its encoded 32-bit microchip that fires IR LED signals to TV cable boxes with the command to change the channel. If that doesn't mean anything to you, then watch the spot below to see the Gamechanger in action:
BeIN has already given away a handful of Gamechangers to influencers and a few lucky fans; however, because beIN likes the product so much, as do the first few owners of the Gamechanger, the network is in the process of going over pricing and logistics with TBWA\Chiat\Day NY about possibly producing a larger quantity for broader distribution.
The Gamechanger also represents an example of an agency actually making something. Plenty of agencies give lip service to being product-makers and having innovation and invention labs, but not all who talk about it actually pull it off. What is interesting about the Gamechanger campaign, is that beIN didn't ask for a product to be made, but TBWA\Chiat\Day New York went ahead and built it anyway.
"Clients buy ideas they can envision, and in our case here we just had to demonstrate it by just making it — that's why agencies do have to make things," said James Cheung, global creative director at TBWA\Chiat\Day NY. "If we had shown them a deck with a bunch of slides, it's easy for them to 'say oh that's a great idea' and then push it aside, whereas if it's turnkey and they just have to go 'how much is this going to cost?,' then we can actually go and do it."
TBWA\Chiat\Day New York did, of course, also come up with a started suite of ad products for beIN as well, but the vuvuzela is meant to cement the network's association with soccer in the mind of the American viewer.
Watch the "Making of" video to learn more about how the Gamechanger was made:

https://digiday.com/?p=69038