How The Independent is expanding internationally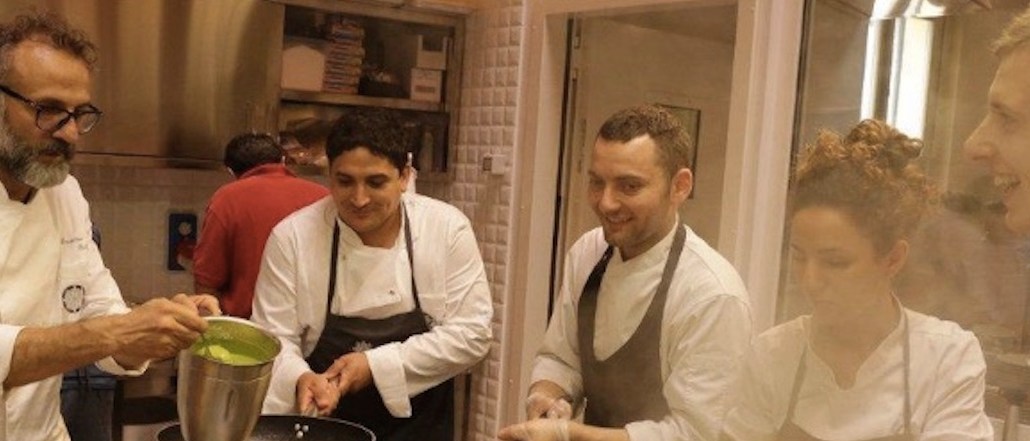 It's not often a newspaper sends its chief sports correspondent to a restaurant to cover an Italian chef cooking up a feast for the homeless, smack bang in the middle of the Olympics. But that's what The Independent did in Rio this month, a freedom it can enjoy now it no longer has a print newspaper.
Its motives: to capitalize on interest around an earlier story which caught fire on Facebook, where it has 5 million followers. The story was "Rio 2016: International chefs cooking surplus Olympic food for city's poorest residents," and made its author — The Independent's newly installed New York-based reporter Feliks Garcia — the seventh-most engaged-with writer for Olympics-related content on Facebook, with 355,000 comments, likes and shares, according to NewsWhip data. The follow-up was an iPhone-filmed video and feature "Rio 2016 Serving up the the Olympics' vast vat of wasted food for those homeless who need it."
"We're a very different system now that everyone is focused on digital. We can be more flexible, whereas print was quite restrictive," said The Independent's editor Christian Broughton. "Once we saw Felik's story go crazy on Facebook, we knew we could send our chief sports writer Ian Herbert, who has the traditional journalism skills and print background. So he brings a certain solidity and value that some of the digital media startups out there don't have," he added.
The Independent still has 100 journalists and an open-access mantra, which makes international scale a must. It has started the ball rolling in the U.S., where it is hiring its first reporters. It's also planning to open bureaus in Asia, Africa, the Middle East and continental Europe.
"Facebook has been the gateway to the U.S. for us," added Broughton.
The Independent has a four-person social media-dedicated team, though all journalists are expected to create content that works across social platforms. It has published dozens of Facebook Live videos like these two: One features this one with campaigner My Stealthy Freedom fighting against the enforced wearing of hijabs in Iran, and the other presents reporter Roisin O'Connor reporting from a Burkini ban protest outside the French Embassy in London last week.
The Independent's content seems to strike a chord with younger audiences. Both its global and social media audiences have risen. Social media referral data has risen 30 percent year-over-year, accounting for 40 percent of traffic to the site with Facebook being the biggest driver, according to SimilarWeb data. And globally, 82 million unique visitors came to The Independent, which is 56 percent more than the same period last year, according to the Audit Bureau of Circulation.
In the EU Referendum fallout, it seemed to streak ahead of other top publishers for Brexit-related content that was shared on Facebook within a 36-hour window after the vote, according to NewsWhip analytics. There were 6 million Facebook "interactions" (shares, likes, comments) with Brexit-related content between midnight on June 23 to noon on June 24. It claims that didn't cannibalize its homepage traffic; half of all traffic around the EU Referendum came direct.
Relying on Facebook for traffic is a dangerous game, however. Vice founder Shane Smith told TV execs at the Edinburgh TV Festival last week that the publisher had "weaned itself off the crack of Facebook" two years ago, when it foresaw the future issues it could raise. There have been several unanticipated algorithm tweaks over the last month, and last week the so-called ubiquitous Facebook share counters vanished from publishers' sites — something Facebook told the Wall Street Journal, was an "unintended glitch."
The Independent spends £250,000 ($330,000) a day to deploy its most experienced journalists in the field. Although Facebook is an integral part of it expanding to new audiences, its ad yields via Instant Articles are already being squeezed, according to The Independent's chief revenue officer Scott Deutrom. "In the first month of publishing to Instant Articles, we were getting about 50 percent of the CPM we would on our own site, which was a fairly equitable return. But that's eroded steadily by about 15-20 percent, even with the introduction of video," said Deutrom.
"There is obviously a price to pay with extended reach," he added. "We invest a lot in news generation, and the cost of that will only increase. When our audience starts to cap out and the global reach starts to slow or goes even more to mobile and via Facebook Instant Articles, it may become unsustainable. We will need to understand where that inflection point is where it becomes ineffective for us because the yields won't be high enough. And currently it's not wiping its face when it comes to the cost of generating news," he added.
Image: Courtesy of The Independent. 
https://digiday.com/?p=195396