Why this crisis will further change the job of the CMO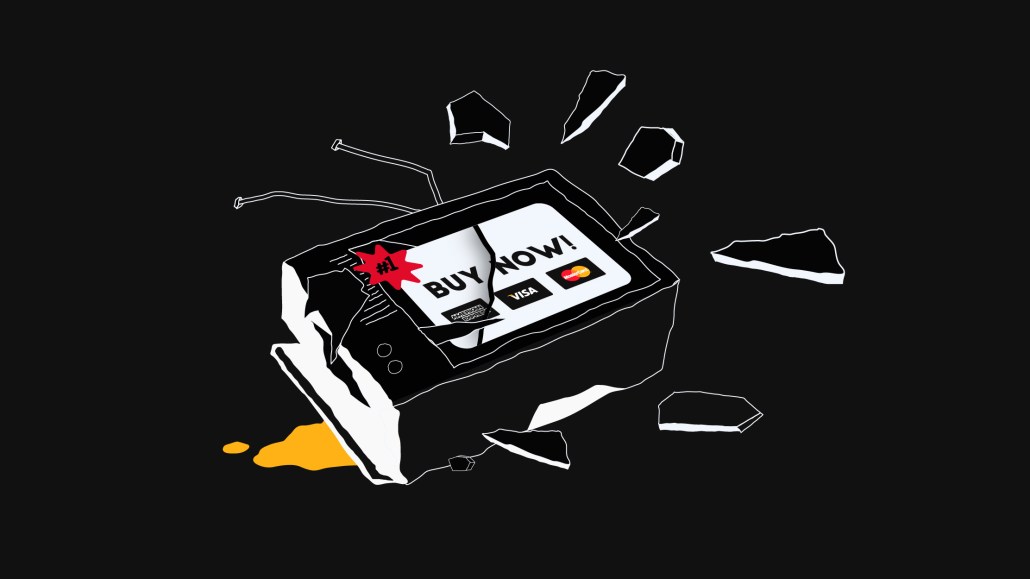 This is the first of a new column, focused on the challenges to media buying and marketing. Be sure to join Digiday+, our membership program, to get access to this column and all Digiday articles, research and more.

For marketing leaders, it sure feels a lot like purgatory right now — for many, there's a sense of awaiting a return to normalcy. Sure, it may happen at the end of the year, or maybe into early 2021. But it's looking increasingly likely that when it comes to the marketing industry a return to business as usual is downright impossible.
Despite all the hue and cry around how important, especially during crises, brand-building and marketing is, marketing is the first to be cut — and the last to be restored. For years, executives have seen marketing as a cost center. One clear place this has shown up: Chief marketing officers' jobs have changed dramatically, adding new responsibilities tied to growth at the same time that their tenure has been shortened, rotating in and out of companies within 18 months or less. At many brands, the CMO was replaced by a chief growth officer. At others like Taco Bell, Johnson & Johnson, McDonald's and more, it's disappeared entirely. Marketing budgets have been sliced and diced. And even before this crisis, accountability for every dollar spent was increasing.
Now, this crisis will accelerate all of that further, meaning the end of the marketing department and the CMO role as we know it.
It's already begun: In recent weeks, restaurants, airlines and tourism boards as well as major marketers like Airbnb and Coca-Cola, among others, have slashed marketing in the name of coronavirus. While advertising during the crisis may simply be seen as tacky and cause a backlash, it's also the best way to keep cash on hand.
As marketers press pause or reduce their advertising spend in this moment, those CFOs who've seen marketing as a cost center for years end up with a test case to prove that marketers can do more with less. After all, reducing marketing overhead is a standard approach: After the 2008 recession, major marketers like Unilever and P&G slashed agency rosters and cut budgets drastically.
"At every company, the CFO is in control," said Nancy Hill, founder of Media Sherpas and former 4A's president. "Cash is king right now and protecting the cash position is what every company will do. But it has a ripple effect across every part of the ecosystem."
And as CFOs take the reins at brands, they're about to have proof, potentially first-hand seeing how those brands can continue to turn a profit without marketing, or at least, marketing significantly less. It will be hard to convince them to return to the spending levels prior to this crisis. And for the agency partners who've cut deals to help clients during this moment, it will be even harder to get those brands to pay what they had previously.
For one agency that has been negotiating extended payment terms and reduced fees to help clients in the weeks and months ahead the lasting impact of doing so is a worry. "The long-term effects of what that does to your psychology where [people] think, 'Well, they can operate cheaper,' that's not great," said the exec. "I hope they do the right thing and come back because we helped them out. But there's no guarantees."
While marketing and agency executives say it's too soon to say definitively what will happen when we do return, there's a sense of worry that they will be charged with doing more with less. But some believe that out of that push there will be innovation.
"While this is accelerating the sentiment of doing more with less, less is a loaded term," said Hill. "What it's going to do is bring about a different way of working. Whether that costs less money or not is too soon to tell but it will definitely be different."
Whatever that difference may be, it's hard to imagine the CMO role returning to what it once was, especially in the weeks and months to come.
3 Questions with Goodby Silverstein & Partners' Jeff Goodby
Over the course of the agency's history you've weathered quite a few storms. How do you manage an agency in a crisis?
People compare what's going on to 9/11 but it's really different. Right now, we're not just going to work from home, we're inventing new ways of working from home. The most important thing is to maintain contact with each other. We have to be working on and thinking of ways to keep our company ready and useful for our clients.
Can you give us an example of a new way of working?
Obviously, we're doing a lot of Zoom calls but we're also learning how to produce things using Zoom. We're producing a lot of content ourselves. Since this started over three weeks ago, we've already shot almost 18 commercials. We're making things for our clients and thinking of new ways to do it. It's people shooting themselves, it's animation and it's all sent to an editors' house to put together. We're using iPhones, having actors shoot themselves in different locations and cutting it together. We're thinking of new ways to make things together that would've never been thought of if this hadn't happened.
As more companies start to make layoffs or furlough people, how should they plan for this?
You should try to keep as many people as possible because this is going to end. This is not like losing a client where you have to reorganize the business to go forward. This is something that everybody has to share company-wide. There has to be a kinship. You have to keep as many people as possible together in the boat for when the curtain lifts and we go back. When you're running a company and paying for things in people's lives, you have to take great care and adjust the company to take care of as many people through this situation.
Streaming ahead
Twitch is having a moment. The streaming platform, which had been growing in popularity in recent years, especially with the rise of e-sports, but the platform hit new heights in March, per data from streaming analytics site SullyGnome.
"It has been a milestone month for streaming with Twitch growing from 982 million hours watched in February to over 1.1 billion hours in March," said Doron Nir, CEO of livestreaming tools and services provider StreamElements. "While this 20% growth has gotten a huge boost by stay-at-home mandates, now that more viewers and creators are discovering the power and appeal of live social video, we expect the medium to maintain some of this new momentum beyond the current crisis."
Quote of the week
"No one will ever ask for a 'viral' video in a creative brief again, but we will all pay much greater attention to the 'force majeure clauses,' in all contracts." — Matt Wurst, managing director of North America at Revelation on one of the biggest second-order effects of the pandemic.
https://digiday.com/?p=363467