'We secretly knew that was bullshit': Agencies face a painful pivot to reality
May 12, 2020 • 6 min read
•
•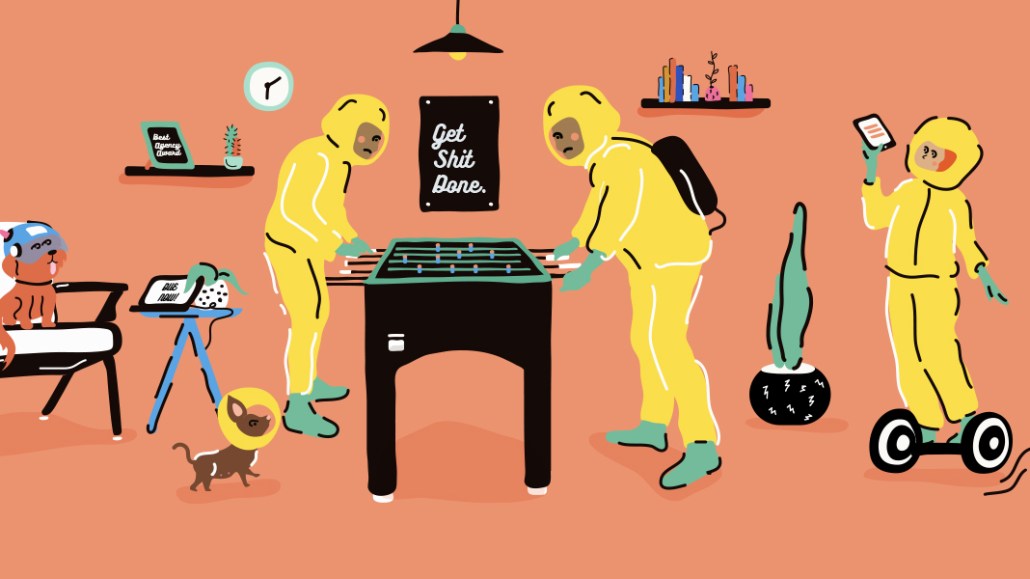 Inside ad agencies, this should be the the final stretch run to Cannes. Shops should be finalizing their submissions, creative directors should be readying their fedoras for the Croisette and the schmoozing on the Carlton Terrace, yachts bobbing in the harbor and the quieter environs of St. Tropez. Cannes is canceled.
So too it seems is much of agency life as it existed before coronavirus. Layoffs and furloughs have hit every major advertising agency holding group. Executives have taken sharp pay cuts. S4 Capital CEO Martin Sorrell has spoken darkly of a "Darwinian cull" of the industry. Even for those who will return to agencies, they can apparently forget about even having ready access to a cup of coffee.
Working at an ad agency has long since diverted from the glamorous life. There are long hours, tough clients and relentless bottom-line pressures. But still, throughout the years, the ad world has retained a fair dose of the fun with the work.
There have been plenty of parties and awards shows with free-flowing open bars, the Soho house memberships, the tickets to Hamilton and box seats for the Yankees. That's along with the Razr scooters at the office and the open-pet policies at work.
Working at an ad agency has meant its fair share of adolescent fun, antics that start with everyone trying to simply land a job to the more high-profile ones once you get there. And even when agencies shut down, like in the case of Barton F. Graf last year, they don't go quietly — a "funeral" is put on, complete with a coffin and a New Orleans-style marching band.
These antics were arguably necessary in the name of talent retention and client courtships, or simply to show they're actually "creative."
But the current crisis is putting a stop to much of this: The halcyon days of the agency business might be truly over and agencies might just be forced to finally take off the backwards ball cap, stop crushing White Claws and grow up.
"The margins just aren't there to support our self-indulgent award shows, office 'concierges' and three-martini lunches," said Rebecca Armstrong, CEO of North. "OK, we're not drinking that much at lunch any more, but the things that have always irked clients about us are under threat and rightly so. We've been flaunting our pampered business lives under the pretense that it's all needed to fire up the best creative. And we secretly knew that was bullshit."
The ad agency market has been commoditized for years. As marketers took capabilities in-house and competition arrived from consultancies and other new entrants, it became harder for agencies to stand out. Of course, talent mattered, but so did the showboating. One way for agencies, especially in the creative industry, had to differentiate was through wining and dining clients, showcasing their specific brand of creativity through their offices, their holiday cards and their people and pitch theater.
Being in client services business, agencies had to shell out in a big way to impress. "Agencies act as high creative entrepreneurs and are far more risk-tolerant than their clients," said Greg Paull, principal at R3 Worldwide, adding that he's heard of an agency building a state of the art in-house kitchen simply to impress one of their CPG clients. "They will think nothing of investing money on research, travel or other areas for a pitch that they might not otherwise spend on their existing clients."
For some, the current crisis gives cover to existing issues, allowing business leaders a scapegoat to point to as the impending recession hits.
"The numbers were not looking very good for the biggest holding companies without this crisis," said MDC Partners' CEO Mark Penn. "This crisis will maybe facilitate change faster but in some sense it buries a problem that was manifesting itself anyway."
Before the coronavirus hit, Penn was already making cuts to whittle down the expenses for MDC Partners, aiming to reduce the overhead to make the business leaner and more nimble. Now, that's all just happening, even faster.
"In the last decade agencies have had to evolve to meet changing consumer wants and behaviors, tougher financial dynamics due to changing client needs, requirements, cutbacks [and more]," said Ann Billock, partner at Ark Consultants. "Now, these changing dynamics have been amplified a hundredfold by the fact that this virus has changed and will change almost every aspect of our society."
Still, the agencies making changes to their businesses prior to the current crisis were doing so slowly, hoping to maintain the status quo as long as they could. Now, as brands reduce their budgets, push agencies to do more with less and see that they can, there is no going back.
"We got too fancy," said Anselmo Ramos, founder and creative chairman of Gut. "Sometimes fancier than our own clients. Now it's the perfect time to have a realistic assessment of who you are, of what kind of agency you want to be, what's your truth, what's your core values. And live by them."
A lot of this was really about the people. To keep the top tier talent happy and to retain the best clients, agencies worked to provide the upscale perks that would keep both happy. And since salaries tended to be abysmally low especially at junior levels, "perks" in the office could make all the difference.
"Talented creatives have prima donna syndrome," said Allen Adamson, co-founder of the consultancy Metaforce. "They want first class flights and extravagant hotels. In the fight for talent, lots of creative gurus ratcheted up their requirements and to keep the best talent agencies had to bestow a lavish lifestyle and throw a lot of money at perks."
Now, as clients are cutting costs and reducing advertising budgets, agencies will have to rethink the size and scale of their offices, whatever office perks they have (be it free snacks, a chef, beer on tap, famous musicians coming in to inspire staff), what business travel looks like, stop wasting staffers' billable hours on case studies for awards, reduce the number of industry events and awards submissions as well as the size of their staff. The excessive spending or what was left of it has to go. Call it accelerated change via existential crisis.
"It's either adapt or die," said Ramos. "The thing is, there was a crisis before the crisis. This event is only exposing our strengths and weaknesses as an industry."
The era of bells and whistles is gone. What was once a tool to recruit top tier talent as the war for talent across the industry raged on will now be deemed unnecessary. When looking at the need to keep a frivolous amenity or maintain a staffer — 40% of expect to have layoffs due to the coronavirus, per Digiday research — execs will choose to keep their talent as agencies are a people business.
"Creative companies need to foster creativity," said Jae Goodman, CEO, Observatory. "Cultures that foster creativity are not by definition weird or childlike — they're just cultures that foster creativity. A pinball machine, graffiti on the wall and kombucha on tap were never the answer anyway, see: WeWork."
Of course, the perks alone weren't the problem. A bigger issue for agencies has been the reliance on the perks and an environment of cool rather than differentiated work to attract talent and clients alike. Without valuing the work, agencies sell themselves short.
"The industry is undervalued; we give away work for free," said The Martin Agency chief growth officer Michael Chapman. "Sadly, many clients pay their lawyers more to mitigate risk than they pay agencies to create value on their balance sheet. In all situations, we have a choice to reinvent and an opportunity to prove our worth."
Of course, not all agencies will be able to adapt to the new reality. "There's going to be a bit of 'agency natural selection,'" said Ramos. "The leaner, faster, more adaptable you are, the better chances you'll have to navigate this crisis."
https://digiday.com/?p=366631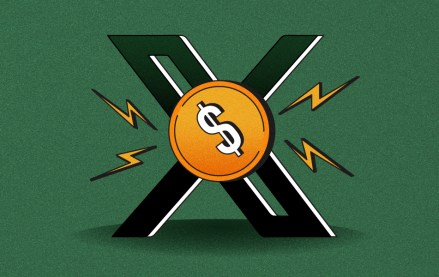 December 4, 2023 • 4 min read
Less competition for ad inventory means lower prices, but at the cost of associating with a platform facing ethical challenges.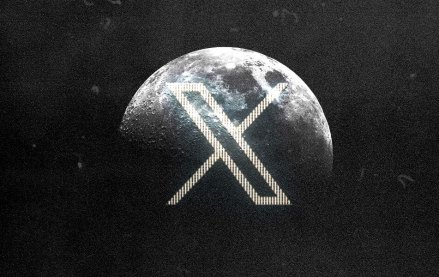 November 30, 2023 • 4 min read
In the packed DealBook conference in New York yesterday, owner Elon Musk bluntly told them to shove it.
November 30, 2023 • 2 min read
WorkTok, or CareerTok, is in full force. Combined, those hashtags on TikTok have over four billion views and it is benefiting Gen Z.