Vuori founder Joe Kudla: You don't want a VC running your business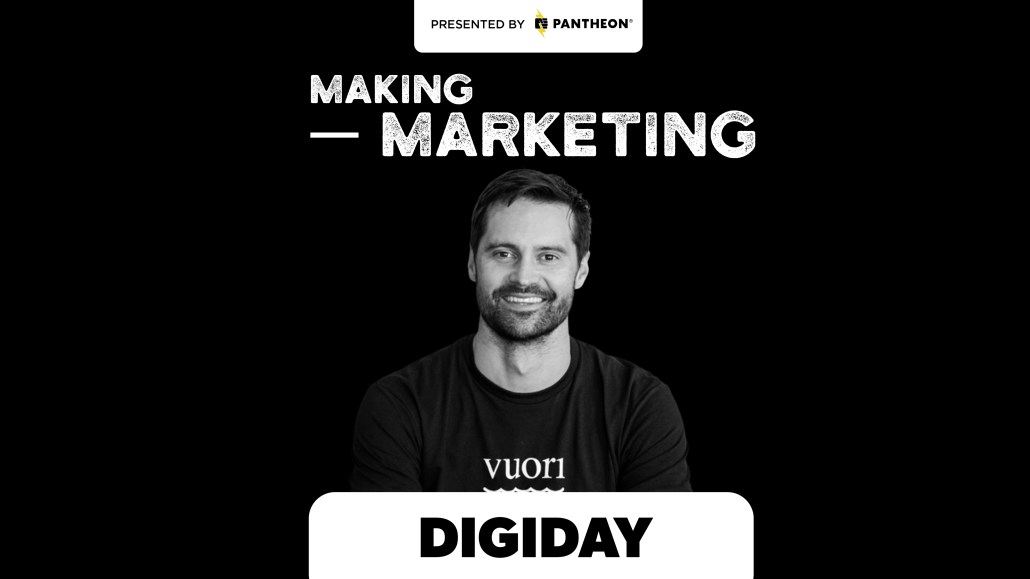 Subscribe: iTunes | Google Play | Stitcher | RSS | Anchor
Vuori clothing, an athleisure brand launched in 2015, is a rarity: The company, which does do most of its business direct-to-consumer, has a healthy wholesale operation, a few physical stores of its own and has raised only a small angel funding round to date. The company's founder, Joe Kudla, joined Digiday on the Making Marketing podcast to talk about why it was important for his business to not go down the VC-funding route when it launched.
"It's nice if you can prove your concept with friends and family and be a little more in the driver's seat in terms of who you partner with," said Kudla, who said Vuori made more than $20 million in revenue last year. "If you go straight to the VC community pre-revenue, they're going to dictate terms often terms. You don't want a VC running your business. There's ways to find incredible investors that will be helpful to your business and support the growth you've defined and built. Vuori will do something institutional, it's on our roadmap."
Kudla discusses Vuori's approach to Facebook, why fundraising is best done cautiously and more. Edited highlights below.
Facebook has evolved.
"We were fortunate to be early in Facebook advertising in 2015. It has been a great channel for us. Our CPAs are continuing to go down as we learn more about our customer and get better at serving better and different types of creative and copy. Some people do that with agencies but we've chosen do that in-house so we can be really nimble. It's helped us to learn hard lessons, while navigate quickly without losing a lot of money. We knew that eventually Facebook would evolve. Although they're a huge part of our mix, we couldn't be completely beholden to them. We got intentional last year in diversifying our mix. We started investing more heavily in search shopping, native advertising and podcast advertising."
Stores have to be profitable.
"We view our stores as community hubs. [Our is] one-third an art gallery, a pop-up retail store and then an office out of it. We would have an art show, a yoga class, we'd bring in bands and food and it became a physical manifestation of brands. The meaning of a store has evolved. It's important that stores are profitable. Some people argue that they will attribute online sales to stores. [But] smart retailers are also profitable. You don't want to bog down your ability to acquire customers online through unproductive stores. It sets you up for a lot of risks. We view our stores as a way for customers to return products. If they buy online, they can drop it off at our stores. It's a great way for people to have a brand experience and the stores provide that."
Omnichannel is important.
"When we launched, we thought we'd be more omnichannel out of the gates than we were but the wholesale market wasn't responding to the brand. We knew we'd have to build it directly with the customer. A lot of the wholesale accounts were still trying to figure out how to address the women's market. Men's [market] was an afterthought. DTC is still the largest part of our channel but the right partners that are committed to telling our story, merchandising the product well, following our pricing and promotional agreements, would be an integral part of getting this brand off the ground and scaling it as fast as we have. There are benefits of being pure-DTC but I don't know if they outweigh the benefits of the omnichannel strategy."
https://digiday.com/?p=337616