This is the third story of a four-part series looking at brands that are pushing the envelope and taking risks in digital. It is brought  to you by Vizu, A Nielsen Company, the leader in measuring digital brand advertising effectiveness.
When Anthony Weiner's sexting scandal came to light, he did all the wrong things. He waited to respond, he denied and denied it and then finally fessed up. Weiner's image was forever damaged. In the age of social media, brands can stand to learn a thing or two from Weinergate and how not to handle a crisis.
When it comes to being innovative as a brand these days, it's all about real-time responsiveness. But sometimes taking chances with real time means making mistakes. What's important for brands is to understand how to quickly put out these fires. Digiday spoke to several brand execs to get their views on how to handle social media mistakes and also looked at well-publicized brand social media mistakes to get a better understanding of some best practices and what not to do. One thing became very clear: Planning, paying attention, acting quickly and being honest are all key steps in handling social media mishaps gracefully.
Here are a few tips for how brands should best handle these sticky social media situations.
Listen to your community. Brands need to have a firm understanding of what kind of tone and content their audiences like. This will help brands avoid off-color remarks in the first place. If a brand does say something that upsets its audience, then responding in a manner that fits the severity of the situation is also important.
"There is definitely a personality to the community…certain issues come to the floor over and over again," said Jonas Paretzkin, director of PR & social media at ConAgra Foods at the Digiday Brand Summit. "If you can have a response to those [issues], that's a good start."
Have the right team. Social media is the voice of a brand. That's a big responsibility. Brands need to make sure they have the right team of people in place who are equipped the right technology to monitor. There have been plenty of stories about brands having to fire social media managers for acting irresponsibly. Most recently Reuters' social media manager turned out to be behind some very sketchy activity, and we all remember the guy at Chrysler who tweeted about people's driving skills in Detroit. Brands need to know whose hands they are leaving their image in.
Plan, plan and plan. Brands need to plan ahead for disasters.  While being real-time seems like it happens quickly in the moment, things like the famed Oreo blackout tweet are a result of lots of planning and social media monitoring. The same goes for dealing with social media mistakes. Not only should brands plan ahead for mistakes so that they don't happen, but they need to have a plan in place for when something does go wrong.
"You have to live by the mantra that failing to plan is planning to fail," said Christian Borges, svp of marketing at MRY.
Act quickly. This is the age of real-time marketing. It's all about responding and reacting to events as quickly as possible. The same goes for reacting to mistakes. Silence and lag time are the worst ways for a brand to deal with a social media mistake.
When Burger King's Twitter account was hijacked, it took the brand a full hour to suspend the account and deal with the aftermath. Within the hour, the hackers did a lot of damage, tweeting truly inappropriate things, like pictures of someone shooting up and tons of profanity.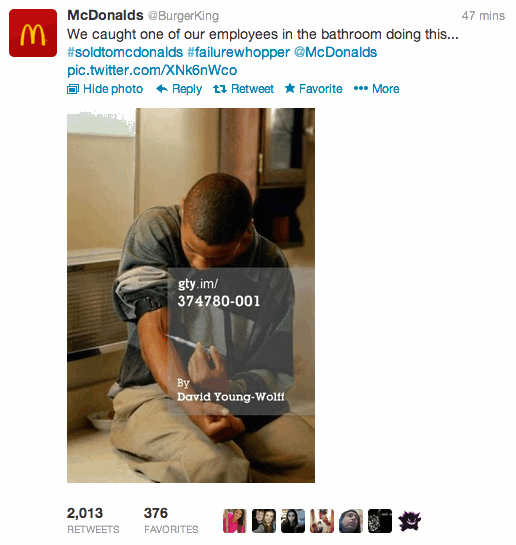 Be transparent.  "Own it and respond to it as soon as possible," said Victor Reiss, director of digital and social channels at FedEx, during a panel at the Digiday Brand Summit. Both Reiss and Paretzkin stressed the importance of transparency in handling mistakes. Brands need to be clear with their audience about what happend and why something is being deleted so that they feel informed and that the brand is being honest.
Turn a bad thing into a positive. Bad things happen to good brands. No matter how prepared or fast a brand is, sometimes mistakes happen that are beyond its control. The best way to resolve those situations is making the mishap into a positive, either with humor or working out a new solution.
When a Red Cross employee accidentally tweeted from the company account rather than her personal account about drinking Dogfish Head beer and getting drunk, she did the right thing and immediately tweeted to clear up the situation: "Rogue tweet frm @RedCross due to my inability to use hootsuite… I wasn't actually #gettingslizzard but just excited! #howembarassing." Red Cross similarly acted in good taste and with a touch of humor by tweeting, "We've deleted the rogue tweet but rest assured the Red Cross is sober and we've confiscated the keys." Red Cross already did a good job of handling the situation, but they got some help from Dogfish Head. The beer brand and its fans turned the #gettingslizzard into a fundraising campaign for Red Cross.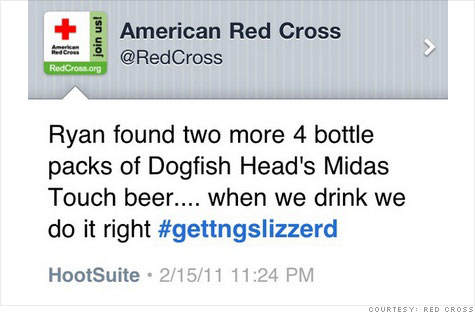 Turn off auto-tweets during national crisis. You don't want to be that brand that sends out a tweet about an awesome sale when the whole country is mourning a tragedy or keeping their eyes and ears open for important news. There are unfortunately many examples of brands that have done this, like the Mutual of Omaha tweet about life insurance right after the Sandy Hook shootings. Even worse than not turning off auto-tweets during sensitive times is when brands intentionally tweet out sales or product announcements during national disasters, like Urban Outfitters tweeting about free shipping during Sandy and American Apparel tweeting about a Sandy sale. Don't be that guy.
Don't do canned responses. People want to see the human voice behind a brand and are more likely to forgive a human than a robot with a cookie-cutter response. Epicurious sent out some insensitive recipe tweets right after the Boston Marathon bombings. Rather than respond in a thoughtful, personal manner, Epicurious sent a bunch of copy and paste apology tweets to people and didn't release a more thoughtful apology statement. Bad move.
In the age of real-time content marketing, it's all about being prepared and being quick to respond to all situations, good or bad. People want to feel like brands aren't just faceless corporations that are shoving advertising down their throats. Social media gives brands a chance to show their senses of humor and their personalities. But social media left unattended or poorly planned can show brands in an unflattering light.
 Image via Shutterstock
https://digiday.com/?p=38987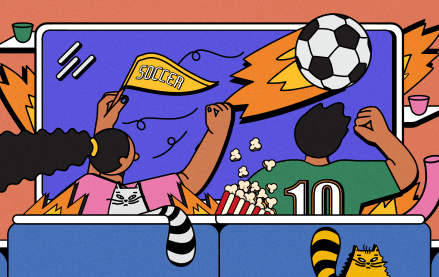 December 1, 2023 • 4 min read
Even if a game isn't make or break, sports leagues and brands want fans to be paying attention — and they're hopeful new strategies will get it.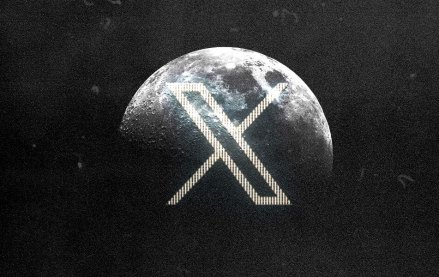 November 30, 2023 • 4 min read
In the packed DealBook conference in New York yesterday, owner Elon Musk bluntly told them to shove it.
November 30, 2023 • 2 min read
WorkTok, or CareerTok, is in full force. Combined, those hashtags on TikTok have over four billion views and it is benefiting Gen Z.