#TheHustler: How Gary Vee became the ad industry's lightning rod
April 25, 2017 • 9 min read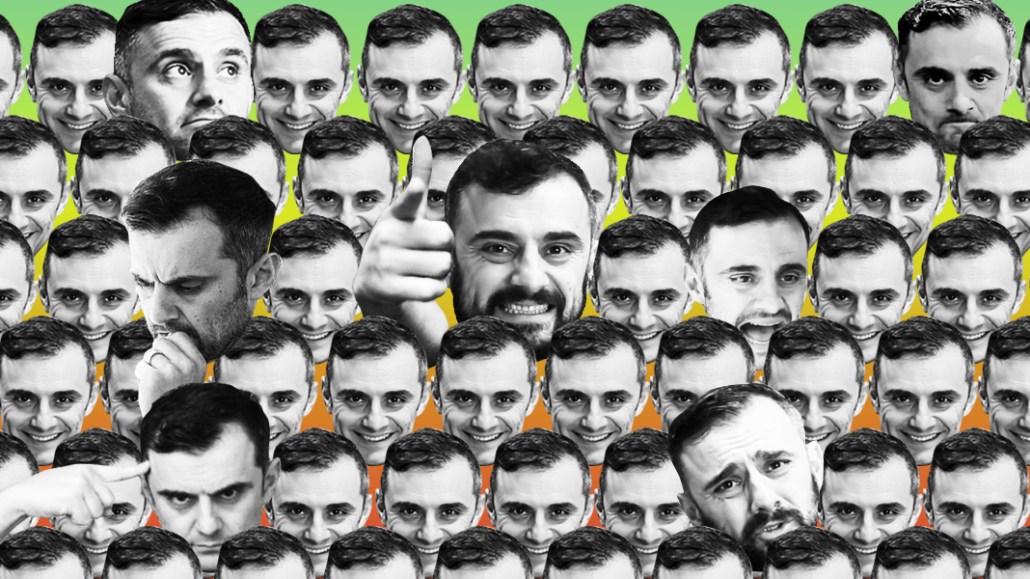 GE bigwigs Beth Comstock and Linda Boff had just finished a two-hour breakfast with Gary Vaynerchuk at SXSW in 2012 when they saw Vaynerchuk tweet about a party he was throwing. When they showed up, people were already lined up around the block. There was a DJ, and people were dancing while Vaynerchuk held court, pouring wine for guests.
"This was a lab for him practicing what he preached," said Comstock. "You could see that."
Vaynerchuk's social media hustle and wake-up-and-grind philosophy has won him legions of impressed clients and attracted eager young talent. He's used them to help propel VaynerMedia — known simply as Vayner — from a social media agency into an increasingly full-service agency with 700-plus employees. Vayner claims to have $100 million in revenue and to be on track to make $125 million in 2017. GE is one of its longest-serving clients, and it also counts AB InBev, Chase and Mondelez among its customers.
Vaynerchuk's persona has equally made him the subject of envy and derision. Talk to one person, and you'll hear how Gary Vee is fucking with the status quo. Talk to another, and you'll be convinced he's a charlatan who uses his personal charms to sell clients a big, juicy nothingburger. One person called Gary Vee, as he's known, the "Donald Trump of advertising" and the "Andrew Breitbart of the industry" in the same breath.
The company has been on a rollicking growth spurt, but it's had some stumbles as well. In November, it closed its San Francisco office. In January, and then again in early April, it went through rounds of layoffs. Former employees said the cuts happened because VaynerMedia overestimated how much business it would win.
Vaynerchuk explained them differently. "Too many people slows us down," he said. "I care about speed."
How he grew
That he does. When Vayner started in 2009, few brands or agencies knew how to do social media. The first employees were mostly young community managers that handled bigger brands, one employee recalled. As social budgets grew, Vayner made a name for itself because it knew how to make GIFs — and more importantly, price microcontent. For one of its first clients, the New York Jets, it got many of the team's players to start using Twitter and conducted social media stunts, including a virtual version of the "J-E-T-S, Jets! Jets! Jets!" tagline.
The agency has since pivoted from doing microcontent and social media to being about "storytelling" and being a full-service agency. The agency now competes in major pitches against big, full-service firms, from Droga5 to Deutsch.
Vaynerchuk said the company has brought on more media and video capabilities (the agency is opening a new studio in Long Island City) and "creative firepower."
"I learned a lot about the industry the last couple of years," he said. "The ad world is heading towards a place we play in."
The evolution comes at a time when clients are talking more than ever about taking content and social content in-house, something that gives observers pause about Vayner's ambitions. Naturally, Vaynerchuk disagrees. "There is a sector of the industry where in private meetings they understand that Facebook video is not an anomaly," he said. "There remains a lot of prestige put on TV commercials, and money allocations haven't changed a lot."
As evidence of his lofty ambitions, Vaynerchuk is also expanding his empire, adding "publisher" to his own repertoire. In January, Vaynerchuk purchased PureWow, a women's lifestyle publisher. As part of the deal, he created The Gallery, a new company that will house PureWow, and build and acquire other publishers. He bought it in partnership with RSE Ventures, a venture firm whose chief executive is Stephen Ross, a real estate developer and owner of the Miami Dolphins. 
The real-estate connection shows how Vaynerchuk is nothing if not connected. Ross owns Related, the real-estate firm whose projects include 10 Hudson Yards, where Vaynerchuk leases space for VaynerMedia.
"I don't think publishing will go away," said Vaynerchuk of professionally produced content. There's some ego, too: "I hoped to be the first person to do the agency-as-publisher thing. I was excited I could pull that off. I like that kind of stuff."
Bro culture
Like many of its ilk, Vayner grew on the backs of legions of young, green employees who climbed the ranks quickly. One former employee who started her career at Vayner went from a low-level community manager and ascended the ranks at a rapid pace in three years. Another former staffer started as a $34,000-a-year community manager, then vaulted first to a strategy, then a copywriting role. Sometimes people rose too quickly: One staffer said that many people had absolutely no idea what they were doing on certain projects. 
That seems like it hasn't changed: Vaynerchuk said the company will announce 71 promotions in the next two weeks.
The office is frenetic and fast-paced, and at times, unforgiving. Social content teams operated on ironclad publishing schedules that necessitated new pieces of content every day. Often shot on the staffers' personal iPhones, the social content was then disseminated across brands' social accounts. People got fired for a typo on a tweet despite an official "three strikes and you're out" policy. There were lots of brainstorm sessions — so many that one former community manager said it "felt like the parody of a brainstorm."
It was the way of the time: Brands were willing to take risks on social media. "They wouldn't want a random 24-year-old making TV commercials," said the former employee who started in community management. "But they were OK experimenting with social media."
Culturally, former employees paint a picture of a chaotic, bro-tastic place.
"It was like being back in college," said one former community manager who left because he wanted to get paid more. "And I'd just graduated from college, so I loved it. We hung out on weekends. It was familial."
Another former staffer said while interviewing at Vayner and other companies, he didn't have any clean clothes left by the time it came for his Vayner appointment. He emailed the interviewer, saying he'd "be the one in the Hawaiian shirt." The reply came: "You'll fit right in."
Last summer, an invitation went out in Cannes, France, for a party sponsored by Vayner and Thrillist that requested "attractive females and models only." (In classic Vaynerchuk fashion, he responded quickly, with social videos saying he was mortified and taking responsibility; his responses went viral immediately.)
To some, the emphasis on collaboration went too far. One former staffer said interviews were often about "would you want to get a beer with this person?" "That wasn't a bad thing. I did get a lot of beers with coworkers. But in hindsight, it was not the most important thing to look for. It created a sameness. There wasn't any room for introverts."
And in the middle of it all was Vaynerchuk. One staffer remembers him coming up to her and talking about a piece of work she'd done. "I like the Gary who sits down with you and remembers everything," she said, versus the Gary who is a social media master. "He'd always know what was going on. He even knew who was hooking up with who."
Vaynerchuk prides himself on being all-knowing. He said he often makes an "intuitive call" on hires to find out what matters to people. "Are they about money? Or title? Do they want more work-life balance? I should be able to engineer that," he said. "As CEO, do I need to feed them on salary or vacation time?"
Growing up
The company has shed some of that early vibe. Scott Heydt, Vayner's former CFO (his business card read "CFbrO") who left in November, said turnover was "incredibly low. Of course, there were people who left, but we had people who came back, who realized making $10,000 more was not enough reason to switch jobs," he said. Heydt and Vaynerchuk pushed for financial transparency: Everyone in the company knew what revenue was, what vulnerabilities were. 
There are now 150 or 200 people who have been there between three and five years, which has created a sense of continuity, Vaynerchuk said. The company now has a C-suite, with a chief operating officer, CFO, a chief creative officer and a "chief heart officer," another new-media title for a human resources and culture chief. "We've matured," said Vaynerchuk. 
Vaynerchuk said he still wants to encourage camaraderie in the office, but at the same time, he realizes he can't be "the 48-year-old going to a club in Brooklyn" with co-workers, he said.
Vaynerchuk vs. VaynerMedia
Everyone, including Vaynerchuk, recognizes the big problem for the company is Gary himself. The company is an extension of the man; clients sign on to VaynerMedia because of him, and that's hard to scale.
"The power of Gary's braggadocio got [Vayner] a lot of scale," said Greg Paull, co-founder of consultancy R3, which named VaynerMedia one of its 40 most innovative social media agencies this year. "Every client wants to work with him."
At the same time, marketers are taking social in-house. Mondelez has brought on more writers; Adidas is setting up a social newsroom. "That's going to be Vayner's challenge," Paull said.
Competitors gripe that VaynerMedia takes advantage of clients who are naive about social, that confidence isn't enough to build a business, that it's a house of cards that'll fall down. Some of this smacks of industry protectionism: Vaynerchuk is an ad industry outsider who used to run his family's wine retail business. VaynerMedia didn't cozy up to the 4A's. "[Vaynerchuk] embraces that with a giant bear hug," one major agency CEO said with admiration. "Everything is disproportionate for Gary. It's an outsized company with an outsized personality."
Vaynerchuk has honed a personal brand that now numbers 1.4 million Twitter followers. Before noon on a recent weekday, he had tweeted four times, about an interview on stage with Salesforce, a podcast episode from "The Garyvee Audio Experience" and his own inspirational quotes. He flies around the world, speaking at conferences and charging top dollar for it. There's no doubt that clients like that stuff. But for others, running a business means being in the building.
"How big can Vayner be?" said one former employee. "What is Vayner going to look like? Is it equivalent to Gary, or is it just one part of him?"
For his part, Vaynerchuk doesn't see any conflict between his brand-building activities and the health of his company. 
"People are confused. It seems like they think because I'm blogging I'm not here. Ninety percent of the time, I'm the CEO of this company. I think I put myself out there, but I don't see those as challenges. I mean, what was the biggest vulnerability for the Chicago Bulls? It was Michael Jordan."
https://digiday.com/?p=232121
September 28, 2023 • 4 min read
Some content creators are using generative AI tools to spark new levels of creativity and innovation and are sharing their experiences online in how they're using these tools to streamline their workflows and boost productivity.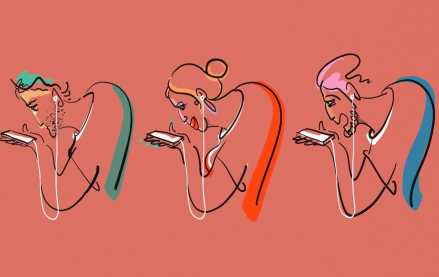 September 28, 2023 • 6 min read
In this edition of the weekly Digiday+ Research Briefing, we share focal points from Digiday's recently released reports on marketers' evolving social media tactics, including how they're using Facebook less and diving into YouTube Shorts more.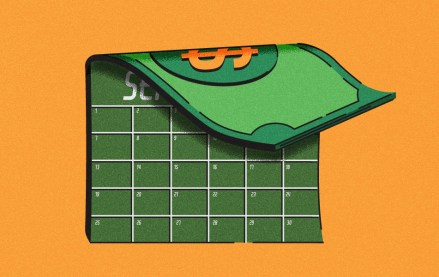 September 28, 2023 • 4 min read
In 2023, some brands' executive boardrooms are still insulated from the chill of crypto winter, for better or worse. But the rising pressure of crypto skepticism has made it more urgent than ever for companies to figure out how to use blockchain technology to support their core offerings and customer base rather than simply dropping branded NFTs and hoping for the best.