Snap's new president of Americas and global partnerships talks returning to revenue growth after a rocky 2023
November 15, 2023 • 6 min read
•
•
Things may finally be looking up for Snap's business. The social media platform has been struggling to turn user attention into ad dollars since last year and thus, spent the bulk of 2023 in the red with depressed revenue. But Q3 could be a turnaround point if Snap can maintain momentum.
Snap doubled down on its AR capabilities with the goal of it being a selling point for advertisers. It even launched, and quickly sunsetted, an AR Enterprise division that vowed to give advertisers AR tools. Still, marketers saw Snap as a nicety rather than a must have as AR has yet to prove itself in value beyond entertainment and marketing stunt headlines.
At the same time, Snap was weathering leadership changes as its first and former president of the Americas, Rob Wilk, exited after a short tenure, and its chief operating officer Jerry Hunter retired. Since then, Meta's former VP of global channels Patrick Harris, in September was promoted from SVP of partnerships at Snap to fill Wilk's role as Snap's new president of Americas and global partnerships.
It's been a slow build back. In Q1 of this year, the company reported $989 million in generated revenue, a 7% decrease year-over-year. In Q2, the company raked in $1.068 billion, a 4% year-over-year decrease. But after a bout of improvements to its ad platform by way of investing in measurement, enhanced ad ranking and machine learning model updates, Snap hopes Q3 proves to be a turning point. By Q3, Snap was in the black, reporting 5% year-over-year revenue growth to reach $1.189 billion.
Digiday caught up with Harris to talk about plans to continue Q3's growth, getting Snap's ad business back on track and standing out in a crowded digital ad landscape.
This conversation has been lightly edited and condensed for clarity.
You've only recently stepped into your role as president of Americas at Snap in light of Rob Wilk's exit. How has that transition been? Is it a permanent change?
I joined Snap back in May to lead the partnerships organization and then had the opportunity about six weeks ago [in September] to also take on the president of Americas' role. It's been really energizing. I've been very much focused on what I've been describing as the five Ps. (One of them is not for Patrick. I'll just preface that.) It's really around our people. It's around our partners. It's around our products, our process and ultimately, how are we driving performance for our partners in what is one of the most critical seasons of the year for many of the stakeholders that we serve. I'm still in the understand phase and really coming up to speed and all of my onboarding. This is a permanent change.
Economic headwinds have made business tough, but Q3 has been hopeful for Snap with an increase in quarterly revenue. How is Snap getting its ad business back on track to ensure Q3 wasn't an anomaly?
Q3, we saw a lot of positive things. The first and foremost was a return positive revenue growth. That plus 5% year-on-year, again, was a strong signal that things are turning. A huge milestone, as well, in terms of just overall user growth — so 400-million DAUs (daily active users), continued progress, really improving the ad platform, making sure advertisers are getting the value that's commensurate with the audiences that we have and the type of content that we provide, and making sure we're connecting those user experiences to businesses and that they're driving outcomes, and then really momentum around a lot of our key unique products as well. [After publication, a spokesperson clarified Harris' comments that it is over 400 million.]
What were the contributing factors to that recent growth?
There's a number of things on the key revenue initiatives. One ad ranking, using that machine learning model to incorporate a broader range of signals and a bunch of features that allow those larger models, more precise predictions and being able to make sure we're showing the right ad to the right person at the right time. Improving the signal quality, as well, for our largest advertisers, especially in this privacy-centric world that we now live in, and making sure that we have higher quality signals so that people are using things like the Snap Pixel or they're implementing things like our conversions API to help drive better performance of their ad campaigns is another place.
We launched some new brand and takeover products. Those include things like our First Commercial, our First Lens product or First Story product. The small to medium sized business momentum, this is an area that the company has been investing in now for at least the last 18 to 24 months, and really starting to see some better momentum there in Q3 as well from use of some of our products, like our 7/0 Pixel Purchase optimization. It actually drove a 26% uplift in spend per advertiser in that segment. Last but not least, there was continued momentum for our sponsored AR products as well. That's really doing a good job of driving business outcomes and driving things like brand lift as well. So, you see, there's a lot of different dimensions across the board. But, when you put them all together, that's why you saw a return to growth in Q3.
Thanks to generative artificial intelligence, AR is becoming more crowded. What's Snap's plan to stand out from the competition and take back ad dollars from the likes of TikTok and other competitors?
It's very unique to Snap. We open to the camera. A lot of those opportunities for brands, but also for how people, are able to creatively produce on the platform, it's native and accretive to what people expect to do inside of the Snap environment. I'm really proud of the work that we continue to do with developers around AR. But also, it's awesome to just see advertisers more creatively using AR to drive more things like brand awareness or intent or driving some of their upper funnel metrics that they have within their MMM (media or marketing mix modeling) models around brand lift. I would also say that off-platform, the role of AR is also providing a significant opportunity for Snap. So if you've been to a WNBA game at the Barclays Center or if you've seen a football game at SoFi stadium, or if you've gone to Lollapalooza or any Live Nation concert this past summer, our ability to integrate things like our camera kit technology into these venues, and these experiences that happen offline, is also a really powerful part of AR. Melding those online to offline experiences using AR as the tool is a really unique superpower for the company and one that really enhances experiences for consumers and businesses.
How does AI fit into this? There's recently been more AI integration into AR. How is Snap approaching that?
We launched a feature called My AI that has reached at this point over 200 million Snapchatters and over 20 billion messages have been shared there. My AI has a lot of consumer-facing benefits for people. But then, it'll also help us do a better job at helping targeting the right messages to the right people over time as well, as our ad systems continue to get smarter.
After a turbulent year, what would you say were the biggest learnings from 2023?
One of the things is just continuing to be very focused on customer and client outcomes. To the extent that we can continue to be a really critical part of helping advertisers reach their objectives, helping them find new audiences, helping them increase the value of their marketing campaigns and their effectiveness, that's just where we tend to be laser focused right now.
https://digiday.com/?p=525788
December 8, 2023 • 3 min read
For Atlas Creative, expanding into Roblox is not solely a play to scale up. The company believes there are concrete benefits that will come with having a hand in multiple metaverse platforms.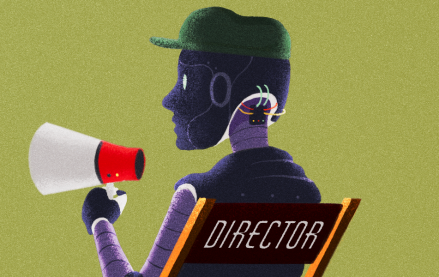 December 8, 2023 • 5 min read
Since ChatGPT became a breakout hit, the names of numerous AI companies and products have entered the cultural vernacular.
December 8, 2023 • 4 min read
Even as linear TV ad spend declines, 23andMe is reinvesting in the channel to boost brand awareness.