Snapchat's AR is still a work in progress in the eyes of marketers
October 4, 2023 • 7 min read
•
•
This article is also available
in Spanish
. Please use the toggle above the headline to switch languages. Visit
digiday.com/es
to read more content in Spanish.
Snapchat's AR aspirations have hit a reality check.
The social platform is doubling down on the goal of transforming augmented reality into a formidable ads business, while ditching its original idea of creating AR tools for businesses. This shift could prove to be as shrewd as it was imperative, especially in light of advertisers' persistent reservations over allocating substantial budgets to AR.
That's not to say AR advertising on Snapchat is a total miss. Retail advertisers, for example, are enthusiastic spenders on the company's AR ads. Yet, Snap's AR ads remain far from a mandatory choice for every advertiser across all industries. That's the view of 16 ad executives interviewed for this article both before and after Snapchat shut down its enterprise AR division last week.
Brittany Eber, CEO of marketing agency Block & Tam, expressed her view that Snapchat's AR capabilities are still evolving, suggesting that they may not be essential for every advertiser at this moment. However, she emphasized the value of AR advertising as a powerful tool for advertisers to engage with their audiences in an interactive and immersive manner. Consequently, she also expressed disappointment upon hearing the news of Snap's closure of its AR enterprise division.
"I'm hopeful that Snapchat will continue to invest in AR and develop advanced features to further enhance effectiveness for brands," she added.
It's a view not lost on Nick Jones, head of social for EssenceMediacom's EMEA business, who works with Snapchat to develop AR assets for clients. He pointed out that, while Snapchat wouldn't be central to every client's strategy, those which have used AR have seen impressive incremental results when pairing AR with Snapchat's video solutions. However, Jones didn't divulge figures of those results or specify exactly how many of EssenceMediacom's clients use Snapchat's AR.
Needless to say, it's a work in progress.
With that said, a Snapchat spokesperson told Digiday that the company works with "the world's biggest brands to build creative AR experiences that deliver engagement, brand loyalty and real business results," — some of those big brands include OPI, Disney, Tiffany&Co and Rimmel.
"For these partners, AR is an important part of their marketing strategy," the spokesperson continued. "Our research shows consumers not only want these experiences, but expect them — that's why over 250 million Snapchatters engage with AR every day, playing with Lenses over 6 billion times per day on average."
Examples of Snapchat's AR successes include MGOMD, which did an eight-week campaign for Specsavers using a multi-product approach that included AR. According to the platform, the AR lens used in the campaign drove a 5.42% share rate (2.5 times above benchmark) and generated 28.78 seconds of playtime on average.
Another highlight was lifestyle accessories brand Fossil, which achieved more than 60,900 lens shares. During the campaign, Snapchat's AR technology also drove an average lens playtime of 12.67 seconds, as well as 219 purchases at a conversion rate of 1.45%.
"Snapchat's AR can be highly effective as it offers unique opportunities to engage with users through interactive and immersive experiences," said Bettina Traurig, Head of Paid Social, Performics @ Zenith UK.
However, whether this is a must-have or a nice-to-have depends on how established the client is, continued Traurig. Less established advertisers can come up against budget challenges when it comes to things like AR activations, even though these are the brands who can really benefit and feel the impact from the competitive advantage that AR brings, she added.
"Fortunately, AI has already reduced the costs and simplified the process of using AR making it more accessible," said Traurig. "It's up to us as partners to work with our client to make sure the investment from them in this technology delivers effective outcomes. It's an exciting time and I'm looking forward to watching how brands use this opportunity and truly make use of the format to get ahead and cut through."
Challenges remain ahead
The fact is, AR was one of the hottest things in tech for a number of years, and when Snap's AR filters first emerged, they ignited a blaze of excitement. As Marcus Collins, clinical marketing professor at the University of Michigan pointed out, Snap was there to capitalize on the technology as an early mover. "They [Snap] even got there before Facebook/Meta, despite the company's move to double down on the metaverse," he said.
But as Jasmine Enberg, principal analyst, social media and Insider Intelligence pointed out, advertisers are still, in some cases, trying to understand the value of AR beyond entertainment. "Snapchat's AR remains a tough sell, given that advertisers still largely regard it as an experimental ad format," she said.
While Snap can hold its head high as a tech innovator, attention has shifted more recently to artificial intelligence, meaning there is much less emphasis on AR as a new creative tech. But there could be renewed interest in the technology next year after Apple launches its augmented reality headset, the VisionPro.
The previous pitch
For the moment, Snapchat is likely reevaluating its strategy and coming up with a new and improved AR pitch to advertisers. Meanwhile, an AR one-pager that was shared with Digiday shows how Snap was pitching the technology to marketers a year ago.
The one-page document rattled through some headline stats on who was using AR on Snapchat and how — defining them as the Snapchat generation. Then it switched gears to talk about why AR is good for marketing.
Much of the information included was already well-known, such as Snapchat's total monthly active users (750 million), total Snaps per day (5 billion) and the number of people using AR per day (250 million). But it also served as a concise message that Snapchat had always seen AR as a full-funnel play, capable of driving conversions just as much as it is doing the same for awareness.
The bit that really stood out is where the one-pager stated that AR could drive $3 return on ad spend — nearly a fifth higher than other digital advertising formats.
But ROAS can and does vary per client.
Kevin Goodwin, vp of performance marketing at New Engen, said he has some clients pushing Snapchat to a $1.50 new customer ROAS because they are comfortable with those economics for their business. Other clients are well above the $3 ROAS the one-pager stated because their margins are lower and they are more focused on immediate profitability.
Clearly, there are a lot of moving parts to a campaign that need to align for those sorts of numbers to pop off. But a $3 ROAS stat is certainly one that would catch marketers' attention — just like Snap's one-pager. It's essentially a way to generate interest in what is widely seen as a bit of a gimmick in marketing circles — a nice-to-have format on a plan, rather than a must-have right now.
Or to be more specific, when AR on Snapchat clicks with marketers, it's a resounding success. However, the hiccup is that it hasn't quite hit the mark for a broad spectrum of them. It remains to be seen whether Snapchat can change this.
Six of the 16 marketers who Digiday interviewed for this article, including Danielle Carter, paid social account director at Croud, did agree that they've seen strong performance on Snapchat more broadly, with the right audience and with the right product. In their eyes, the platform does have a good grasp on Gen Z and younger millennials, and subsequently can be a good place to spend money.
Simply put, AR does work on Snapchat, but mainly for specific niches, like retail, in these instances. It goes back to that education piece for advertisers. Snapchat is still mostly used for communication and entertainment purposes, hence why AR has been considered more of a gimmick rather than a legitimate marketing tool.
"AR doesn't make sense for every campaign," said Adam Telian, vp of performance marketing at New Engen. "It's either got to bring an entertainment value or the usage that makes sense to get more out of consumers exploring your [a brand's] product."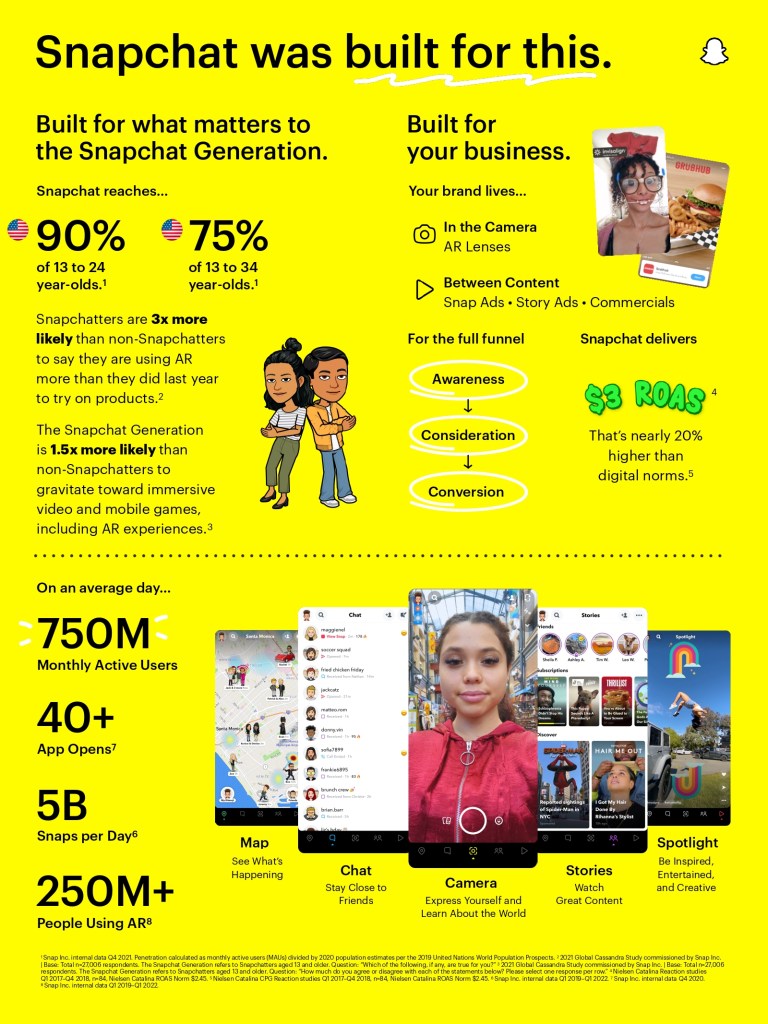 https://digiday.com/?p=520369
December 8, 2023 • 3 min read
For Atlas Creative, expanding into Roblox is not solely a play to scale up. The company believes there are concrete benefits that will come with having a hand in multiple metaverse platforms.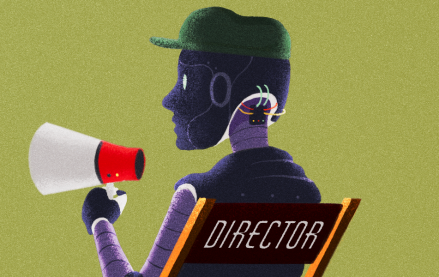 December 8, 2023 • 5 min read
Since ChatGPT became a breakout hit, the names of numerous AI companies and products have entered the cultural vernacular.
December 8, 2023 • 4 min read
Even as linear TV ad spend declines, 23andMe is reinvesting in the channel to boost brand awareness.