The Rundown: The industry jumps on the blockchain bandwagon
August 16, 2017 • 5 min read
•
•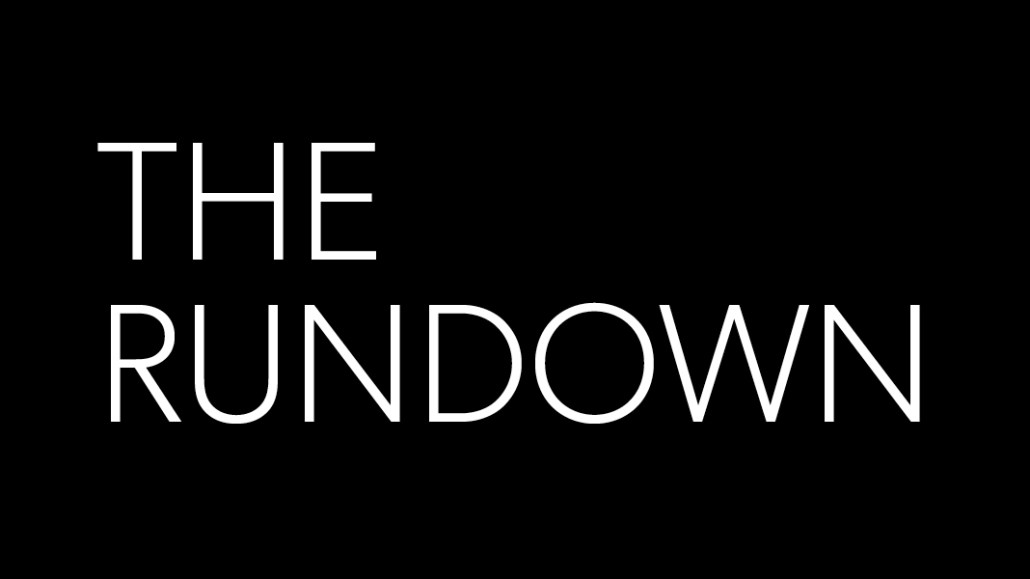 It seems like the latest technology to get the marketing world hot and bothered is blockchain. Previously relegated to discussions of bitcoin, using the blockchain — essentially a decentralized, ultra-secure Excel sheet — for solving many of digital advertising's woes is en vogue. Here's everything blockchain is purportedly hoping to do:
Reward and pay creators for making content.
Make ad buys by pooling data securely on the blockchain.
Ensure ads are seen and record who has seen them by tagging them.
Incentivize people using cryptocurrencies to police the internet and determine which publishers are fake and which are real.
Mattr, an influencer marketing company, is using smart contracts to handle digital contracts for influencer marketing campaigns.
And some big names are involved. The IAB is reportedly developing a working group to figure out if blockchain could in fact solve ad fraud, while Comcast has teamed up with a who's who of brands, including Disney, to help them pool their data together to make better TV ad buyers. In China, a media platform developed on the blockchain has produced 7,000 "intelligent screens" in multiple cities that will target and personalize ads to individuals.
Reality check: Of course, the excitement about blockchain is far removed from the reality: Blockchain remains narrowly adopted and mostly theoretical. Most of the companies doing the above are still in the "proof of concept" (read: public relations) stage — most won't have anything to show until at least six months to a year from now. Still, it's nice to have something new to get pumped about beyond header bidding. — Shareen Pathak
The Trump effect
On Monday, Kenneth Frazier, CEO for pharmaceutical company Merck, announced he was quitting Donald Trump's American Manufacturing Council amid criticism of the president's remarks about the protests in Charlottesville, Virginia. Within an hour of Frazier's resignation, Trump criticized the CEO on Twitter, saying the move would give the CEO "more time to lower ripoff drug prices." A few hours later, Intel CEO Brian Krzanich and Under Armour CEO Kevin Plank joined Frazier in leaving the council.
The president's Twitter attacks are known to tank a brand's public sentiment. Brand mentions around these three companies soared as news of each CEO's departure went public, with #ImpeachTrump being the most used hashtag (over 33 million impressions) in the combined conversations of all three companies, according to stats from social analytics company Brandwatch. Brandwatch's data also shows that from Sunday to Tuesday morning, Merck has been mentioned more than 344,000 times online, followed by Under Armour (130,000 times) and Intel (116,000 times). Among them, Merck's sentiment is the most negative within the time frame, with around 63 percent of all categorized mentions being negative, while social sentiment around Intel and Under Armour is largely positive. — Yuyu Chen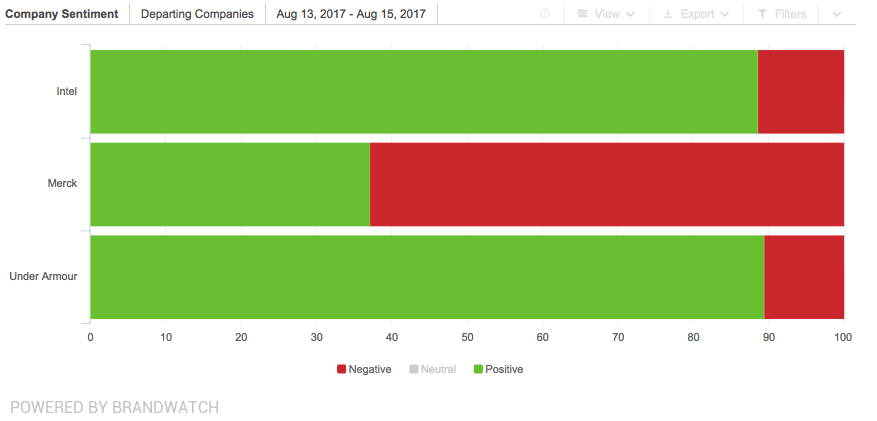 The first 3 seconds are the hardest
Facebook has been frequently criticized for its use of autoplay video, which allows media companies and advertisers to collect a ton of views as users scroll down the News Feed. But according to a couple of sources, most videos don't even make it to 3 seconds. According to AdExchanger and information from a second marketing source, only 30 percent of Facebook videos make it to the 3-second barometer to officially count as a view.
There's a reason views have become a vanity metric, as many in the industry are glomming onto the fact that the metric doesn't demonstrate true audience reach and engagement. It's a big reason why more and more publishers are focusing on time spent and other engagement metrics. And it's why Facebook itself has launched products such as Facebook Live and Facebook Watch, both of which are designed to get people to watch longer videos on its platform.
If you're looking for a silver lining, however, maybe this stat confirms that if a video does make it to 3 seconds, then people are actually watching the video. Maybe. — Sahil Patel
Brand safety cuts both ways
Tensions are growing among some news publishers in the U.K. over just how much heightened brand-safety awareness may hinder their ability to monetize hard news, particularly for video. "There has definitely been a dialing up of the brand-safety rhetoric at the trading desks since the YouTube boycott, after which everyone has been overly cautious. We're [quality news publishers] possibly paying for the mistakes made there," said one publisher, who spoke anonymously. — Jess Davies
Report from Vail
The internal battle marketers and social media managers face when fighting for resources, budget and a place at the strategy table is top of mind for many attendees at the Digiday Content Marketing Summit, happening this week in Vail, Colorado. It's surprising at this stage, since content marketing has become a "must-have," not a "nice-to-have," according to Kartik Ram, the managing partner at Fashion Fund, an incubator that gets startups off the ground. It's an ongoing push to validate the budget needed for great content strategies that reach relevant audiences. One piece of advice from Babbel U.S. CEO Julie Hansen: Create a thesis, test your work and then lay out a strategy that scales. "Executives have a harder time saying no when they're looking at the evidence." — Hilary Milnes
Stat of the week
100: The number of companies that discussed Amazon in their earnings calls as a potential threat or source of worry, according to Seeking Alpha, which analyzed Bloomberg data.
Coming up
Join us on Thursday, Aug. 17 at 1 p.m. to chat with Geoff Schiller from PopSugar in the next Slack town hall.
And thanks for being a Digiday+ member. We'd love to get your feedback through this four-question member satisfaction survey.
https://digiday.com/?p=249998
October 4, 2023 • 7 min read
•
•
There are still those who believe that AR has a place in the marketing funnel, however big or small right now.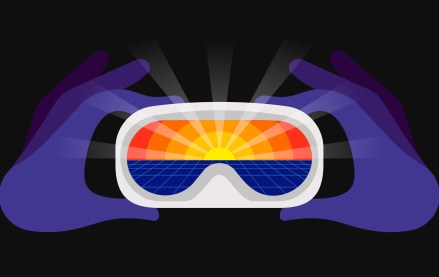 October 4, 2023 • 3 min read
•
•
With Pokémon Go revenues falling year-over-year, Niantic, its developer, is looking beyond its popular augmented reality game to generate profits.
October 3, 2023 • 2 min read
•
•
In episode four of the "Is This The Metaverse?" narrative podcast, Glossy international fashion reporter Zofia Zwiegliska spotlights the brand opportunity when it comes to fashion in the metaverse.